Jason English defends solo title at James Estate: fifth consecutive elite victory at JetBlack 12 Hour Jason English claims another JetBlack 12 Hour elite solo title in 2014.
Jason English defends solo title at James Estate: fifth consecutive elite victory at JetBlack 12 Hour
Port Macquarie's 24 Hour Solo MTB World Champion remains the JetBlack 12 Hour elite champion after claiming the title for the fifth time in a row at the event held at the James Estate Winery on the weekend. Andrew Lloyd from Newcastle was second ahead of Michal Kafka from Sydney. The fastest woman overall was master winner Meredith Quinlan ahead of elite female winner Wendy Stevenson. It was the first time the long-standing endurance event had been held at the unique venue in the Upper Hunter Valley.
The goodness of the mountain bike trail at the James Estate Winery had been the talk of the endurance racing industry since the first Rocky Trail event there last year. But now, at the latest, it is clear that they have established themselves firmly on the map of Australian cycling destinations. For the first time the 11 km track with its combination of fun singletracks and fire trails with magnificent views of the winery and the Upper Hunter Valley was the venue for one of Rocky Trail's major events, the JetBlack 12 Hour race.
Almost 400 competitors and more than 200 spectators were part of the event, which predictably saw Jason English race towards his fifth consecutive JetBlack 12 Hour elite solo title. Challenged by some of the best endurance mountain bikers in NSW and ACT, it had been the first race for the 24 Hour Solo MTB World Champion at James Estate. "All I can say is that I'm surprised", said English during the prize ceremony after completing 22 laps in just over 12 hours. "I hadn't expected a race track of such a high standard. It's just perfect for lap racing with a good mix of technical singletrack and when you ride through the vineyards and even past the wine storage tanks, it's very unique", he added.
Andrew Lloyd from Newcastle, runner up in the elite 24 H Solo MTB World Championships last year, came in second behind Jason English with one lap down and a good half hour ahead of Quantum Racing team mate Michal Kafka from Sydney.
Notably, Singlespeed legend Brett Bellchambers from Canberra also claimed his fifth consecutive solo win in that division.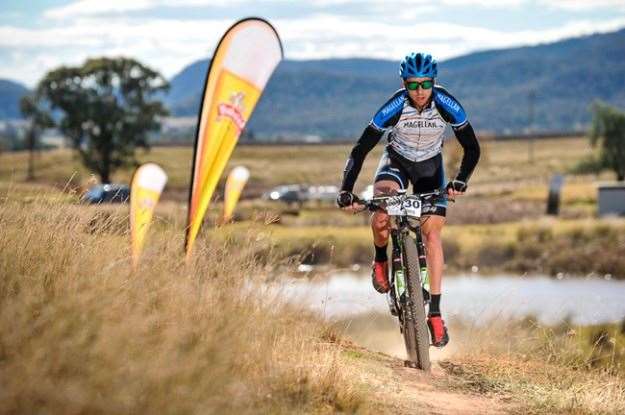 Magellan duo takes out line honours
Sydney-siders Paris Basson and James Lamb from Magellan Racing dominated the overall field all day and were the only team to complete 23 laps in the elite pairs division, taking the line honours. "I've been racing almost every Rocky Trail event this year and they just keep getting better", said Paris Basson. "The atmosphere is just phenomenal! We heard the music on most parts of the track and the event centre was so well arranged, great food, great company – an awesome weekend out!" Team mate and solo endurance racer James Lamb agreed, "This was one of the best races I've ever been to. And this team racing thing is quite a challenge, man, you push each other to race as hard as you can, it's actually tougher that I thought it would be."
Another solo legend who found a taste for team racing at the start was Craig Gordon from Wollongong, who competed successfully for JetBlack's BH Racing Team and took out the Team 4 Male Elite win. "I enjoy the group dynamic of team racing, we're a good bunch of mates and I think you go even harder for that common goal – I'm happy about our win today", the former 24 Hour Solo World Champion said.
Tough battle for overall female title
The elite and master female fields saw veteran women at the start line as well as 12-hour solo first-timers. As the day progressed, a battle between 49-year old elite racer Wendy Stevenson and the 42-year old Meredith Quinlan who competed in her age group (masters) erupted, which had spectators on the edge of their seats until the last lap. Stevenson had six minutes on Quinlan with an hour to go and was overtaken on the second-last lap. Quinlan dug deep and completed 17 laps, which was one more lap than Stevenson, who still claimed the elite women's title of the day. Novocastrian Sue Pretto was the elite women's second ahead of Alyssa Glyde from Canberra.
JetBlack 12 Hour to return to James Estate in July 2015
Mayor Martin Rush welcomed the event to be held in the Upper Hunter Valley, as he greeted the riders ahead of the race start, "It's fantastic to see so many visitors to our region and hope that this event has found its new home at James Estate!"
Wine maker and trail builder Graeme Scott from James Estate and Race Director Martin Wisata from Rocky Trail agreed, "This is an ideal venue for the JetBlack 12 Hour race, we're looking forward to seeing it grow and prosper in the coming years and to bringing more and more mountain bikers and their families into the region."
The trails at James Estate are open for social riding all year and the trail head is located right next to the Cellar Door at Baerami.
Top race results
JetBlack 12 Hour // James Estate Winery // 2014
Solo Male Elite
1. Jason English, #1 / JetBlack Merida BBD / Port Macquarie, NSW / 22 laps in 12:00:05
2. Andrew Lloyd, #2 / Quantum Racing / Newcastle, NSW / 21 laps in 12:00:53
3. Michal Kafka, #25 / Quantum Racing / Sydney, NSW / 21 laps in 12:31:07
4. Jason Pearce, #27 / Quantum Racing / Sydney, NSW / 20laps in 12:17:55
Solo Female Elite
1. Wendy Stevenson, #38 / Waverton, NSW / 16 laps in 11:54:14
2. Su Pretto, #128 / Drift Bikes Solo / Valentine, NSW / 15 laps in 11:44:18
3. Alyssa Glyde, #39 / Forrest, ACT / 14 laps in 11:26:47
4. Sophie Clement, #42 / O'Connor, ACT / 14 laps in 11:59:09
5. Leah Childs, #40 / Wingello, NSW / 13 laps in 11:16:06
Further solo category winners:
Solo Male Master (40+) // JB Racing CROCMAN (Phil Welch) / 19 laps in 12:28:26
Solo Female Master (40+) // Easy Riders (Meredith Quinlan) / 17 laps in 12:28:23
Solo Male SuperMaster (50+) // TouchStar (Marko Sibila)/ 16 laps in 12:02:14
Solo Male SiSp // Jeebus Racing (Brett Bellchambers) / 20 laps in 12:22:04
Overall winners and line honours: 
Team 2 Male Elite // Magellan Racing // Paris Basson, James Lamb / 23 laps in 12:05:18
Australian Mountain Bike