When we built up our Tranisition Smuggler there was a missing link - Shimano Deore XT M8100 equipped wheels. We paired some NoTubes Arch Mk3 rims to make a solid trail wheel set.
With a Shimano Deore XT M8100 12-speed group set built up onto our Transition Smuggler long term test bike, not only have we got the perfect trail bike for a lot of Australian trails, but we have a bike that is ideally suited for testing out some of the newer parts that are coming out.
We build up our Transition Smuggler with Shimano Deore XT M8100 12-speed from AMBmagazine on Vimeo.
Part of getting this bike just right was getting the right wheels onto the bike. Shimano have some 12-speed wheel sets coming really soon, and when building the Transition Smuggler with Deore XT 12-speed I used my own DT Swiss hubbed wheels with a MicroDrive freehub body. They were wide, carbon, and pretty light at 1400g - but I wanted something a little stiffer and burlier for the Transition.
Shimano had sent us a pair of the Deore XT M8100 hubs in 32 hole for the test, and I wanted to find something with at least a 25mm inner width, and maybe as wide as 30mm. Although, given the Smuggler can take a 2.4" tyre as a maximum I was reluctant to go too wide.
The NoTubes Arch Mk3 was the go to choice, with a 26mm wide rim, shallow height so the wheels wouldn't rattle bolts and fillings loose, and a price that wasn't too hard on the hip pocket, they would be a perfect match to the Shimano Deore XT M8100 hubs. The rims weigh 453g so they're a nice match for the Smuggler. Light, strong and reliable.
We enlisted Jay Taylor from Taylor's Cycles to built the wheels with DT Swiss Comp Race spokes and brass Prolock nipples for what should be a hassle free build. The hubs are Centrelock with Boost spacing.
While there are lots of hub choices on the market, there aren't a huge amount that are compatible with the Shimano MicroDrive freehub fitting as yet. DT Swiss hubs (or those who use their internals like Roval and Bontrager) have options, as do Industry 9. But nothing yet for Chris King, Hope or Formula hubs. Thankfully, the Deore XT M8100 hubs are really impressive, with fast rolling and quick engagement.
For the detail fiends, the rear weighs 974g while the front weights 809g, and they are an ideal set of wheels to mount up some Maxxis Rekon 2.4" tyres.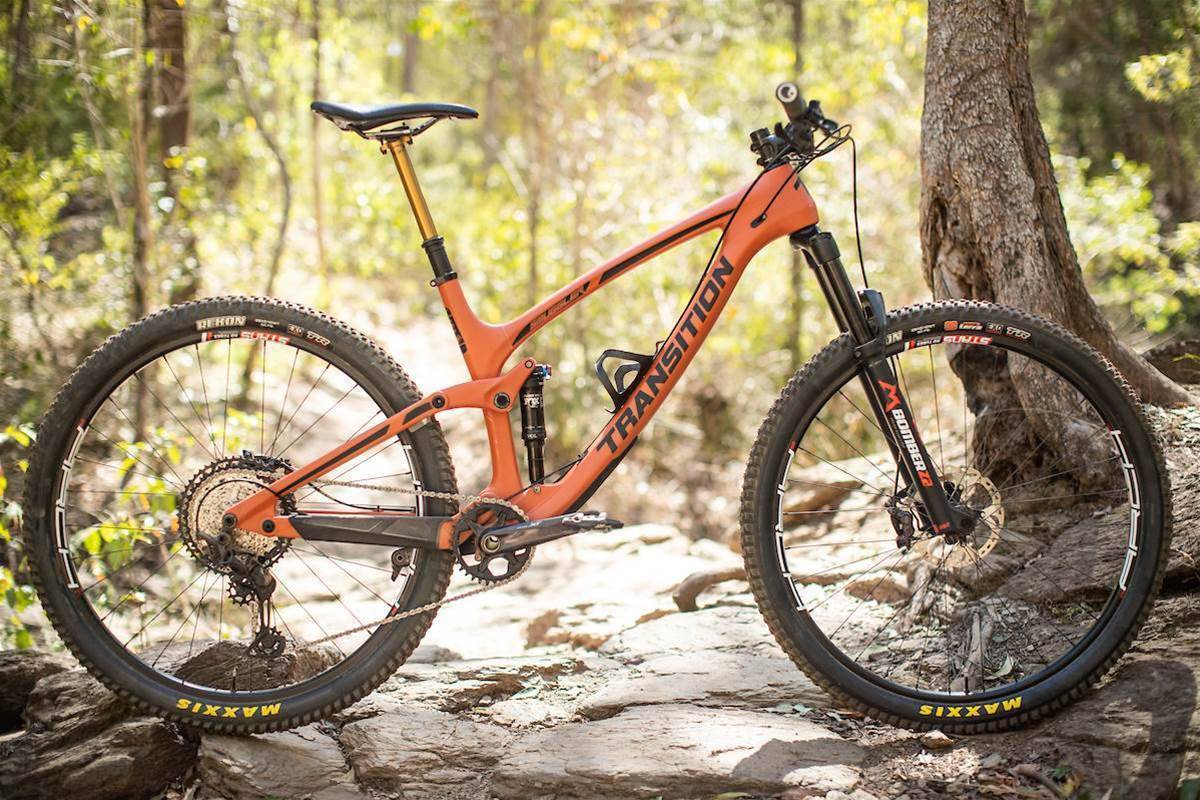 Australian Mountain Bike