GoPro have just dropped their latest Hero 9 Black - we've had one for a week and here's our first look.
GoPro have continued to push the goal posts back with their Hero cameras, bringing greater adjustability, battery life and clarity to the range as it has grown. The latest GoPro Hero 9 Black is packed with new features and hardware, with refinements and advancements on some of the features that were introduced on the Hero 7 and Hero 8.
GoPro Hero 9 at a glance
- 23.6 Megapixel sensor and 5K video
- Front facing LCD screen
- Horizon leveling
- Live streaming with Webcam mode
- HyperSmooth and TimeWarp 3.0
- Removeable Lens and bolt on Mods
- Hindsight function
- Greater battery life
- Capture presets
- $ 699.95
Why Troy Brosnan uses a GoPro.
A closer look at the GoPro Hero 9 Black
Visually, the Go Pro Hero 9 looks right in place with the rest of the GoPro Hero family - just a bit grown up. The touch screen on the rear is 16% larger, but what you'll notice is there's an LCD screen on the front, not just a display. This is perfect for setting up your GoPro angle, but it is also a huge help if you have a video blog, or need to use the camera for other uses away from your mountain bike. More on that later.
The controls remain similar, with a button on the top and one on the side - plus of course a touch screen on the back and connectivity, editing and full control via the GoPro app. If you have a GoPro but have never used the app, go download it now. It makes setting up the camera and quick edits at the trail head so easy!
A larger 23.6MP sensor
GoPro have increased the sensor size to a whopping 23.6 MegaPixels. These means you can have even greater clarity with 5K (yes, 5K!) Video and 20MP photos. We've already seen photos taken on GoPro cameras make the shortlist in the AMB Photography Awards, and with even greater image clarity we think this is something we'll see more of.
It also means frame grabs from 5K video are now 14.7MP. That's more than big enough for print - so you can have your camera rolling for video and pull a screen grab that will light up your Instagram profile or even be something you can submit to a magazine like ours.
This also means there is a lot of options to customize your settings, and if you're mixing filming with a GoPro and a DSLR, your footage can have a very similar look no matter what camera you are pulling it from.
HyperSmooth and TimeWarp 3.0
Owners of recent GoPro cameras will already be familiar with these settings, but on the GoPro Hero 9 Black, the GoPro tech wizards have turned them up to ... 3.0. The HyperSmooth function means you can ditch your gimble for all settings, as you can dial it up to the greatest stabilizing mode (Boost) in all camera settings.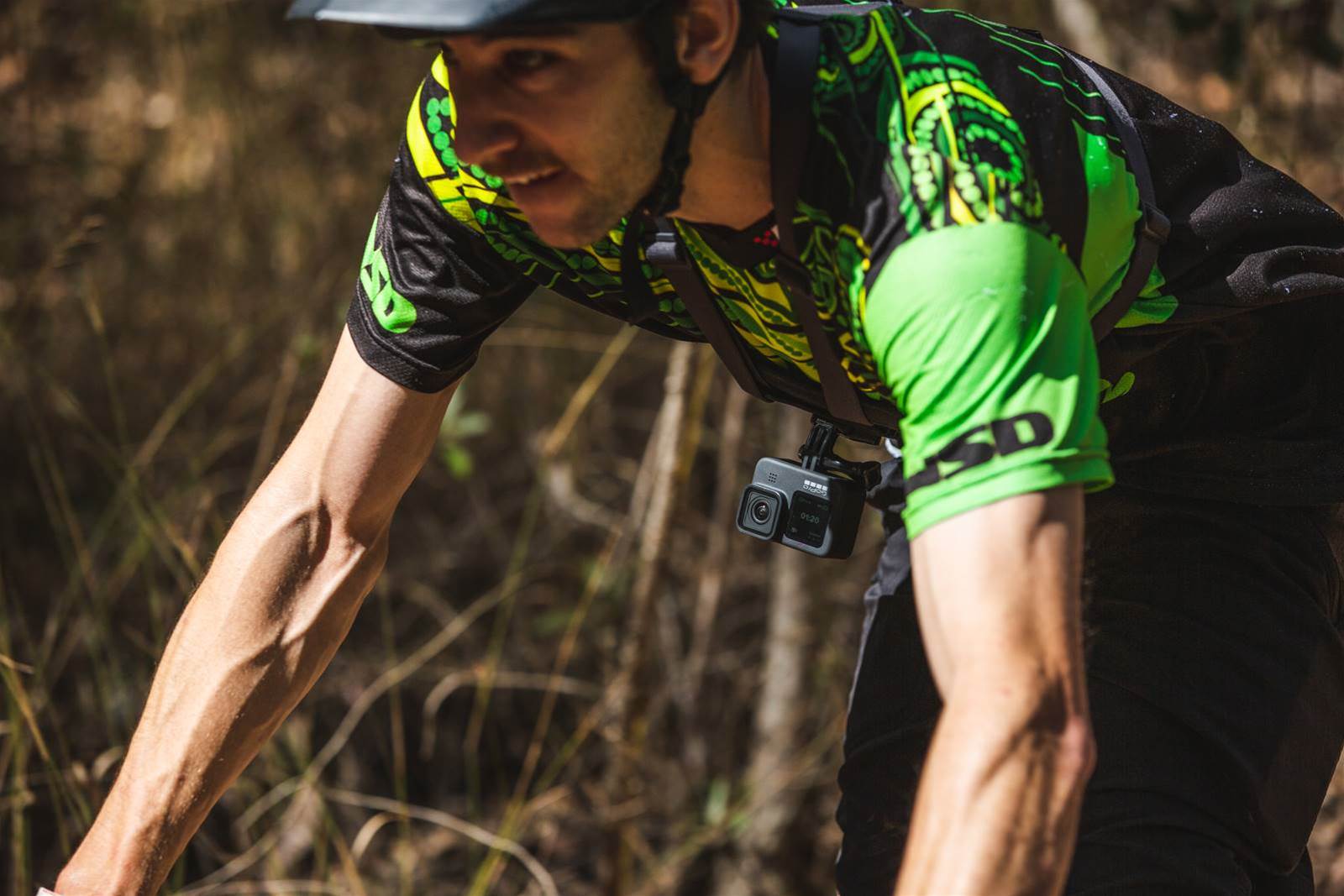 With super slow mo or regular speed - it will be smooth as.
TimeWarp 3.0 lets you record stabilized time lapse - and you can go to real speed or half speed without stopping recording, and record audio as well.
The Mods
The lens can be removed, and replaced with the Max Lens Mod for a wider field of view - which is perfect when filming in an expansive location, like in alpine areas and other wide open spaces.
There are other mods as well, with an option for directional microphones, a 2 "front facing display mod and a light mod. If you're serious about making videos for fun or for work, these are great additional extras to expand the possibilities of what you can do with the GoPro Hero 9 Black.
---
Catch these tips for using a GoPro thanks to Troy Brosnan.
Live streaming
Have you always wanted to rule the internet with your wit and good looks, but lacked the camera quality to make it happen? Well, GoPro have you covered with the new Hero 9 Black. You can live stream in 1080HD, which should suit videographers and those chasing YouTube stardom alike. You just hook the camera up with a USB-C cable and utilize the GoPro Webcam App and you're away.
This is unlikely to be much use for someone just wanting to capture some POV footage of their favorite trail, but it is a real bonus for those wanting to push what they can do with such a small camera.
Horizon leveling
You wouldn't be the only person to take photos and video and realize that you were on a bit of an angle the whole time. As such, the GoPro wizards coded up some Horizon Leveling. The software helps keep your shots smooth and straight.
Hindsight and improved Live Capture so you never miss a shot
We could all benefit from Hindsight, but in a GoPro sense it is part of an updated Live Capture function. You can schedule Live Capture for up to 24 hours ahead of time! This might seem a little bit stalkerish, but it means you could set up a GoPro remotely to start a Live Burst ot just about any GoPro capture function at anytime from now until 24 hours from now.
Hindsight means that while the camera is on, it will record up to 30 seconds before you press the shutter. Some things happen in a flash, so this means you are unlikely to miss it. The LiveBurst function will also capture 1.5 seconds before and after the shutter is pressed - and it creates a 3 second 4k video as well. All this to just make sure you never miss a shot.
Better battery life
The 1720mAh battery has 30% more battery life than the GoPro Hero 8 Black. We think investing in a spare battery always makes sense if you're dedicated to your craft of videography and photography - but extra battery life is a huge bonus.
Capture presets
What's great about each new GoPro Hero model is the amount of customization you can do. And while you can save 10 custom presets for your capture settings, GoPro help you out with 4 that are ready to go. 
Standard is your every day shooting, for regular fun edits. But activity is probably best suited for mountain biking. It is designed for fast paced sports and upps the resolution, using SuperView for a wider view.
The Cinematic preset is 16: 9 and 4K, so it is ideal for expansive terrain. It uses the linear and horizon leveling digital lens, which means it looks flat without the slight fish eye that you can get from the really wide view. Slo-Mo is going to be another popular preset with mountain biekrs, and it uses the maximum frames per setting and drops the resolution a little so you can slow it down even more. Capture. Every. Tiny. Moment.
We're got a full review of the GoPro Hero 9 Black in the works. Selling for $ 699.95 it is still incredible value considering the performance that this tiny package delivers.
Australian Mountain Bike