With a Trek Supercaliber 9.8 on test, we have to wonder - is this the ideal compromise between a full-suspension bike and a hardtail for XC fans?
One thing the pandemic has taught us, or made us realise, is how much we value what we thought were insignificant daily interactions. Those little moments shared daily teaches us the value of the bigger moments in life. This is why bike shops will survive the post Covid-19 and the direct to consumer delivery service that we all thought would knock the retail bike shop flat on its back.
There is a particular joy at picking up, in this instance, an $8,699.00 bike from a shop that lives and breathes these moments. Everyone working there understands what you're feeling and why. You don't get that same satisfaction from a delivery guy who is pissed he had to carry a box bigger than his TV up to your front door, only to drop it at your feet before turning around while you're half way through telling him about the latest specs of what is in that very box, which for anyone who buys a light weight carbon XCO specific race-bike, is exactly what they like to do as much as ride the bike itself, so for the rest of the review I'm your guy!
Sizing up the Trek Supercaliber 9.8
Make no mistake, this bike is designed for going fast with a number on the bars. Selling high end bikes is just as competitive as the pointy end of an elite XC field, brands are putting in the effort to entice buyers with everything they can from down tube compartments to inbuilt tool storage.
Trek's take is a bike that blurs the line between a hardtail and a full-suspension bike, marrying full-suspension traction with hardtail efficiency. The Supercaliber brings upto 60mm of travel via their IsoStrut design and flex stays. There's a lot of information out there about how that works - get upto speed via the video from Trek themselves.

The location of the shock right up into the toptube allows you to carry two water bottles inside the frame, to appeal to marathon racers and for the big training days that are part of XCO race success. And my eliminating so many pivots, the frame is lighter and stiffer as well.
The build on the 9.8 has an interesting mix of Shimano, Fox and SRAM parts but the nuts and bolts of it is a 12-speed group set with carbon cranks, strong brakes, carbon wheels, bars and post and a reliable suspension package. And it's all bolted onto a frame that has progressive geometry for cross-country racing.
Trek has spent a lot of money and effort in producing two bikes in one and getting rid of anything that will get in the way of that essence of a hardtail with suspension. The bike can take a fork up to 120mm, can fit 2.4" tyres and is more capable than you might think at first glance. But does all the effort from Trek pay off? Is this where you should be looking instead of owning a hardtail and full-suspension bike for XC racing?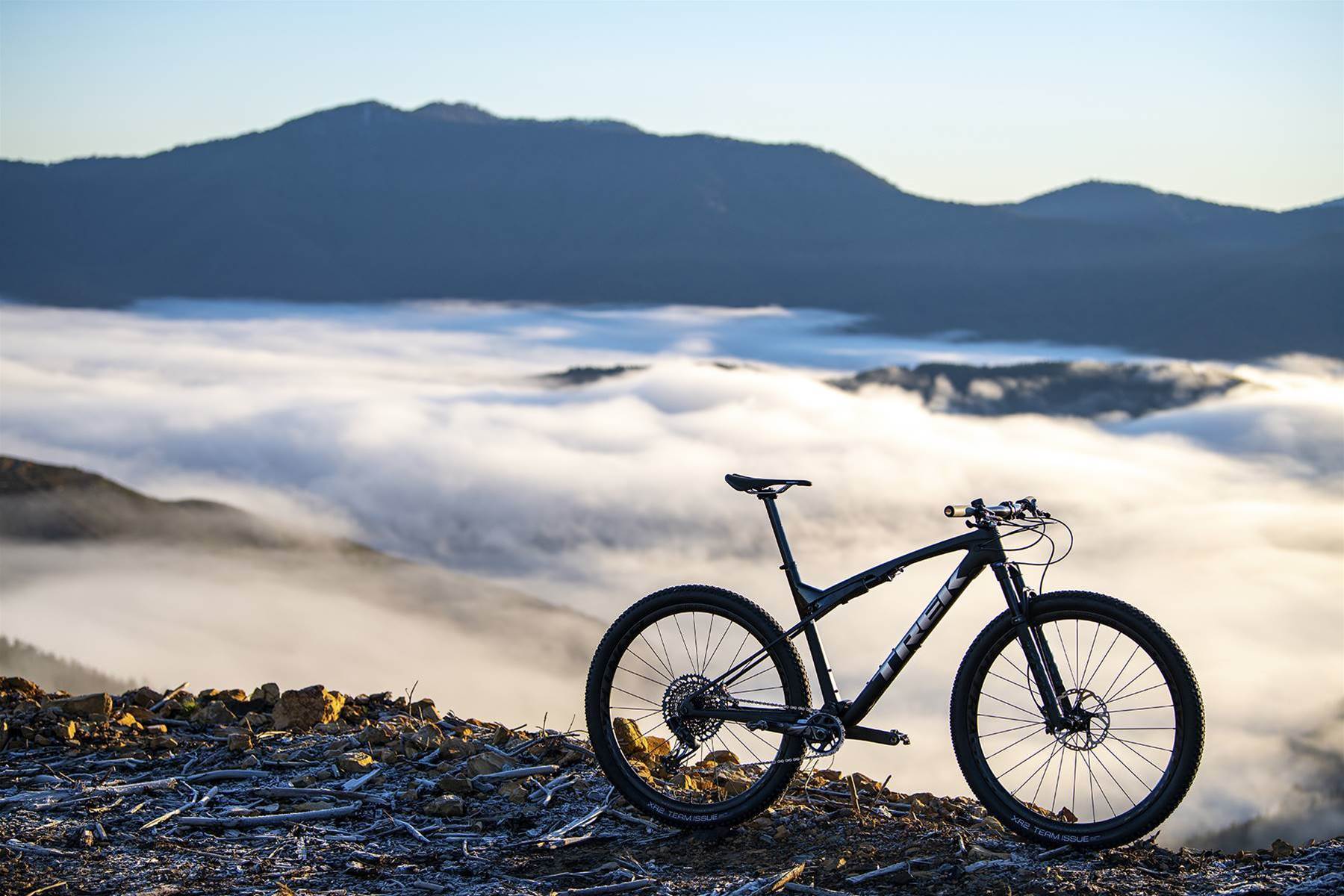 The full review will be in our next issue, where we determine how well the engineering that Trek's engineers have put into the Supercaliber pays off.
You can find more details about the Supercaliber 9.8 online, and if you subscribe now, you won't ever miss an issue of AMB.
Australian Mountain Bike