Often the best ideas come about from thinking outside of the box.
Often the best ideas come about from thinking outside of the box. Or in this case, thinking outside the cage. While relatively new to the scene, British company Fabric Cycling has been quick to establish a name for themselves for trick high-end saddles, including the ALM that they partnered with Boeing on. Complete with 3D printed Titanium rails, the ALM project proved to be an exciting exercise in futuristic industrial design and engineering techniques. While their saddle range continues to expand with new profiles and new construction methods, they've also dropped a few clever accessory solutions including the brilliant Chamber multi-tool. Along with a lineup of road bar tape and mountain bike grips, the Fabric product range has recently arrived in Australia courtesy of Monza Imports, which includes the Cageless Bottle that I've been testing over the past six months.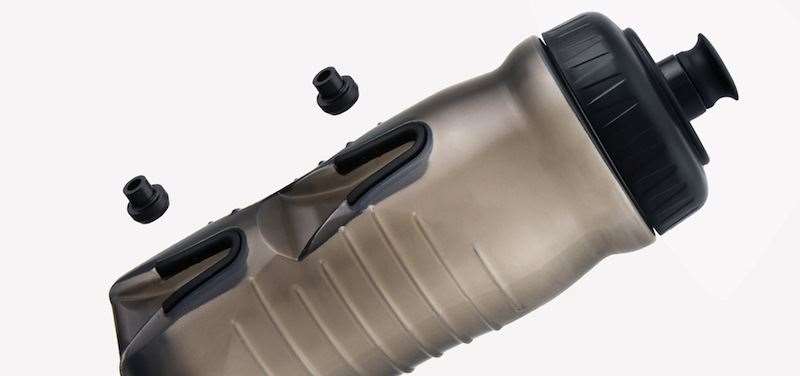 "Our revolutionary cageless water bottle completely does away with the need for a cage by mounting directly to your frame. The ultralight-weight 1.5g studs are secure, remove unnecessary parts and improve the clean lines of your bike." - Fabric Cycling
The Fabric Cageless Water Bottle features:
Direct-mount design

Includes two mounting studs and bolts w/bottle

BPA-free plastic construction

Threaded cap w/Jet Valve

Volume: 600ml

Colours: Clear w/White Cap, Black w/Black Cap, Black w/White Cap

RRP: $24.95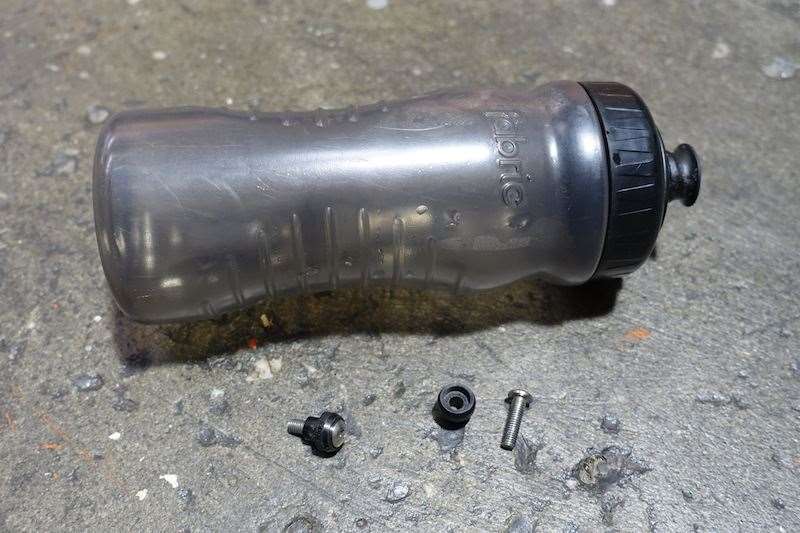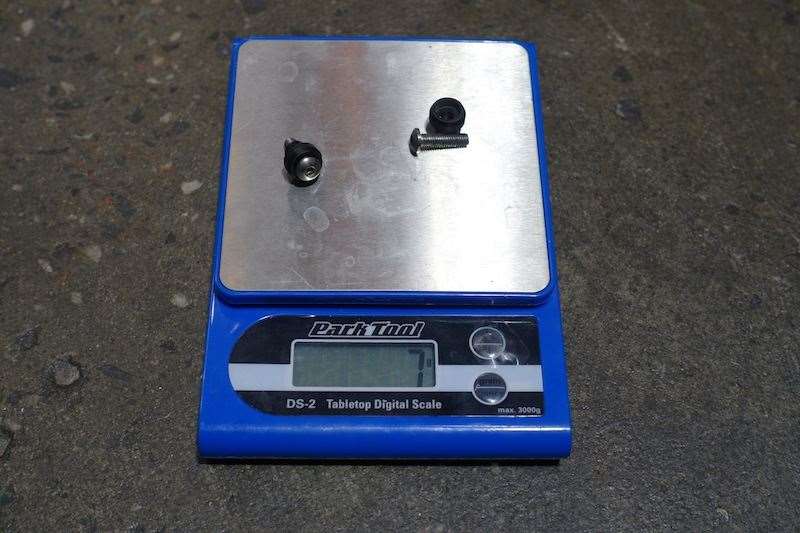 Rather than employ a traditional cage to store the water bottle on your bike, Fabric have engineered two mounting stubs that bolt straight onto the regular cage bosses on your downtube. These little guys weigh just 3.5 grams each with the steel mounting bolt, making them one of the lightest solutions for mounting a bottle to your bike.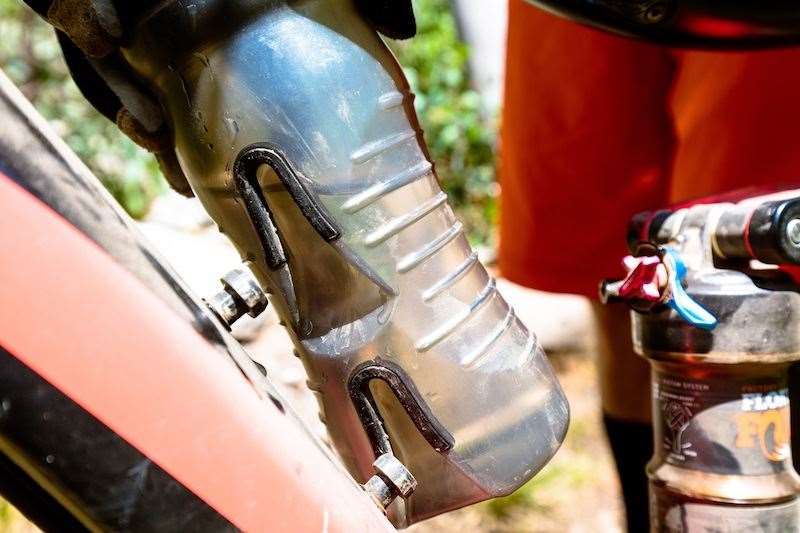 The stubs mate up with corresponding 'pockets' that are molded into the underside of the bottle. To install the bottle onto your bike, simply position the bottle over the stubs, then pull it down to firmly lock the bottle in place. Removal is just as simple, though a firm tug is required to dislodge the bottle from the stubs.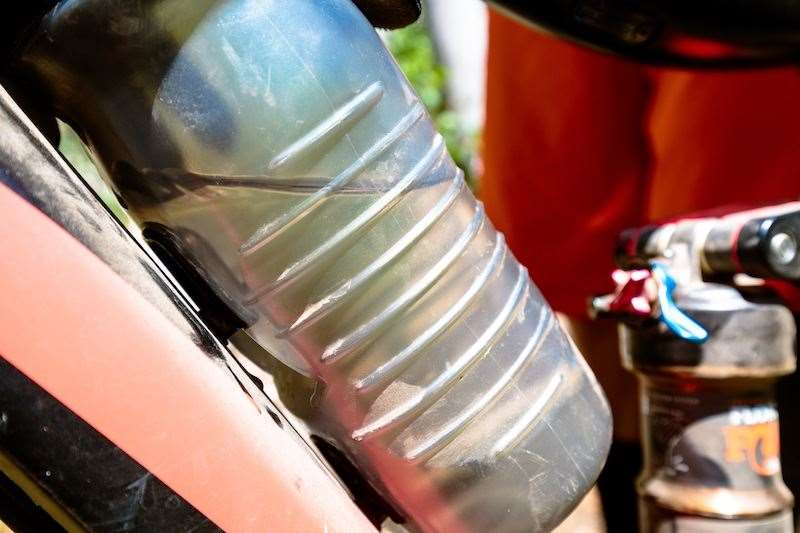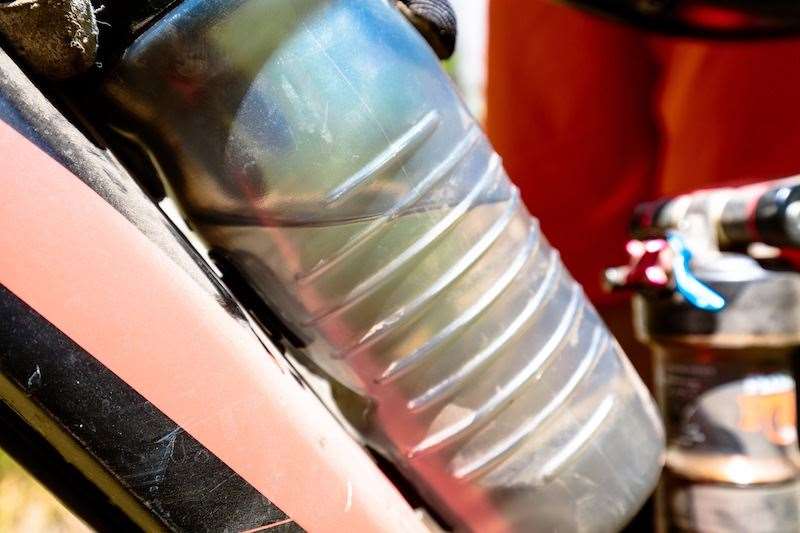 Over six months of testing on both XC bikes and long-travel rigs, I am yet to drop a bottle, which is more than can be said for the standard bottle cages I've used over the years. It is very secure, and despite many mounts and re-mounts, I haven't had any change in its retention abilities. Because the bottle requires a measured placement when sliding onto the stubs though, I've found that it can be a little tricky to re-mount during hard and fast XC racing, when you're trying to concentrate on the trail and/or the rider in front of you. On a couple of occasions I nearly crashed because I couldn't quite get it in place - kind of like when you use SPD's for the first time. For me, a regular bottle and cage is still the way forward for racing situations where seconds count, and mental concentration is at a premium.
For trail riding though, the Cageless Bottle will make you happy. It has a very low profile when mounted, and it requires less clearance in front of it when mounting the bottle. From this perspective, it is highly recommended for small-sized bikes, or those dual suspension frames that don't have a lot of space inside the main triangle. The real beauty about the Fabric Cageless Bottle is how clean it looks, both when mounted on the bike, and when off the bike. For shooting bike photos, not having to remove the bottle cage every time will be worth a million imaginary high-5's for all the bike reviewers out there.
Currently the Fabric Cageless Bottle is only available in a 600ml size, though larger sizes are soon to be on their way. Get in touch with Monza Cycling to find your nearest stockist - this one is an absolute winner.
Monza Cycling
Website: monzaimports.com.au/cycling/
Email: here
Australian Mountain Bike