Canyon have just released two new women's specific mountain bikes, both trail friendly for different budgets.
Women's specific bikes have been disappearing from some brand's lines, while other brands renew their focus. In part this is due to consumers rebelling against the 'shrink and pink' approach that some bike companies took. A well-designed women's specific bike should take into account different body sizes, and the requirements for shock tunes, tube weights and parts used in the build to make it all work.
Anna Beck asks: are we seeing the death of women's specific?
Canyon have applied an in-depth knowledge of female and male anatomical differences attained from developing successful women's-specific Road and Fitness lines, the target was set to release the full potential of Canyon mountain bikes for female riders, starting with the launch of the all-new Spectral WMN and Grand Canyon WMN AL SLX.
A 140 mm full suspension trail bike and progressive 110 mm travel hardtail, the Spectral WMN and Grand Canyon WMN AL SLX are made for more. More precision, more control, and more agility thanks to dialled geometries, tuned suspension and the perfect fit. Most importantly though, they're made for more of the good stuff that makes any rider want to get out there.
The cornerstone to developing the Spectral WMN and Grand Canyon WMN AL SLX lay in the ability to analyse the anatomical data of over 68,000 female riders worldwide thanks to Canyon's online sizing tool, the Perfect Positioning System. This data enables Canyon's engineers to take the guesswork out of determining the key differences between male and female riders when it comes to body size and proportions, findings that were then used to shape the geometry and fit for each bike. Offering riders one of the broadest size ranges on the scene is key. With the addition of a new 2XS frame size for hardtail and full suspension, female riders between 148 cm and 179 cm now have four distinct frame sizes available to them.
When it comes to riding dynamics, the Spectral and Grand Canyon WMN AL SLX excel where it matters most: on the trail. Thorough research pointed to three key areas that could enhance control for female riders. Adapting reach by making the frames slightly shorter creates a less outstretched, more balanced position on the bike. Low top tubes reduce standover height for extra room to manoeuvre. Finally, lower bottom bracket heights for smaller frame sizes mean every rider experiences a more planted feel on the trail from a lower center of gravity.
Steeper seat angles not only keep the rider in the right position, but help change the reach along with the slightly shorter top tubes, without creating a bike too short that it moves from agile to twitchy.
Sizes 2XS to S of the Grand Canyon will come with 27.5" wheels, while medium comes with 29" wheels. The 2XS also comes set with 80mm of suspension travel, not the 110mm of the larger sizes.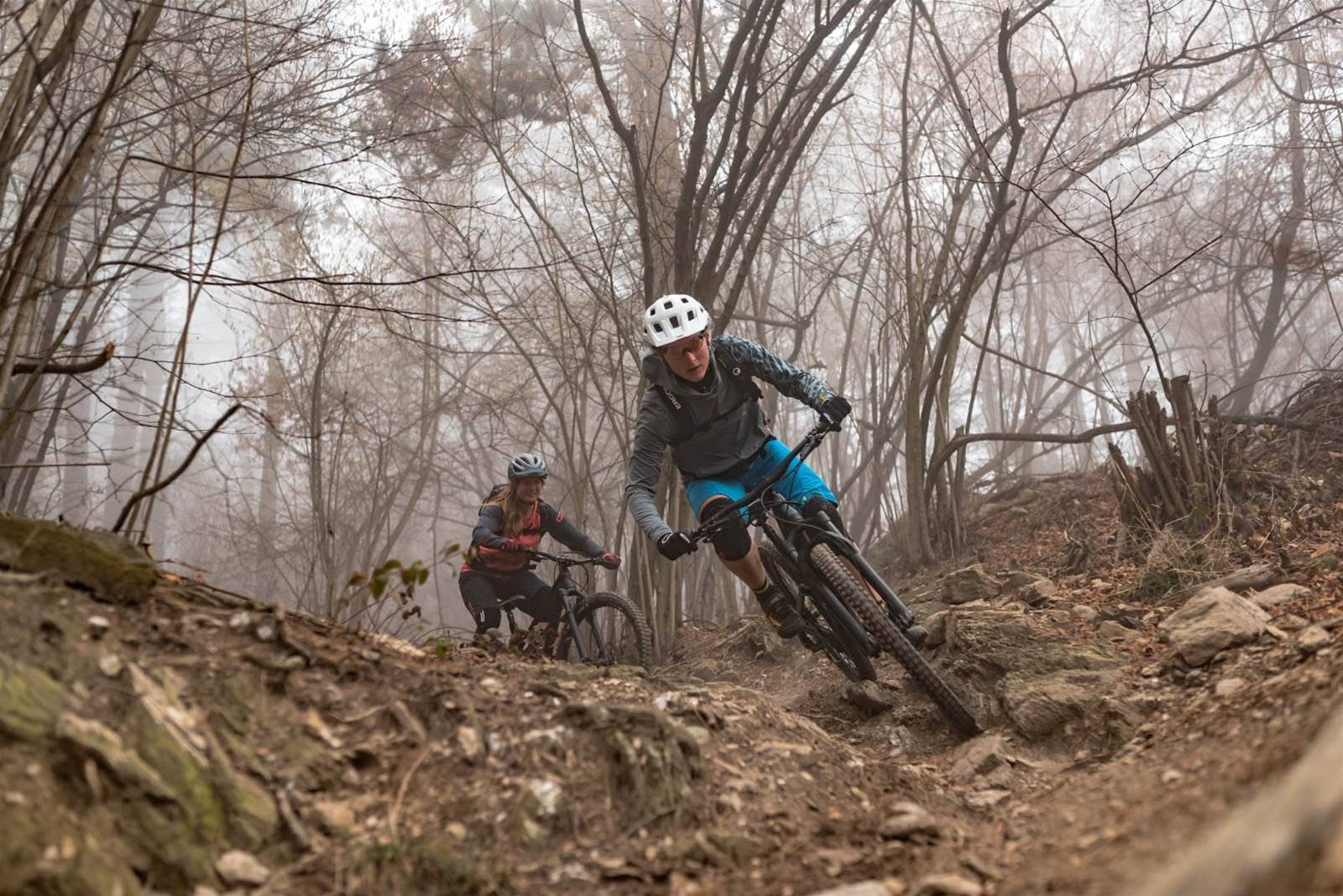 Beyond geometry and fit, Canyon went the extra mile to bring the rider closer to the bike. The suspension on the Spectral WMN features a new leverage curve engineered with extra responsiveness at the start of the stroke to reflect the lower weights of female riders, while all RockShox Reba RL forks on the Grand Canyon WMN AL SLX come kitted out with a Light Tune exclusive to Canyon for trail-hugging levels of grip.
Canyon's top of the line Grand Canyon AL SLX Trail, with dropper post.
Five different models of the Spectral WMN are available: one full carbon, two with carbon front and aluminium rear triangles, and two full aluminium frames, while three Grand Canyon WMN AL SLX specs are also on offer. All models are now available to order from www.canyon.com.
The Canyon Spectral AL 5 WMN
Australian Mountain Bike