Bontrager have released their RSL integrated mountain bike cockpit, one piece bars and stems with options for flat bars and risers.
As we march towards the Olympic Games in Tokyo, we're seeing more cool tech released. The past three years have seen bikes being launched by brands to bring their cross-country platforms up to current standards, with shifts in geometry, suspension kinematics, clearance for tires and larger chain rings, and of course - stiffness and strength. Bontrager's new RSL handlebar and stem combination is a light and stiff product with options for the cross-country and trail / enduro market.
The bike industry is also seeing more integration of components. Cannondale have long lead the way with this, and their SI (System Integration) components were about finding efficiencies in design by integrating more components to the frame design.
One piece bars and stems aren't wholly bike specific, but they are becoming increasingly popular. Most top end road bikes now have bar and stem systems that allow for brake hoses and gear outer to run internally all the way to the frame, and the Fraser IC bar and stem on the new Scott Spark and Spark RC use a similar concept, creating a clean cockpit - if not a fussy one to setup or travel with.
Bontrager's new RSL range keeps the cables and hoses external, meaning the cockpits are compatible with any headset type - including KnockBlock. The RSL units are made from OCLV carbon, just like their frames and wheels, with titanium hardware for the stem bolts. There are replaceable threads incase you have a ham-fisted moment and ruin a thread.
For accessory mounts, the Bontrager Blendr  system will be compatible, to use the small mounting hole at the front of the bar. Personally, I prefer my GPS on top as under compression it can catch on the brake hose when using an out front mount. So I just ziptied my Wahoo mount at the center of the bar / stem junction. It's aesthetically uncool but functionally perfect.
Bontrager's new RSL range offers 750mm flat bars in three stem lengths from 70-90mm, with -13 degree 'rise'. The 27.5mm riser bar is 820mm wide, with 35mm or 45mm stem lengths. I've had a 70mm / 750mm flat bar fitted up for a few weeks now. The claimed weight for this size is 214g, with 221g for 80mm length and 228g for 90mm length. The trail / enduro bars weigh 230g and 250g respectively for the 35mm and 45mm reach options.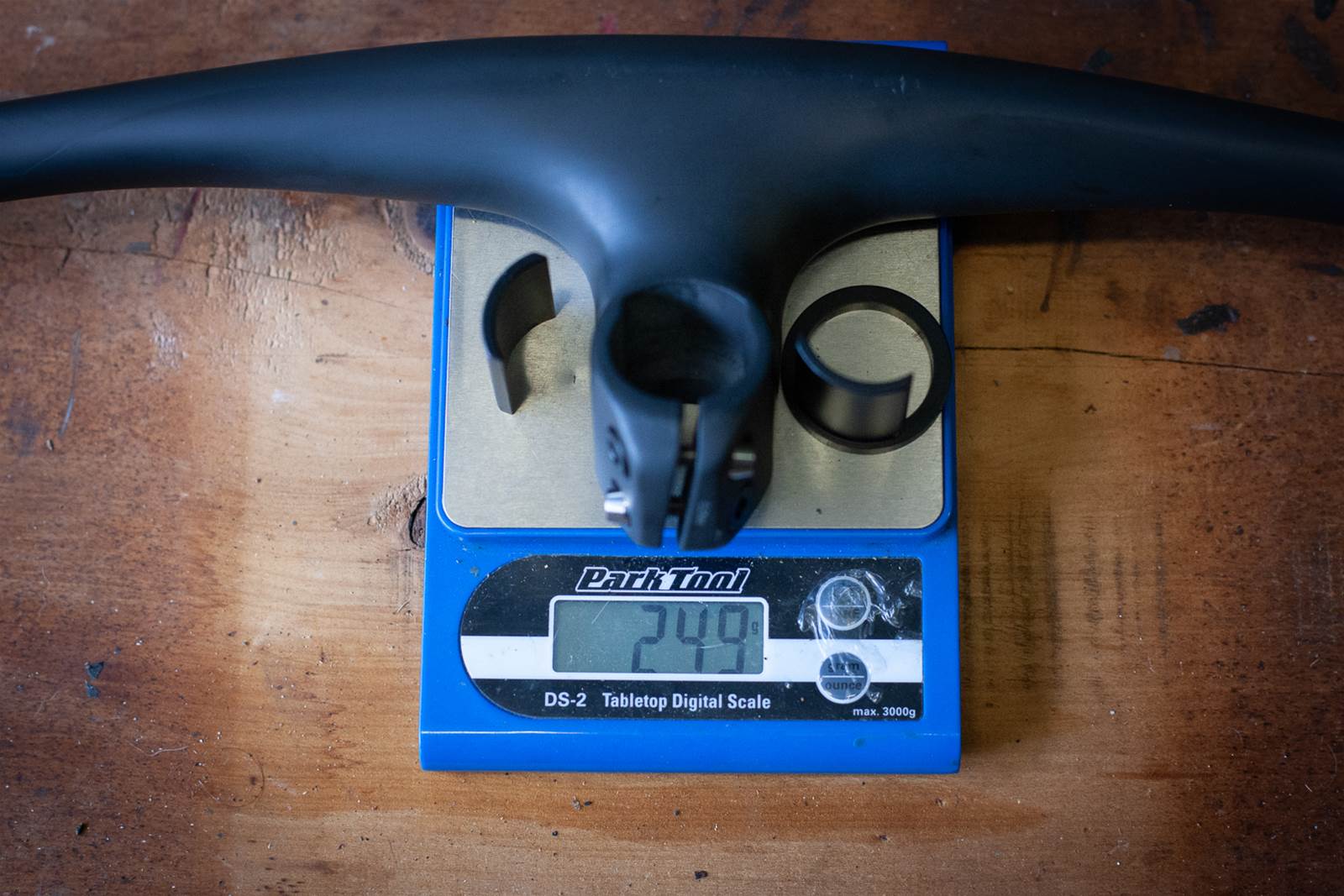 My test set weighed 249g with both steerer spacers. Clearly you only need one. The one with the shim and spacer weighs 13g and wasn't required, so this setup weighs 236g. This is just about exactly the same as the 760mm Mt Zoom carbon bar and 60mm Syntace Liteforce stem combination I removed.
Clearly, the stated weights for the trail and enduro options are very light, and would represent a good weight saving if that was something you were looking for. These RSL flat bar units would be exactly what the Trek Factory Racing team would be after, with the greater stiffness and low weight offering clear gains for the demands of the World Cup, and the pretty huge features of the Tokyo Olympics course.
Fit and setup
Taking a 1cm off the bar width and adding it to the stem length, while also adding more drop isn't something many people would look to do - but the RSL flat bar models are highly specific cross-country and marathon gear, and 750mm is a good width for this arena. I previously was using 740mm flat bars but as I'm racing a lot less I prefer the control of 760mm, as clearance in fast moving starts is less of a concern.
Bontrager have marks to trim the bars to get your fit just right, and to line up your controls. The finish on the bars is matte carbon with mostly subtle graphics. I found it easy to get them setup, and although I'm pretty fussy, the lack of sweep angle adjustment didn't faze me one bit - it feels great.
FIRST RIDES
There is no doubting that these are a stiff combination. They aren't bone rattling stiff, but compared to my usual setup, it's very noticeable, be it out of the saddle riding up a hill, or tipping into corners. Sure, I'd love the figures to match my preferred fit for a little wider, a little higher and a little shorter, but the overallride improvement for steering precision cannot be discounted.
I've got plenty more trail time to come on the Bontrager RSL cockpit, and I'll have a full review in a coming issue after using this setup for a greater range of rides. Pricing isn't cheap at $ 599.99, but it's about the right ball park for a top quality carbon handlebar and stem.
If you've got questions on availability, see your local Trek dealer .
Australian Mountain Bike