Bontrager have expanded the range of helmets using their Wavecel technology, including options for kids!
Last year Bontrager revealed their WaveCel range of helmets that utilised the new wonder material to offer a higher level of safety for riders. The WaveCel material is said to reduce the impacts of serious head injury by 48 times! We had Anna Beck dig deeper into the testing and claims, but to be honest, if you can get a helmet that has been shown in some testing to be safer - wouldn't you just use it? The Bontrager Blaze WaveCel was a popular model, but it does have a few minor drawbacks like weight.

Bontrager now has two new models in their WaveCel helmet range—Rally WaveCel and Starvos WaveCel, which are trail and road/XC models respectively. While the tech is the same, the price is a lot lower, with the Rally WaveCel selling for $229.99, and the Starvos is $169.99. Both the Rally and Starvos WaveCel helmets were awarded five stars in Virginia Tech's Helmet Safety Rankings.
The Rally WaveCel has a Boa® dial closure system, an adjustable visor, extended rear shell, and LockDown dividers for easy helmet strap management.
"Trek and Bontrager are committed to safer cycling for all riders," said April Beard, Bontrager Director of Product for Helmets. "With these two new additions to our helmet lineup, which come in at lower price points than other WaveCel models, we're bringing a leading technology in the protection against cycling-related head injuring to a broader audience of riders."
WaveCel is exclusive to Bontrager helmets and it's good to see the option of more models. While the Rally looks just like the Blaze at a glance, the Rally does away with complete WaveCel coverage, as the lower section of the back of the helmet is only EPS foam, instead of having a layer of WaveCel there as well. The magnetic GoPro attachment is also missing, so that would be another part of the cost saving, along with a move to a standard clip attachment for the strap, and not the magnetic closure.
The Bontrager Rally WaveCel comes in 3 sizes, with the small said to fit 51-57cm, medium 54-60cm and large 58-63cm. The medium samples fit true to size.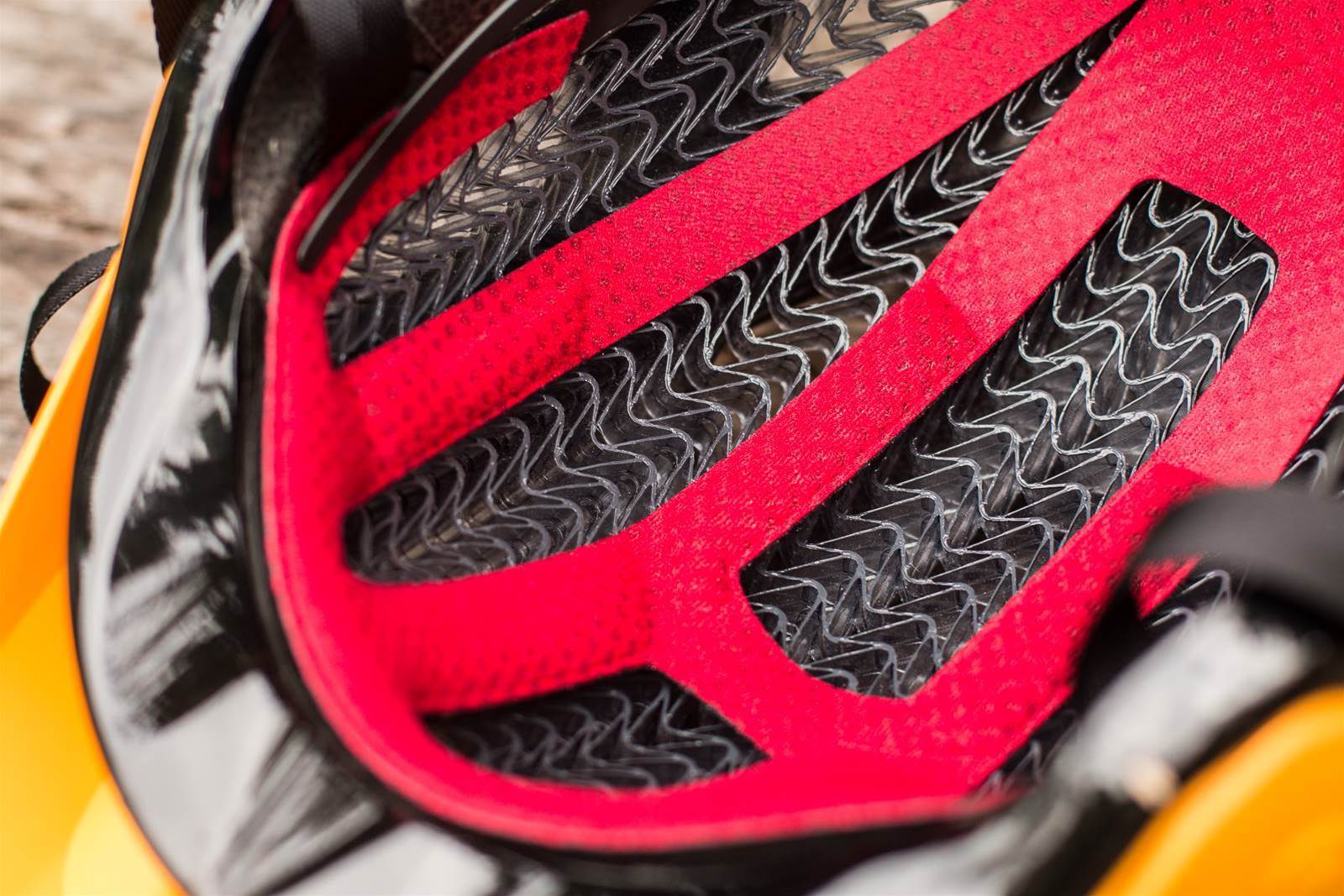 On your head, it still feels the same, and on a 3 hour trail ride between 12-24 degrees it didn't get too hot. As for style, that's personal, and whether the colours suit your preferences is another personal choice. The Rally WaveCel is comfortable, and with some more trail time we'll have a complete review. But with the claimed safety of WaveCel, this is a high value offering from Bontrager, and they should be applauded on bringing that safety to a lower price point.
The Rally WaveCel also comes in black, and an azure/navy combination as well as those shown. They're in stock at Trek dealers right now.
The Bontrager Jet WaveCel Kids' Helmet
The fun doesn't stop with super-safe WaveCel helmets for adults though, as Bontrager has announced the addition of Jet WaveCel to its helmet line-up today, the first-ever kids' helmet to feature WaveCel technology.
The Jet WaveCel sells for $149.99 and is a skater-inspired kids' bike helmet with parent-friendly features like easy adjustment and WaveCel, a leading technology in the protection against cycling-related head injuries.
'Bringing WaveCel to a kids' helmet is the clear next step for this game-changing technology,' said April Beard, Bontrager Director of Product for Helmets. 'It has always been our mission to advance helmet safety technology for riders of all ages, and that's why we're thrilled to introduce a new model for kids.'
Coming in either a 48-52cm or 50-55cm size, the Jet WaveCel comes in 3 colour choices. But best of all, stickers are available for a bit of customisation. There's still a dialled fit system, and a Fidlock magnetic slide clasp which greatly reduces the nightmare of pinched skin in a buckle.
Jet WaveCel meets ATSM standards, whose tests use a smaller mass headform more realistic to younger riders. At $150 it's a significant increase in price compared to many other kids' helmets on the market. But with a much higher level of protection, this could be right on the money for a lot of parents who want a happy and safe junior cyclist.
The WaveCel Jet is available right now from your Trek dealer.
Australian Mountain Bike