The next generation is here! Re-live the Bayview Blast with Craig Gordon's nephew, Owen Gordon, as he tears up the Junior race.
After a 6am flight from Sydney we arrived in Queensland on the Saturday with a full day to unpack the bike and get sorted. After a goodnight sleep I rode to the start line for an 8am start.
The sun was shining and a beautiful 23 degree day, the whistle blows for the start of the 50km junior males with a field of around 15 people in my category. After a horrible start where I could not get my shoe clipped in I ended up 5th into the start of the singletrack, we were to do 2 laps that were 25km long each.
With some tight singletrack the new Norco Revolver weaved its way through some tight spots hitting my shoulder on a few branches, it was mostly singletrack with not much climbing. The first lap was heaps busy with the 100km masters riders making their way through the course with not much room to pass, getting frustrated from my awful start I tried overtaking where I then made a wrong turn into the bush losing a few seconds, I knew I was in 4th at this time with 3rd not to far away.
The singletrack did not disappoint with fast flowy descents that continued to amaze me. Coming through the start/finish line I was in 3rd heading out for the last 25km with 1st and 2nd nowhere in sight, but I continued to battle my way through, the track was not as busy the second time round so I managed to pull back a few more seconds until I managed to catch up to 2nd place with 20km to go, I sat on his wheel until I could catch my breath again until he stacked it around a tight tree where I managed to get in front of him and away from him.
I was now in second with 10km to go then again 1st place was feeling fatigued as I sat on his wheel on one of the descents until I could catch my breath again, until it opened up to a fire road climb were I gave everything I had to pass him then gap him I entered the last descent with 2nd no where in sight I continued to plot along feeling fatigued by now I rolled over the finish line in 1st place with 2nd a minute behind me.
The commentator was in shock and unsure who had come through 1st for the junior males. He asked who I was and about my race and where I came from. After he interviewed me my grandpa went up to him and told the commentator that I was the nephew of "Craig Gordon" where he then turned around with a big smile on his face and asked me more questions. But after a long day I could finally rest by the beach and cool off.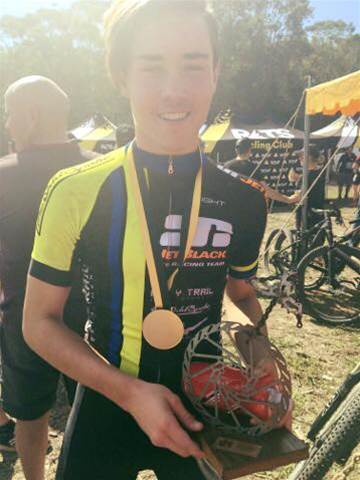 Australian Mountain Bike