In the world of Australian endurance mountain biking, Jenni King needs little introduction.
In the world of Australian endurance mountain biking, Jenni King needs little introduction. Having won the Australian National Cross-Country Marathon title twice, plus numerous XCO National Rounds and major events around the country.
Right now, Jenni King is in France ahead of the UCI Cross-Country Marathon (XCM) World Championships that are on in Laissac. The French race is 69.8km with 2590m of climbing. Compared to an Australian marathon race it's got a lot more up, but the mixture of singletrack, doubel track, farm roads and tiny country roads should make for the perfect World Championship course. The descents aren't to gnarly, but will benefit the gifted rider, and the climbs are long enough to suit good climbers – but they're not alpine length. In fact, with the race all taking place between 600 and 900m elevation, it's a lot better than last year's alpine race in the Dolomites for those who live around sea level.
In 2016, Jenni King started racing under her own coaching brand – Pedallab. She was also taken on as an ambassador for Canyon Bikes as they launched in Australia.
Jenni owns a Grand Canyon 29er hardtail and the Lux 29er dual-suspension bike – but she has brought her Grand Canyon to France. She's already raced it to second place at one of the Roc des Alpes races last weekend, and we took a look over it ahead of the World XCM Championships.
While Canyon released the Exceed in late 2015, the Grand Canyon is no slouch. King rides a small frame and it's been pared back to suit her fit and racing needs.
While Canyon have an awesome headset bearing cover and stops on the frame to prevent handlebar damage, they make the bars a bit too high. So King's -17degree Bontrager stem is on the compression washer.
Tune handlebars are wide and light, with SRAM Guide Ultimate brakes and an XX1 trigger shifter. The hydraulic lock out for the RS-1 fork is mounted beneath the bars on the left hand side. Grips are the ever-popular Ritchey WCS foam grips.
The drivetrain is pretty much full SRAM XX1, with 170mm cranks pushed by Shimano XT pedals. King uses an Absolute Black 30t direct mount oval ring. They're light, strong, and the oval shape assists with King's hip injury from early 2014.
Tune feature a lot through the bike, from a relationship forged years ago on a World Cup campaign. King uses the Tune straight post and Speedneedle saddle, plus their seat clamp.
The bottle cage is also from Tune, as are the hubs. The hubs are built to Light Bicycle 30mm rims, with bladed spokes and alloy nipples and valve stem. The wheels are tubeless, with a 2.1 Schwalbe Racing Ralph EVO TLE on the back and a Rocket Ron EVO TLE on the front. The 30mm rims means the 2.1" tyre inflates to a good size.
Rotors are both 160mm, hit Carbon-Ti bolts, and the calipers are fixed to the frame with ExtraLite Ti bolts.
King has a Syntace multitool that fits into the rear axle, it's longer than most multitools so it's got the leverage required to undo through axles and use a chain breaker.
There are a couple of race tweaks, but the most sensible is the conversion to full cable outer taped to the frame. It makes for easier servicing, and has no effect on shift quality.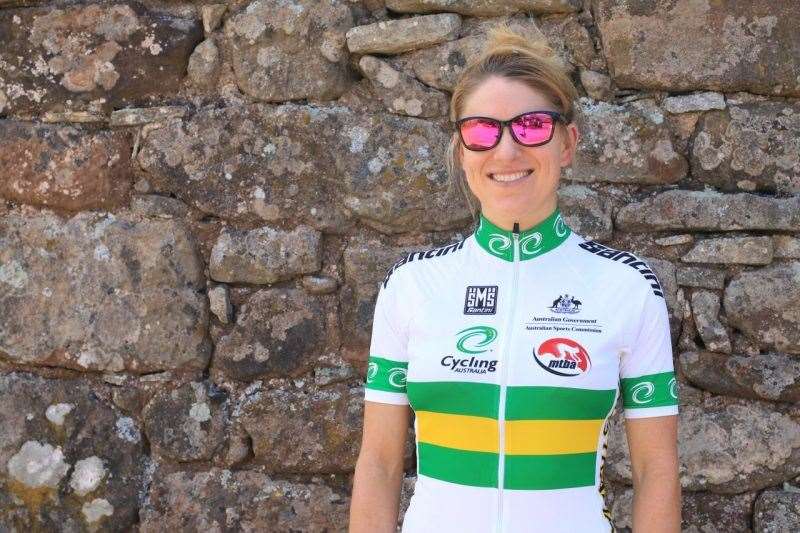 Jenni King has a race ready bike at about 8.6kg, so it is likely to be flying up hill and carved down by one of the better singletrack riders on the Australian circuit.
We'll have a full feature on the Australian team at XCM World Championships in a coming issue.
Australian Mountain Bike