Will Shaw takes us through his on the cheap Toyota Hiace fitout.
Has the bombardment of van fitouts on social media got you itching to get your own on the boil? In this three part series, Will Shaw is taking a look at three van setups, from his own cheap and cheerful Hiace to the deluxe White Knuckle MTB Camper Van. 
---
Words: Will Shaw
Photos: Dominic Hook
---
Will's Toyota Hiace – The budget friendly choice:

 
We'll start off with my setup, which is by far the cheapest and most basic of the bunch. The van is a 2001 Toyota Hiace SBV, and I picked it up with a cool 300,000 kilometres on the odometer. My housemate does van fit outs as a full-time job, and I picked the Hiace on his recommendation for a cheap and reliable van with easy to source spares.  
Will's 2001 Toyota Hiace SBV.
What was the main thing I needed/wanted from the design? 
The main thing I needed was for my fit out to be portable. If I went with the classic bed base and two drawers design, I wouldn't be able to roll bikes into the back as they'd hit the roof. The ability to put four long travel bikes in the back when necessary was a must for me, so the bed base needed to be removeable.
As a result, I went for a custom bedframe that folds out from a single to a double. The frame is high enough that I can slide my spares and toolboxes underneath, as well as a duffel bag with clothes. When the bedframe is setup as a single, I can fit two bikes next to the bed. I typically travel with a long travel eMTB and a Dirt Jumper, and this setup works perfectly for that. If both bikes are longer travel mountain bikes, I need to take the front wheel off one of them.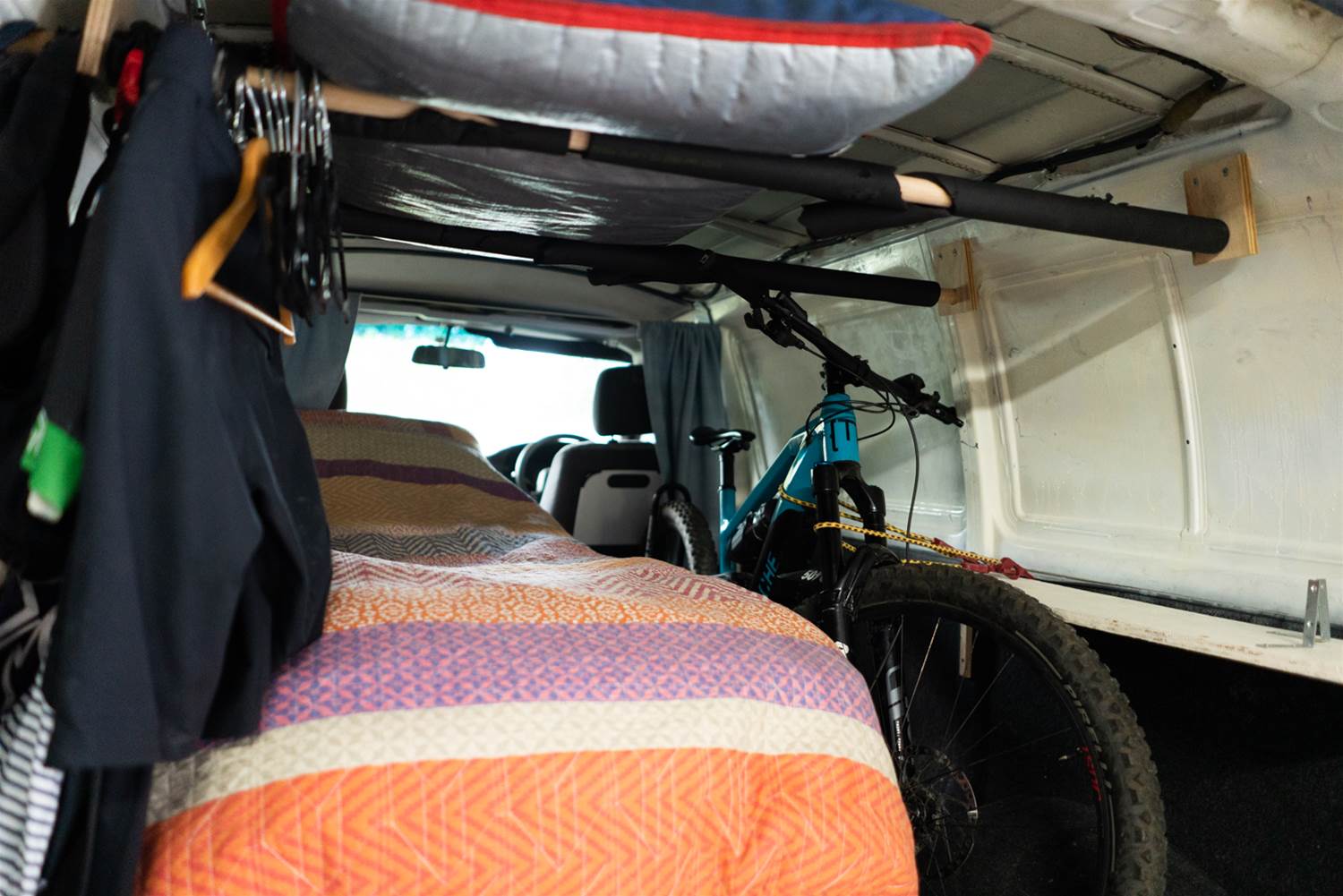 What are some things about this design that work well?

 
The portable aspect of this fitout design is its main drawcard. The ability to roll bikes in and out without taking wheels off is also nice. I have a couple of surfboard racks above the bed, and they also work nicely as a clothes rack. Another nod to flexibility in this design is the Yeti Cooler. Whilst it's not as good as a fridge, for the mainly 2–3 day trips I'm doing a couple of bags of ice will keep everything I need cold. When I need the space for multiple bikes, it's also much easier to move than a fridge!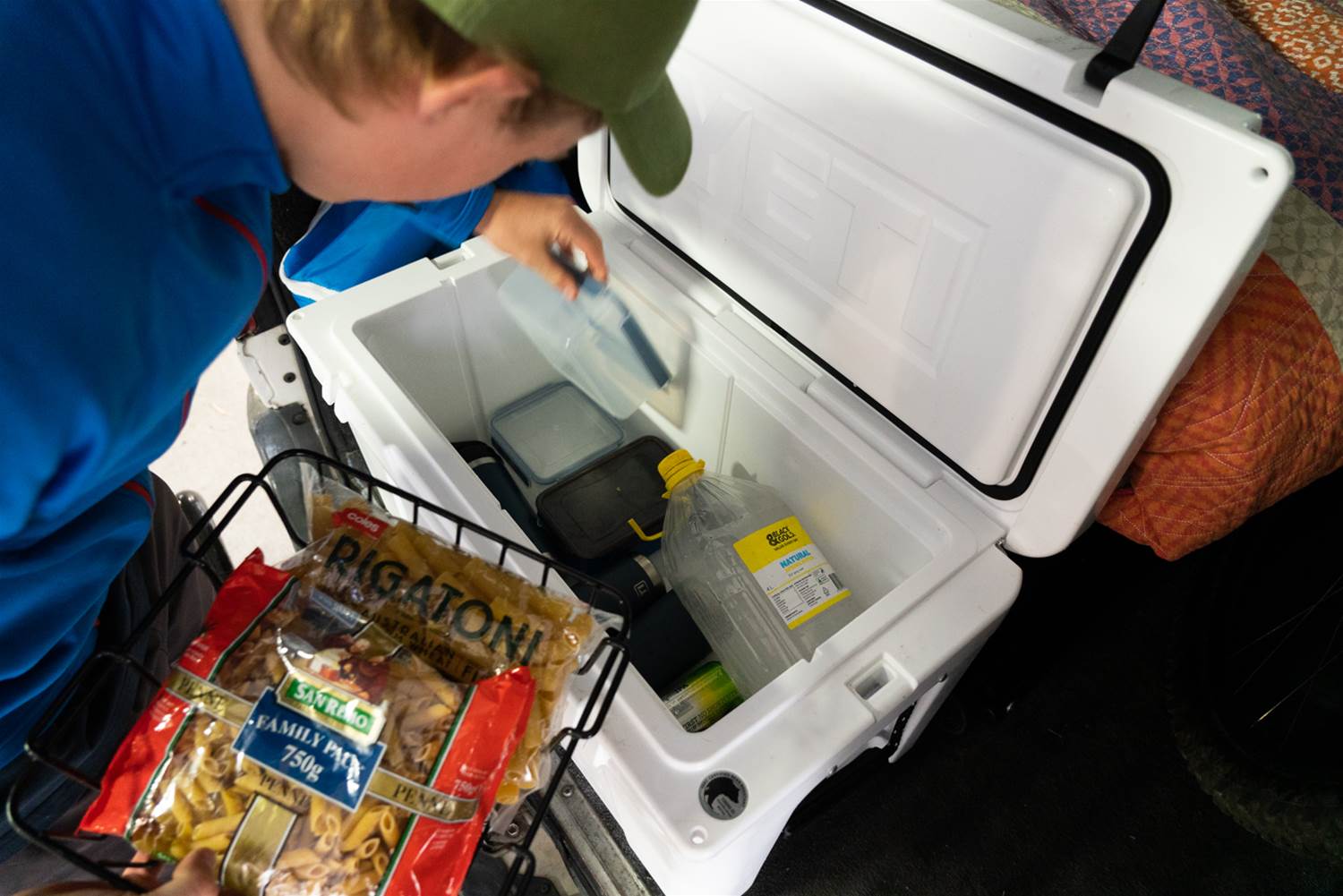 Will hitting all the trends of the last year with his fan fitout and Yeti cooler.
Things I'd change?
I'd probably remove the bench that I'm currently using to secure the bikes and install a drawer setup to secure the bikes similar to the White Knuckle MTB Van. Whilst this style of rack means you have to take the front wheel off, I think it would allow me to sneak three bikes next to the bed, and the fact that it folds out means less getting in and out of the van in the hunchback position.
As I'm riding lots of eMTBs these days, a second battery to charge my eBike would also be very handy.
Another White Knuckle addition I'd love is the integrated stand, as it puts the bike in such a good position to work on and enables you to have your tools at waist level in the van.
The bench on the left is nice for a cup of coffee in bed, but not much else.
Best trip so far?
My best trip so far in the mighty Hiace was a two week return trip from Newcastle to Melbourne via the South Coast on the way down, and inland on the way back up. There was lots of good riding on offer, and using the van meant I could bring a dirt jumper. I was also able to bring the tools and spares I needed for a worry-free trip. Whilst there are definitely downsides to having a van as your daily driver, when you can scoot off for a cheap trip away with your bikes at a moment's notice it's pretty good!
Nothing to see here ranger!
After more travel articles? Click here.
Australian Mountain Bike