Dom Hook's Mercedes Benz Vito is a clever middle of the range van fitout.
Our second van fitout is Dom Hook's Mercedes Benz Vito. Dom's fitout is a clever middle of the range option that provides more versatility than Will's cheap and cheerful Hiace. 
---
Words: Will Shaw
Photos: Dom Hook
---
Being a professional photographer and videographer as well as a passionate mountain biker, Dom's van needed to be versatile to suit his lifestyle. The result is his Mercedes Benz Vito, which is a jack of all trades fit out that's just about perfect for Dom's needs.  
AMB: What was the main thing you wanted and needed from the design? 
Dom: I would say flexibility is the main thing I wanted from the design. Because I work in the bike world but I'm also a filmmaker and camper, I needed the van to balance those elements. The end result makes sacrifices in order to achieve this versatility, but I can't imagine life without my van!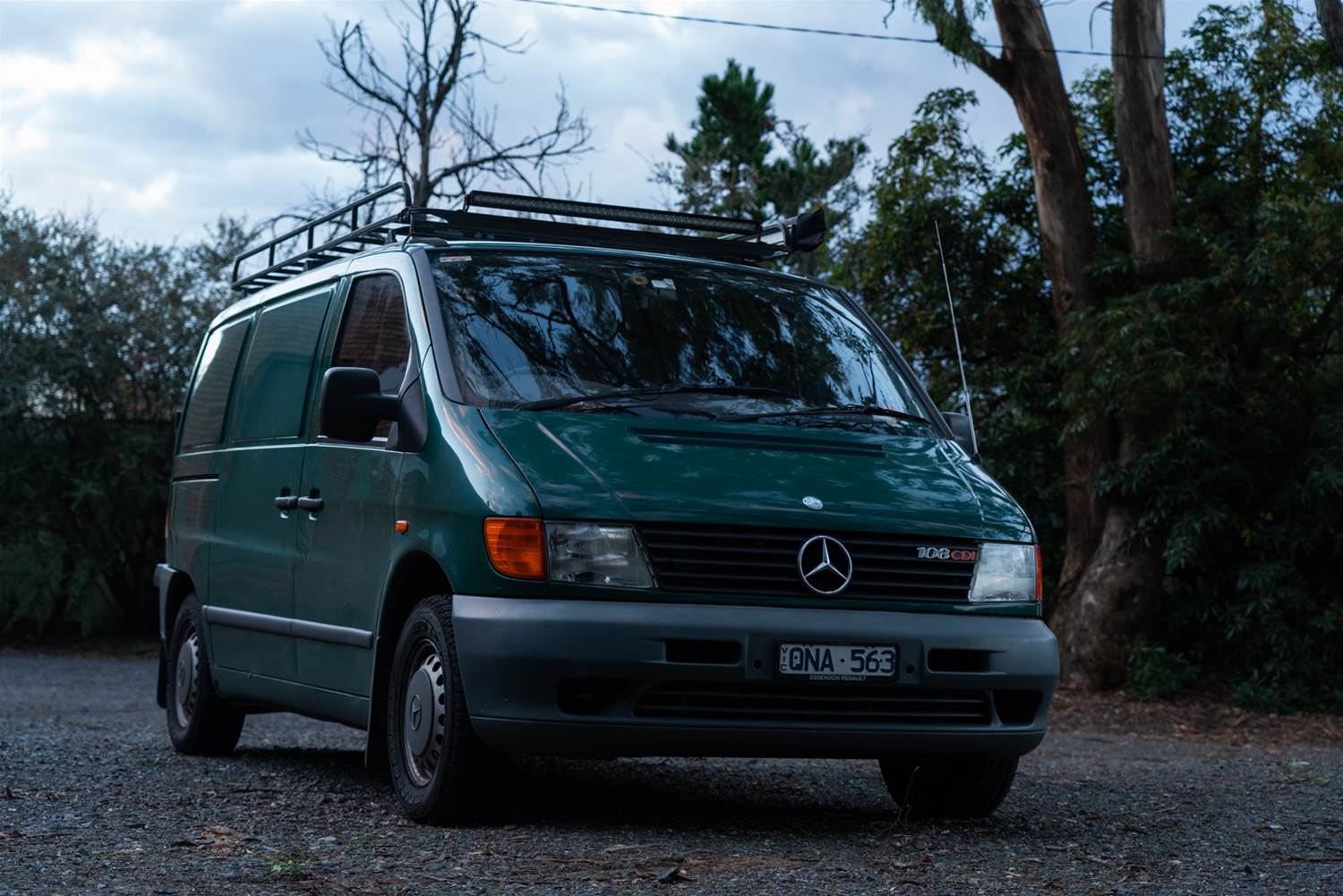 Dom's Mercedes Benz Vito.
AMB: What are some things about this design that work well?
Dom: I'd say the van works best as a standard camper or as a utility vehicle for my work as a videographer. The bike side of things is kind of tacked on after those two purposes.
Vans lend themselves really well to videographers as we need to carry lots of bags, long stands, tripods, and all sorts of other stuff. In my setup I can put these items underneath the wooden planks that make up my bed frame, which I can run as a single or a double. This storage space serves the dual purpose of storing my equipment out of sight, as well as being separated from other stuff inside the van.  
Dom is able to store his videography equipment out of sight.
The second battery is something I'd recommend to anyone. For me, having the second battery means I can charge my eBike battery no matter where I am. I could charge my laptop off the main battery but having the second battery and a voltage meter means I know exactly how much power I have to play with, and I can always start the car for a bit if I need to. 
Having all my bike and camping stuff separated is another great feature of the van that helps keep things organised. 
AMB: Is there anything about the design that you'd change? 
Dom: I think maximising the space on the walls could be better. As a short wheelbase van there's not much room to begin with, and the way I put the walls up was straight as I did them myself, however there is a contour to work with which would give me more space. 
Dom wants to redo the walls to utilise the contour better.
The bikes fit in the van currently, but there's a bit of Jenga involved with getting them in and out. One example of this is the fork mounts, which require the axle to be inserted into the fork laterally. Because of this I need to move the passenger seat all the way forward to get the axle out and remove the bike. What I'd love to have is a vertical axle clamp, which would save me two minutes or so every time I take bikes out or put them in. 
Another little thing I'd like to change is the interior paint. I did a bit of a Rambo job on it; I'd love to go back and take my time a bit more. I'd also like to use another colour so that tyre marks don't show up as much!
AMB: What's the best trip you've had in the van so far?
Dom: I've had lots of good trips in the van. The best work trip was a 10-day trip to Tasmania. I took my van and used one half of the bed frame with a single mattress. I put my trail bike behind the back seats, and my eBike fit in the slot provided by not running a double bed frame. I put my work gear underneath where I was sleeping, and so all the space in the van was serving a purpose.
As I took Spirit to Tasmania, I was able to bring all of my creature comforts with me, not to mention having two bikes at my disposal!  
Cooking is a breeze in Dom's van with his fold out cooker.
For me the versatility is just so useful. It's so cool to be able to get away for a coastal holiday with just a dirt jumper that doesn't take up that much space, but the same van is capable of carrying 2-3 bikes, food, and cameras if needed.
Keen for more travel articles? Click here.
Australian Mountain Bike