Read about the 76km Stage 1 from the 2019 Pioneer MTB Stage race
Words: Sebastian Jayne                                                                 Photos: Tim Bardsley-Smith
A bad day doesn't have to be a bad day in a pairs race.
The fun and games are definitely over after yesterday's prologue here at the 2019 Pioneer in New Zealand. Bar to bar racing over some of New Zealand's finest collection of trails, roads and gravel paths made up the 76km of Stage 1. Designing a course for racing takes a delicate touch with the right ingredients important in making a great race. It's the riders though that really make the race what it is. From those banging bars at the front to those at the back. It's the funny stories or bad times that can be looked back on with a laugh that make races like the Pioneer what it is.
 
Speaking of banging bars, if you want to warm up your team-mate's reflexes, T-bone them into the first corner when they turn, and you go straight. Seems to work for our team AMB x MarathonMTB.com! It was my bad, my teammate Sam Fox turned left, and I went barrelling through. I managed to get it into a drift and almost turn but not quite enough and put Sam into a post. We laughed it off and carried on. And by carry on I mean break away in the first 23km with the defending champions Tim Rush and Michael Vink after a very technical but extremely rewarding Moonlight single trail section.

Pair's racing, as the name suggests is about riding as a pair. When it's going great, it's easy. When it all goes bad is when you know whether you have a partner or you're just riding with another rider. Up until about 50km our day was going great, easy. In the lead bunch, eating, drinking and having a few laughs when the pace relented. But then, over two-months of no racing caught up with me and I slowed to a halt up the brutal Coronet Peak Ski Field. Climbing 710m in a bit over 7km and averaging 9.1%, the Coronet climb hurt a lot of riders.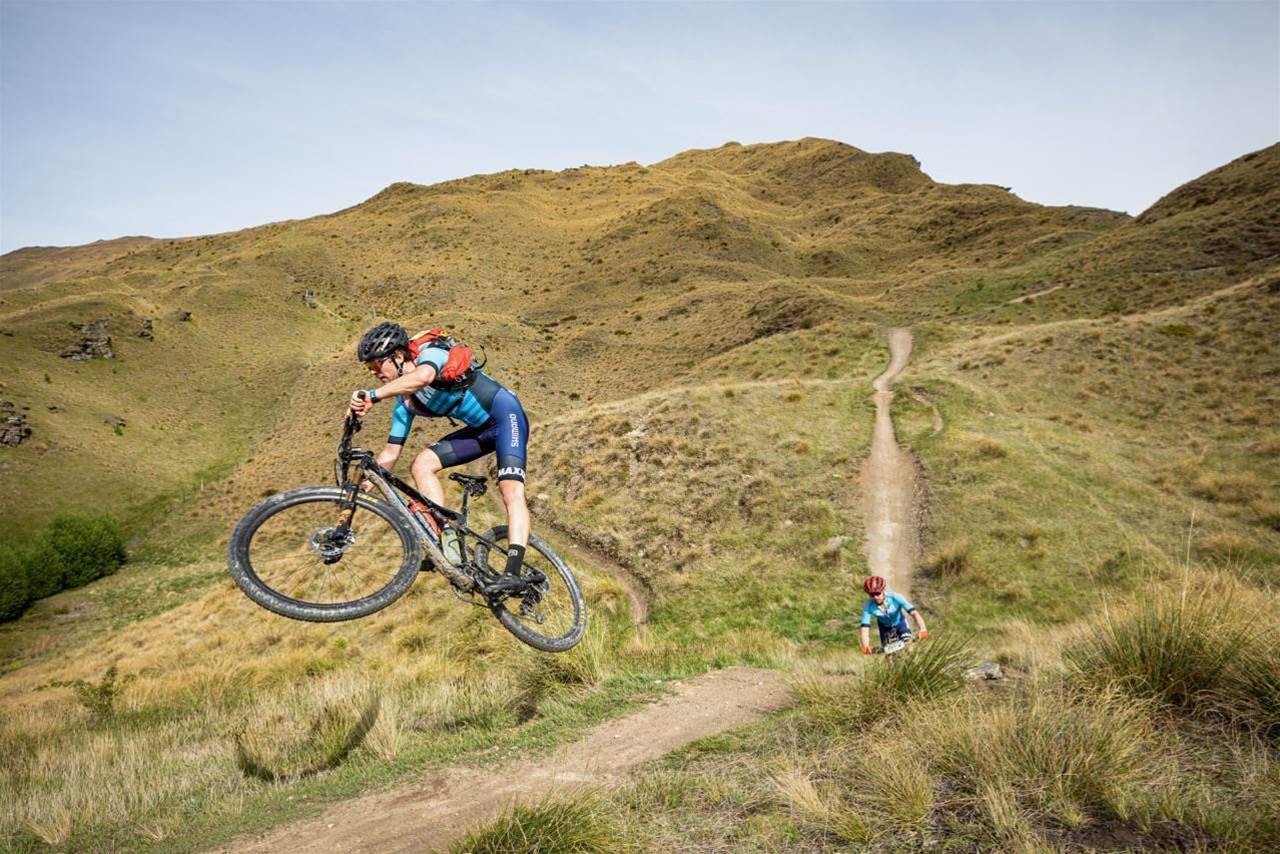 Pairs who whip together...

 
Thankfully I was riding with a partner/friend in Sam and even though he is the youngest rider in the race he handled the set back of going from sitting in the lead group to grinding along at an ever-decreasing pace extremely well. And by well, I mean carrying my Camelbak Chase Vest and pushing me up the monster climb. We made it to the top, eventually, and got to enjoy the amazing Rude Rock descent down to the finish in Arrowtown.
...stay together. Well, hopefully!

 
Sure, we lost major time in the overall and threw away a chance at a great result in the stage but knowing we could ride at the front and knowing we can handle a loss and still have a laugh should hold us well with what's to come and those experiences are a major reason to tackle a race like The Pioneer. The location is also a pretty big reason. Early on in the stage the pace relented over a crest prior to the moonlight trail as the lead bunch came into a valley filled with brilliant light. We almost stopped to take photos, almost, the pace was back on quickly but moments like those give you the memories you think back on when it's time to enter the next edition!

 
How the race was won
 
The men's leading team of Tim Rush and Michael Vink had a similar moment of a perfect pairing coming together, "Tim had to push me up most of the climb, including the road part as well which was something I thought would never happen but it is testament to the class of the man, he is such an incredible bike rider and I am lucky to have him as a partner," said Vink. The defending champs took the win with a bit over 3-minutes advantage from the Giant Australian Team pairing of Brendan Johnston and Jon Odams. The other Aussie team, Maap-Shimano, of Garry Milburn and Chris Aitken took third.
 
The mixed category was touted as one to watch and is living up to the name with a lead change after Stage 1. Prologue leaders, Kate Fluker and Mark Williams from New World-Pivot lost out to the JoJo pairing of Joe Skerman and Josie Wilcox. Mark Williams was full of praise for the JoJo team, "I had a bit of a face plant late on and took the brunt of it with the nose, but I am all good, my teeth are all still there so I will be fine! Jo and Josie were amazing today though, just too strong for us, especially on the climb, they rode an incredible stage today and well done to them."
 
The Stonewood Homes pairing of Amy Hollamby and Kate Mcilroy extended their lead a further 33-minutes in the open-womens category.
 
Tomorrow, riders will face a tough but incredibly rewarding 112km stage around the Alexandra trails and mountain roads. Follow along with the race by downloading the
Epic Series App on your phone. Search 'Epic Series' on your app store.
2019 Pioneer, Fuelled by Nutri-Grain
Stage One Results and General Classification
Open Men
Stage One
1 Tim Rush & Michael Vink, NZL, Onya Bike North Otago, 3:35:42
2 Brendan Johnston & Jon Odams, AUS, Giant Australia, 3:38:47
3 Garry Milburn & Christopher Aitken, AUS, Maap Shimano, 3:42:07
General Classification
1 Tim Rush & Michael Vink, NZL, Onya Bike North Otago, 4:47:23
2 Brendan Johnston & Jon Odams, AUS, Giant Australia, 4:50:04
3 Garry Milburn & Christopher Aitken, AUS, Maap Shimano, 4:53:42
Open Women
Stage One
1 Kate McIlroy & Amy Hollamby, NZL, Stonewood Homes, 4:24:00
2 Nina McVicar & Reta Trotman, NZL, New World St Martins, 4:57:39
3 Hannah Buchannan & Sarah Gilbert, NZL/USA, Tiki Wine & Vineyards, 5:12:54
General Classification
1 Kate McIlroy & Amy Hollamby, NZL, Stonewood Homes, 5:49:16
2 Nina McVicar & Reta Trotman, NZL, New World St Martins, 6:29:49
3 Hannah Buchannan & Sarah Gilbert, NZL/USA, Tiki Wine & Vineyards, 6:50:02
Mixed
Stage One
1 Joe Skerman & Josie Wilcox, NZL, JoJo, 4:03:19
2 Mark Williams & Kate Fluker, NZL, New World-Pivot, 4:06:34
3 Holly Harris & Michael Harris, AUS, Sram Mtoss, 4:13:18
General Classification
1 Joe Skerman & Josie Wilcox, NZL, JoJo, 5:22:03
2 Mark Williams & Kate Fluker, NZL, New World-Pivot, 5:25:16
3 Holly Harris & Michael Harris, AUS, Sram Mtoss, 5:33:38
Masters Men
Stage One
1 Gene Marsh & Jeremy Furlong, NZL, Off the Chain, 5:23:42
2 Gianluca Valsenti & Matthew Webber, NZL, Rivet Racing, 5:43:01
3 Hamish Lane & Kris Snow, NZL, Cycle Obsession, 5:44:57
General Classification
1 Gene Marsh & Jeremy Furlong, NZL, Off the Chain, 4:05:19
2 Gianluca Valsenti & Matthew Webber, NZL, Rivet Racing, 4:20:43
3 Hamish Lane & Kris Snow, NZL, Cycle Obsession, 4:22:14
Masters Women
Stage One
1 Kath Kelly & Peg Leyland, Earnscleugh Express, 6:40:31
2 Jackie Blay & Sara Prince, NZL, Outlaw Sisters, 7:34:36
3 Kim Johnston & Christine Wright, NZL, Team Cycleways, 7:50:55
General Classification
1 Kath Kelly & Peg Leyland, Earnscleugh Express, 5:05:02
2 Jackie Blay & Sara Prince, NZL, Outlaw Sisters, 5:49:50
3 Kim Johnston & Christine Wright, NZL, Team Cycleways, 6:03:27
Grand Masters Men (50+)
1 Marc Baechil & Daniel Christen, SUI, Terreactive IT, 4:06:56
2 Kent Wilson & Graeme Young, NZL, The Hub Cycle Centre, 4:24:28
3 Allan Killick & Greg Thompson, NZL, Cycleways, 4:31:24
General Classification
1 Marc Baechil & Daniel Christen, SUI, Terreactive IT, 5:27:38
2 Kent Wilson & Graeme Young, NZL, The Hub Cycle Centre, 5:48:41
3 Allan Killick & Greg Thompson, NZL, Cycleways, 5:56:40
Full race results HERE
Australian Mountain Bike