What engineering secret makes the Whyte S-150c RS one of the more entertaining Enduro bikes on the market?
Whyte often slip under the radar, with just a small international racing presence and only a handful of continental racers with a passion for going fast. Yet they remain the darling of the world's mountain bike media, their bikes often highly praised, and also making their way into the garage of an editor or two.
Not to miss out on such a trend, I bought a T-130 a year ago and I love it. The geometry is spot on, it's fast, it's sleek and it's a lot of fun. But, like many T-130 owners, I've Frankenstien-ed my ride. Wider bars, 140mm forks, grippier tyres, beefed up rear suspension. "Why's that?" you may ask. Well, there is no 150mm option within the Whyte range, and there hasn't been since the 27.5 G-150 was bumped up to 160mm (now 170mm) - and for the bulk of Australian trails it was decidedly too much, at least for me at that time. So with the announcement of the S-150 I searched out the distributor to get a hold of one.
Whyte have a long-running pedigree with 29ers and here at AMB we've tested most of the fleet along the way. That includes both the T-129 (120mm) trail bike and even the more marathon-inclined M-109C (100mm), but sadly both those models no longer exist. However, the knowledge attained has moved on into the more All Mountain line up that exists today.
INITIAL IMPRESSIONS
The Whyte S-150C RS hides its enduro inclinations beneath a stealthy dark matte grey bodywork, matched to luminous yellow logos. Its simple lines are aesthetically pleasing and a large carbon front triangle gives way to a stylishly re-designed alloy rear end. Durability was at the front of mind when designing this frame. It's not the lightest enduro frame, but Whyte have settled on a competitive carbon weave that has allowed them to add extra strength to the front triangle. The rear end has also been updated over its trail counterpart, with a new clevis-type suspension main rocker. This is a two piece rocker that replaces the main single piece pivot point that existed in the four bar suspension setup previously. The new design better supports the swing arm shafts and features over sized bearings (which have a lifetime warranty) for extra durability and better weather sealing.
The 'Single Chain Ring' mentality remains with single rings spec the only option throughout the range. It does have its benefits, allowing crisp lines down the chain stays to the boost spaced rear end for extra strength. Bonded rubber protects the stays and another thick panel protects the carbon down tube. Routing is all internal, with special care given to the new grommets for better weather sealing against the elements. The moulded rubber seat post collar has likewise been improved with the sheath partially entering the frame. There is ample room for a water bottle and for the ubiquitous spares strap that seems to be part
and parcel of enduro racing and trail riding
these days.
Components-wise the S-150 has had the full SRAM treatment. SRAM GX Eagle takes over the drivetrain, from shifters to the now well-known 10-50 tooth cassette. A carbon Descendant crankset offers extra sturdiness up front, while a 32 tooth ring adds the power. The cockpit is composed of a standard Whyte branded 50mm stem and Whyte branded 760mm handlebars, complimented by a set of SRAM Guide brakes. Rear suspension duties are given to the RockShox Deluxe RX DebonAir with the fast coating to prevent stiction. It's a little on the firm side and is certainly more geared to a racer's set up, with just enough low speed compression to keep you out of trouble on climbs but plenty of middle stroke support to get you bombing on the descents.
The most notable 'innovation' Whyte has implemented here is the inclusion of a special RockShox Pike. It's certainly not easily visible to the naked eye, but it offsets by 42mm, rather than the usual 51mm. The reason why that matters will soon be explained.
RIDE IMPRESSIONS 29
I spent the bulk of my time with the Whyte S-150 set up as a 29er - and if I were to describe the ride feel in just a word, it would be "balanced". Whyte are known for their long top tubes, short rear ends and generous reach and they all feature here in spades. It was a quick shift from my 27.5" wheeled T-130 to the 29 inch wheels and I was up to speed much quicker than I might have expected. That was in part, I believe, to the offset RockShox Pike.
What is offset? It is the distance the front axle is in front of the steering axis or the steerer tube. In the case of the S-150 the fork crown has less forward sweep, 42mm offset, compared to the standard 51mm offset you will find on your average 29er fork. This gives you a better and more consistent contact patch with the trail, for ample amounts of traction. When coupled with the long front triangle and slacker head angle (65.6 degrees), it offers a calmer approach to the steering. In many ways it's a more centred ride and makes you feel as if the front wheel is almost beneath you in some way, becoming more central to the steering. On the trail it offers more traction by allowing you to keep a better contact patch with the front wheel and therefore enabling you to hold a straighter path and have increased control through the gnarly stuff.
Geometry and innovation are a hard balance to get right but it's something that Whyte have nailed here. From the moment you throw a leg over, the bike feels balanced. I instantly felt at home here and it wasn't long before I was up to speed. The slightly longer chain stays (compared to other 29er enduro bikes) at 425mm and long front end ooze stability. Before long you will be railing turns and finding that perfect line of carve to dance down the trail. I wouldn't necessarily call this bike flickable, it has an ability to pick a line through tight and twisty corners like no other. In the rough it is planted and while 29" wheels have the well known ability to roll over anything, this bike truly has an element of fearlessness.
This S-150 begs for speed - keep your cadence up and the trails become a blur. For a bike of this size it's an exceptional pedaller, but at times it can still feel slow, particularly on tight flat trails. And this isn't a bike that likes too much cross-country, which you would imagine would be the case in an enduro bike. But the more I rode it the more it seemed a simple spec change would do the trick. Some have pointed out the weight of the entire package at 13.5 kg, but there are plenty of ways to bring that down. For me, a lot of it seemed due to the tyres. Up front we have the Maxxis Highroller 2.3" and in the rear a Minion SS 2.3", which are both excellent tacky fast rolling tyres for descents. However, I was unable to find the edge of grip around the trails where I ride. If I had extra time I would push for a more trail spec just to keep everything that little bit fast rolling - although that is purely down to the geography of where I live. For the truly mountainous regions of Australia you wouldn't want to change a thing.
This is a bike that just wants to go the moment it get's a whiff of a descent. And with the geometry the S-150 has, along with its custom offset, it seems you can push that little bit further on grip before you run the risk of sliding around.

AND SWITCH….
The 'S' in S-150 stands for 'Switchable'. When the S-150 arrived I was also given a set of 27.5 plus RaceFace ARC 35 hoops, complete with Whyte hubs, a pair of 2.8" Maxxis tyres and a set of tools to switch over the cassette. The result is an invitation to hit the trails with a completely modified steed.
There are quite a number of big name brands that offer this sort of adaptable bike, but more often than not one option is better than the other. That wasn't so with the S-150 - the 27.5+ tyres accentuated the classic leanings of what I think is Whyte bike's hallmark trait: cornering. The 2.8" tyres scream grip and that's what they give you, a metric tonne of it. It's a lot of fun, but it is a different style of riding. They say it takes an extra three per cent pedalling efficiency over a standard hoop and that's something you definitely feel while out on the Whyte in this configuration. The ascents are even more laid back and you'll feel the need to explore new gear options in the lower end of your SRAM Eagle cassette. Even bombing the descents is an all new experience.
There is traction everywhere, anywhere and on anything. No joke. Stuff up a line, no issue. Cut a turn late, no issue. With the 27.5 plus wheels, the S-150 felt like a completely different ride. Now obviously there are some geometry trade offs with the switch - the bottom bracket drops a steady 6-8mm depending on the psi in your tyres. For me, it was about 10 psi. It also felt slacker, as if the the front was just that little more raked out. The offset fork left the steering a little more sensitive compared to the 29" wheeled iteration and it certainly took a couple of rides to get used to.
I'm not a big fan of fat bikes, or semi-fat bikes for those who want to be particular. And I won't say my mind was changed dramatically by this bike. I couldn't, for example, see myself riding the S-150 with 27 plus tyres as my primary set up. But putting all that aside, dropping in and railing the descents with seemingly endless traction beneath me was a lot of fun. And while I wouldn't reach for the wheel set on a weekend Stromlo, if I was heading somewhere like Thredbo or Bright then they'd be going straight in the car for use on a few runs. This 27.5+ package costs an additional $1,199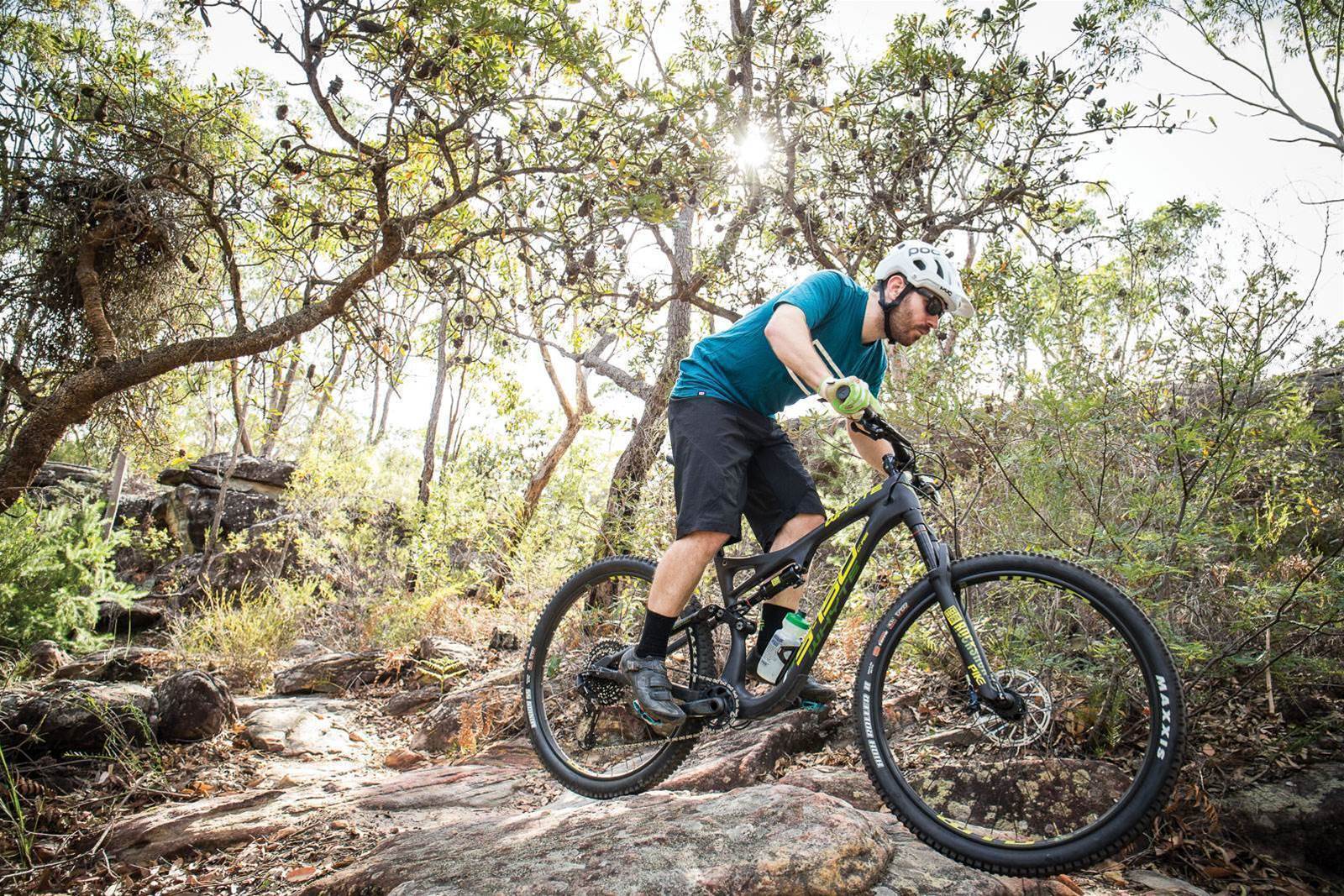 Our Take
The Whyte S-150 is a strong contender for any enduro rider. In its stock configuration it's built to tap, tap, tap up through transitions and smash stages. With a little bit of modification, though, it can fulfill that role of the hallowed quiver killer, 'all day, any day' bike we're all after. It's supremely balanced, it pedals efficiently and - most of all - it's a hell of a lot of fun on the descents. If the price of the C RS version doesn't quite suit, the alloy model slots in at $2,000 cheaper.
| | |
| --- | --- |
| ESSENTIALS |   |
| BRAND  | Whyte (whyte.bikes) |
| MODEL | S-150C RS |
| RRP | $6,999 |
| WEIGHT | 13.5kg (as tested) |
| FROM | Carbuta |
Australian Mountain Bike