Testing the latest eMTB from Merida, the eONE-FORTY 8000
Words: Brad Babel                                                                           Photographer: Gerard Lagana               
Merida have enjoyed a good share of the electric mountain bike (eMTB) market since the category first started, in part due to an ability to offer great bikes at very competitive pricing. The Merida E160 is synonymous with eMTBs around the world, and you'd be hard-pressed to not see one or more at any popular trail head. Merida's manufacturing is based in Taiwan and the design and R & D is based out of Germany, so they can draw on that country's engineering prowess.
Merida offer 3 styles of performance based eMTBs, the eONE-TWENTY, eONE-FORTY and eONE-SIXTY, boasting 120mm, 133mm and 150mm of travel respectively. This carbon model sits at the top of the eONE-Forty range but there are other models in the line up. This bike uses Shimano's top end E8000 motor powered with a 500Wh battery. For those that want something that is going to handle "all day" riding and be comfortable not only going downhill, but also on slower tighter trails and climbs, Merida are serving us up this little beauty.
Tester: Brad Babel
 
Riding Experience: Riding and racing mountain bikes since the late 80s
Generally Rides: Rocky Mountain Element 999 2017 Norco Sight C1 2018, BMC RM01 2016
Height: 181cm
Weight: 76kg
Bike Test Track: Brisbane trails, Bunya, Iron Bark, Gap Creek
Merida's goal was to take the popular eONE-SIXTY and make it a little more suited to all-round mountain biking rather than a focus on just descending ability. The 2 models share the same frame and swing arm, but with different forks and shocks they are able to adjust the travel and geometry to suit a more all-round approach so there really isn't a big difference in the geometry. The Merida eONE-FORTY is going up against eMTBs from Giant, Norco, Specialized, THOK, Trek and more. But will people want the shorter travel variant?
Initial Impressions
With a very similar design style and construction on all their models this eONE-FORTY uses a full carbon front triangle with integrated battery storage, as opposed to their previous alloy frame with the battery bolted onto the top section of the down tube. The alloy models also match the carbon frame with an internal battery. The integration offers good protection for the battery with a special 2 part battery cover. The outside section is softer to help reduce noise from trail debris, and protect the harder inner layer that ensures the battery isn't damaged and gives structural shape. All the rubber parts can be replaced down the track if they wear or become damaged. The battery can be removed easily by unclipping the outer cover and then a 4mm hex key to remove the battery pack. 
This battery integration not only improves the looks department but also allows more practical things like the ability to now mount 750ml water bottle on the frame so that the use of a pack is no longer mandatory. 
To help with cooling of the motor and battery components the eONE-FORTY has a "Thermo Gate" at the top of the down tube, which are small openings that allow a chimney effect for hot air to escape, and also allows the cables to be routed internally. The charging port is located on the lower section of the down tube above the BB with a neat little cover to keep dust and water at bay.
The frame is fitted with Merida's Internal Block system also stopping the bars and forks from spinning around and damaging the frame. Both the eONE-FORTy and eONE-SIXTY use a 29er front wheel for improved grip and roll over ability with a slightly larger tyre on a 27.5" rear wheel to help with improved maneuverability and playfulness. It can offer a little head ache if you flat and don't have the right tube handy. The build kit ticks all the boxes, as 4 pot Shimano SLX brakes with 200mm rotors are on the all-important stopping duties and are up to the task nicely, offering plenty or power and feel so you can stoppy with the best of them.  Shifting duties are done by Shimano Deore XT 12-speed shifter and rear derailleur, with an SLX cassette and chain. 
The bike rolls on Fulcrum E Metal 700 wheels with 30mm internal spacing, and built in sensor on the rear hub for the speed sensor.  They are wrapped with Maxxis Minion DHF WT EXO+ 29 x 2.5" up front and Minion DHRII 27.5 x 2.6" out back also with EXO+ side walls. 
The eONE-FORTY's squish is handled by a RockShox Pike Select up front and Deluxe Select+ out back, offering good control and modest adjustability. I wondered how the Pike would go with the heavier chassis of an eMTB, and if it would be up to the task. But I think in part to the improved stiffness of the new carbon front end steering remained sharp and predictable. The rear shock does have a pedal switch but it's not something I ever reached for on this bike. Merida run a 4 bar rocker style suspension package, which is easily tunable and can deliver the ride the designers are after. Stand over clearance has been improved with the top tube having an upsweep towards the seat post to keep it nice and low where you would straddle the bike. 
Merida fit their eMTBs with small mudguards, but they are a bit flimsy and perhaps might be better left off, or at least fitted with some decent ones as I do find it cheapens the look personally. There is a multi tool stashed under the seat and another tool with a 6mm and 4mm hex key in the rear axle. 
The topic of tyres was raised when I collected this bike from our Editor. Merida have chosen to go with the EXO+ side walls from Maxxis over the more heavy duty Double Down or full DH Casing. While these may be alright for most conditions riders might encounter, the heavier weight of eMTB means it doesn't take much of a hit to an unseen little rock to put a nice old hole in the sidewall, which is exactly what I did on my 3rd ride with just an unseen rock. I feel like even if only on the rear wheel switching to a heavier duty casing would be helpful. The bike already weighs 20+Kg, what's another 400 odd grams going to change overall?
On The Trail
With most of the Meridas I have tested, one thing that rings true with them is that while they might not be super progressive with their approach to geometry, they are all easy to get along with from the outset. You can jump on and it just feels familiar and without too many handling quirks to get used to. The pedalling position is comfortable and reasonably upright and is also well positioned for seated twisty trails. The wheel base on the size large is only just over the 1200mm mark at 1204mm with a 66.5 degree head angle and 449.5mm reach, it doesn't feel like too much bike to ride through tight switchback climbs or the rocky jank. This really helps you to just guide the bike through the tighter stuff without the need to "man handle" it through tight stuff like you might on a bigger bike.
Conversely though, the modest geometry will mean the bike feels less confident and stable once the hill starts to point downwards at a steeper, and rockier rate. But that was part of the design brief, make something that doesn't just excel when you are heading downhill, but something to tame and make fun of the uphill sections as well. The weight does keep the bike tracking and stops it from being bounced around too much.
EMTBs have most of their mass low and well balanced front to rear. This helps with make the ride surprisingly predictable. There is more weight to deal with, so when you come hauling into a tight and steep entrance to a turn the bike does want to keep going forward as you are turning the front end in, making the rear want to step out and try overtake you, but aside from that, the added weight does help to ground the bike and let the suspension do its job. The RockShox units do a good job of smoothing things out and the Pikes along with the improved chassis stiffness of the new frame give you confident handling and that the bike will go where you point it. The rear centre is not overly long like some eMTBs, making it easy enough to lift the front wheel to manual through things if needed.
Shimano have 3 levels you can set the motor to while riding, Economy, Trail and Boost. When you download the Shimano E-Tube app and connect via Bluetooth, using your phone or tablet, you can adjust those settings to customise it more to your liking. I found the Eco mode in anything other than the highest setting a bit of a waste of time. Trail Mode I used the most, left in the medium setting, and Boost mode, which is great for when you are wanting to zoom up the fire road as quick as possible, I left that in the high setting. Eco mode gives you enough assistance if you want to really extend your battery life you may want to spend some time in this mode to maximise the battery where you can if you are planning on a big day. Trail mode gave you a good amount of assistance that was smooth enough in its power delivery to ride through technical trails, and powerful enough that if you soft pedalled you still maintained a good speed, where as in Boost I was finding the motor was kicking in quite hard and launching you and would keep going a little after you stopped pedalling, something to be mindful of when you are riding tight trails so that it doesn't keep sending you straight into that tree on the exit of the turn you're entering. So Boost mode was mostly left for pretty open trails and fire trails.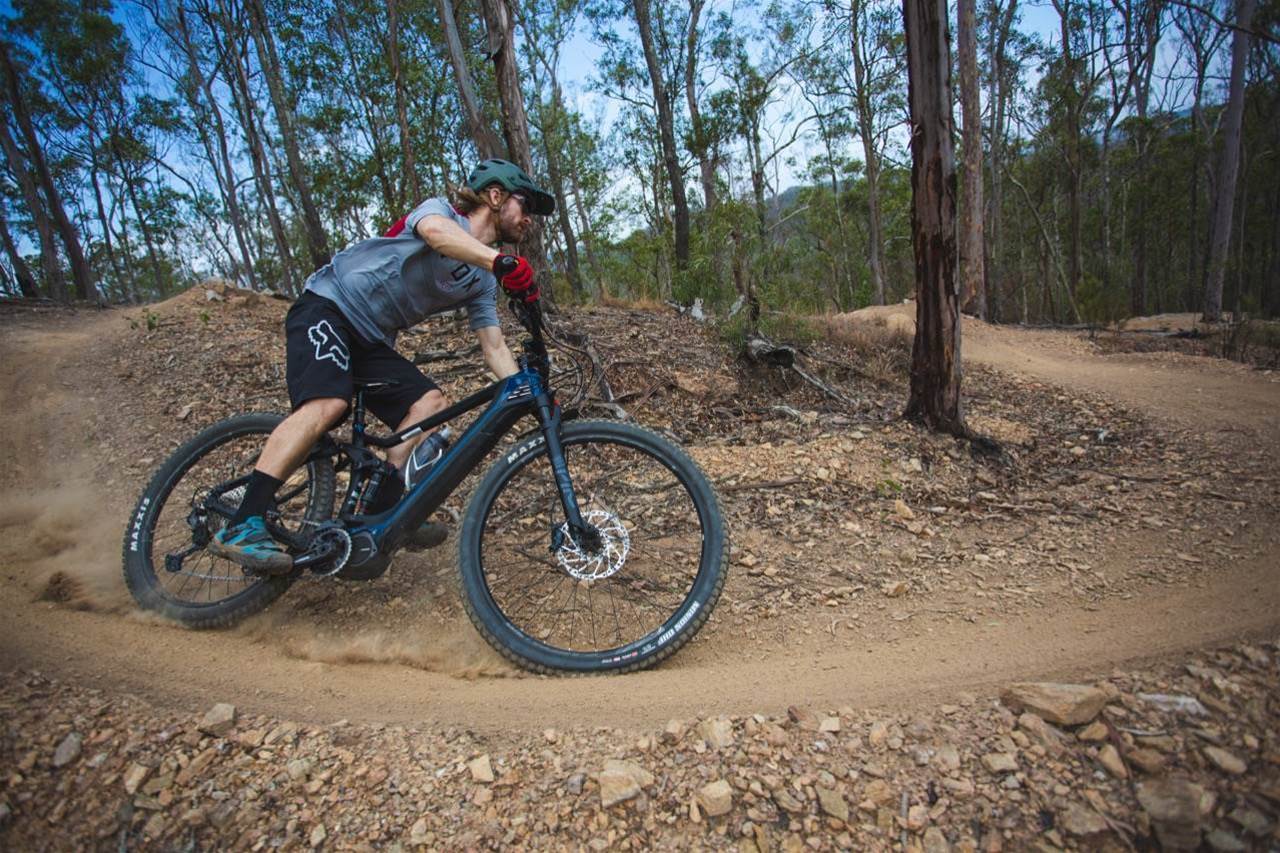 Merida spec a 504Wh battery in their bikes for 2020. They didn't spec a bigger battery wanting to keep weight down, with the 504Wh battery weighing in just under 3Kg, so light enough that for longer rides you can carry a second one in a pack if you need. With careful battery management you should be able to squeeze a 4 hour out. If you choose to use Boost mode on every climb through your battery life is more likely going to be only about 2 hours or so. Personally I think most people are not going to carry a spare battery for long rides and think a slightly larger battery would suit those out there wanting to really go out for big days on their eMTBs.
The Merida eONE-FORTY has an easy to get along with trail manner, with a suitable mix of reliable components selected.  My personal preferences would see a better dropper post on it and some stronger side walls at least on the rear tyre, but that is also because of the way I like to ride my bikes.  Both of those things are easy enough to change down the road though if you choose. I did put a hole in the side wall that wouldn't seal with just sealant, no problem with a tube, but if I had a DD tyre spare in 27.5" I would have put one on.
Given my concerns on a few of the parts selections I think at around the same price the new Norco Sight VLT C2 is  similar price point but address's a few of my concerns I have about the Merida and would be one that out of the box I think would suit my type of riding. Although I have not ridden the Norco so don't have actual trail time to compare them, only the specs sheet. I certainly prefer the Merida over the Giant Trance E options, as they have quite long chain stays and a motor that does hang a little lower than the chain ring, making it susceptible to strikes and possible damage
Our Take
 
The Merida eONE-FORTY is easy to get along with thanks to geometry that feels comfortable and familiar from the start. The current Merida eMTBs have lighter and better looking frames with integrated bottle mounts and heat management. Thanks to the Shimano drive unit, you get an adjustable output and hopefully the option to hire batteries if you travel somewhere. Anyone after a good trail eMTB that is focused on all-round riding not just the descending and is not too much bike to just "ride" around obstacles. Parts selections are a little lighter in places to keep the weight down to make it a pleasant all round bike so keep that in mind if you are rough on gear or like to beat up on rock gardens with your bike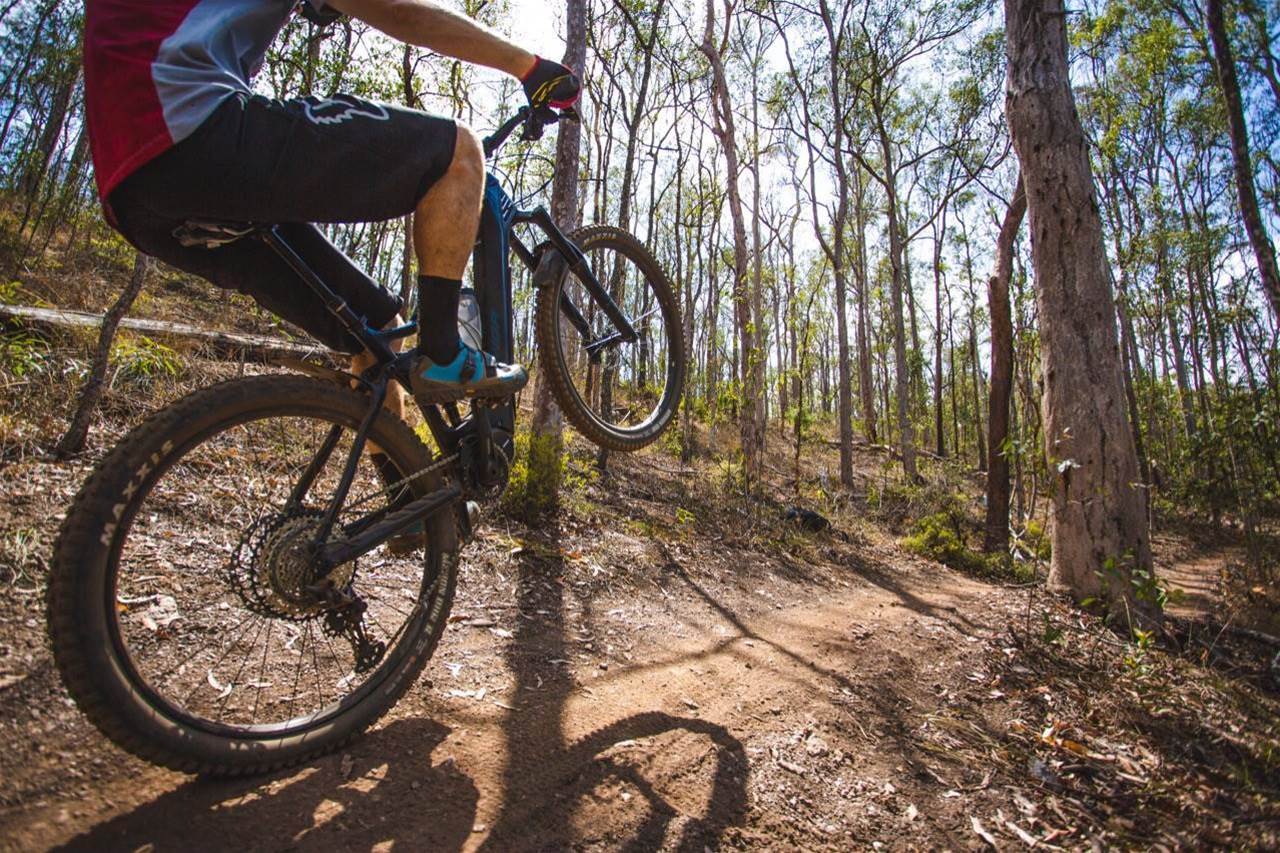 Those wanting to go out for long eMTB rides will want to get a spare battery or risk riding sections with no assistance (which is doable but sucks). If you like to charge gnarly DH trails, opt for a bigger rig, as this is your all-rounder right here. I do think the Merida eONE-FORTY is let down by tyre selection, but that is a personal preference. The bike could certainly use a slightly bigger battery as well.
 
Merida offer amazing value bikes and you get a lot of bike for your $7799. There's a whole host of eMTBs from Merida though both in this format and the longer travel versions, in both carbon and alloy. I'd be surprised if you couldn't find one to suit your tastes.
Brand: Merida
Model:  eONE-FORTY 8000
RRP: $7799
Weight: 22.1kg (as tested)
From: Advance Traders
 
Available Sizes: S, M, L (tested), XL
Frame Material: Carbon fibre main frame, alloy swing arm
Fork: RockShox Pike Select, 140 mm 51mm offset
Shock: RockShox Deluxe Select+, 133 mm
 
Shifters: Shimano Deore XT M8100 12spd
Derailleur: Shimano Deore XT M8100 Shadow+
Crank: Shimano FC-E8000 165mm all frame sizes
Bottom bracket: Shimano
Chain: Shimano CN-M7100
Cassette: Shimano M7100 12spd 10-51t
 
 
Wheel set: Fulcrum E-Metal 700, 30mm, 27.5" rear, 29" front
Tyres: Maxxis Minion DHF EXO+ TR 29 x 2.5" F, Minion DHRII EXO+ TR 27.5 x 2.6" R
 
Brakes: Shimano SLX M7100, 4 piston 200/200mm
Stem: Merida Expert eTR 35mm clamp 50mm
Handlebars: Merida Expert eTR 780mm wide 20mm rise
Seatpost: Merida Expert TR, 30.9mm diameter 0mm set back, 125mm on Small, 150mm M-L, 170mm XL
Saddle: Merida Comp CC
 
Drive Unit: Shimano SC-E8000 70Nm
Battery: Shimano E8035 504Wh with ABUS lock for Shimano integrated battery
Display: Shimano SCE8000
Australian Mountain Bike