Are eMTBs just for beginners? We test the BMC Trailfox AMP ONE eMTB to see!
Words: Tim Bardsley-Smith                                           Photos: Mike Blewitt, Tim Bardsley-Smith
BMC as a brand really jumped to prominence in Australia when a bloke called Cadel Evans rode one of their road bikes painted yellow while wearing a yellow jersey in Paris. This proud display of colour coordination did wonders for the brand at home as sales boomed. Since then the brand has been at the pinnacle of the road bike market here in Australia. The distinct Swiss precision and design aesthetic has always been their hallmark, and lends itself to the high end tag. While the BMC mountain bikes have not shared the same popularity on our shores, they still share the same hallmarks. Now with the rise of the eMTB market we have seen an increased availability of the Swiss mountain bikes here in Australia. So if you're into clean design and a high end feel in your pedal-assist products, then hold tight the BMC Trailfox AMP is here and waiting.
The BMC Trailfox AMP shares much of the same DNA as the non-assisted Trailfox that has managed a tonne of great reviews and many respected positive opinions from European based media. The BMC Trailfox AMP ONE should be no different. The Trailfox AMP ONE is the highest level the Australian distributors are bringing in, so with Performance Fox suspension and cable actuated Shimano XT it's not quite as high specced as some of the other offerings seen in Australia lately. It is still a super capable spec list, built with the "everything you need and nothing you don't" mantra.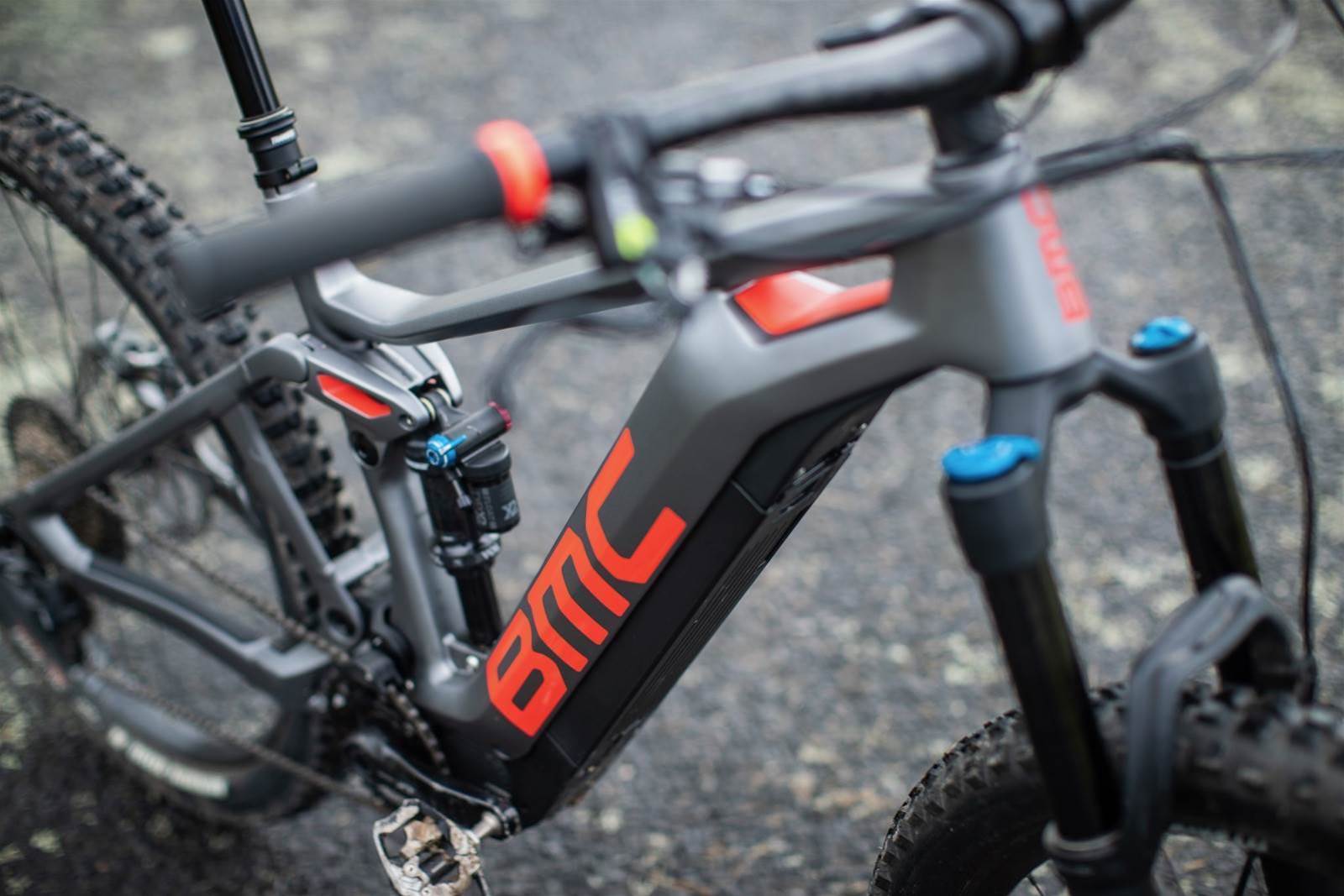 Initial Impressions
Easily the first thing you notice with the Trailfox AMP ONE is the striking carbon main frame, it was actually one of the first mainstream eMTBs to be produced using this much carbon back in 2017. This and the twin walled carbon downtube design allowed them to make use of the Shimano e8000 drive unit and one of their first internal battery systems instead of the external one used on a lot of the the cheaper manufactured bikes. These days carbon is much more common in high end eMTBs and most are now using the super clean completely integrated internal batteries that are harder to remove or replace. The BMCTrailfox AMP retains the clean classy look with a battery that can be easily removed. This means carrying second batteries for longer rides, or removing them or when travelling overseas or just interstate and hiring batteries locally is much more achievable.
The geometry is about where you want it on an all-mountain eMTB. The medium on test has a reach of 445mm, and a low headtube of a hair over 100mm. The head angle is 66 degrees, so not as slack as some. The fork offset is 51mm. The seat angle is 74 degrees, and with a 445mm chainstay length the wheelbase is kept in check and comes in at 1207mm. Given the BMC Trail Fox AMP is an all-mountain bike (that means up and down) the numbers stack up really well. You can go longer and slacker but that can create a compromise in tighter terrain – which is exactly where the range of the bike might let you go!
Aside from those practicalities the BMC Trailfox AMP just oozes a certain appeal, it just looks like a bike you want to ride. It gets you thinking - is it like the blonde down at the pub or beach and all looks? Is there substance beyond the initial appeal?
On The Trail
With 150mm of Fox Performance suspension it should be capable at most things you would like to throw at it, this feels like the sweet spot for eMTBs ridden by traditional non-assisted mountain bike fans. It is agile enough on the climbs with the right angles and amount of travel to handle all but a World Cup Downhill, and it does. The fit for me on a medium was pretty much spot on. It had a slightly longer top tube and wheel base than some similar bikes from other brands, but this was not a discernibly different feature from the ones I had ridden. Straight away I felt at home, the bars at 780 were plenty wide enough for confident control whilst not verging on extreme. The biggest issue I noticed initially was the seat tube height. I do have legs on the shorter side compared to my torso but with a 150mm Fox Transfer dropper I needed it slammed to incorporate my desired saddle height, which is just something to think about if you're at the shorter end of the suggested height scale.
Most confident mountain bikers buy an eMTB to descend as much as possible, and the BMC Trailfox AMP does this well, and is easily on par with the best in its category. Honestly there is not much more to say here regarding this, it does its job here well… I was happy riding the trails at Maydena blind, and tackling the stages used in the EWS round at Derby. The bike did not hold me back. But arguably the real story is that climbing is probably equally or more important. On an eMTB you spend most of your time and battery power on climbing so you need your bike to do it well. I know, I know… It's weird to think about an eMTB's climbing prowess, you have pedal-assistance why does it need to pedal and climb well? But no matter how much power you have if the traction is not there it won't be very helpful, and any long time eMTB user will understand you still need to put your own power down when you want to climb as fast as possible. The Trailfox AMP really excels here. It's probably one of the best climbing eMTBs I've ridden for an extended period. This is mainly thanks to the seated position and smart e-specific APS kinematics on the rear suspension design. Traction is key, and I just couldn't get the bike to lose it.
The Shimano STEPS E8000 unit fitted on the BMC Trail Fox is proven and works amazingly well, they are not the strongest in terms of torque at 70Nm but they are pretty reliable with an easy option for warranty, repair or service that almost any bike shop with a Shimano account (i.e all of them) can potentially help you sort out. The mechanical XT 11-speed  drive train is also proven and easy to repair. It's also a bit cheaper to replace if you're going through parts with the amount of extra riding and work doing eMTB kilometres. The DTSwiss H1700 wheels are made specifically for the rigours of eMTB. The freehub body is reinforced, the hub flanges are stronger and even the DT Swiss star ratchet is a special 22t steel unit. Paired with a good tyre and/or rim protection product they can take an amazing amount of abuse.
Tester: Tim Bardsley-Smith
Photographer: Mike Blewitt, Tim Bardsley-Smith
Riding Experience: Cycling industry photographer with over 20 years on mountain bikes, riding and travelling the globe.
Generally Rides: Merida e160 eMTB , Surly Karate Monkey, Cannondale Super X
Height: 174cm
Weight: 90kg
Bike Test Track: Derby and Maydena, Tasmania and Loftus in Sydney.
The Magura MT7 brakes are not a surprising choice for a bike like the BMC Trailfox AMP ONE, they are a pretty burly dual piston brake that can pull up World Cup Downhillers and eMTB punters alike. We did have some issues with them however with an occasional yet constant resonant hum. My guess was the pistons were not returning properly or it was caused by fluid expansion as they heat up under use. I tried several times to check and re-centre the calipers, having them run perfectly in the garage only to have the issue return. The levers also have a somewhat easy and unnerving potential to flick forward out of reach like the old school Avids did, rubber bands was the solution then do we really need to resort to that again?
I was able to spend a few short days in Switzerland in 2017 working on board an early version of the Trailfox AMP, it had a different rear suspension component that I did not like and I had to carry my camera bag everywhere. Riding this bike now under better circumstances had me appreciating it considerably more. One issue I had then was the pivot bolts coming loose, and this did not happen this time although I did have the rear axle come loose while riding on two separate occasions. It's obviously a super easy fix but a little disconcerting. I'd assume some lock tight type product on all the main frame fastenings would be a smart fix for the issue.
The carbon main frame did seem to be more than just about aesthetics and a feasibility issue with the battery choice. The twin walled design was more than stiff enough for the type of terrain this bike would encounter, and the added weight savings is always beneficial to a certain degree. The combination of the stiff carbon design, 35mm Race Face cockpit and 36mm stanchions of the Fox Performance suspension really gave you the confidence you need when it comes to piloting a eMTB through technical landscapes. I'm not a massive fan of 35mm bars mainly due to the lack of vertical compliance issues but there is no doubting the control and solid feel it gives and it's never going to be more appropriate than on a 150mm or more travel eMTB.
Our Take
 
The BMC Trailfox AMP ONE is clearly an eMTB for those that are used to riding quality bikes, and those that are confident and used to riding regularly, they just want maybe a little bit more out of the time they have. It's potentially going to be wasted on those new to the sport that are still finding their feet. At $9999 it certainly has a price tag to match the high end feel it oozes. The abilities of this bike are exceptional and not surprisingly better than most of the cheaper bikes on the market, although the value you put on those differences over a cheaper bike are completely subjective. For me if you have the money then any gain is worth it. There is no doubting the smile this bike will give you, will it be bigger than your mate on a  cheaper eMTB? Potentially not. There is also the cheaper BMC Trailfox AMP TWO version (for your mate), it runs the same carbon mainframe with a much cheaper spec list and sells for $7999.
I've said it before and probably will say it again but I'd love to see better tyres and shorter cranks on all eMTBs not just this BMC. The 170mm cranks on the Trailfox AMP were great but pedal strikes still occur. 165mm cranks are available and really should be the minimum on most eMTBs. We also got to test the new Schwalbe Eddy Current's on this bike and security wise they are a much better tyre than the Maxxis that came stock albeit half a kilo heavier per tyre. The brakes also did not stoke me out, they worked well as you'd expect just a few little issues that are harder to resolve with a less mainstream brand. All up it's an amazing bike and a great sign of where eMTBs are heading. If you want something a little different and a little bit classy make sure you checkout the BMC Trailfox AMP ONE.
Brand: BMC
Model: Trailfox AMP ONE
RRP    $9999.00
Weight: 22.5kg        
From:  Advanced Traders
Available Sizes: S, M, L,
Frame Material: Carbon
Fork: Fox 36 Performance, 150mm boost
Shock: Fox Performance Float DPX2, 150mm
Shifter: Shimano XT mechanical 11sp
Derailleur: Shimano XT mechanical 11sp
Crank: Shimano XT 170mm
Chain: Shimano HG-601
Cassette: Shimano XT 11-46t
Wheels: DT Swiss H1700 35mm rims
Tyres: Maxxis Minion DHF EXO 27.5x2.8" (F), Minion DHR II EXO 27.5"x2.8 (R)
Brakes: Magura MT7 (200/200)
Stem:  RaceFace Turbine R35
Handlebars: RaceFace Turbine R, 780mm, 20mm rise
Seatpost: Fox Transfer Performance Elite, 150mm drop
Saddle: WTB Silverado Race
Australian Mountain Bike