The Specialized Stumpjumper is said to be the do it all trail bike. So we asked Ryan, who did just about everything on his previous generation Stumpy.
Is it that time already, we only saw the arrival of the asymmetrical swing armed Stumpjumper some three years ago and Specialized have hit us with a full redesign already. It would have been a huge task to tweak an already stellar trail bike, shed weight and make it stiffer. So how does the new Stumpjumper really differ?
Initial Impressions
Specialized have somewhat streamlined their Stumpjumper offerings, doing away with the Stumpjumper ST (Short Travel) 130mm/120mm platform and brought the Stumpjumper back into the Trail realm of 140mm/130mm front and rear respectively. This also opens up space for the all new Stumpjumper Evo, which sits just above the old Stumpjumper at 160mm/150mm and dips into Enduro territory. Specialized wanted to create the ultimate trail bike, but that actually still required two Stumpjumper models, as what we all want from a trail bike is pretty different.
---
What's the difference between the Stumpjumper and Stumpjumper Evo anyway?
---
Fortunately I owned the new Stumpjumper's predecessor and while we have gone our separate ways, we had loads of good times, mostly trouble free ownership (any problems were rider error) and the Stumpy was easy get along with. Before I dug into the tech side of the changes with the 2021 Stumpjumper, looked closely at the geometry or generally fiddled too much, I jumped onboard are rode my go to test tracks. I jotted down what I felt and then dove right into it all.
---
Tester: Ryan Walsch | Photos: Tim Bardsley-Smith
Riding Experience: Riding and steering by the back wheel since forever
Normally Rides: Forbidden Druid
Height: 178cm
Weight: 72kg
Bike Test Track: Hidden jank and loam.
---
And there are a lot of changes to look into. For suspension buffs, you'll realise that there is no Horst Link! The one thing Specialized dual suspension bikes have shared (bar the Epic) is a Horst Link and it has been replaced by a flexstay.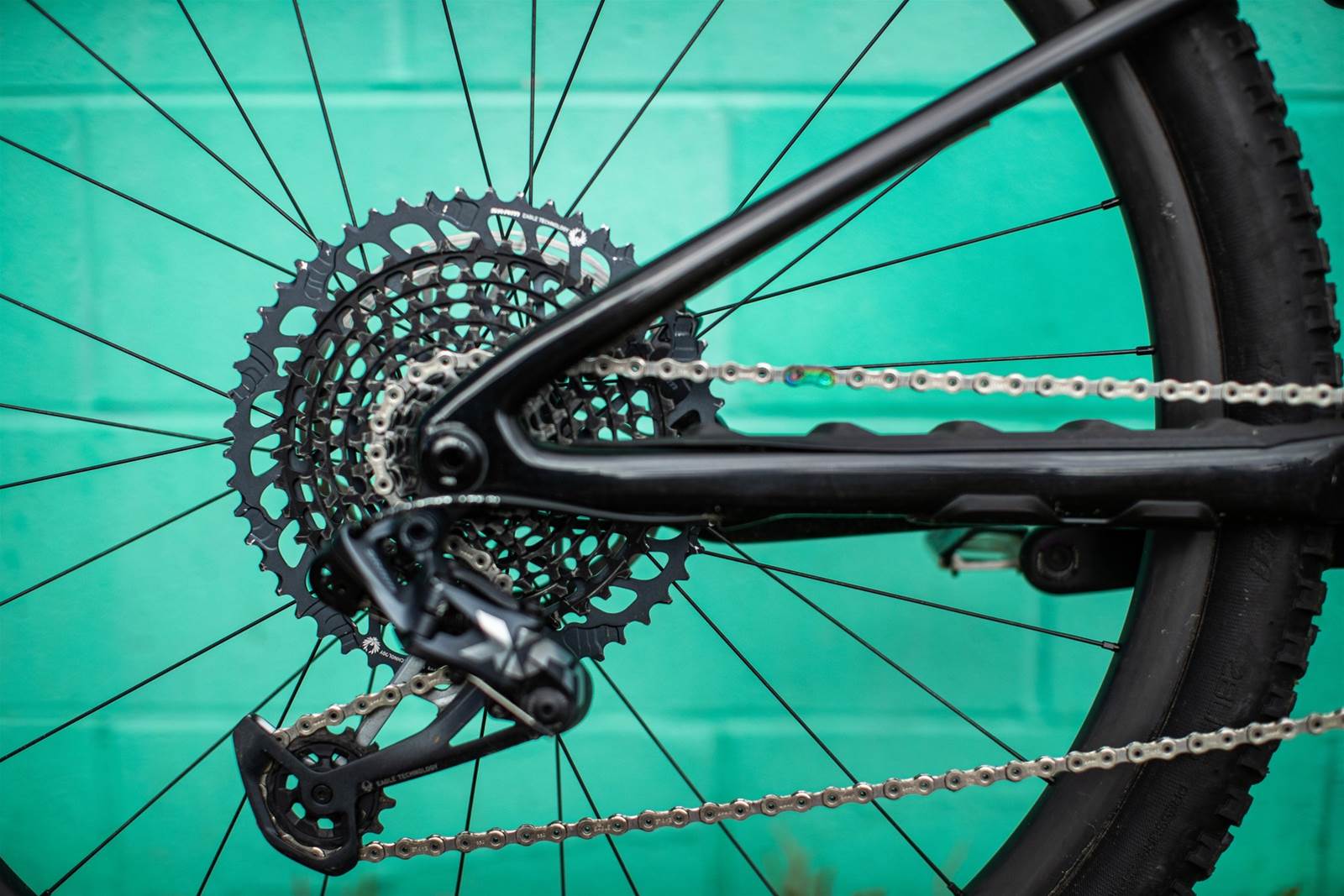 I spoke to Peter Denk and Matthias Segerer, Specialized's Design and composites engineers in Germany about this huge change to the Stumpy. They both explained that they were able to mimic the characteristics of the Horst Link with the new flexstay but it did require some new simulations and calculations. Most of the kinematic calculations available are from the motorbike world and based around pivots, so it took a bunch more work on their side to really develop the kinematics they wanted. With the flexstay located just above the rear brake mount Specialized can remove 55g of hardware weight, reduce the need for maintenance and increase the overall stiffness of the chassis.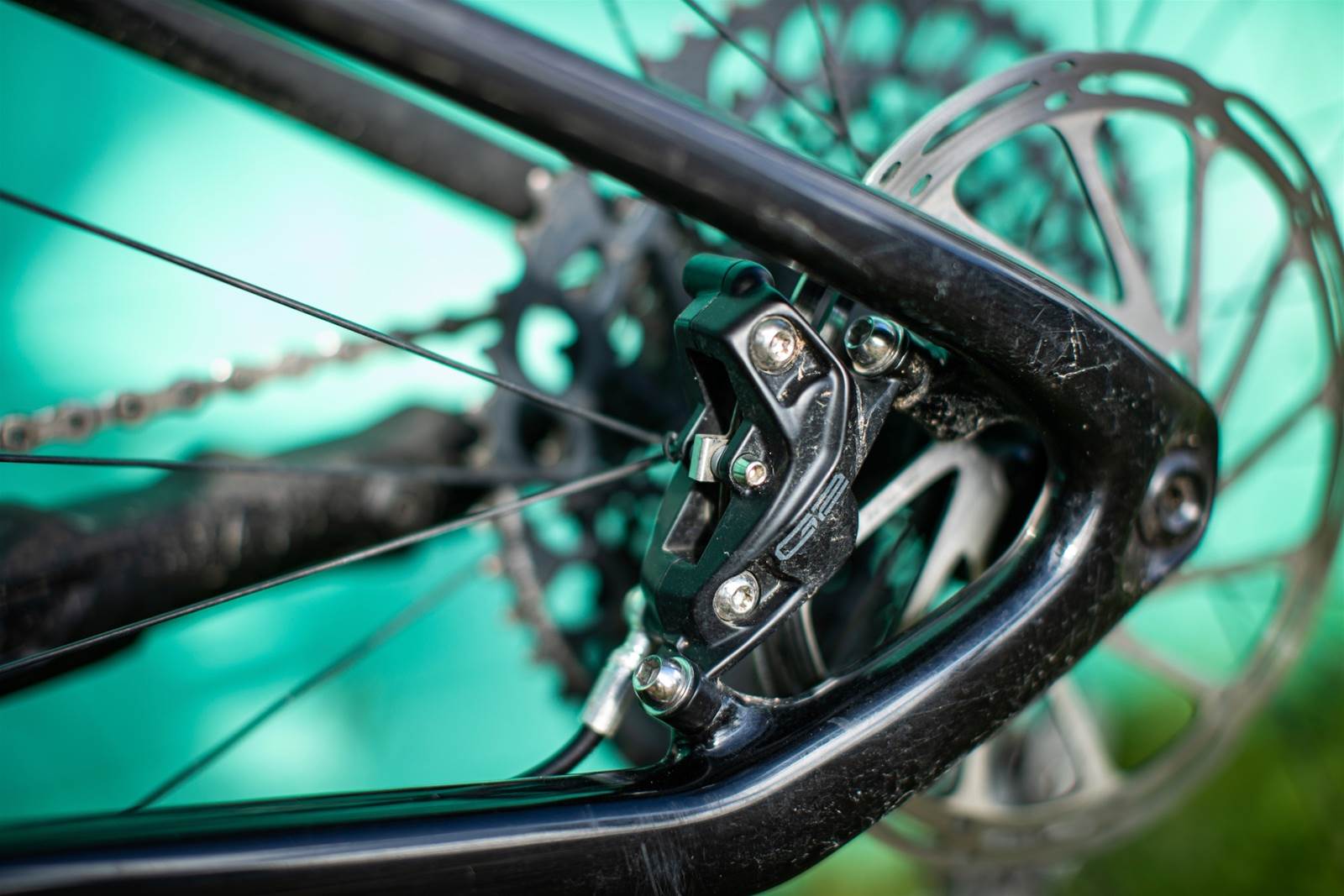 Suspension travel on the Stumpjumper has been reduced from 150mm/140mm to 140mm/120mm while growing in length and slackening out the head tube angle to 65 degrees. Rest assured that the longer, lower, slacker policy was fully deployed! The engineering wizards went through the challenges of actually making something longer, stiffer and lighter. The pair chuckled at how tricky it was to reduce the overall frame (hardware, shock, axle, hanger, frame protectors) down by 100g along with how many changes they made from the first iteration. They did find that altering the shape of the frame and its tubes was the key to dropping weight, and  the team carried out the largest Finite Element Analysis (FEA) Specialized has ever undertaken to ensure as Specialized states "All fibers are pulling their weight" or in regular terms, getting rid of any excess material. The new Stumpjumper saw 12 full revisions to the mainframe, 50 sample frames destroyed and 130 frames tested to end up with what is in front of us today.
Specialized have brought their S-sizing to the Stumpjumper, with 6 sizes on offer, from S1 through to S6. You can equate this to XS, S, M, L, XL and XXL sizing, but what you'll notice is that the seat tubes are shorter than a geometry chart from about three years ago might show. This means you can size by length. So while I had an S3 on test, an S4 would probably suit me better, but I wouldn't be restricted to a 125mm dropper post due to a long seat tube. All bikes have 29" wheels,The S3 just scraped in at the 1200mm wheelbase with a 432mm chain stay while the S5 and S6 bikes receive an extra 10mm of length behind the rider, taking the chains tay length to 442mm and S6's overall wheelbase to a whopping 1302mm. The idea is that the rear end grows, or shrinks, with the relative size of the bike – to keep handling similar across the range. The S3 Stumpjumper's reach is long but not outlandish at 455m, making it roomy with the Deity 50mm Copperhead stem.
The Stumpjumper geometry can be adjusted via a small flipchip on the suspension yoke, slackening the head angle from 65.5 degrees to 65 degrees while lowering the bottom bracker by 7mm. All Stumpjumper's have a drastically lower standover height with the new design. For example, the new S2 Stumpjumper has a lower standover than last years S1 27.5 inch wheeled bike.
The new Stumpjumper uses SRAM's Universal Derailleur Hanger (UDH) for easy spares compatibility, and the SWAT (Storage, Water, Air, Tools) on the new Stumpy is as easy as ever to use. With longer frames there is even more space to jam things in, including a neat weather resistant bag to stow your spares and slip it inside the SWAT compartment.
On The Trail
So how does all this weight reduction, geometry tweaks and absence of a Horst Link make the new Stumpjumper feel? It feels strangely enough just like a Stumpjumper, a tad lighter and more responsive but unmistakeably similar. Underfoot, when putting in an efforts seated or out of the saddle, the delivery is exceptional and very direct. Specialized's team have done a great job at mimicking the Horst Link as to be honest apart from the lighter and snappier feel it doesn't feel that different. The same familiar super plush initial stroke moves into a slightly more progressive leverage ratio. And this is exactly what makes a fun and capable mid travel trail bike.
Although the new model has less travel, it does sit on the trail confidently and takes the unsuspecting hits in its stride due to two neat improvements. Firstly Specialized's Chance Ferro explained the RX tunes and how the handling has been changed giving riders more support due to a digressive piston from Fox. A digressive piston essentially is adding additional low speed compression and very little high speed compression, which will assist in creating a bit more of a pedalling platform on an already very supple ride. The second very cool part to the RX Tune is a progressive rebound tune from Fox, which up until now can really only be tuned via separate high and low speed rebound circuits. The initial low velocity impacts are quite light and fast while the deeper stroke and higher shaft speeds will result in slower rebound. Fast and sensitive up top for traction, feel and responsiveness and a slower controlled feel on the big hits all through one rebound dial with a Rebound range that reflects the bike size and riders change in weight. We are seeing far more custom tuning for stock suspension from manufacturers, and Specialized were pretty upfront saying that they wanted to build the Stumpjumper around the Fox shock due to what they could achieve with it.
The more progressive spring curve is very noticeable on the trail over the old Stumpjumper. On my previous Stumpjumper I ran all the volume spacers I could and it didn't like bottoming out much with its linear spring curve. But the new one ramps up aggressively towards the end so you can feel it stop but it doesn't buck. Likewise the progressive rebound is very noticeable and a great match for the Fox GRIP2 equipped 140mm 34. Having this high quality and highly tuneable suspension on a mid travel bike is brilliant, allowing riders to fine tune their ride accurately.
On the descents, the light and whippy feel makes the new Stumpy very playful and a lot of fun to throw around. It handles big hits better than the old model despite the reduction in travel and weight. Still, the Stumpjumper makes short work of the climbs with a stiff yet active feel, along with SRAM's 10-52 tooth cassette and 30 tooth chainring upfront there really isn't a berg here in Australia steep enough to find the limits of the stock gearing.
I do need to note that while climbing the seat tube angle is still rather slack and while I fall into the range of either an S3 or S4 Stumpjumper, our S3 did require me to have quite a bit of seatpost out of the frame. Specialized states the seat tube angle to be 76 degrees and we know that to be the "virtual" angle but the geo chart does depict it to be the actual angle which is kind of confusing. For riders with longer legs and shorter torsos requiring a higher than normal seat position, or in my case riding a bike with greater standover, you will end up with your bum over the seat and pushing your weight bias backward. I measured the actual seat post angle to be 67 degrees which for most riders will have them in the sweet and central spot, others far behind it. This is defiantly something to head in-store and check before deciding on what size you may be.
Our Take
Specialized have done a truly brilliant job of improving on a rider favourite, it ticks all the boxes the modern trail rider could ask for including a place to stow spares and lunch. Be sure to head in-store and select your size around the reach that is comfortable rather than what size you would normally ride and go hit the trails. With the carbon bikes starting at $6600, you can get just about all the same ride benefits (albeit with a Horst Link) on one of the alloy models, price at $3200 and $4900.
Specialized Stumpjumper Pro
RRP: $12700
Weight: 12.85kgs
Australian Mountain Bike