We test the 100 Percent Celium and Airmatic range.
Words: Hayden Wright | Photos: Gerard Lagana
---
100 Percent is a clothing and protection brand with a history that is as rich and colourful as their current product line. Originating in the American Motocross scene in the mid 1980s, this brand made their name for making casual apparel and accessories that were worn by the fastest supercross and motocross racers on the planet at the time. Following a resurgence of the brand in 2012 their focus has been primarily on delivering high quality goggles, technical ride clothing and protection which rivals that of any other company in the market today. We have been lucky enough to test their all mountain specific men's and women's clothing over the past month - here's what we think about the items.
100 Percent Celium Jersey
Heralded as their premium all mountain line, the Celium jersey delivers a light weight feel and slim cut. The sublimated graphics are always a welcome addition to any jersey, ensuring that there is no unnecessary plastic or iron on features adding unnecessary bulk to the piece. The neck opening is on the smaller side, which we preferred.
While being a little tight when taking on and off, it provides increased sun protection which is always a win in our eyes. An internal goggle wipe is another great feature which we feel should be included in all jerseys of this kind, and the drop tail ensures you won't be showing your buddies what brand of nicks you are wearing as they're chasing you down in the trail. All in all, a great short sleeve trail jersey that we recommend highly.
100 Percent Celium Shorts
Keeping on the theme of the Celium Jersey, these shorts are super lightweight and breathable. The material feels almost like board shorts and are barely noticeable when riding. It should be mentioned that while great for summer riding, these shorts would offer little in the way of abrasion protection in the event of a crash – probably best to leave them at home if you are riding Downhill.
Casually deliberate.
The waist closure is secured by a Boa system dial, allowing you to get the perfect fit every time. We really enjoyed this feature and feel that it's combination with the lack of a front fly zipper are key to the success of any good lightweight riding short.
Add in two zip up pocks and you have a recipe for success in our eyes. The price tag may be a little higher than others on the market but as expected, a premium product typically holds a premium price tag.
100 Percent Celium Gloves
Gloves are a very personal thing, as their fit and function can vary so much depending on your hand size. We found these gloves to be some of the best fitting we have ever tried, even when considering the lack of a Velcro closure system. The phrase "second skin" came to mind more than once during our testing.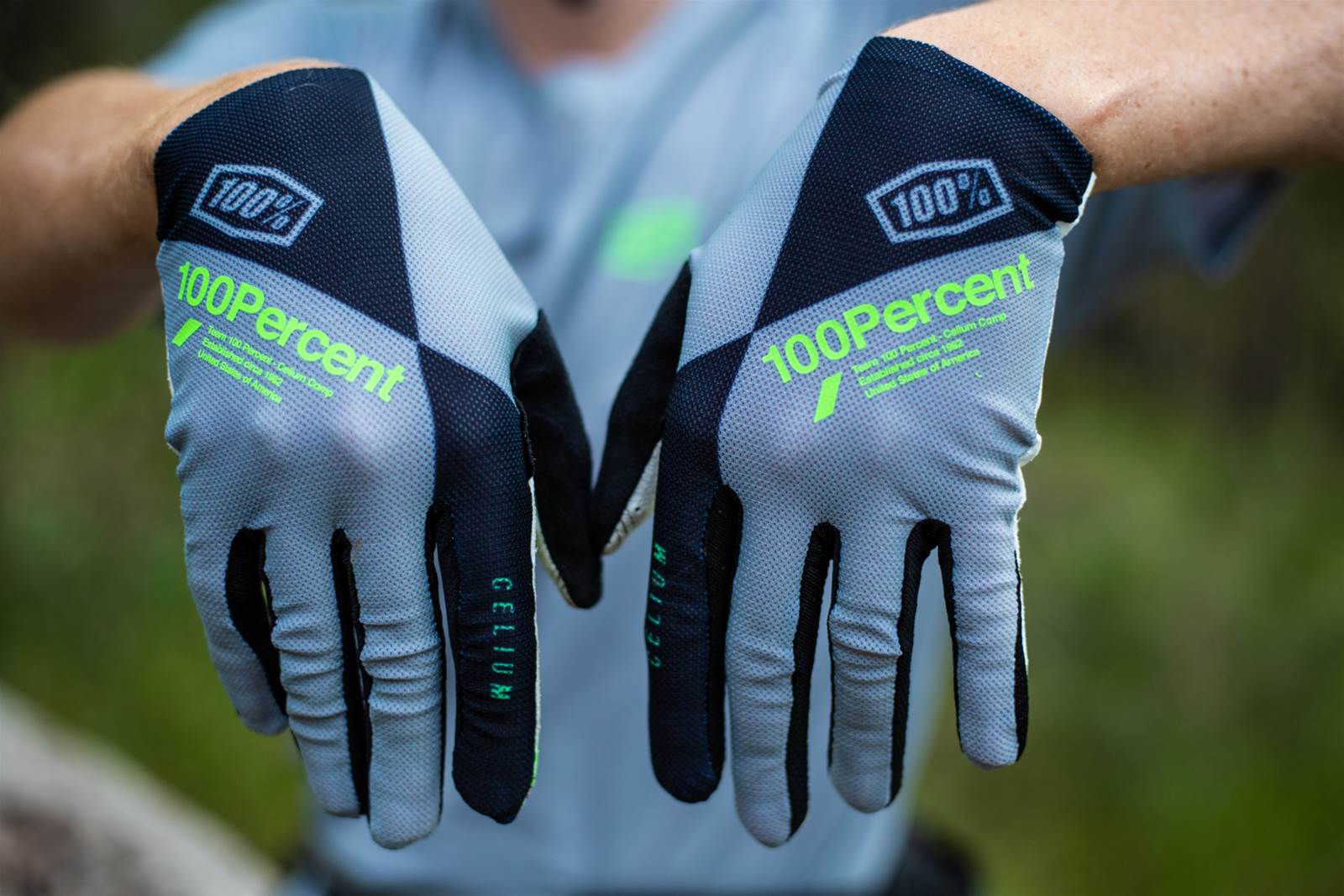 Ultralight and flexible, these gloves combine a lightweight mesh hand fabric with a more durable perforated palm material which combined make for a fantastic glove. Add in some flash graphics which match the jersey and shorts and it is easy to understand why we have been going back to this set of gloves again and again over alternatives from other brands. One worthwhile comment is that as mentioned with the Celium shorts these gloves offer little in the way of protection so again, leave them at home if you are riding anything more gnarly that might see your hands hitting the dirt.
100 Percent Airmatic Women's Jersey
Promising all day comfort and style, the Airmatic women's jersey was well liked by our test riders. The dark colours and subdued graphics were preferrable over the typical pink and purple donned by most women's apparel, as was the lightweight technical heather jersey fabric which lead to a more casual look and feel.
This jersey is purpose built for women and has a different cut and contour than the men's equivalent. While we enjoyed the waist and length of the jersey, it would be nice to have a higher neck line and longer sleeves.
While providing a slightly more feminine look off the bike, short sleeves and a lower neckline do little in the way of providing sun protection which is a high priority here in Australia. The internal goggle wipe is a welcome addition of a jersey at this price point, proving it to be good on not only the trail but your wallet too.
100 Percent Airmatic Women's Shorts
The counterpart to the Airmatic women's jersey, these shorts were a hit with our riders. The main attraction was the cut and fit of these shorts, which we have found to be a little hit and miss on women's specific riding shorts.
The Airmatic women's shorts have what we found to be the right combination of waist and thigh diameters, to ensure that those riders with more muscular thighs can still have a snug fit around the waist.
The 4-way stretch material was very comfortable and provided all day comfort. Throw in a simple but effective closure system, two zip up pockets and an affordable price tag and you have a winner in our eyes!
100 Percent Airmatic Gloves
Providing more protection than the Celium glove, these would be our pick of the line for a glove if you are chasing both safety and performance. A great all-purpose glove, the Airmatic provided a good fit and feel, and boasts mesh finger gussets for increased mobility and moisture wicking.
The silicone print on the index and middle fingers were a nice touch, but don't expect to be able to unlock your smart phone wearing these. Coming in a variety of colours from power ranger red to midnight black, there are sure to be a set to match just about any kit you might be pairing them with.
100 Percent Advocate Perform Socks
These socks fit great and feature a nice high crew cut to ensure the MTB fashion police won't pull you up for wearing ankle socks. The reinforced heel and toe were accompanied by a more lightweight construction for the rest of the sock, providing a nice combination of breathability and durability. It honestly feels like you aren't wearing them when you're riding, which in our eyes is what any good pair of riding socks should be like.
Australian Mountain Bike