The final day of racing at the Australian Mountain Bike Championships saw all Downhill finals on and UCI XCC.
And on the final day, they raced Downhill. We have said it before, but any championship like Nationals amd World Championships is a building crescendo until the Elite riders take to the Downhill course. What starts with track walks and XC Team Relay at the start of the week builds in excitement as the days pass.
Downhill racers find their lines and find their speed, while XCO racers do the same, before whet seems like a non-stop schedule of masters, sub-juniors, Juniors, U23 and Elite racing both XCO and Short Track (XCC) in a flurry of events. Then of course there is the Pump Track as well!
After Saturday saw the UCI categories (U19, U23 and Elite) XCO races won, Sunday morning kicked off with Short Track for the same riders. The shorted course was relentless, and while Bec McConnell and Zoe Cuthbert started to battle, it was Bec's title at the end of the race.
In the Elite men's race, Jared Graves was ready to make amends, leaping out from the start line. The previous day's U23 XCO Champ Cam Wrigh got on his wheel and both went to the line, with Graves taking the Elite win and Cam the U23. All results are online.
All about Downhill
And now it was time. After seeding on Saturday, all Downhill racers would go up against the lock, the course and themselves.
Despite rain on Friday the course was dry. The sun was out in the afternoon and spectators were deep on the track, especially in the lower sections at the main event hub. In Elite, defending champions Sian A'Hern and Troy Brosnan had qualified the fastest. 
But first - everyone else. U13 boys were off first and Liam Montgomery snared a national title, while Luca Defina won the U13 women's crown.
In U15, Matilda Henness won the title for women and Oliver Colthup won men's. U17 had Leyla Sharman win the women's title while Carter Sloan had just enough of a gap to win the huge U17 men's field.
Masters men's saw lachlan Mackillop take the crown in M1, and Justin Harmer in M2. Taswegian Josh McDonald won M3 while Karl Peel won M4. Randal Huntington took the medal home in M5 and James Sharmann kept the title in Tasmania for M6. Mark Gardner won M7 while Michael Benson won M9.
In Masters women, Annie Schubert won M1, and Sarscha Huntington smoked the M2 women's field. Particia Borthwick-Higgs took the M3 jersey and Fiona Habermann had a fast run to win M4. Jody Mielke came out on top in M5.

Expert women had Sorrell Fuller win the race and Charlie Wykes won Expert men. 
Elise Empey blitzed the field for the Junior women's win, with Connor Mielke second closely followed by Poppy Pollock.
In Elite women, Ellise Smith was the fastest down the hill, just ahead of defending champion Sian A'Hern. There was less than half a second between the two, and Harriet Burbidge-Smith was about 2 seconds back in 3rd.
In Junior Men, Remy Meier-Smith put down an absolute heater, with about 10 seconds advantage to Mario Baldwin in 2nd, with Sascha Kim in 3rd. Remy's time was about half a second slower than his older brother in Elite men and would have placed him 5th!
In Elite men, the question was - who could put it all together this year? While Brosnan had the fastest qualifying time, it was only about a second ahead of Connor Fearon. Dan Booker, Kye A'Hern, Dean Lucas, Jackson Frew, Baxter Maiwald and Luke Meier-Smith all had fast runs - but Connor Fearon's 3:13:20 put him over 3 seconds ahead and into the hot seat. With just the multiple defending champion to come, could Brosnan unseat Fearon?
We won't know, but Troy pushed for it and had a crash partway down. He's ok and has a broken ankle, but obviously had to DNF. Connor Fearon won the title!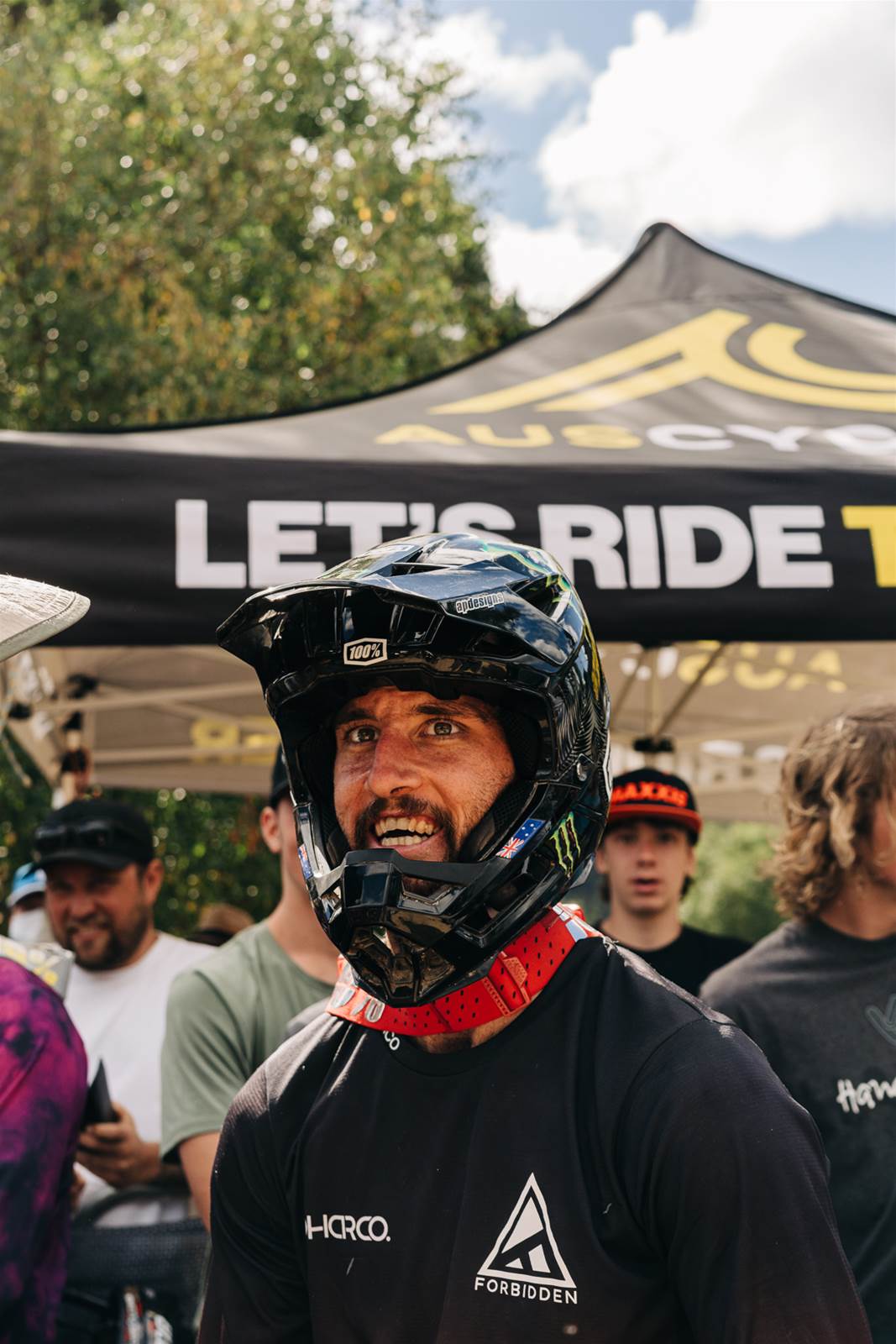 Fearon had plenty of other places on the National podium and this was the top step - a true honour and one befitting the rider he is. On a new team for 2022, we reckon Connor will show the colours off with pride at plenty of big races this year.
That's a wrap on the 2022 National Championships. Trials and Marathon Championships are TBC for 2022, and Gravity Enduro and 24hr are later this year.
Australian Mountain Bike