Wild Mersey is Tasmania's newest trail network, spread out across three unique towns.
Words: Will Shaw
Photos: Dominic Hook 
---
When it comes to Tasmanian trail destinations, the list is not only long, but evolving. Wild Mersey is a trail network that will feature over 100km of trails when it's finished at the end of this year. On top of the huge variety of trails, the whole network is within riding distance of the Devonport Spirit of Tasmania Terminal!
For this trip, myself and Dominic Hook took our bikes on Spirit of Tasmania for three action packed days riding Wild Mersey. Whilst we had some help with the White Knuckle MTB Camper taking our camera equipment to the trails, a great way to experience Wild Mersey is by riding on and off Sprit of Tasmania. The Wild Mersey network is only a 30-minute ride from the Devonport Terminal via a beautiful coastal pathway that winds its way down the Mersey River.
Our trip began in Melbourne with a similarly leisurely ride from St Kilda to the Port Melbourne Terminal along the beach cycle path. There was no need to stress about city driving or parking on this trip. Boarding via bike is also made easy by Spirit of Tasmania, as you ride pretty much the whole way onto the vessel before locking your bike in the designated area.
On our way to the Spirit of Tasmania via the Beach Road Cycle Path.
The evening trip out of Melbourne is a fantastic experience. With the city lit up, the viewing decks provide panoramic views of iconic Melbourne landmarks, which continue as you sail out of the bay. As the lights fade into the distance, it's time to hit the hay before an early start on the trails the next day.  
Departing the ship in Devonport is similarly stress free. Within five minutes of the gates opening, Dom and I were on our bikes headed for Latrobe. Latrobe is the first stop in the Wild Mersey network and is accessed from Devonport via the scenic coastal pathway.
The cycle path between Devonport and Latrobe is a great way to get to the Wild Mersey trails.
All about Wild Mersey:
The history behind Wild Mersey is as interesting as the trail network itself. Originally, the University of Tasmania and Kentish Council wanted to utilise Mount Roland's 1234 metres of elevation for a trail network. A few factors led to this being unfeasible, including conservation efforts and the distance to facilities.
The parties still wanted to develop a mountain bike network, and a three-stage plan to connect 100km+ of trails between Latrobe, Railton, and Sheffield was hatched, with the inclusion of the Latrobe Council.  
The first portion of the network is located at Warrawee Reserve, only a few minutes ride from the heart of Latrobe. The network here is tightly packed and features fantastic trailhead facilities including toilets, showers, water, and even a bike wash! The trailhead is also is right next to the Mersey River, which is the perfect spot for a post ride dip!
Will and Clem enjoying themselves at the Warrawee Reserve trails.
The majority of the trails at Warrawee Reserve aren't the most technical in the Wild Mersey network, and for good reason. The Latrobe and Kentish Councils wanted these trails to be beginner friendly, to encourage both locals and tourists to give riding a go. Despite having multiple green options, trails like High Voltage and No Mersey offer something for more experienced riders in terms of groomed jump trails and technical singletrack. The trails are oriented so that the easier trails are closer to the trailhead, and the more difficult trails are further away.
The trails at Warrawee have been open since December 2018, and they've bedded in nicely. They've also encouraged locals to come and give mountain biking a go, and on our midweek visit to the trails the carpark had plenty of cars with bike racks, and riders of all levels enjoying the trails. The growing scene in also on display on the main street of Latrobe. Wild Ride Cycles is a great shop who helped us out with a speedy wheel repair and some local tips on the trails.
The signage throughout the whole Wild Mersey network is fantastic.
From Warrawee Reserve it's possible to ride entirely singletrack to Railton via the 11km Railton Express. This is a great option to get to Railton, which is the ideal base to ride the entire Wild Mersey network. We did exactly this, and our accommodation at Base Camp Railton was not only two minutes from the trails, but two doors down from the local craft brewery, Seven Sheds Brewing.  
Railing Railton:
On the second day we headed out early to check out the Railton trails. A few hundred metres from the heart of town, and right across the road from the trailhead is Tasmania's largest pump track. Whilst we had it to ourselves at sunrise, by the afternoon there were riders of all ages enjoying some pump track action.
The Railton Pump Track is a hoot, even on a 25kg eMTB.
The Railton trails begin with the Teleport/Green Hornet loop, another green loop that's great for new riders, but also a challenge to ride at speed. The trails become more technical after the Teleport climb, however most beginner to intermediate riders would be able to ride all the way to Sheffield on predominantly green and mild blue trails.
From the top of Teleport, there's options galore for experienced riders. Super Hornet is a jump trail with plenty of features to keep things interesting, including a wooden Lilypad that's the talk of the town. About 1 minute in length, Super Hornet is easily sessioned via a mellow fireroad climb.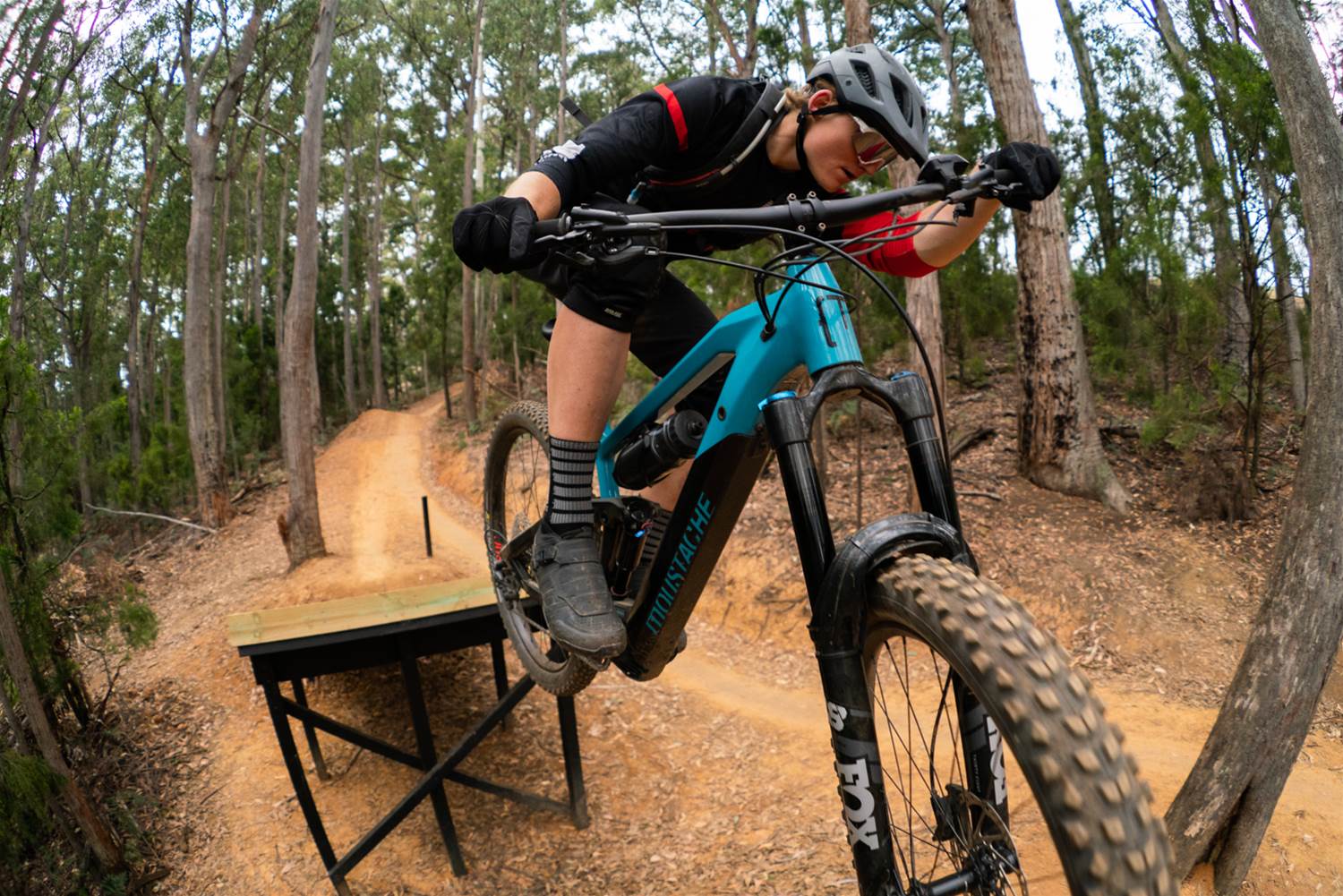 Super Hornet features the infamous on/off feature that's the classic Wild Mersey shot.
Another classic in the Railton network is the Gnarvana descent. Accessed via Pony Up, Gnarvana is a great mixture of flow, tech, and multiple line choices. TrailScapes are the company behind the Railton and Sheffield trails, and Gnarvana is a trail that offers a bit of everything for intermediate through to expert riders.
From the amazing variety of Gnarvana, the Back to School/Echidin' Me loop really showcases the diverse nature of the trails at Wild Mersey. Climbing and descending through an old quarry, the trail surface here is deep, rocky, and loose. The rockwork on the climb makes for a great climbing challenge, and the loose turns on the descent encourage you to get your drift on.
Serena Lisney leads out the crew on Echidin' Me.
Another unique element of the Wild Mersey network is their 'E-Challenge' climbs, which are technical ascents designed to challenge your skills on an eBike. Whilst they're designed to be challenging for eBike riders, you'll be able to get up them on a regular bike with good skills and fitness.  Aside from the added challenge and excitement, the E-Challenge trails make it easier to lap your favourite descents.
The Railton trails feature a hub that Super Hornet, Gnarvana, and Echidin' Me all feed into. To head to the Sheffield trails there's Woodhooker, a flat-out blue descent that leads into the Ewoks climb. Ewoks features stunning scenery of the ferny Douglas Fir plantation it twists through and is a must ride. There's a descent being built in the same area, which will have some of the best dirt you'll find just about anywhere.
There's some fantastic loamy soil on offer at the Sheffield Trails.
From the top of Ewoks you've got the choice of heading to the Sheffield trails, or returning to Railton via the Railton Rattler Rail Trail. We took the Rail Trail option, saving the Sheffield trails for the third day of our trip. There are a few options for food in Railton, otherwise both Latrobe and Sheffield are only a short distance. Railton is also the town of Topiary (the art of clipping shrubs or trees into ornamental shapes), and there's lots of impressive Topiary on display throughout the town that's worth a look! 
Singletrack at Sheffield:
Sheffield is where the final stage of the 100km+ Wild Mersey network is being built by TrailScapes. Currently there's a great little network of green trails suitable for all. There's also a technical E-Challenge trail, as well as a short but sweet black descent with rocks, roots, and tricky turns. The green rated Gold Rush descent is another trail that's great to ride whether you've been on a mountain bike for a few days or 20 years.  
We met up with Elliot from TrailScapes in Sheffield to get the low down on the new trails, and perhaps the most exciting trail they're working on is called Bonneys Tier. The 6-8km trail descends 400 metres and goes from ultra-techy singletrack up top to a flowing descent lower down. At the top the views are magic, with both the ocean and snow-covered mountains visible. There's also the potential for a shuttle road in the future.
The TrailScapes team hard at work in Sheffield.
After our morning ride, we took a stroll around Sheffield, which is known as the town of murals. There's over 200 to check out, and the town also features some great food options. Our pizza dinner at Mountain Mumma was a real standout.  
The next morning it was time to head back to Melbourne. Once again hopping onto Spirit of Tasmania was an absolute breeze, and within 10 minutes of arriving at the terminal we were on the deck soaking in great views of Devonport.
A long weekend trip to Tassie from Melbourne is made easy by the Spirit of Tasmania.
Overall, the Wild Mersey network is yet another addition to the mountain biking mecca that is Tasmania. Wild Mersey has truly delivered by offering something different to the other Tasmanian trail destinations, and its proximity to the Devonport Spirit of Tasmania terminal is something that should have Melbourne based riders excited about the possibility of cheeky riding weekends with minimal planning. For everyone else getting Spirit of Tasmania, to be able to get off the ship and straight onto world class trails should set the tone for an epic Tasmanian riding trip.
Getting there:

 
We took Spirit of Tasmania from Melbourne, which is a great option as you can ride from the Devonport Terminal straight to the trails in under 30 minutes! There are also companies that offer transfers, or the White Knuckle MTB Camper Van is a great option if you're not sure where you want to stay. If you're flying, Devonport airport is about 15km from the Warrawee trails, 24km from Railton, and just over 30km to Sheffield.
The White Knuckle MTB Camper gets the thumbs up from Jasper.
Technical Nature:
Wild Mersey has a great spread of trails. There's plenty of options for beginners all the way through to ultra-techy climbs and descents. You could bring anything from an XC bike to an Enduro bike and have a good time.
Distances:
When the last stage of the trails open in Spring this year, Wild Mersey will have over 100km of trails on offer, all accessible by riding from Devonport. Currently there's around 70km of trails to enjoy.
Local Knowledge:
Even if you're not in Tassie to specifically ride Wild Mersey, if you're sailing back to Melbourne with Spirit of Tasmania the towns of Sheffield, Railton, or Latrobe are all worth stopping at. They all have great facilities and plenty to do away from the bike. The Railton pump track is sure to keep the kids (and big kids) entertained for a few hours.  
The murals in Sheffield are fun for kids of all sizes.
Best time of year:
Wild Mersey will be open all year round, but it'll be best to bring layers in the depths of winter as it can get cold down there!  
Local bike shops:
Wild Ride Cycles in Latrobe and North West Safaris in Sheffield should have you covered. Wild Ride Cycles run a weekly group ride, and they helped us out with a quick mechanical fix and some great advice on the trails. North West Safaris offer rentals and shuttles between Sheffield and Latrobe, as well as a moonlight cinema in Sheffield! 
While in the area:

 
Wild Mersey is surrounded by plenty of non-riding options. Cradle Mountain is nearby, and Mount Roland is only a short drive from Sheffield.  
The Sheffield Trails offer a great view of Mount Roland.
In Latrobe, Reliquaire is a quirky toy store and café that's well worth a visit. There's also the Axeman's Halls of Fame.
Railton is the self-proclaimed 'Town of Topiary'. We can confirm there's lots of Topiary and it's pretty cool! If you're getting Spirit of Tasmania down and have space for a dirt jumper in your car, it's worth bringing for the Railton pump track. 
If you're into art, Sheffield is the town of murals, and you'd be hard pressed to not be impressed by the 200+ murals dotted around the town.
Eating:
There's plenty of eating options in all three towns. In Latrobe we enjoyed a hearty breakfast at Bellys Bar N Grill. In Railton we enjoyed a freshly roasted coffee at Gear House of Grind as well as a couple of beers at Seven Sheds Brewery. Finally, in Sheffield we'd recommend a pizza from Mountain Mumma.   
Mountain Mumma in Sheffield does cracking pizza!
Where to stay?

 
In Railton we stayed at Base Camp Railton, which is an ideal middle point for accessing all the trails Wild Mersey has to offer. Our accommodation was comfortable and homely.
In Sheffield we stayed at the Sheffield Hotel, which is conveniently located on the main street of town. You can find more information at: 
sheffieldtasmania.com.au/sheffield-hotel 
Whilst Railton is the middle point of the trails, you could easily stay in Latrobe or Sheffield and all of the trails would still be within riding distance.
For those who want to be mobile, or perhaps explore some of Tasmania's other trail offerings, the White Knuckle MTB camper is a great choice. White Knuckle have fitted their Mercedes Benz Sprinter to perfection, with secure bike storage, comfortable sleeping arrangements, and even an integrated bike stand to work on your bike!
After more travel content? Click here.
Australian Mountain Bike