Cross-country racing goes off in Val di Sole at the 2021 World Championships.
Photos: Piper Albrecht and Bartek Wolinski
---
The fourth day of the 2021 UCI Mountain Bike World Championships is almost all about cross-country. With men's and women's U23 off earlier in the day, and men's and women's Elite.
The morning's Under 23 races crowned talented Austrian Mona Mitterwallner and Chilean Martin Vidaurre, making history as first MTB World Champion for the South American Country. Cam Wright was representing Australia and finished in 44th.
Full results, including Juniors, are online.
Elite women at Val di Sole
As the Elite women lined up, Australian Bec McConnell took pride of place on the middle of the start line. With two bronze medals from the past two World Championships, McConnell was a favourite for a medal. As was Olympic champion Jolanda Neff, and defending champion Pauline Ferrand-Prevot, and at least another half dozen of the elite women.

As the lights went green McConnell exploded from the start line, as the argy bargy of the cross-country start loop began. Neff, Courtney, Ferrand-Prevot (PFP) - it was a hectic front of the race, but as a lap passed it was defending champion Ferrand-Prevot who not only had a gap, but was building it.
Neff dropped back, with Evie Richards and Sina Frei left to be chasing PFP, the leader. McConnell was in the strung out chasers with Włoszczowska and Terpstra, as the riders took on the 2nd of five laps.
Would PFP ride away with it? Towards the end of the second lap it was clear that Evie Richards wouldn't be letting that happen, as she shut down a lot of the gap as they came into the climb. Would any previous history of these two come into play? Richards passed on the climb and PFP lifted to stay with here, as five more riders chased, including our Bec - all about 33 seconds behind the dynamic duo out front.
On the third lap, Richards was putting PFP under pressure - but she was yet to break. As the climbs wore on, Richards was 13 seconds clear of PFP, as the French defending champion was being reeled in by Terpstra, McConnell, Frei, Włoszczowska and Neff. Degn and Keller were just around the corner with Tauber on their wheels, right at the halfway point of the race.
Chainsaws in the forest accompanied Richards as she climbed up through the forest in Val di Sole, as the Brit then dropped down the trails into the natural amphitheatre. Richards now had the same sort of solo lead PFP had previously. Would hers last?
Terpstra rode away from the other chasers, riding in 3rd, solo, on the main climb on the 3rd lap. But she was catching PFP. McConnell was also putting Włoszczowska and Frei under pressure, looking to break up the group and get on with it.
Terpstra passed PFP as they entered a technical climb on the fourth lap, but the other 4 riders were just behind. Terpstra was 47 seconds behind Richards by the top of the climb, and it felt like we were watching a race for minor places. PFP was swallowed by the chasing group on the main climb on the 4th lap, although Neff and McConnell has both just been distanced by Frei and Maja. PFP and Neff kept hitting, with the Swiss making contact as PFP took one place on the climb. But about a minute ahead, Richards was building her lead and got the bell for her final lap.
Frei, Neff, Włoszczowska and PFP would be battling it out for Bronze, with 1.41 to Richards ahead, and half of that to Terpstra in the Silver medal position. McConnell had dropped off this group of four earlier in the 4th lap.
Rain started to come in but Richards was riding a wave of applause on the final lap, with about 53 seconds lead over Terpstra. Frei was putting pressure on Włoszczowska and Neff, and PFP was gone.
RIchards descending was a master class, as she worked her Trek Supercaliber over the drops and had it stuck to the best lines in the berms, while seemingly finding traction even on off-camber inside lines. Richards was on a blinder.
Włoszczowska messed up a corner, a horrible shame in her final World Championship, and Neff and Frei would be fighting it out for Bronze. 
Richards finished in a triumphant salute. Terpstra was second and although Frei and Neff had a huge drag race to the finish, it was Frei who took bronze. McConnell crossed in 7th, finishing off a great fight at Val di Sole.
"I didn't have much confidence going into the race. My race plan has have confidence. I'm just so shocked!" Richards said at the finish. She explained that she races best when she is happy, and she has been so happy training at home the past few weeks.
"With COVID it's been really hard and I tried to stay positive. I'm so grateful to my coaching and support staff at home," added Richards.
Schurter wins his 9th World Championship
There was no clear favourite at the starting line for the Elite Men's Cross-Country race, but it didn't take too long for it to shape up, as a brilliant Nino Schurter of Switzerland came to the fore with fellow countryman Flückiger glued to his wheel.
The Swiss duo made the difference in the second lap, with Schurter's determined action in the first ascent of the Val di Sole course. Only Flückiger could stay in the wake of the 2016 Olympic Champion; behind them, Czech Ondrej Cink put his effort to contain the gap, followed by France's Koretzky, Brazil's Avancini, Romania's Dascalu, Germany's Brandl and fellow Swiss Colombo.
The lead of the duo increased during the third lap, in spite of Cink's push. However, the Czech's action faded in the fourth lap, with Koretzky, able to bridge the gap and push through, settling into third position.
 
Everything went down to the final lap for Flückiger and Schurter, and after no one could get away from the rival uphill, it was the former to face the downhill in the front. It seemed to be done for Mathias, until Schurter's final move into the penultimate corner. 
"It's great to be back here. It was the perfect race: I got off to a good start, then I found myself in the lead with Mathias and we collaborated well. On the last lap I was tired, and just tried not to get dropped by Mathias. At the start of the descent, I tried to pass, but he had already figured my plan: I had only one corner left to try and do something, and I succeeded."
"I had started doubting myself, to be honest," continued Schurter, "after a year in which I was unable to perform as I expect from myself. Now I don't know what I will do yet: I was confident that with a perfect race I could get back to win and having done it at the World Championships puts me in a better condition for any decision I could make in the future."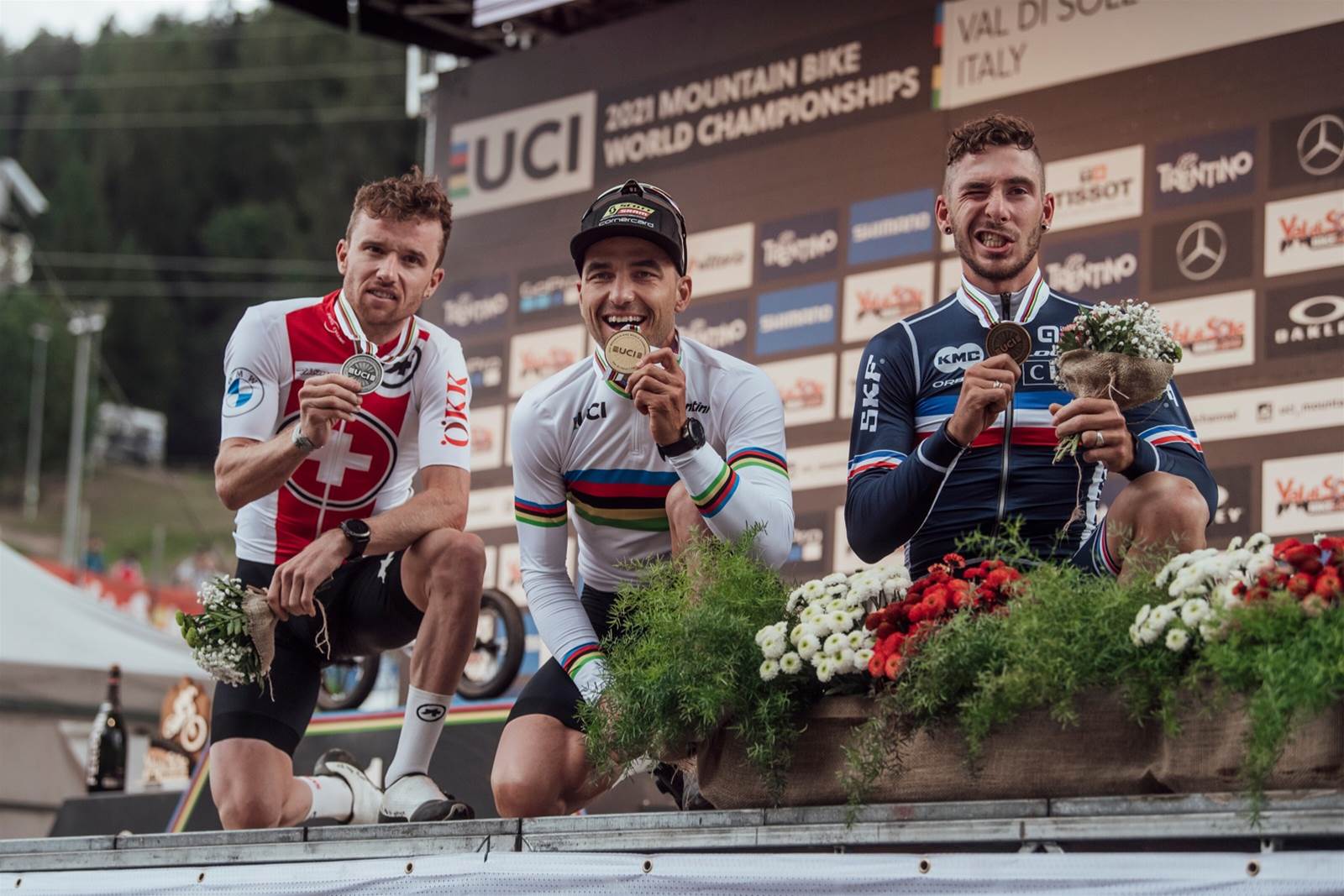 France got the bronze medal with Koretzky, who claimed another brilliant result in a breakout season. Romania's Vlad Dascalu was fourth, preceding surprising German Maximilian Brandl, bronze medalist in the Short Track.
Sam Gaze finished 6th, a great finish for the fiery rider from New Zealand. Dan McConnell crossed in 64th. Full results are online.
Australian Mountain Bike