Leogang turned it on for the Downhill World Cup, but the course provided no favours.
All photos: Piper Albrecht

Leogang might be quite fresh as an XC venue, but for the Downhill World Cup it's a regular stop. That doesn't make it easy, and the wet conditions shaped practice and race day in Austria.
All the Junior men's action
Jordan Williams (GBR) found a tonne of time ahead of Canada's Jackson Goldstone to win. But the stand out for us was Remy Meier-Smith landing in 5th, and Lachlan Stevens-McNab (from NZ) finishing 3rd.
Meier-Smith going full tuck.
Junior women on the hill
In Junior women, Great Britain's Phoebe Gale was on the top step, with a storming run ahead of Jenna Hastings (NZ) in second. 
Elite men - who could do it?
If you looked at social media after qualification, you would have seen a number of riders were upset they'd thrown their run away with a crash. Not everyone, but plenty of people had to really let it run come race day.
Frenchman Amaury Pierron was looking to become the first man to win the first three races of a World Cup downhill season and he weaved his way down the course to take an early lead.
Unfortunately for him, Spaniard Angel Suarez Alonso put in a tremendous run to pip him for the lead with Austrian Andreas Kolb also excelling down the tricky track to put himself in third place as it stood.
Two-time downhill world champion Danny Hart was next man down and he put together an excellent run to go green down the mountain and leave Pierron's record-breaking hopes in tatters. Sadly for him, the Briton could not bank his fifth World Cup win as compatriot Walker went up at the second and fourth splits then dug in down the stretch to claim the lead.
Fastest qualifiers Finn Iles of Canada and finally Benoit Coulanges of France could have spoiled the party, however they both lost control at crucial moments to leave 2020 overall champion Walker celebrating.
Walker, 23, said: "It's unbelievable. It's not a track I've done particularly well at in the past. I felt really good this morning. I was confident with my lines. I made some bold choices with tyre choice and it paid off. I can't thank everyone enough for the support. We worked so hard and it is amazing to actually achieve a goal like this."
Troy Brosnan finished 16th in his first World Cup of the year after braking his ankle at the National Championships. Luke Meier-Smith was 19th, backing up his result from Fort Willilam with another great race.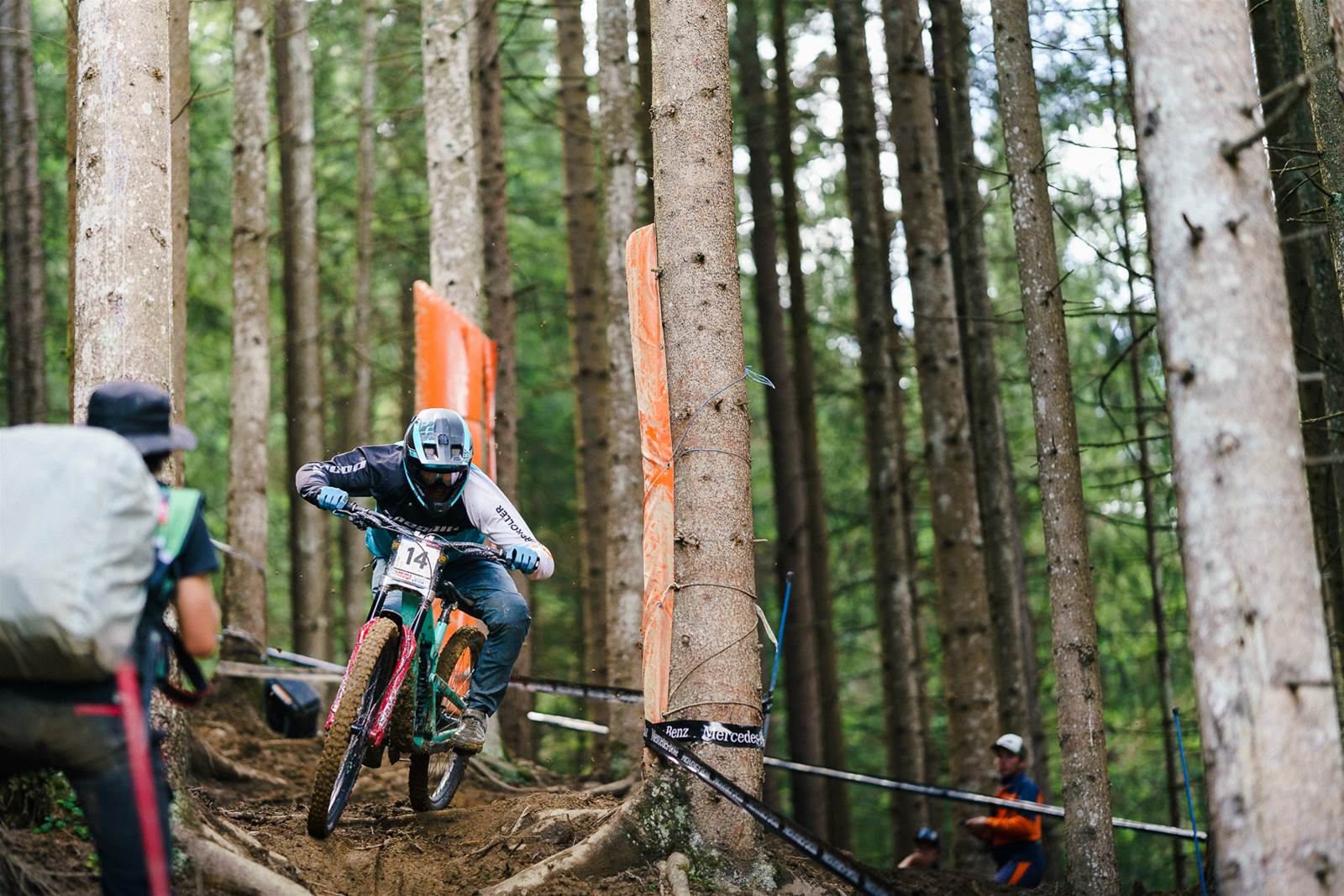 Dean Lucas rode to a great 23rd place - and this is still within 10 seconds of the winning time by Matt Walker.
Dan Booker finished 35th, not too shabby right off a big weekend of racing at the EWS!
Connor Fearon was 43rd, with Jackson Frew in 48th.
Women's finals in Leogang
In the women's race, France's Myriam Nicole was fourth last out of the gate and, despite coming off her bike, she did enough to get ahead of Italian Eleonora Farina with France's Marine Cabirou unable to finish.
Myriam Nicole on the hunt.
Despite coming second in qualifying, local Austrian hero Valentina Höll hit the deck early on after starting like a rocket and, after recovering brilliantly, crashed in the wooded section to ruin her chances.
Balanche knew she would have a great chance if she could just stay on her bike and she duly held her nerve to win by a mammoth 11.368s over Nicole to keep her impressive Leogang win run going.
Balanche, 32, said: "I tried not to risk it too much. I am over the moon. I knew it was going to dry, but it was super hard to choose a tyre. Still muddy in the wood and the wood is where you win the race. It was a last-minute change!"

Leogang men's DH result
1. Matt Walker GBR 3:28.816
2. Danny Hart GBR +0.325
3. Angel Suarez Alonso ESP +1.554
4. Amaury Pierron FRA +1.714
5. Andreas Kolb AUT +2.433

Leogang women's DH result
1. Camille Balanche SUI 4:08.218
2. Myriam Nicole FRA +11.368
3. Eleonora Farina ITA +16.063
4. Louise-Anna Ferguson GBR +21.658
5. Monika Hrastnik SLO +22.040
Australian Mountain Bike