Day Two of our West Australia Road Trip: Dwellingup
 Words: Mike Blewitt                                                                          Photos: Tim Bardsley-Smith
 
Western Australia is a state rich in resources. For those of us in the east, we can't always appreciate how many of those resources are suitable for mountain bikers. From fast and loose pea gravel trails, to hand and machine sculpted red dirt trails beneath Karri trees, and of course beach side trails above an azure blue ocean, the variety on offer for mountain bikers in the west will surprise anyone who hasn't visited before. We were invited to the south west and given a local's tour of some of the great trails in the region, and once on the ground we learnt that there is so much more to come.
---
We hit the road out of the Perth Hills pretty early the next day, heading just about due south to Dwellingup. If you're a mountain biker you would probably know of Dwellingup thanks to the Dwellingup 100 marathon mountain bike race. That popular event has drawn a crowd from around the country for over a decade. But the town is nestled into two state forests and a reserve, making it a popular destination for a weekend getaway, or a day out for car clubs and motor bike riders.
Given the trip south was only about 1.5 hours out of Perth, Dwellingup is easy to get to for a break for those living in Perth. But the popularity isn't just due to proximity to Perth and Mandurah, but also because there is a fair amount of mountain bike trails in the area. Turner Hill has 12 kilometres of built trails, Marrinup has another 7 kilometres of green trails. Singletrack also links a lot of the riding areas together.
 
"One of my personal favourite trails is the POW Trail," our fearless road trip leader Tony Tucknott said as we ordered coffees at the Blue Wren Cafe. "The trail winds its way through the relics of the famous Marrinup Prisoner of War camp. This area is known as Camp 16 and housed up to 1200 German and Italian soldiers from 1941 to 1946. It is an amazing piece of Dwellingup history!"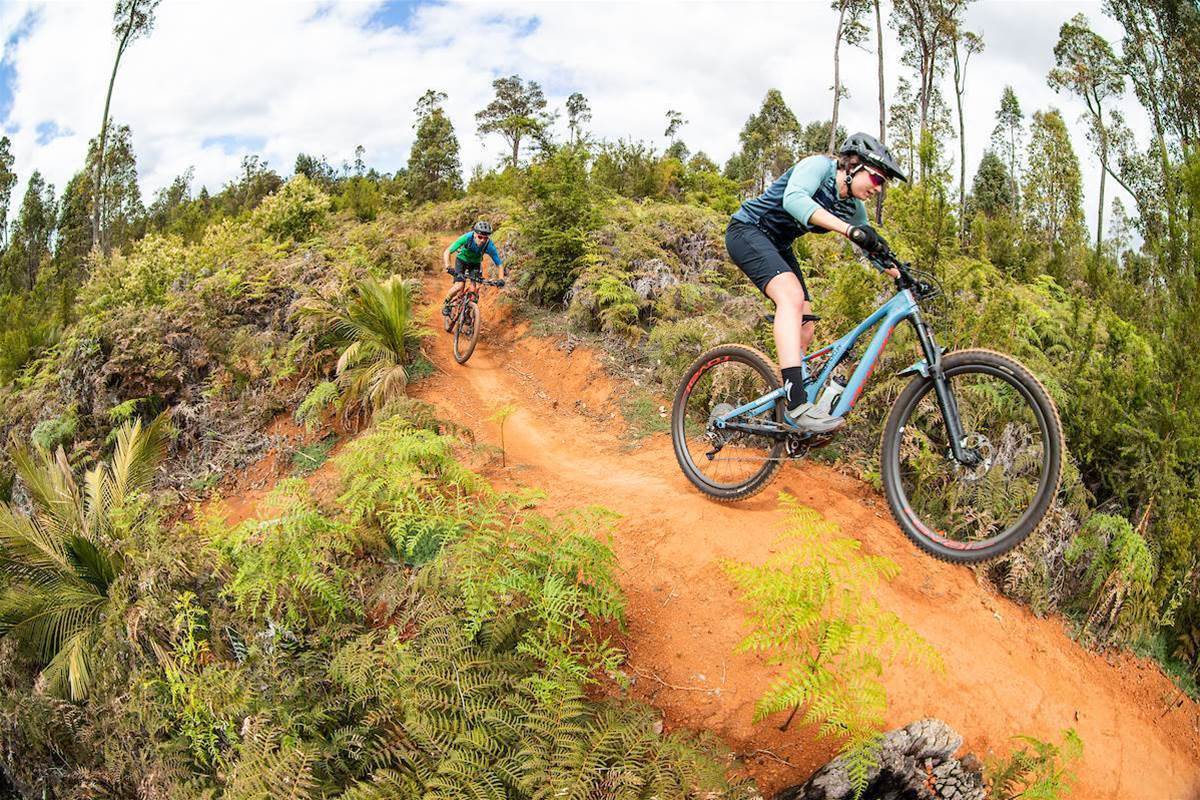 We grabbed our coffees as I eyed off the freshly baked muffins, but it was time to go. Trails don't ride themselves. We went to Lane Pool Reserve and parked in the new car park. It's a great trailhead with some toilets there and plenty of room. Tony let us know that the new trails came about after the previous cross-country and downhill trails were logged.
We took a spin up through some plantation forest first, with a few fast descents in the pines and before descending a skatey handbuilt trail in some natural bush. A quick pedal then took us to the new Murray Valley trails, which still have some more trails being built. But to be honest, what was already there was a whole lot of fun!
The trails all head off from one trail head opposite a car park. Seeing we were there on the weekend it was popular with groups of friends taking turns shuttling each other up.
The trail head has a green, blue and black trail so there is something for just about everyone. Each trail features plenty of machine built berms, and lots of features to pump or jump. We followed each other down each trail, with the blue trail probably becoming the favourite in our group, as it squeezed out a bit more from the elevation than the black trail did, without feeling a bit too flat.
The trails have been well-built, and it is easy to judge the features size as you come into them – but following our riding guides such as Sarah Tucknott and James Lobegeiger made it all easy and a lot of fun.
After a few more runs we head back to the Blue Wren Cafe. It's no longer suitable to have a muffin but that's ok, as their lunch menu was solid. We sat down and talked trails, and Jeff Phillips from Southern Hills Mountain Bikers filled me in on the future for Dwellingup.
With a new asphlat pump track just off the main street, there are plans for a new trail hub, pavilion, change rooms and showers, bike wash and maintenance area in town. Given the Munda Biddi Trail passes through Dwellingup and the area is already popular it seems like a no brainer. This extra investment from the local shire and Department of Biodiversity, Conservation and Attractions (DBCA) will just make a good thing better.
Places That Rock - Dwellingup
 
Where: Lane Poole Reserve, Dwellingup
Riding style: Trail – with some sweet flowing jump lines.
Trail surface: A mix of pea gravel, pine needles and red dirt – depending where you are.
Don't forget: Take enough water and food, as you'll be having plenty of fun out on the trails.
What's on? The Dwellingup 100 is the big one, taking place every September.
More details: murray.wa.gov.au

 
What's happenning in Collie?
 
The Arklow trails are big news in Western Australia. The Minister for Sport and Recreation , the Honourable Mr Mick Murray, is the local member for Collie and the surrounding areas. It has been announced that $10 million has been awarded for trail development in the Collie area. Some say that Collie will be the next Derby!
 
The plan is to create about 200km of new trails to the north of Collie, with a mix of trails for hiking and for mountain biking throughout the Collie River Valley. This isn't going to happen overnight, but  it will put a huge network of trails 2 hours south of Perth, while also being right next door to Dwellingup.
There is no doubting that this will be a big change to the mountain biking landscape not just in Collie, but for the whole of Western Australia. The mountain biking development is just a part of a greater plan for the area, where equestrian trails, driving routes and 4WD adventures are all being planned. It could well be that our next visit to Western Australia is all about discovering Collie!
 
collie.wa.gov.au
Australian Mountain Bike