Nothing to breathe. Only dust to eat. Take a trip to Nepal!
Words and Photos: Kristina Vackova
 
I love it when I can tick a major milestone off my bucket list, especially if it's photography related. In 2018 I embarked on a challenging mountain bike trip to Tibet, and the year after to Nepal's YakRu Enduro Race as a media photographer with friends and my partner.
 
We weren't sure what we were signing up for or what to expect. A two week trip with three days of enduro racing in altitudes exceeding 4000m made us nervous. However, it seemed like a fantastic opportunity to explore Nepal with friends from all around the world. We knew it would be an adventurous trip in hard conditions.
 
Upon arrival in the chaotic Kathmandu, the cultural shock hit hard. Outside the airport was filled with taxi drivers trying to get our attention and earn some dollars. We managed to find our event driver and get to the hotel. Having never been to this city, we allowed for an extra week to acclimatise. We were going to need it.
One of the most unforgettable riding experiences came before we even hit the trails - riding Kathmandu city. The streets were packed with cars, scooters, bikes, rikshaws, pedestrians, dogs and other animals, all covered in an excessive amount of dust. It was a stereo of horns and sounds. Still, somehow, they are able to make it through the streets with no significant issues. The best way to navigate it all is to dial your concentration to 150 per cent and make your way through determinedly. If you don't, you may never get anywhere.
 
After experiencing the tasty cuisine and first of many Dal Bhat, we ticked off all the touristy sights. Surprisingly, most of the citizens of Kathmandu had never been to the Himalayas, and they spend their whole lives in the city or in nearby villages. We booked a shuttle to one of the main trail networks, aiming to self-guide only using Trailforks. The locals like to keep their trails secret, so they get paid for guiding the tourists. The trails we rode were fun and definitely different, but nothing like what we have in Tasmania. Trails marked as blue are a combination of singletrack, double track, dirt roads through villages or paths through fields. It was nice to explore those trails, but we were excited to get to the mountains.
 
Into the mountains
 
A few days passed and we sat through the event briefing, before heading into the hills. We set out in jeeps on a two-day journey to Ngawal village in the Manang District, our base camp for the race.
Travelling in jeeps sounds like fun and an adventure, but after two hours squeezed in with no space to move, we realised it was going to be a savage journey. Nepal's roads or so-called "highways" are more or less one lane, rough, potholed and jammed with all sorts of vehicles continually honking.
 
It was quite fascinating to observe the everyday life of the Nepali people from the outskirts of Kathmandu and villages we passed through. Women washed their clothes on the street, men stood outside their shops observing others, street sellers gathered with trolleys of food, goats, cows and all sorts of animals wandered, as well as many street dogs. Kids played outside, excitedly waving at any caucasian tourists.
As we drove past some villages, the locals were all too keen to jump in on the back of the vehicle for a lift. Up high in the mountains, this is something that's taken for granted if there's a space in the car. And it doesn't seem a problem for them when you are trying to explain we are transporting bikes in bags. Luckily we had an implacable Nepali driver on board. A few arguments later, we were leaving without locals on board and on top of our bikes.
 
Once we hit the dirt road, the rugged and bumpy terrain left many of us to choose to walk at some exposed spots, rather than sitting in the jeeps. The views were stunning, the first sight of one of the Himalayan peaks appearing from the clouds looked like someone had painted it. So unreal, so majestic. The further we went up to the mountains along the Annapurna Circuit Trek, the more amazing the villages were. Cute and colourful guesthouses were surrounded by mountains and beautiful waterfalls. But the beauty can hide the difficulty of the terrain. The last 18 kilometres to our first guesthouse should have only taken one hour, according to GPS. Instead, it took three. We arrived late at night, exhausted, knowing we had one more day of travel to go.
Before reaching the base camp village, we went for an acclimatising 15-kilometre ride. This is where the reality of just how high we were set in. Together with my accelerating cold (one of the symptoms of high altitude sickness), I soon realised I hadn't trained enough.
 
Our crew was small. After a few people pulled out, we ended up with eight racers, four media personnel, two medics and the whole organisation team. That meant one photographer per two racers. We thought to ourselves, 'surely we would get enough photos of everyone'. The media and medic teams were said to receive eMTBs. However, this was not to be the case. Due to space in the jeeps, only the medics got the eMTBs. It seemed like a great idea of having eMTBs in Nepal, but I'm glad I had my own bike. The motor certainly doesn't help when you have to push or carry the bike 4000m above sea level. Since there was a fair bit of 'hike a bike' the extra weight of eMTBs made it even more difficult.
 
The YakRu community
 
With such a small group YakRu felt more like a guided mountain bike trip with friends. Every day we'd get up early to get ready. This meant we'd have to layer-up as it was cold before the sun hit the mountains and we warmed up. The crew and photographers got to their spots first and waited until the racers dropped-in, followed by the medics. We returned to our guesthouse early in the afternoon, exhausted even after short riding distances. Ngawal (3600m) our basecamp was a tiny but beautiful village in Manang Valley, surrounded by mountains. The mountain Annapurna III (7555m) stood, in all its majesty, right in front of us, but it also took away all the sunshine from us. The sun set at 3.45pm behind the mountain, which meant freezing outside conditions and no golden light for exciting photoshoots. The rooms were cold, with no heating, so we were covered with thick duvets and sleeping bags.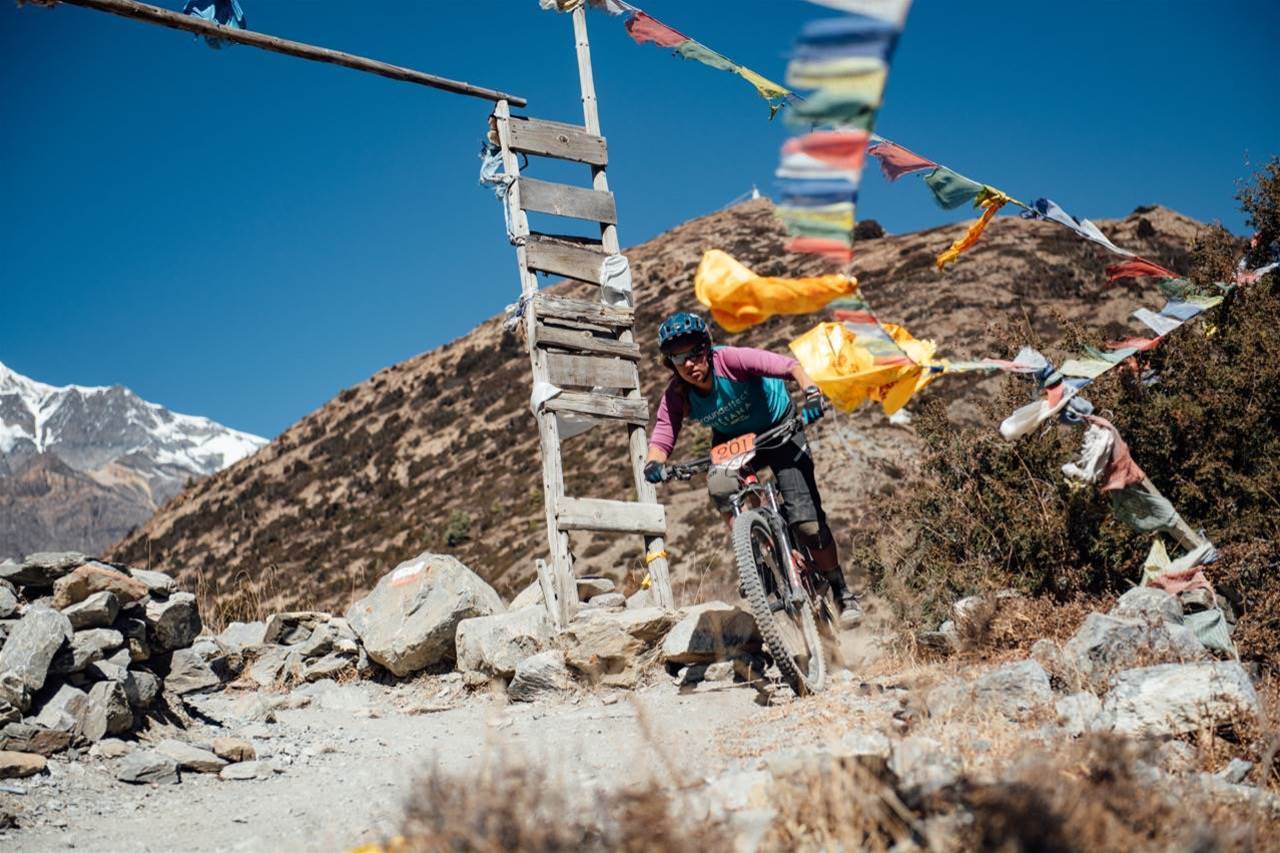 Sleeping at high altitude can be difficult and everyone had a different experience. Some slept well, while some had difficulty breathing and an immense lack of sleep. The typical high altitude headache was also troublesome. Therefore, during this time, we had to avoid any alcohol. Despite the hardships, everyone embraced the challenges and managed to have a good time.
 
The racing itself was blind, meaning none of the racers had ever ridden in this part of Nepal at 3200-4200 metres in altitude. Trails were a combination of natural singletrack – routes carved-out from the generations of people from the villages – parts of hiking trails including the iconic Annapurna Circuit Trek, as well as paths through ancient villages. Riding alongside the famous prayer flags and wheels and stones carved with a mantra was pretty amazing. It always reminded us we were in a highly spiritual country.

 
Three stages per day were connected mostly via jeep tracks. We were quite lucky with the Himalayan weather with no rain or snow, but that also meant a lot of dust. Since the jeep tracks were extended higher into the mountains, they collided with the trekking routes. Unfortunately, that made it difficult for the hikers and bikers to breathe whenever a jeep passed by. Dust came from everywhere!
Some trails were fun to ride, but the scenery was the most exciting part. The views were mind-blowing, and as a photographer, this was a rewarding time while waiting for the racers.
Each day after the race, the winner on the podium received a stuffed yak's head and had to keep it at their door for good luck. It seemed to work though, as the lead riders held their positions until the end.
 
The best part of the trip and riding was our second last day when we left to head back towards Kathmandu. The excitement of descending 50 kilometres of singletrack, jeep roads, trails through historic villages with cheering and amazed locals was unreal. The Annapurna Circuit trek with its never-ending steep stairs through lush forests was incredible. Finally, we had more opportunities to get some snaps, although we were quite rushed as the sun was setting rapidly.
 
Homeward bound
 
The last day transiting to Kathmandu ended up being a 16-hour long journey. After stopping at a friendly and remote brewery along the way to get some refreshments, we got stuck in a Nepalese traffic jam. These are very common in Nepal, and it only took one truck to block the road. Our moods changed when we got out of the jeeps to buy more beers, somehow finding ourselves involved in a teen bus party. We found ourselves dancing with the kids who began taking 'selfies' with us. That made it so much more enjoyable, and I can say I've never experienced such a traffic jam like that.
After nearly three weeks in Nepal, we were unable to eat nor smell the famous Dal Bhat that Nepalese love to eat two or three times a day. We encouraged the organisers to have our last meal and drinks at a pizzeria. We had the last couple of days to recover and walk through the streets of the Thamel.
 
The whole trip was a crazy experience and one of the most challenging journeys anyone of us had taken part in, but having a great group of people is what makes any journey more enjoyable. It made me realise just how lucky I am in the country I live in and to have all the things I could want at my disposal. Local mountains too, even though tiny, are beautiful. One of the most unpleasant and disappointing sights I experienced in Nepal was the excess of rubbish and plastic waste that is contaminating such a beautiful part of the earth.
If someone was to ask me if I'd go on such a trip again, I'd say maybe one day. But I'd instead do it on a self-contained trip, experience the life of the locals who live up high in the Himalayas and ride and explore the beautiful country without being rushed.
Learn more about the YakRu HERE
Australian Mountain Bike