We return for another week-long National Championships in the beautiful town of Bright, Victoria, where competitors race in XC, DH, Pumptrack, and Trials. We kicked off the week today with Downhill trackwalk and practice, jumping into seeding tomorrow afternoon on the Mystic Bike Park's downhill trail. Photos and words from mediaman Nick Waygood.
SEEDING!

As rain threatens on the horizon, competitors hit the course for a timed qualifying run to see how they placed ahead of tomorrow's big event. The trail has progressively improved, with hundreds of competitors loosening up the tight, awkward sections and giving the course an entirely different feeling from yesterday's practice sessions.

In the U19 Womens, we saw Cassie Voysey cross the line quickest in seeding, with Ashleigh Weinert in a close second. Weinert is looking quick, so we may see that top 3 change in tomorrow's race for the top step.

In U19 Mens, Luke Meier-Smith grabbed the quickest seeding time ahead of Joshua Arcus, with Tom Carter in third.

In Elite Womens, Sian A'hern put a significant 24 seconds into Tegan Molloy, With Harriet Burbidge-Smith in third.

In Elite Mens, Troy Brosnan returned to defend his title, however a timing malfunction would see his qualifying time not be revealed. Brosnan is definitely still a threat, looking comfortable and fast, with Jackson Frew hunting for that top step.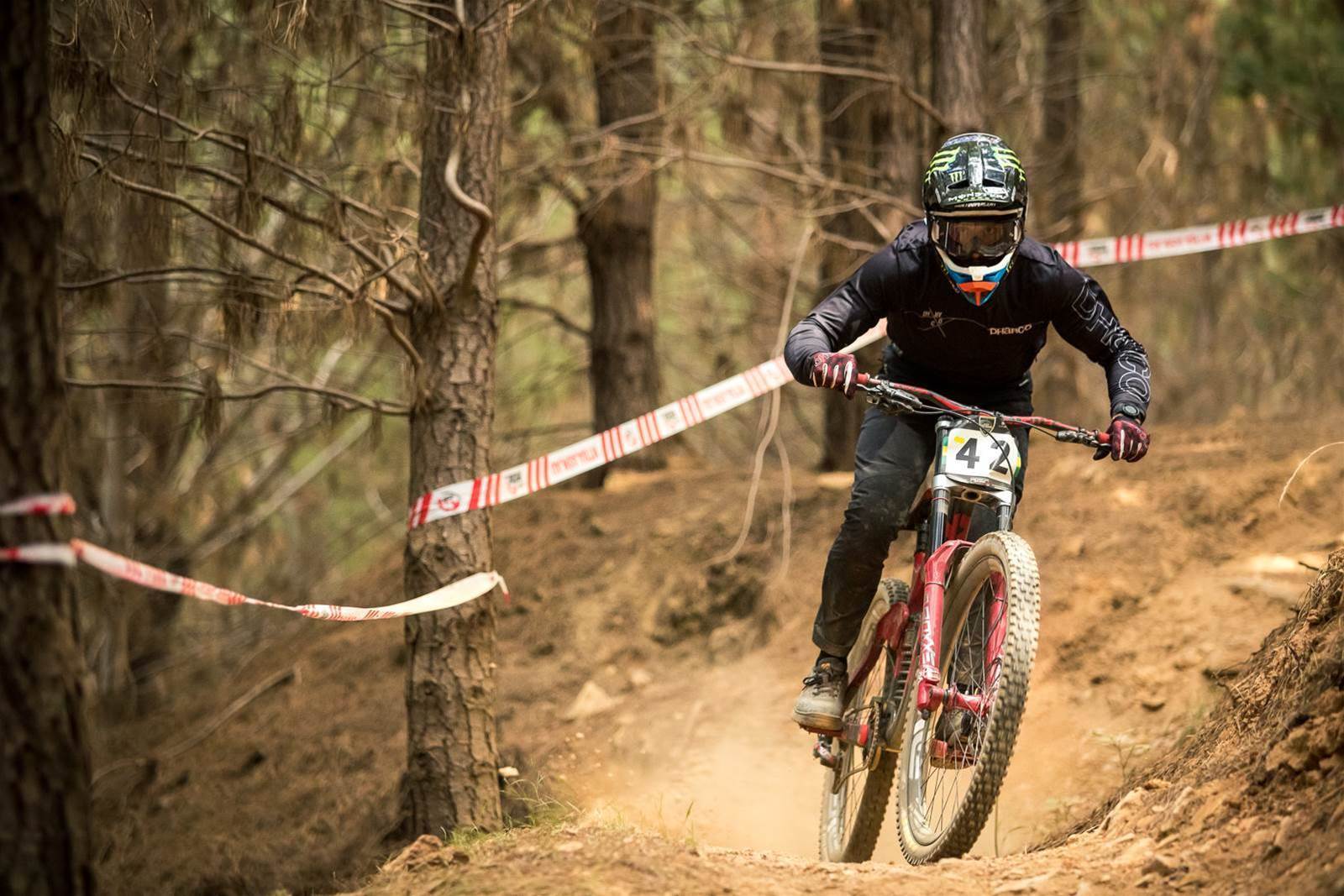 8 seconds separate the top 3 in seeding, with Jackson Frew looking consistent through practice, hungry for a Championship win. Aaron Gungl takes second, ahead of Connor Fearon in third. Kye A'hern picked an unfortunate fight with a tree, however looks forward to a good run tomorrow. Baxter Maiwald takes fifth, and on a trail bike!
Find all seeding results here!
In trackwalk, competitors trundled down the trail, finding the quickest way from point A to B in order to take home the green and yellow stripes. The track is quite raw, with scattered exposed rocks and roots adding to the difficulty, reminding us why we returned to this mountain for the fourth year in a row.
With conditions slowly drying up following steady rainfall in previous weeks, some predicted rain on Friday evening through to Saturday morning will be warmly welcomed to keep the dusty down and grip aplenty.
We caught up with Kye and Sian A'hern in the team pits, to see how they were liking the same course as last year's event.

"Yeah it's looking really good actually, not too different from last year. I like this track, and there's only a few bunting changes." Kye says.

"The track's looking pretty good, smoothed out in a few sections after not many people riding it since last year, and yeah I'm having a lot of fun, there's a few rocks to be moved around after practice but it should be good for race day" Sian says, seconds before they continued back to the lift line.

As downhill competitors continue to practice, we see seeding for the big race on Friday afternoon. It's the first chance for Australia's best to see where they place in the top 3 as we head into another season of World Cup racing, with Saturday's big event acting as a qualifier for the World Championships later this year.
Australian Mountain Bike