Lenzerheide wasn't just home for the 2018 Mountain Bike World Championships - it's the home of amazing trails.
I wake to the sound of water, but it's not rain. It's a small bisse, or tiny aquaduct running behind our rented apartment via Interhome. The sky is a perfect blue outside, and after a breakfast of mueslie, local yoghurt, cheese, bread and coffee - I'm ready to ride.
We're in Graubuenden, the largest of the Swiss cantons, and reputedly the home of trails. But it's the home of just about everything Swiss. From cute alpine towns, steinbock, the Rhaetian Railway, tremendous peaks, ski villages, impossibly green pastures and tall forests of pine and larch. Then of course there is the mountain biking, as trails cross the entire canton and country, with just about every single trail open for mountain bikers, with plenty of purpose-built trails as well.
In early September I spent a whole week in and around Lenzerheide – thanks to the UCI World Championships. The whole world came to Lenzerheide and the forest was alive with mountain bikers. From those between the tape, to riders doing test rides on Shimano's latest XTR M9100 equipped test fleet. Fans were crowding the courses and spectator zones, but all you had to do was look up to remember where you were.
---
Relive the action from the World Championships!
---
The far ridge line was well above the treeline, and when you walked or rode to the other side of the lake you could see way above the Lenzerheide Bike Park, to the range that makes up the Arosa Lenzerheide mountain bike area.
After the 5 days of racing was over, there was time to head out for a trail ride with some of the Australian team and their families. It was a great time to take a slow pedal up the mountain (although there are plenty of options for mountain transport) and talk to some people who get to ride a whole lot of places about how their time in Lenzerheide was.
We rode to the top of the bike park, looked across the valley and pointed out the trails we had all ridden through the week when time allowed. The singletrack that started at the farm and went into the dark forest. Or the old farm road that took a really gentle way up to the pass for a crazy descent off the back. Or the trail near the lake that went to the best spot to swim. We could see it all.
We shot into the bike park after that, picking our way down the trails that suited the XC bikes we were mostly on, and the knowledge that most of us were flying home in the next 48 hours. Still, the range of built trails in the forest had us gobsmacked. From fast and easy berms to drop aways, then wooden bridges, gaps, drops, steep rolls – all in the trees and mostly with different options, with some paint on the entry so you knew what you could (or should) line up.
We stopped so many times on the way down to laugh, take it all in, and just relax on the trails. After finishing our ride on the XCO course it was time for refreshments.
"I love the fact that you can ride machine built trails and north shore type structures in the bike park," said David Harris, over a beer. "But then you can just ride up any hill and along what we might call a cattle track. But it ends up being absolutely amazing singletrack, and you end up banging down that and having a ball!"
David Harris was riding his XC bike with a 120mm fork and a dropper – something pretty useful to train with his daughter Holly Harris. "It's good to have a bit of travel up here, as you have to get up the hills." Of course there is always an option for a bus, train or chairlift – but you can also ride the hills, as the Harrises do, as you get to see so much more. "The riding is the big reward. It's fantastic."
"I can't think of anywhere in Australia which would be the equivalent to riding here in Lenzerheide," Harris stated. "There are great trails like at Stromlo and Derby and the like but its not all as close together as you get here. You have to end up relying on shuttles which might mean waiting around. Here you can just ride back up if you want, or use the lifts."
"Atlas and Blue Tier are awesome trails but over here you get a lot more exposure to some raw stuff and it connects so easily to other trails. You can be riding along a small road then all of a sudden you're turning into amazing singletrack."
One of the things that really stands out riding in the Arosa Lenzerheide region is that the trails are like a spider web over the towns. Many trials are old farming trails, or hiking trails, so they go places. And the signs all tell you where the trail goes, so there is no mystery to it. You could even just download the Graubuenden MTB App to find your way.
"I've never found myself more than 15 minutes from a town, it's just so easy to get out and explore from just about anywhere," finished Harris.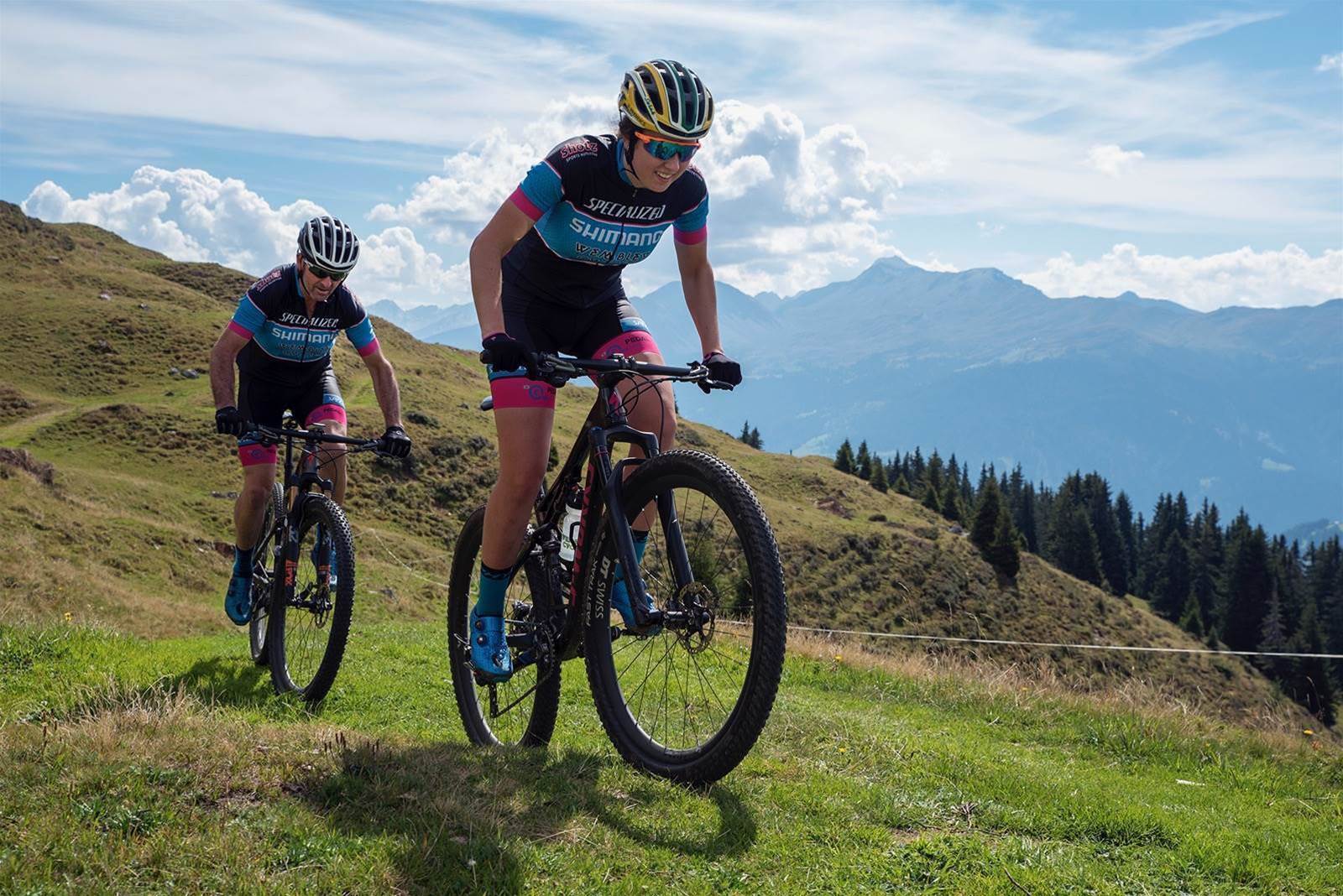 Tony Tucknott also joined us on the ride, and his experience was similar, being flooded with choice of where to ride.
"When you first come here, you grab the map and then you see the massive amount of trail networks and loops that have been put together. And that's just brilliant, because you need somewhere to start from." There is nothing worse than arriving somewhere you know the riding is good, but not knowing where to start. In Lenzerheide, the trail signs start at the bus station.
"Having all those numbered trails are a brilliant way to start. But as Dave points out, as soon as you start looking off the side of those numbered trails after you have ridden a couple of loops, you start looking and realise the options are limitless." The marked routes are just suggestions, and sometimes it's the smallest, narrowest trails that end up delivering the best rides.
"It does help having some Swiss friends here, like who Reece is staying with," added Tony. "Getting some route tips off them was gold. Knowing to look for a small trail off a numbered route meant we could find the best trails – but it's all there to find and on a normal topographic map."
As the Tucknotts are another elite XC family, they had their race bikes with them. "We really found the limit of our 100mm XC bikes here! You're looking for a little bit more travel coming down some of those trails!" Laughed Tony.
We finished our drinks and said our farewells. I don't think any of us were really ready to say goodbye to Lenzerheide and the riding in Graubuenden, but we had all been away from home for long enough that we were ready to head back.
The thing is, Lenzerheide isn't going anywhere. The trails will still be there next summer, with the long summer daylight hours, and the high trails over the passes. The hotels will be ready to welcome mountain bikers, and the lake will be cool. There will be events to attend, bikes to hire and places to see.
I head back to our apartment with the small bisse out the front, the view to a waterfall across the valley (with a trail carved into the cliff beside it) and views to the alpine peaks beyond. I have barely ridden as much as I wanted to on this visit to Switzerland and I know I'll be back. Whether it is next year or the one after, it doesn't matter. There will still be plenty of trails, and amazing mountain bike experiences unlike what we have at home.
---
Find out more details on mountain biking in Switzerland on the My Switzerland website.
Want to know how to get to Lenzerheide? Check here.
Need more ideas for riding in Graubuenden? Here are some of our favourites:
Scuol and surrounds - Exploring the Engadin Valley
St Moritz - a mountain biker's playground
Australian Mountain Bike