Ben McIlroy has done it again, taking the top step at McKayos, along with Goele Schmitz.
Words and photographs by Matt Rousu
---
McKayos is a one of a kind MTB race experience in Australia. Taking place on the closing weekend of the Falls Creek snow season, the event truly says goodbye to winter and hello to a summer of mountain biking.
Inspired by the epic mass start Megavalanche race in the French Alps, McKayos is in it's 4th year and it was by far the biggest one yet. Over 250 participants lined up at 1770m for an epic mass start down the ski fields, through the village of Falls Creek, onto a tricky singletrack before a lightspeed ride down the fire road to Bogong Village at 670m.
A couple of short pinch climbs over the 18km descent give it just enough sting to sort out the fit from the brave. Ben McIlroy and Goele Schmitz took out the win in the Elite categories while others battled it out for category honours.
Everyone had a tale to tell at the end of the race, many said it was their first mountain bike race while others compared how many crashes they had on the snow. 
"The snow section was carnage but because I started on the front row I still got through quite safely with only 3 crashes, it wasn't too bad, "said Elite Womens winner Goele Schmitz. "After that it was just pure fun and I managed to ride smooth on the dirt section to take the win!"
Goele rode into Bogong village with a time of 47:07. 2nd place getter Rebecca Feltrin was riding with Goele on the snow section before dropping a chain, she tried to fix it while riding the short tarmac section but ultimately had to stop. She finished just 27 seconds back in 47:34.
The elite men also had a fierce battle, but the race was won and lost before hitting the dirt this year. Chris Panozzo mentioned he "was chasing close to Ben, but once we hit the first climb I just went blrrgrgrgrhhh," (imagine a throwing up motion). McKayos is a race Chris has yet to win but he says "It's the best mountain bike race in Australia".
Ben McIlroy had a few words to say about his win; "At the start on the snow it was way softer than everyone thought and one dude on a fatbike got out in front, then on the second corner we all came into it together and he (the fatbiker) just slid off the track!"
"After that, three of us (Chris Panozzo and Max Kreuzer) rode pretty close together for the rest of the snow section, it was soooo fast. As we got into the village Chris slid out on the outside of a corner and I took the inside and was like see-ya later! I could hear Chris behind me until the climb but after that I didn't see anyone."
Ben went onto win by over a minute in a time of 33:44min, Alistair Farley had a great ride to claim 2nd place and Chris Panozzo rounded off the podium in 3rd. Special mention has to go to Geoff Vietz who crashed on the snow section and badly injured his shoulder/collarbone, he rode the rest of the race and finished 4th overall and dominated his Masters (U50) category! Heal up quick mate.
Full results can be found online. 
After a super successful year it is clear that McKayos is a mountain bike event that is here to stay, there's nothing else like it in Australia and I have the feeling that it's just going to get bigger and better next year.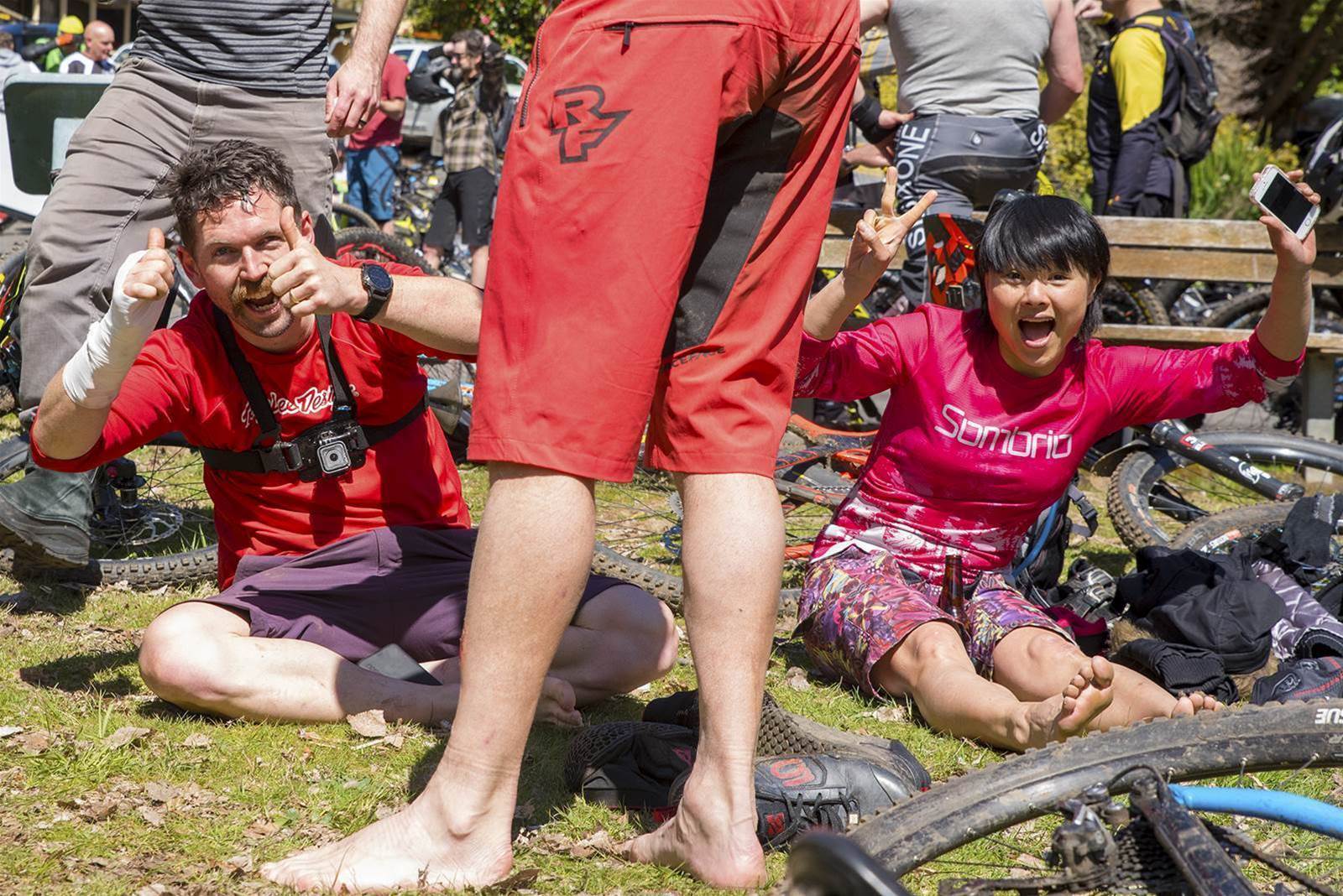 Australian Mountain Bike