With a bit of moisture around, things started to get interesting for those between the tape at Maydena.
All photos: Andy Rogers
After the heavens opened, many riders breathed a sigh of relief. A bit of rain would do wonders for the dusty trails at Maydena Bike Park ahead of the weekend's racing for the National Championships. However, for those racing in the morning, the overnight rain and fine dirt had one outcome - mud.
READ: Get the Short Track action here.
In full Tasmanian fashion, the conditions were a direct flip on the warm sun and dust of Wednesday and Thursday, with cold weather and some sticky mud taking their place. Conditions were mixed for those doing timed Downhill practice, thanks to the huge variety of trail and dirt on the way down. But for Masters athletes lining up for their XCO races, it was going to get a little bit messy.
Masters Men go all out
Out of the blocks first were Masters Men, with 26 riders duking it out across M1-M9.
Wills Brassil and Lachlan Allison rode away with the M1 and M2 wins respectively, while Todd Cuthbert was triumphant in M3, ahead of Ben Parssisons. Dom Burton won a competitive M4, but Tim Northey rode in a league of his own in the M5 category with a huge lead over 2nd.
David Winfield said that the climbs were the hard part, as they couldn't ride them with the slippery mud, and getting off to scramble up was just as hard!
In M6 Russell Eggins added to his XCC title, and Brett Stevens did the same in the compeitive M7 category. Guy Falla took out the win in his M9 category.
Masters women on track
After a break, the masters women's categories were on course. Some said the trails were drying a little, some said it wouldn't make much difference. 
In Masters 2 Ash Watling hit the afterburners to win her category. Sam Jesney pipped Jayne Rutter for the M3 title, keeping the stripes in Tasmania. Masters 4 saw Meaghan Stanton back up her win from XCC, with yet another jersey to take home to be framed and hung with pride.
Masters 5 saw Lisa Dodds come out triumphant, and Tara Sutherland and Sharon Heap took home the titles in M6 and M7 respectively.
You can find all the results and lap times online.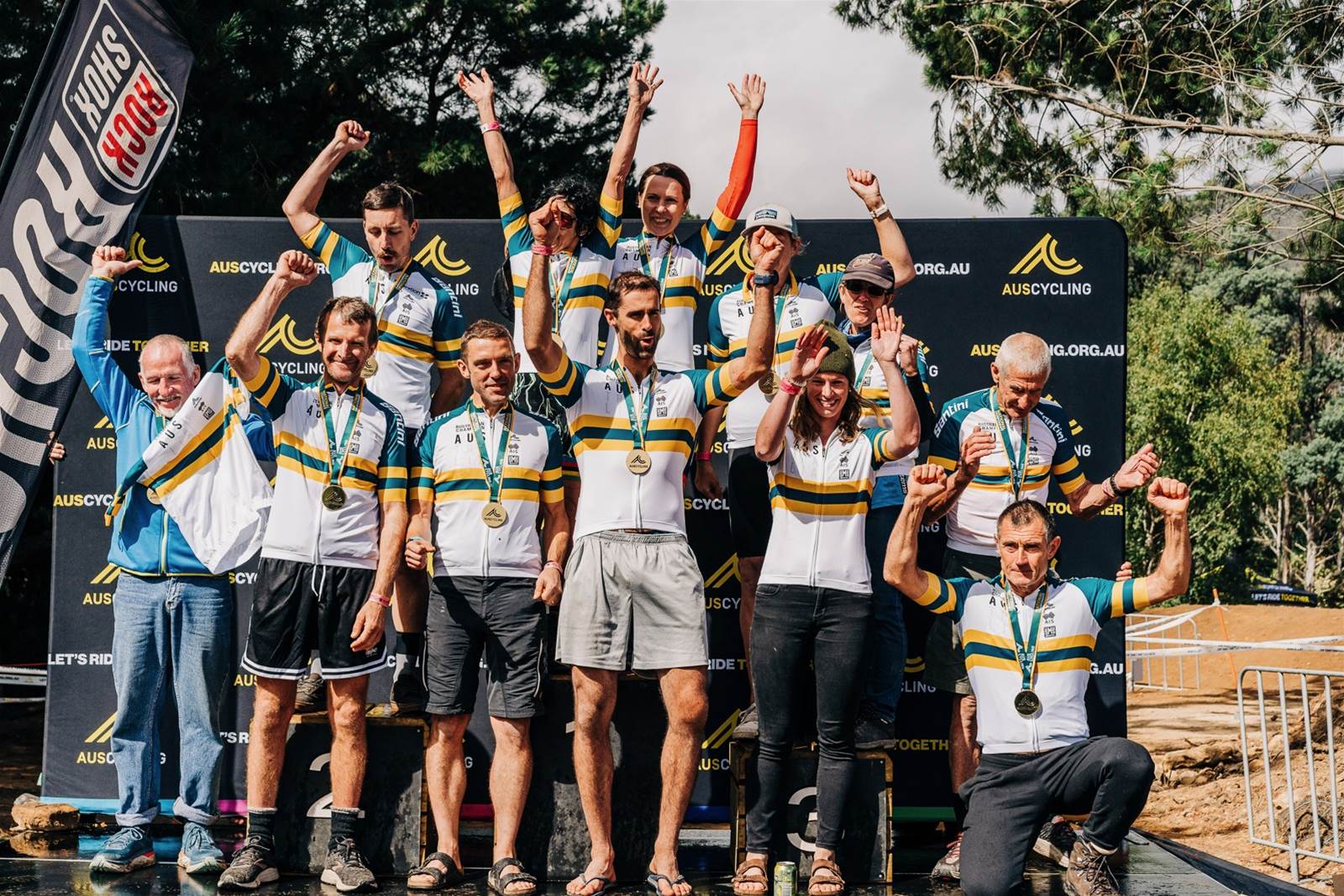 Downhill Practice
Some riders sat out the morning practice, opting to keep their bikes clean and let the dry track soak up some moisture. Still, others were knocking off practice laps as more time on the course is more time on the course. And mountain biking is fun. But we'll know more on how people are moving tomorrow with seeding in the afternoon.
Australian Mountain Bike