Sunday is for Downhill at the UCI MTB World Champs.
Sunday is for gravity at the UCI Mountain Bike World Championships, and with 4 titles on the line it's a busy day full of action, with a course that can very well change its nature from start to finish.
With Junior women down the hill first it was no surprise that Valentina Holl won, with daylight 2nd. Australia Cassie Voysey was 7th, a true sign of a bright future!
Cassie on the hunt in her race.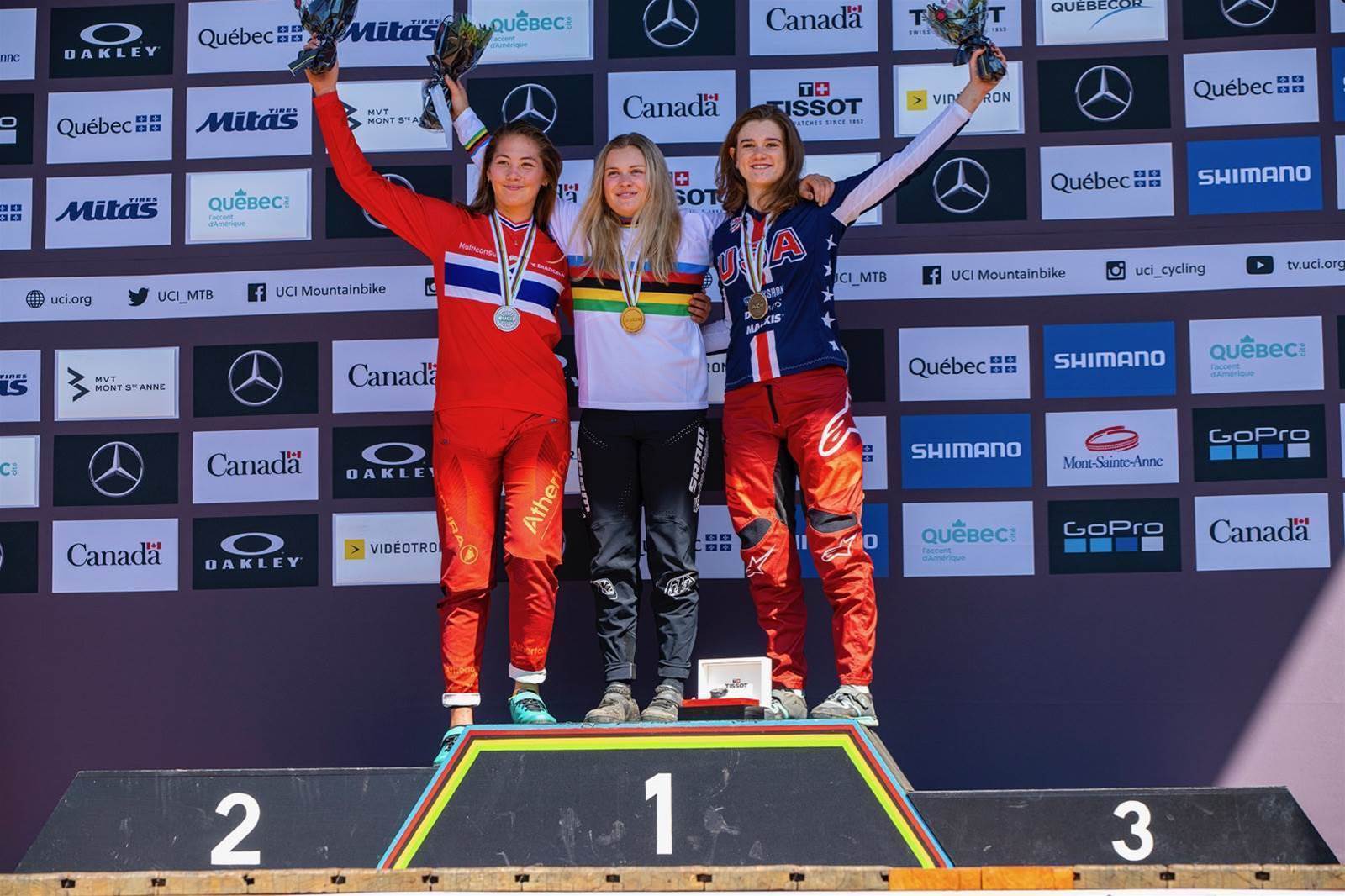 What many Australians were waiting for was the Junior Men, as Kye A'Hern won a silver in 2018 in Lenzerheide, and has showed promise for something absoultely huge over the last couple of years. And today was his day.
"I can't believe it bro! I'm so stoked!" said Kye when Matt Rousu caught up with him after his run.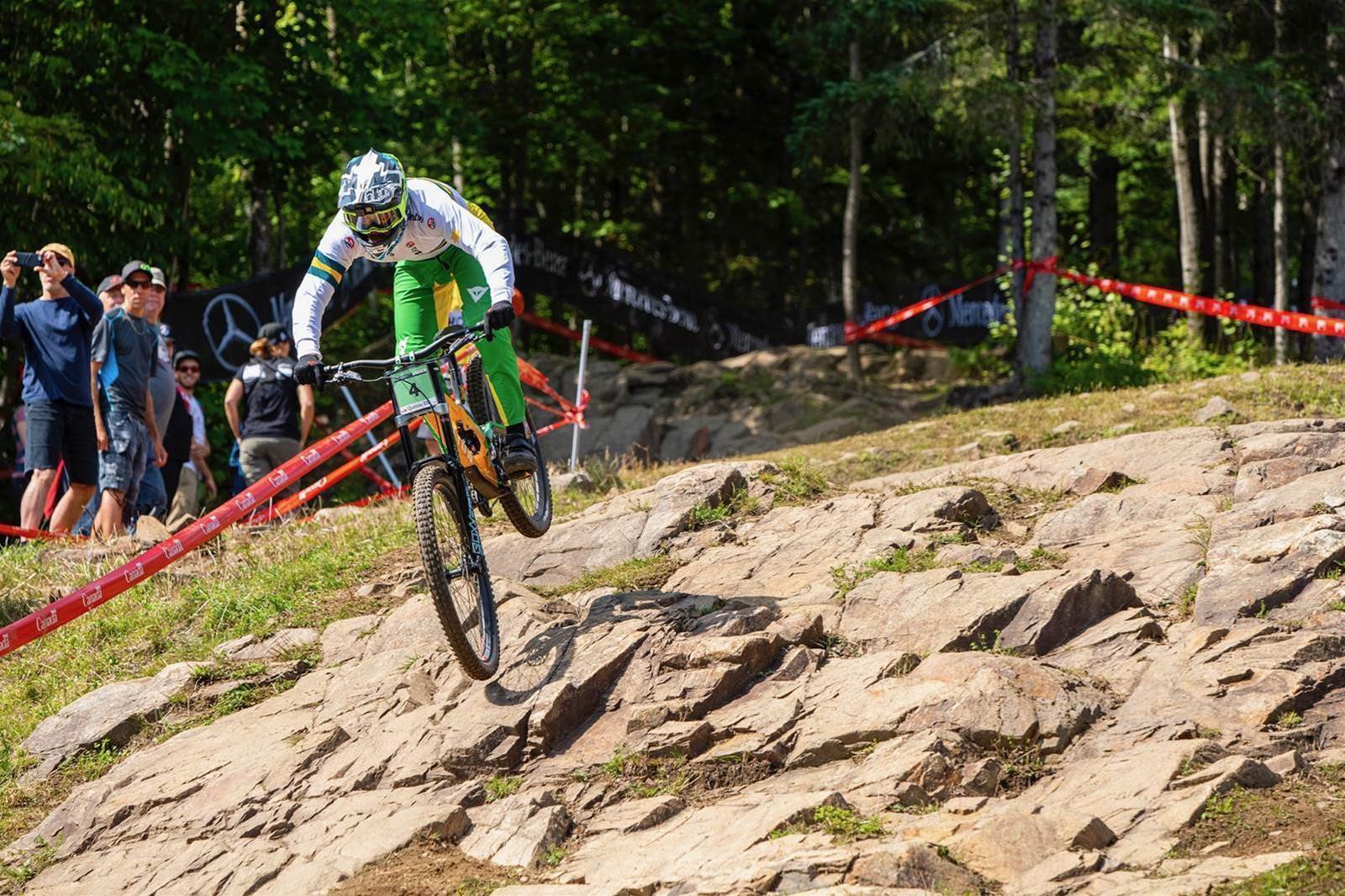 "In the gate I relaxed and just said well this is my one opportunity to get this done, as my last World Champs as a Junior. I felt free and rode how I like to ride, and just had fun."
That's not to say it was a perfect run, but racing at this level is about dealing with the hand you are served and it is clear that Kye knows how to handle pressure and stay focused.
"In that top section I had maybe two mistakes, and then another mistake in the rock garden but nothing big. I just kept pushing and didn't give up. And I am absolutely stoked with it."
While his seaosn may not have gone quite as he wanted, clearly today did, and with one more round of the World Cup to go, Kye even gets to race in the stripes at Snowshoe.
"It just means so much, especially this year I feel like I've had an up and down season. We have another round but to but I knew I could do it, I just had to pull my finger out and go fast, and I still can't believe I've done it."
All eyes were on Tracey Hannah for the elite women's downhill. In the midst of one of her most consistent seasons ever, Tracey would be one to watch for the medals.
Myriam Nicole
But with a crash and a donk on her noggin it wasn't going to be Tracey's day. Kudos to still finishing 4th, a testament to her talent and persaverence. Myriam Nicole took a triumphant win, a first piece in France's continued dominance in downhill (and XCO as well, actually).
As the elite men started to drop out of the start house, you could tell the Canadian crowd were giving the locals wings. Finn Illes was touted to be the guy to pull of a big win for the home crowd and he was in the hot seat well into the top 10. Dean Lucas looked ready to boot him out, but his bike booted him down a rock garden instead in a nasty looking crash that Dean pretty casually brushed off.
Greg Minaar was a picture of composure his whole run, not really making up much time in the top, but capitlising on line selection in the woods and coming out as the fastest down the hill so far.
Laurie Greenland took to the course like a rabid dog, and while he was moving quick he was on the edge of control, it was like watching a disaster waiting to happen. He didn't come completely unstuck but he didn't put himself in a winning position either.
Pierron got close, then Hart. They were good runs. But it was Brosnan who set the bar highest, with what looked like a gold medal ride. And there was only one guy who could prove that it wasn't.
Loic Bruni sprang from the start gate, not with agression or recklessness, but instead with souplesse and an efficiency of movement that ddefied the speed he was moving. Green, green, green... he was on a winning run.
Bruni crossed the line triumphant, winning for France. Brosnan went from disappointed to congratulating Bruni in barely the blink of an eye, he was wrapped in team mates and countrymen soon after crossing the line, a crowd control barrier was even flattened with fans wanting to get closer to the flying Frenchman.
"It was insane, it was as fast as I could go," said Brosnan when Matt Rousu caught up with him. "I left nothing on the table. I barely could brake at the bottom. I thought it might be enough but when you're up against Loic almost nothing is enough. I'm super stoked with 2nd but it would have been much better if I'd won... all good, I tried my best an I just have to smile now. Onto next weekend."
And that was World Champs. Everyone had their race, but only a few riders truly had the race they wanted. They can all try again next year. 
Australian Mountain Bike