Find out how to keep a smile on your face during the epic Trans NZ Enduro!
Words: Toby Shingleton                                                                       Photos: Cam Mackenzi
When you spend as much time dreaming about riding your bike as I do, you think a lot about places around the world that your mountain bike can take you. France, Italy, Canada, New Zealand... they are all pins on a virtual map of mountain biking that I escape to in my mind when I am not juggling work and family life. As a father to two young boys and now being in my middle age I have to be realistic about my time and commitment levels. All leave has to be negotiated and approved by all parties that have an interest in my life. So, when I do get that stamp of approval, I want to make the most of that opportunity. It's a situation that is certainly not unique amongst my riding friends.
I've done a bit of XC racing in my younger years, but as trail building has made the descents even more fun and my desire to go mostly uphill fast has decreased, I have been drawn to the 'Enduro' side of racing and riding.
If I had more drive as a competitive racer one path to ride in those places might be to try my hand at the Enduro World Series circuit. I could enter a local qualifier event, hopefully get some points and then have a shot at the big time. However, it only takes a couple of minutes of watching one of the action packed EWS highlight packages for me to be reminded that racing one of those events requires not only a high level of commitment (mental and physical) but also that all the preparation would see me riding my bike for just a day or two at the most. Albeit an intense weekend of riding, that's a lot of preparation, travel and money for a couple of hours descending time.
I've looked at the option of joining an organised tour but after some more research I started looking at Trans-style events. The original was the legendary (and sadly retired) Trans Provence, which introduced the concept of multiday blind racing to the world. Held across a variety of timed stages linked together by liaison stages, the Trans Provence was as famous for the good times as it was the quality riding. This was just the sort of race I was looking for!
The TransNZ rolls in the tyre tracks of events like the Trans Provence and since 2015 it has brought riders from all over the world to New Zealand for a week of racing and laughs. I've come to think of this event as a tour of the best riding spots on the South Island of New Zealand with a race-plate on my bike. The schedule takes riders from Craigieburn to Coronet Peak, Cardrona, Alexandra and Queenstown over six days of wild stages, steep liaisons and post-stage chats. It's yhis down time which consists of sitting around drinking beer and recounting the days near misses and close encounters with the local flora that are often most memorable.
GET OFF THE COUCH
It might seem obvious but the biggest thing I have learnt over three years riding at TransNZ is that the fitter you are when you start the more fun you are going to have over the course of the week. Turn up with your only training consisting of a few party trains with your mates down the local DH track and you are going to be very sore and tired by day four. The other problem with this approach is that around day three is when the event gets more physically demanding. After the relative smoothness of Craigieburn and then Coronet Peak the race visits the rocks of Alexandra... just writing that name makes my forearms ache from the memory of it. 
You are also going to want to still have some energy to be able to hold onto your bars on the famous 7km brake burning Peak to Pub stage at Cardrona, on day five. This was a stage that took Pivot World Cup DH racer Bernard Kerr over twelve and a half minutes to set the fastest time of the day on, and he only rode this day as a guestrider not the four days before.
Looking at each day's statistics none of them seem overly long or arduous to the first timer –the longest day is around 38km of riding with 1500m of climbing. However, what those stats don't show is how physically demanding each stage can be on your body and the cumulative effect of all those days on your body. The physical and mental fatigue really starts to stack up.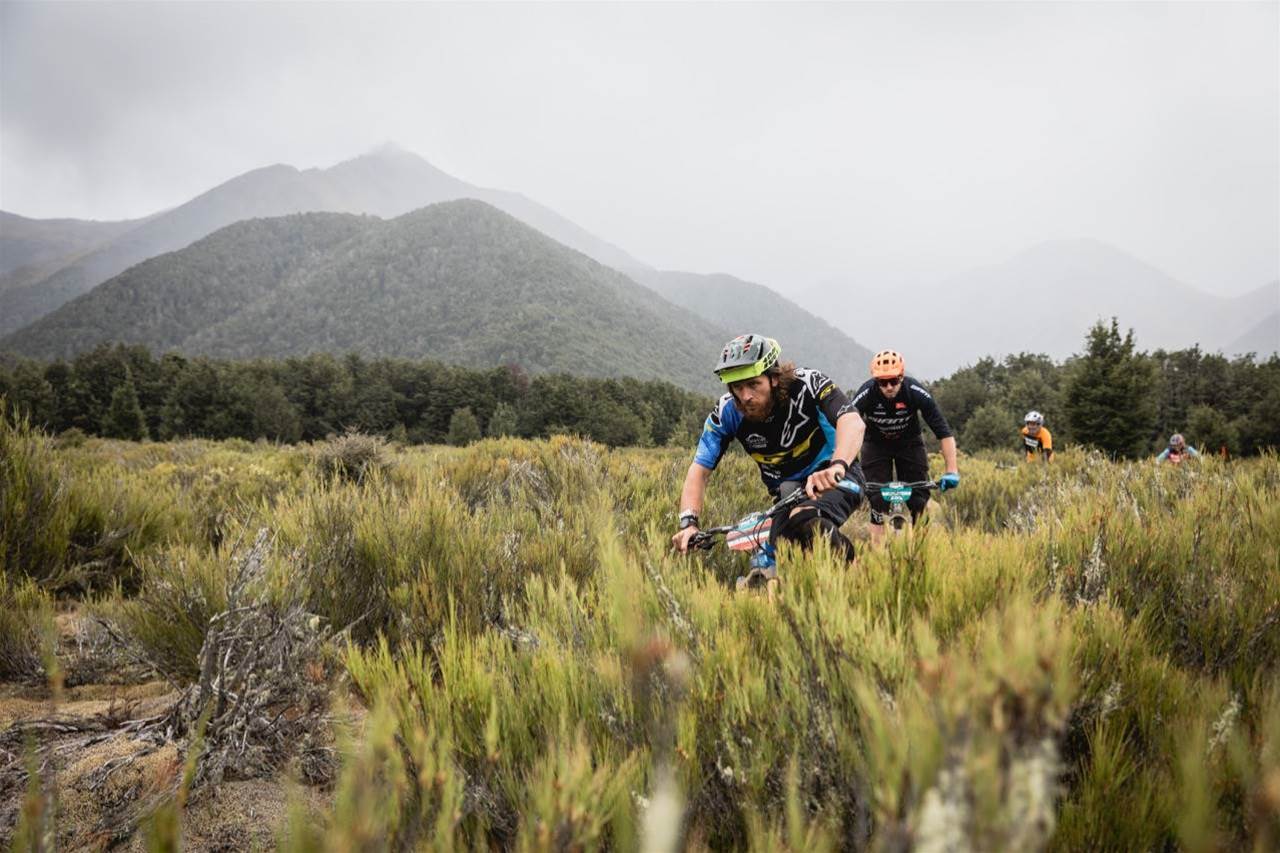 There are plenty of training regimes around online that can help riders to prepare and it's worth talkingto a specialist trainer to work out the best combination to fit around the other things you have going on in your life, and to ensure you are targeting weaknesses you might have in your current riding. For me I needed to ensure I was able to pedal to the top of each stage without dipping into my reserves and then hold on for dear life. My tactics focused on finishing, which as it turns out is quite an achievement in itself.
To increase my base fitness this year I used a combination of time on the smart trainer following a basic FTP targeted program on Zwift with some simple body weight exercises. The key for me was to schedule sessions with flexibility around my normal life so that I could arrive at the race feeling fresh and prepared to ride more than I normally would in a week at home.
BE INTIMATE WITH YOUR BIKE
Racing blind is a difficult skill to practice on your home trails, but it's worth noting a few tips from the guys who are really good at fast riding when preparing to launch into the unknown. When I tapped into the knowledge of riders Paul van der Ploeg and Michael Ronning about what they thought made the difference when trying to ride fast down a stage they had never ridden before both their answers had a common theme –be one with your bike.
Both focused on fitting in some longer rides as part of their preparation as both a way to get fit and also to ensure the handling of their bike becomes second nature. Ensuring you have your contact points dialled, tyre pressures set and suspension working the way you want it before you travel will give you the best opportunity to get up to race speed on the first stage.
At the end of the day you are going to be out all day riding your bike with your mates, in one of the most stunning natural environments in the world. If you can be relaxed on the bike and get into the right headspace you are going to be able to enjoy this race a lot.
KEEP IT FRESH
This event is as rough on bikes is it is on bodies. Although there are not a lot of purely rocky stages, not many riders get through the event without a tangle with a tree, a slip on a greasy root or a tumble down a cliff (actually only one guy did that). The last thing you want to do is turn up with a flogged-out cassette and chain, badly adjusted rear derailleur or bent hanger. There are no bike shops nearby for the first two days, so if you break something you are going to be out of the race and heading back to Christchurch. It's worth bringing a spare chain, some pads and basic tools to do your own repairs where possible. If you are travelling with some mates to the event, consider having a communal gear bag of parts that could break in a crash, and the tools to fit them up.
CHOOSE YOUR WEAPON 
Full-face, open face, backpack, hip-bag or no bag. Chain ring size, rotor size, insert or no inserts, DH tyres... there are many different ways to turn up for TransNZ, and most people are going to be comfortable with a different gear set-up to someone else. The best way to approach packing I have found is to be conservative in my equipment choices, take some spares but try to limit myself to what I really think I might need.
The weather can change quickly in the mountains, so each day you need to carry a minimum of a warm/rain jacket or shell, a mini-tool, a tube and plugs, plus enough water and food to get you to the next aid station. A well-fitting backpack or hip-pack is going to be a more comfortable option for most than trying to jamb all that into your pockets, but all the guys riding at the pointy end of things went without a pack.
Tyre choice is a big topic for all riders and there are a lot of great gravity focused options in the market. I have found that conservative is better than trying to save weight in this area, and a focus on traction and longevity results in less time repairing issues along the way.
ENJOY THE PROCESS
Part of the fun of these events in the planning and then getting ready to go away. At the event itself the daily routine each day follows a similar pattern to one before. Wake up early and have breakfast. Get to the shuttle bus, get your timing chip and load your bike (securely). Chill out on the bus, chat to a stranger about their story. Get off the bus and grab your bike. Wait for your mates then start riding to the stage. Take in the scenery. Drop into stage one of the day. Get into the groove of blind racing. Eat and drink as much as possible. Take on the next stage. Eat and drink more at the awesome feed zone. Make new friends... Finish the final stage completely exhausted. Get to the timing chip drop off and grab a BEER and a salad roll! Swap stories with anyone that will listen. Shuttle bus takes you home, potentially pass out on the bus. Have dinner and go to bed satisfied and completely spent... A week goes fast and before you know it, the race will be over, so make sure you take a moment at the top of that climb to savour the moment and take in the surroundings. Now it's time to think about the next one...
My bike at TransNZ
After a few sleepless nights weighing up different options, I purchased a 2020 Yeti SB130 Lunch Ride specifically with the riding at TransNZ in mind. With 138mm of rear travel and 160mm up front it's a good balance between suspension efficiency and the having enough travel to get me out of trouble. Modifications I made to my custom XTR M9100 build for the event included a 203mm MT900 front rotor, a 32 tooth XTR chainring (perfect for saving legs on those long climbs) and changing to Saint M820 pedals for their larger platform and grippier surface (perfect for those half-on-half off moments).
A couple of weeks before the event I changed to a PRO carbon 3Five bar (cut to 780mm) and a matching 35mm PRO 3Five stem – usually I wouldn't make changes so close to the event but I broke my own rules on this one. Riding a couple of days before flying to NZ I found I was struggling with the front end washing out on the exit of a corner. Before packing my bike to fly to Christchurch I put a 45mm version of the same stem on the bike. This seemed to fix this trait and during the event I managed to mostly stay upright..
Australian Mountain Bike