The Trek Session has a long pedigree in Downhill racing and the new 2022 rig looks to the past to go forward.
The 2022 Trek Session has just been revealed, and there's a bunch of things you'll notice before we even dig into the juicy details. Yes, it has an idler pulley and high pivot. No, Trek isn't just jumping on that bandwagon. Yes, the Session 8 we have on test has an aluminium frame. No, there is no plan for a carbon frame. Yes, you can run a bunch of wheel sizes. No, 26" isn't one of them. Yes, there's new sizing and geometry with much longer reach. And yes, the new Trek Session really has been built for both riders and racers.
What's old is new again - the Trek Session and high pivot
It's hard to miss the fact that the Trek Session's pivot point has jumped up a few inches from the bottom bracket. We've seen a few bikes sporting high pivots and idler pulleys - the Forbidden Druid trail bike is one such bike. But this isn't something new for Trek. The Trek Diesel back in 2003 had a high pivot and idler pulley. It was a World Cup Downhill bike but also finished 2nd at Rampage that year.
The Trek Diesel, from way back in 2003.
Then in 2006, the Session 10 had a high pivot and idler pulley. It was also a World Cup race bike, but as Andrew Shandro said - "you could just send it", and as such it was also a popular freeride bike.
The Session moved away from the high pivot design, taking on the Full Floater lower mount amongst other progressions from Trek. There were carbon models, and Aaron Gwin won his first World Cup aboard one. Then of course there were 29" variants and of course in 2016 Rachel Atherton had her perfect season, winning all World Cups and the World Championships aboard the Session. The 2018 Session did win the 2020 men's World Championship under Reece Wilson.
Photo: Redbull
So the update isn't because the Session was falling behind - but because the Trek engineers were certain they could go better again.
So, why run a high pivot?
The high pivot location lets Trek have the rear wheel follow more of a backwards and upwards path, which means the bike doesn't hang up as much on big, square edged hits. That relates to greater speed on really rough sections, and a more muted, smoother ride for the rider. 
There's a drawback, and that is pedal kickback. As when the wheel moves up and back, the chainstay grows in effective length. The 2018 Session had a chainstay that grew an effective 12mm, but the 2022 Session has an effective increase of 25mm as the wheel can follow the terrain more. This chainstay growth is something lots of bike designers battle, especially on longer travel bikes. The idler pulley adds chain to the system, which means the impact is far less. So on a 2018 Session, you would feel 27 degrees of pedal kick back. And on the new 2022 Session, it's less than 8 degrees. You might not even notice that when riding.
In short, the high pivot and idler pulley lets your suspension keep working in the harshest terrain, helping with 'traction and bump absorption' according to Trek's Advanced Concepts Engineer, Dylan Howes.
So when is the carbon Trek Session coming?
This one is just in aluminium, although the original plan from the engineering team was to pursue a carbon model. But the first feedback from riders on the alloy test mules was overwhelmingly positive. They were happy to race it as it was then and there! Charlie Harrison was asking to get on the new Session for a lot of 2020, just wanting the bike one week ahead of a World Cup.
The pro rider feedback was that they preferred the feel of alloy, with how a bike loads and unloads when pushed into corners. So in the end, the plan to move onto developing a carbon version was shelved.
What about the adjustable geometry?
If you've bought a Trek dual-suspension mountain bike you will have enjoyed the benefits of adjustability via the MinoLink. This will let you have a lower, slacker position or a higher and steeper position. It really helps you get the bike setup for your trails, be they slow and janky rock gardens, or fast and smooth ribbons of singletrack.
Those options are not lost on the 2022 Trek Session, with a MinoLink at the back of the rocker link. The high position will increase the reach and decrease the stack, and it will also make the chainstay shorter. The headtube will also move from 63 degrees to 63.6 degrees when in the high position, and the bottom bracket lifts 8.6mm. While the Trek Session is built around 200mm of travel front and rear, the high position actually allows a few millimetres of more cush as well!
So, it's a 29er?
Yes! But the 2022 Trek Session is also a mullet (29 front, 27.5" rear) or 27.5" wheeled bike. The stock Sessions will be 29" bikes, and to add a 27.5" rear wheel all you need to do is run the bike in the high setting on the MinoLink to maintain the bottom bracket height you need.
If you throw a 27.5" wheel in the front as well, then you'll need a specific headset cup for the lower cup, to keep the front end height where it should be. These are included on the frame kits, if that's the way you're going.
The Trek pro team are mixing it up with wheel sizes amongst the team. Charlie Harrison is staying on a full 29er, whereas World Champ Reece Wilson has loved the mullet setup, as he admits he has pretty short legs. Vali Holl also likes the mullet, and appreciates not buzzing her butt on the tyre like she did on her last team bike!
These options mean you have all the adjustments available in a 29" wheel setup, but that adjustable geo needs to be in the one position for a mullet or 27.5" build.
What about sizing?
Trek have adopted what they call R sizing, which is frame sizing based on reach. It's not a wild move, with Specialized adopting a similar approach to many of their bikes (that's called S sizing, obviously). Trek have 3 sizes, R1 being the shortest, through to R3. All bikes have the same seat tube height, and very similar standover. And the reach has increased 30mm based on similar sizes on the 2018 Session. So an R1 will have a 440mm reach, R2 is 465mm and R3 stretches out to 495mm.
It's worth noting that Trek have offset the bottom bracket in the main frame on all 3 sizes to create proportionally longer stays on larger sizes. However, the swing arms are the same across all three sizes, which makes spare parts a lot easier. 
The move to the reach based sizing means you can decide if you want something really long for stability and all out speed racing the clock, or something a little shorter for agility in the bike park.
Adjusting suspension progression on the Trek Session
The Trek pro team have had a bunch of custom rockers and shock mounts in the team truck to dial in the 2018 Session for rider preferences and different tracks. But what Trek have done with the 2022 Session is have an adjustment on the lower shock mount, which changes how progressive the suspension is. You can set it at 20%, or 25%.
This can also help if you're running an air shock or coil. It's an easy change for a rider or race mechanic to make.
Other updates
Trek have also updated the frame protection, with a longer downtube protector that is removable, and replacable. The chainstay protector has also been improved, to help keep the bike running quietly.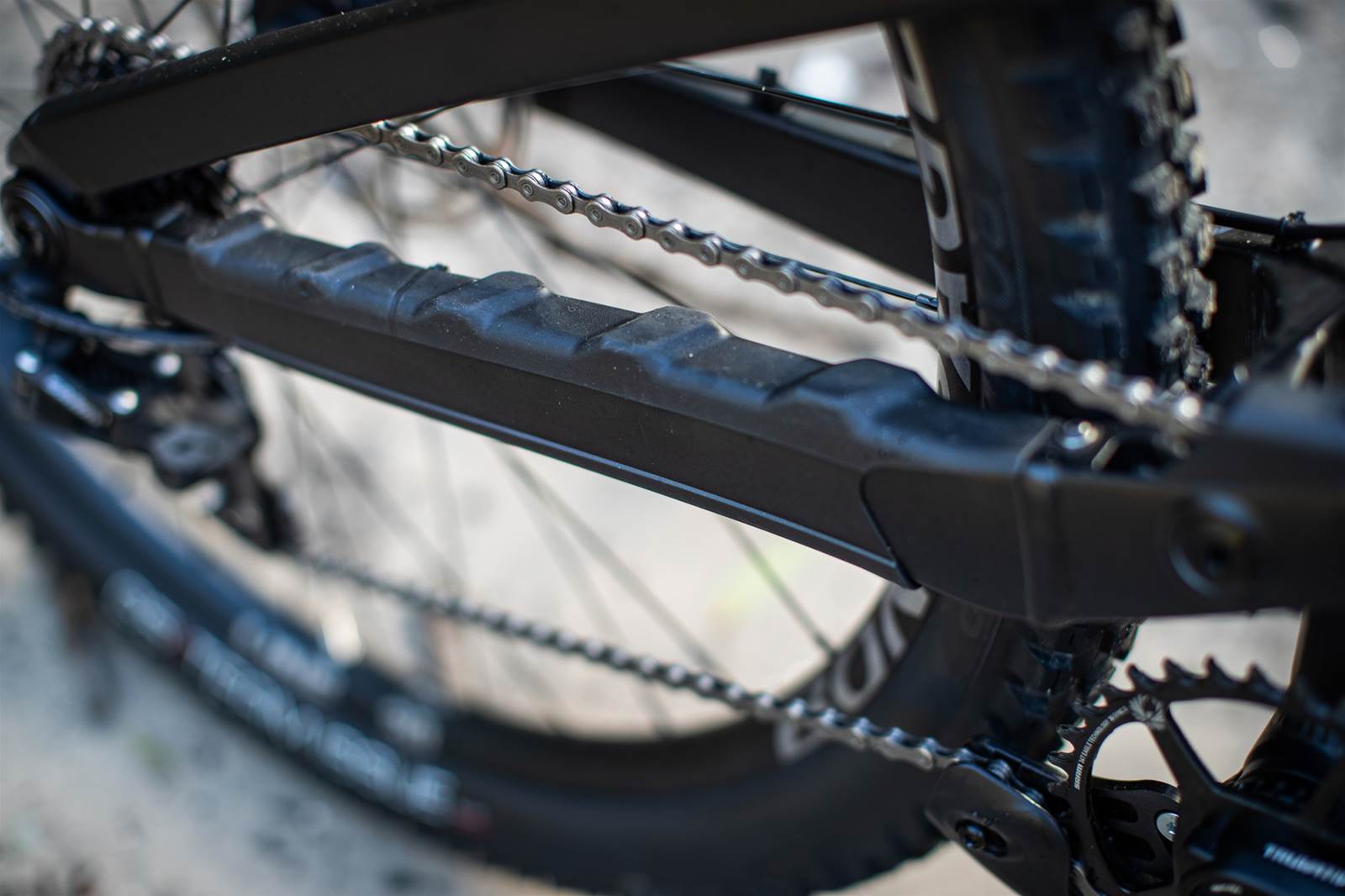 Trek have also built the 2022 Session to run either internal cable routing or external. The cable entry is at the head tube and exit is underneath the back of the top tube. This keeps the outer and hose the most protected. But, if you're after something very easy to work on on a race weekend, there are mounts to run your brake hose and shifter outer externally instead.
What Trek Session models are available?
Here in Australia we'll have the Trek Session 8, as shown here. It has a Boxer Select+, SRAM GX DH group set and Code R brakes, and a Fox Vanilla coil shock. This one sells for $6999.
If you would rather build your own dream bike, as a mullet setup or 27.5" wheeled bike (or a 29" bike) then you could get the frame kit for $4999 instead. It includes the lower headset cup you'd need for a 27.5" wheeled build.
Riding the 2022 Trek Session 8
So what's it like to ride anyway? We've had Will Shaw out doing push runs, and here's his take so far.
"The high pivot design does what it's supposed to and smooths out repeated hits and rough sections beneath you. The ride quality through rough terrain is very muted. Despite the planted and smoothed out ride, the bike is happy to pop when you're pre-jumping or changing lines. My only comment at this stage is that you have to consciously initiate pre-jumping or hopping around rather than getting feedback from underneath you."
As for suspension setup, Will has said it's pretty dialled. This is something team rider Loris Vergier is also appreciating!
"I felt pretty comfortable hopping on the bike with middle of the road suspension settings and it didn't take much time at all to get used to the bike having not been on a downhill bike in nearly a year."
As a lanky 187cm or so, the R sizing is working for Will as well.
"The ability to pick your size based on reach preference (similar to the Specialized S system) is great and there's a pretty broad spectrum of reach for riders of all sizes and preferences. The R2 geometry is working well for me."
Will is still putting more time in on the 2022 Trek Session 8, and you'll find his full review in Issue #189 in May. Subscribe and you'll never miss an issue.
If you've got more questions about the Trek Session, make sure you drop in to your local Trek dealer!
Australian Mountain Bike