Following a huge day of downhill seeding and pumptrack racing, competitors and spectators headed up the hill for Group A Flow Motion racing, closely followed by the Deity Whip Wars. Nick Waygood is our media man on the ground.
The Kosciouszko chairlift continued to spin at full tilt as hundreds of competitors descended upon the small village of Thredbo for the 2019 Cannonball Festival. Today's mission was light, with Flow Motion racing for Group A, followed by the Deity Whip Wars.

The Maxxis Flow-Motion Cup kicked off at 10:30, following 2 hours of practice. By then, nearly 900 competitors had practice sessions and track conditions became challenge following several days of Alpine sunshine. Dry, loose corners were no match for some of the fastest, coming down the hill in blisteringly fast times.

With the DJ on the decks, spinning house and club music fresh out of the 90's, providing all the good times needed. With 8-minutes of racing, competitors would face a similar challenge to that of the All-Mountain, but involving steep ski-slopes and repeated berms and high speeds.

In the U19's, it would be Riley King backing up his win from the All-Mountain, coming in 7 seconds ahead of Antoine Vidal with a time of 8:19.12. Tyson Richens would fall behind by another 7 seconds, taking third.

A party train of a dozen riders split the U19's from the Pro categories, continuing to enforce the good times rolling and sliding through corners.

In the Pro Womens, Sian A'hern would come out also backing up her win from the All-Mountain, with a time of 8:45.10. A solid 16 seconds split first and second, with Leanna Curtis coming across the line in second, closely followed by Lucy Mackie.

We caught up with Sian A'hern following her win.

"It was pretty crazy, the track was quite blown out and I just didn't stop pedalling! I was pretty happy with my time, and I felt pretty buggered when I finished so I was pretty happy that I put in a good, solid effort." She says.

Times became even tighter in Pro Mens, with Josh Carlson making it a double, going home to the chicken dinner and top prize. Timmy #endurotimmy Eaton would fall behind Enduro-Lord Carlson, coming across the line only .79 of a second slower with a time of 8:11.45! Connor Fearon would cruise across to third following his win in pumptrack last night.

We found Carlson sharing donuts in the pits, and had a quick chat.

"[That was] Hard. Shocker. That track's not too blown out this year, its probably in the best shape it's been over the last couple of years, and I think having one day off because of the wind kept the track in great shape for racing."

"Physically, it's probably more brutal than the All-Mountain track. The way you've just gotta attack every corner and there's no pacing... compared to the All-Mountain, from the moment you drop in to the moment you cross the line, it is full-gas and nothing but."

"You've definitely gotta be more pinpoint and perfect for the Flow, you can't really afford to make any mistakes. Timmy and I were only point seven of a second apart, so there was really only a few seconds between the whole top 10... just pedal even more, and sprint sprint sprint."

The Whip Wars was run differently this year, with competitors requiring an invite to enter. It limited entries to only 62 invited competitors, to create a special event more focused on spectator enjoyment.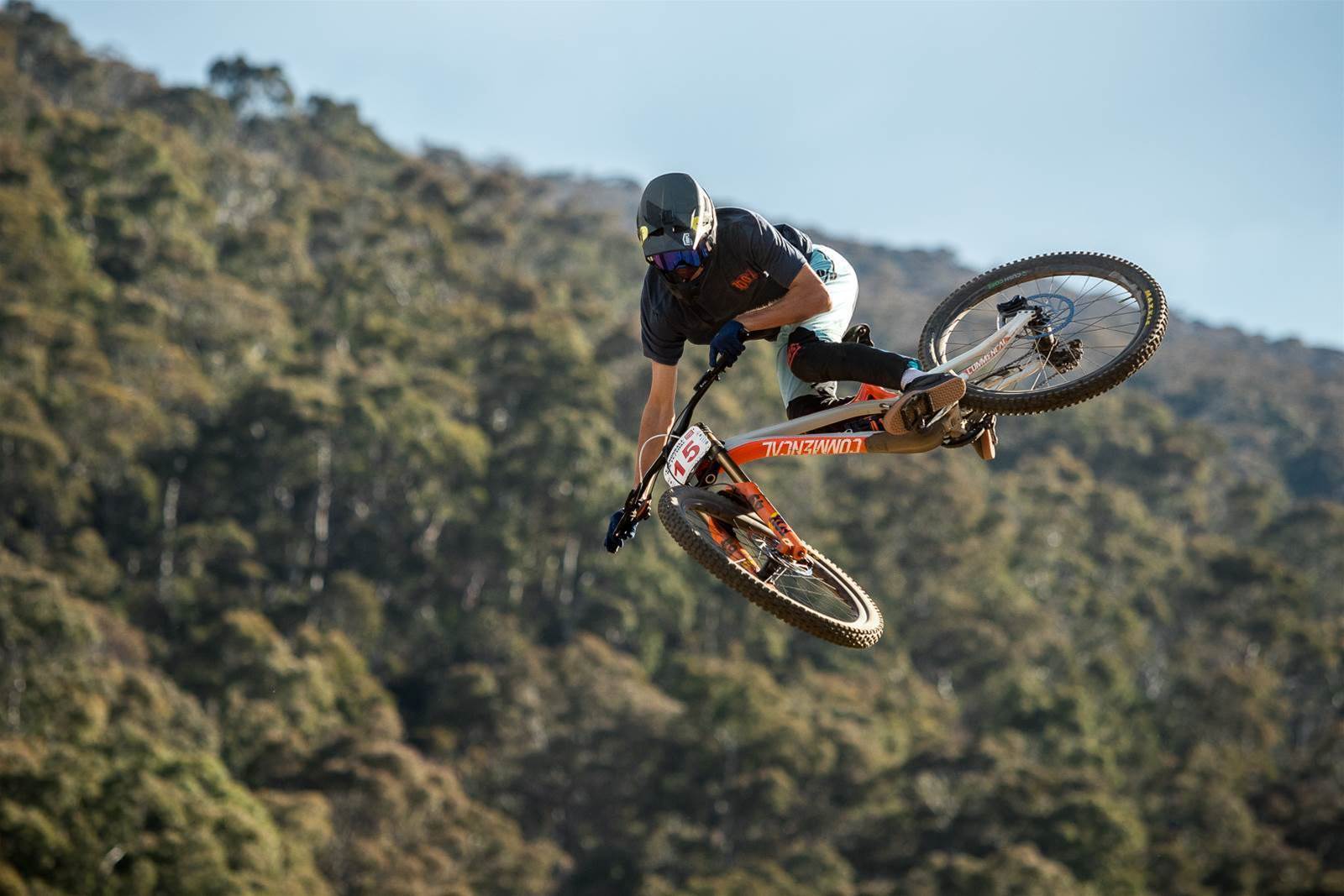 As 4:30pm rolled around, competitors piled in for a rider briefing before heading up to session the finishing tabletop as the sun entered a golden hour of light. Plumes of dust were kicked up from constant trains, competitors glided through the air in spectacular sideways fashion, and huge freeride-style tricks were thrown in the form of superman's and backflips.

The fun of sessions with a mixed bag of talented riders turned to a fun and relaxed competition as the judging panel established who would fill the steps on the podium.

In the end, it would be international visitor Hugo Frixalton who would take the top prize, ahead of locals Dave McMillan and Timmy Eaton. The top 3 showed max determination in pushing the bike past 90 degrees, and bringing it back smooth and straight, with the competition coming down to consistency.

Stay tuned for more from Thredbo as we head into the final day, the Australian Open Downhill!
Australian Mountain Bike