Two of Aussie's rising stars are heading to race for Sweden! Find out why and how the seasons shaping up for them here.
Words and Photos: Matt Rousu
Oliver (24) and Ben (20) Zwar are Aussie/Swedish brothers who have spent the majority of their lives living and racing DH here in North East Victoria, Australia. Over the years they have progressively moved up the ranks to be two of Australia's fastest downhill racers. In 2019 they both achieved top 30 results at World Cup level and were selected to represent Australia at the World Championships in Mont Sainte-Anne, Canada. You would think that Ben and Oliver would be gearing up to compete in the 2020 Aussie summer of downhill races but you won't see them on any start lists this year including next months Australian Championships. Instead they will be flying to the other side of the planet to Sweden to take their mountain biking careers to the next level. I caught up with the Zwar bothers to find out how this is going to be possible.
Matt: We're here in Bright on a cruisy Saturday morning ride and you guys are about to head overseas. You are leaving the motherland and heading over to your other motherland Sweden. How do you guys have this relationship with Sweden?
Oliver: Our Mum is from Sweden and she's lived there for most of her life, but our Dad is from Australia. We've gone over there most every year to see family and hang out in summer, their summer.
Matt: Now I hear that you are both heading over there to race for the Swedish Federation, how did this come about?
Oliver: In the middle of the 2019 season we had a meeting with one of the Swedish Federation trainers (Mum actually met him at the Cairns World Champs in 2017 and we have been in touch with him ever since). We basically told him that we were planning on moving to Sweden but still race as Australians. During this long meeting he told us all the opportunities and benefits of training with the Swedish Federation and representing Sweden. This was right before 2019 MSA World Champs when we were waiting on selection to represent Australia.
And we were thinking do we, do we not…
Then we finally got the call that we were both selected to race for Australia. Ever since we got into the sport, our dream was to race for Australia, to race in the green and gold at world champs for Australia. Once we got selected, we were so stoked and then we thought about whats next? We got in touch with MTBA and Cycling Aus about what what was involved and what support do we get in this process. You get a shirt, some shorts, a jersey and access to the team mechanic and that was really it. Entry fee was also covered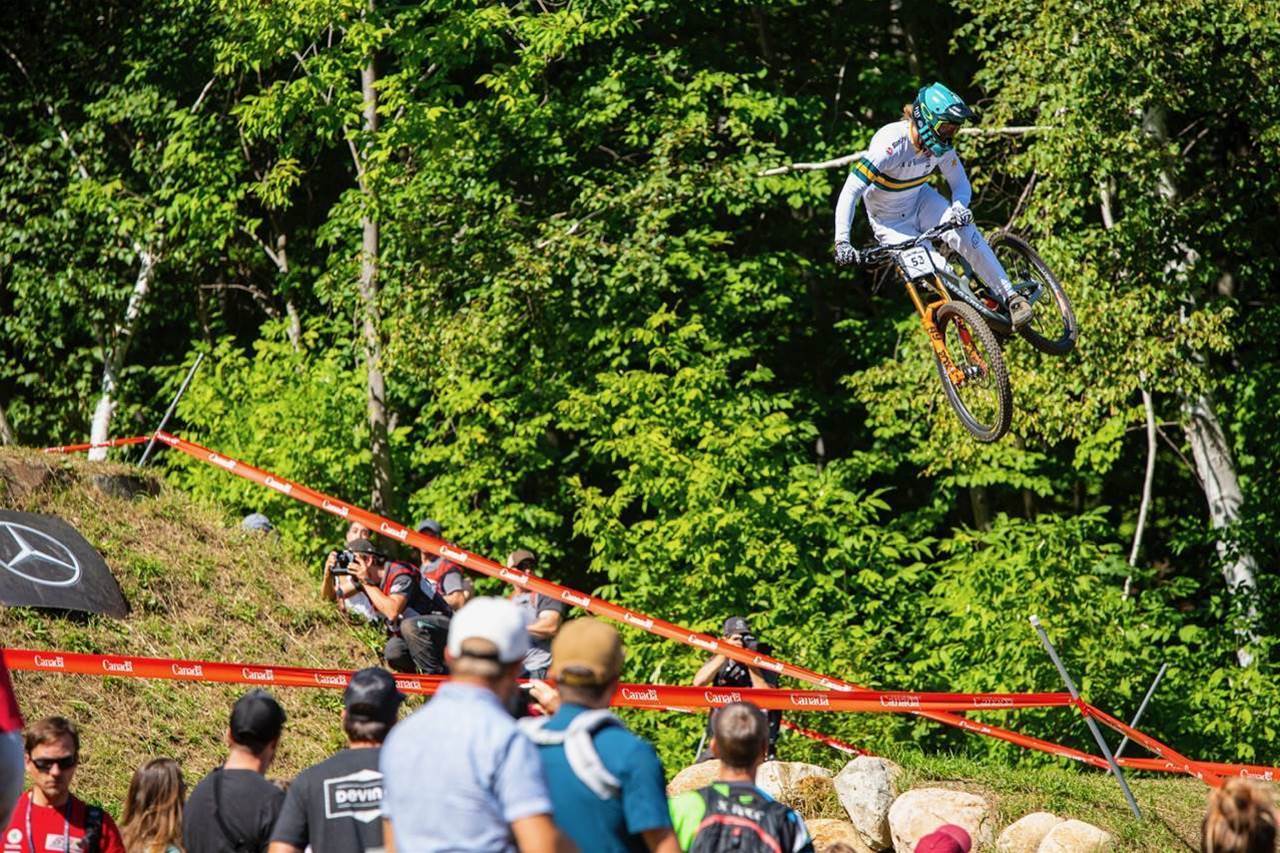 Ben: We had to find somewhere to stay, and as selections were so late there was nothing near MSA so we had to stay in Quebec City which is about an hour drive away. That daily travel each way was a bit hard. On race day there was no one there helping out besides Oliver and I. It was pretty much just us in the tent. While we were there one of the Swedish coaches came up to us and jokingly said 'this would have all been paid for if you were racing for Sweden'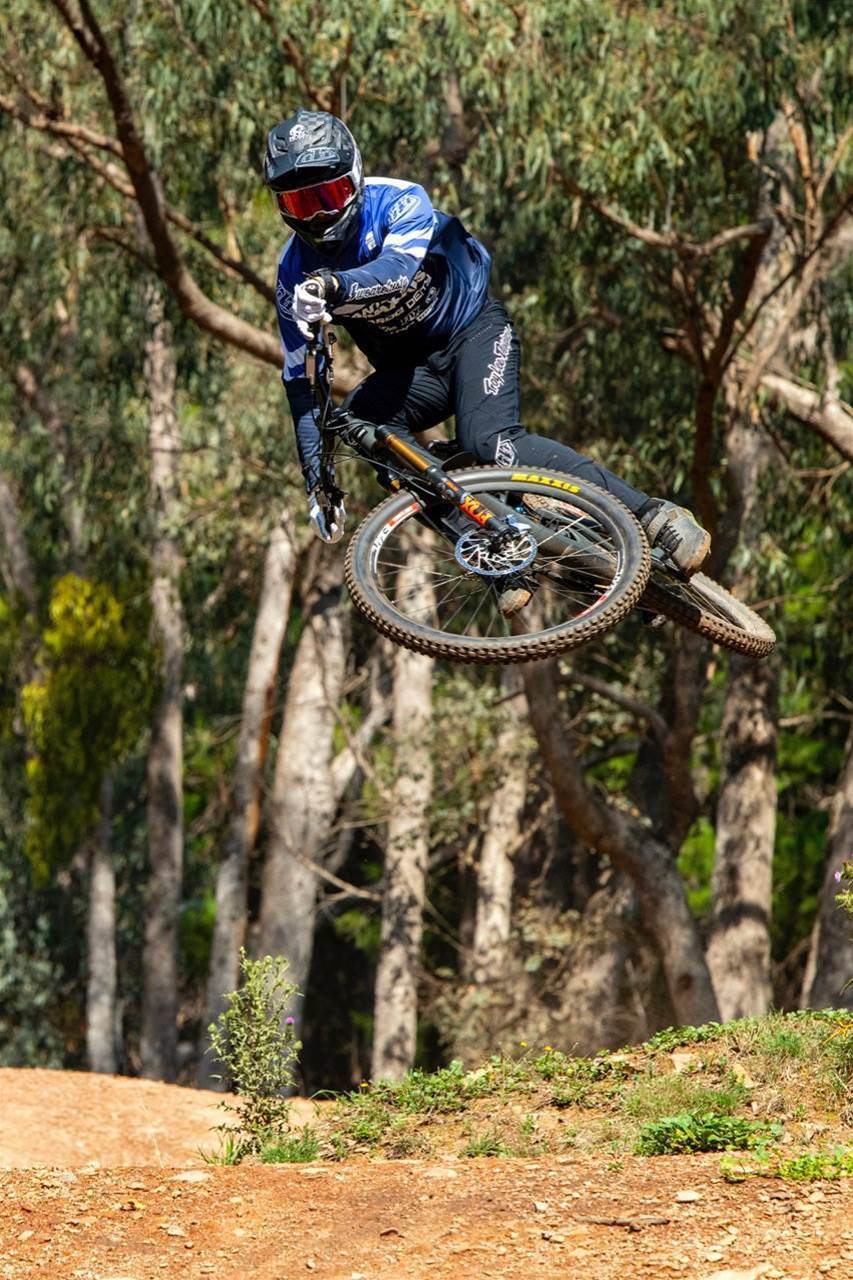 Oliver: The thing that made racing for Australia hardest was that we had just put everything into the world cup races before hand, we had spent thousands of dollars racing in Europe and there was nothing at all support wise from MTBA. If it wasn't for Wyn Masters who awarded me a privateer of the week award (€1000), that pretty much paid for both our plane tickets. Locally one of the coaches from here in Aus, Indy Boer, did a fund raiser for us to go and if it wasn't for that, we honestly would not have gone to World Champs.
Ben: It basically made our decision easy to move over to Sweden in 2020 and race for the Swedish Federation. Being that most of the races of the world cup are in Europe it makes sense for us to move over there. We have already done one camp in Spain with them at the end of last year and we have another one coming up in two weeks in Italy; and that's all covered for. We are already feeling like we are part of something bigger.
Oliver: It is definitely the best thing we can do to get our racing to the next level. All the little things such as race insurance in Aus is ridiculous amount, it costs more than the total amount of flights we paid for last year, where as in Sweden it is all covered for. There are so many little things that add up massively, as well as the direct support from within; for example our new coach Adrian Hörnqvist is also the national MTB gravity coach, we have direct contact with him every few days and there is an amazing facility called the Dala Sports Academy. It is a community funded sports academy in a small town similar to Bright that trains cross country skiers, ski jumpers, xco mountain bikers (including Jenny Rissveds) enduro riders (Zakarias Johansen, who was 10th overall in the 2019 EWS). Even Emil Johansson, the slope-style rider, has had jumps built for him in the middle of town. it is this little town full of athletes who train together with really good facilities, it is so cool to feel like a part of that community.
Matt: It sounds amazing, I can't wait to see what you two get up to over there. I also hear you have started up a UCI team. Tell me about how that came to be?
Oliver: Yeah it's called Lusty Hyperformance. We started building slowly, over the last few years, the unofficial Zwar Brothers racing. It started out as just Ben and I, then about 4 or 5 years ago I reached out to Lusty and have slowing been building it up since. We had a pretty good season last year and I might have done enough to get on a factory team. It might have been a one year deal, one bike, and a season paid for. But it also might not have been a good bike, or good gear. Ben would have been on his own too, so we put our heads together to see what we could come up with for the future. I also really like team organising, as a privateer I've been doing it for years and really enjoy it. Our old trainer Todd Schumlick from Intense gave me some advice and told me who and how to approach and gave me a few numbers to contact. We were actually trying to go direct through Santa Cruz, they were very keen but they also had two super fast NZ juniors they were considering (Tuhoto-Ariki Pene and Finn Hawkesby-Browne) so it all kind of fell into place to have four riders. Cam Cole came on board and is co-managing it with me as well. It has kind of all come together very nicely as a very solid team. It is super exciting. Something to build on for the future.
Matt: Will you guys have a van, a pit set up, staff or mechanics?
Oliver: As we will be living in Sweden, we will have a Team van, and we can slowly evolve as we get to know more people. We won't have any staff of mechanics to start with, Cam is planning on coming to the first two world cups so he will help a lot with the bikes and logistics. Ben and I have been privateers for a while, so we are pretty mechanically minded. All the parts and direct sponsorships we have picked are super solid stuff so there is not too much that is high maintenance on them. It has been a lot of hard work, but very worthwhile work. It is cool to see our UCI team listed next to Intense, Norco and then Lusty Highperformance Racing - which is us.
Matt: So when do you guys head off and for how long?
Oliver: We are leaving on the 18th of February. We'll stay over there until after the last world cup in September! We'll re-assess after that race. I really want to do a full winter over there, as we have our entire other side of our family over there; so it will be great to be a part of that as we have only ever seen them for short visits. It will be cool to actually be around our grandparents and get to know them more. We will come back in November for a month or so and see friends, and then we are talking about heading back to Sweden for Christmas. It is just such a great place to live, so forward thinking with so many great rules and regulations concerning the environment. So nice to be a part of. Very looking forward to it.
Matt: Oh well, it looks like we are losing two of the fastest dudes in the country (Laughter).
Ben: It took us a long time to make this decision. We didn't want people to be like oh, they didn't make worlds, or the worlds team is too hard to get on in Aus, we are not doing it for the easy option. It is just the best chance for us to improve, to move forward and have the best shot we can at racing with with opportunities we have there with training, coaches and facilities we have access to.
Oliver: Also from a marketing side of things as well; Sweden is part of the EU and so close to Europe and all the big countries, they don't have any top end DH riders, or haven't had one in a while, so it's a real opportunity for that for the future. Where as here, you have your Troy Brosnan's and the Sam Hill's, all the top guys. Australia is so far away from the rest of the mountain biking world, its hard for the top companies to invest money in as there is not a big demand for it here, it's a totally different ballgame over in Europe that we'll be able to tap into.
Matt: Well, It's been a joy to watch you guys move up through the Aussie ranks to become professional athletes, I can only wish you all the best and I'm sure you're not going to lose any fans by taking this big step in your careers, is there anything else you would like to add:
Ben: Thanks mate and thanks to everyone. It's been such a big group effort. Lusty, they have been a massive sponsor of ours for so long and have now made the new world cup team possible, if it wasn't for them we wouldn't be able to do this. We are super thankful to all of those boys for doing all the work. Mum and Dad, especially Mum - mainly MUM - if it wasn't for Mum we wouldn't be able to go live and train in Sweden (laughter).
Matt: What does your Dad think about all this?
Oliver: he's more stoked than anyone. He thinks he is full blown Swedish, but he can't speak a word of it! He's the most proud non-Swedish person there is! Ha! We'd like to also thank Santa Cruz, Maxxis, Troy Lee Designs, Fox Suspension, Knobby Underwear, TRP, Cycling Sweden, Adrian Hörnqvist, Natural Swimming Pools and Frankies for their continued support.
You can follow Oliver, Ben's and their new World Cup team's progress over at their Instagram
Page: @lustyhyperformanceracing
All the best from AMB!
Australian Mountain Bike