Day 2 of Cape to Cape brought different conditions, and different winners at Leeuwin Estate.
On the second stage of the 2018 Cape to Cape, Jayden Ward of Maap ENVE won the stage in a sprint finish, lead out by his brother. Holly Harris won the women's stage and moves into the lead.
With the 2018 Cape to Cape kicking off yesterday, the start line was awash with leader's jerseys for stage 2 at the beautiful Leeuwin Estate. 1300 riders were coralled in waves right amongst the vines, and took off in 5 minutes intervals ready to tackle the 63km course. The start waves help to reduce congestion, but as the lead group rolled out on the back of the lead vehicle it still felt pretty hectic!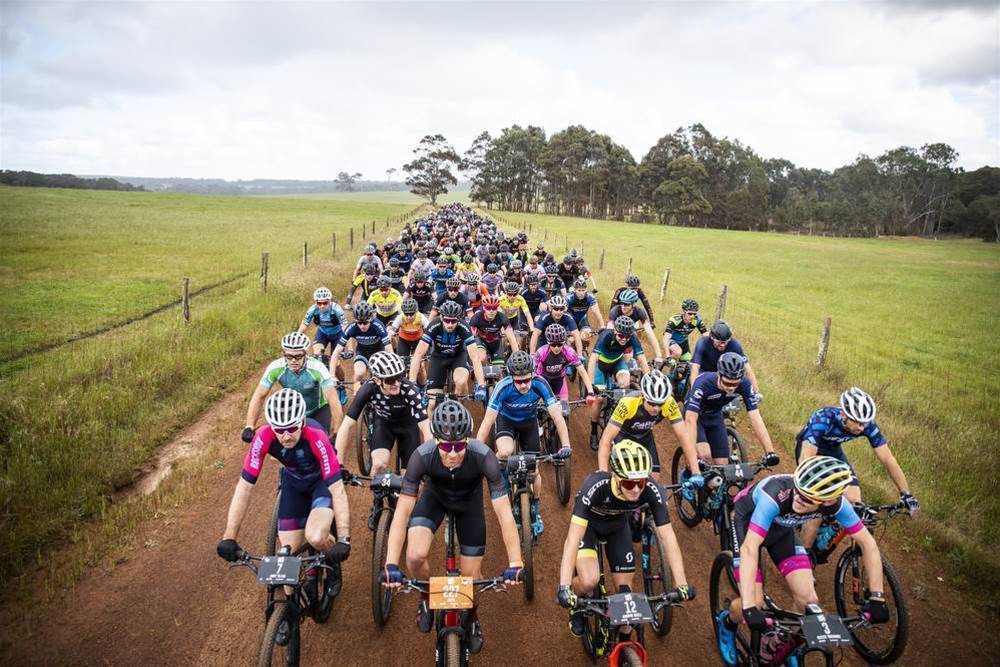 Once across the Leeuwin Estate Airstrip, the lead ute pulled off and things remained pretty tranquil. For a little while. The pace lifted, and while it never truly got strung out single file, no one was easily moving up the group. We rode on fast farm roads for a long time, with each 90 degree corner seeing riders push a little wide, at one point Masters leader Jon Gregg lost his front wheel, but made a good save and stayed upright.
With a hard turn onto some double track, things started to get more interesting. Progressively the terrain was getting just a little more selective, and a little less pancake flat. It probably wasn't until two guys took a bit of a tumble that a split in the front group finally formed, and then as we entered hillier terrain things split up a bit more.
But overall, today wasn't nearly as selective as yesterday, and the group at the front of the race stayed together pretty well, and throughout the field most riders were in groups. Given the fast nature of the course, and some wind, it made a whole lot of sense.
Coming into the finish at Leeuwin Estate, 8 riders would be contesting the sprint for the stage win. Jayden Ward was lead out by his brother Kyle, and won the stage ahead of Cameron Ivory and race leader Brendan Johnston. After some disappointment yesterday, you couldn't wipe the smile from Ward's face.
"Yesterday was a bit of a bummer, snapping a chain with a couple of kilometres to go. I put that behind me and it was sad to see a couple of minutes open up on GC but today was a new day."
While the general classification at Cape to Cape is typically very tight, the opportunities for stage wins can't be ignored. This is not an easy race to get a result at, given the strong field it attracts.
"I had a bit of confidence coming in here from last year. Last year I had help on the stage from my brother Kyle, and this year it was the same again. He was there for me to assist where I needed it and to be honest at 3km to go I was lying in the dirt, having had a little bit of a tumble." 
Ward senior doing the work.
"I looked up the road and they group was riding off. But at 1km to go Kyle helped me along, got me on the back of the group and then we were hooking onto that final grass descent and I knew from last year's race that the first person leading in was going to be the winner. We got there with 50m to go, Kyle pulled off to the left and said 'all yours'."
Kyle still finished 4th, the same result as yesterday, but he's now in 3rd overall and only 7 seconds off the lead. Jayden is in 8th.
"It's pretty awesome to be able to ride and race with your best mate, your brother and your training partner and team up and get some pretty cool results. It's bloody awesome to have him do that for me, I can't be any more grateful. He's been there since day one for me, and has been the most inspirational person for me. He is who I grew up wanting to be like. I know kids grow up and want to be like Nino, but for me, Kyle is my Nino. Ever since I was 10 or so, I've always been watching him.
From getting Kyle's hand-me-down bike, to then wanting to be able to ride it quicker than he could, the two have had a working rivalry that has been highly supportive over many years.
"To be here today and getting to 500m and letting me take the win - it is pretty awesome. I could go home now and be pretty happy. We've ridden some fun trails, I've had a stage win and two good days of racing. But we have two more days to come, it will be a good race."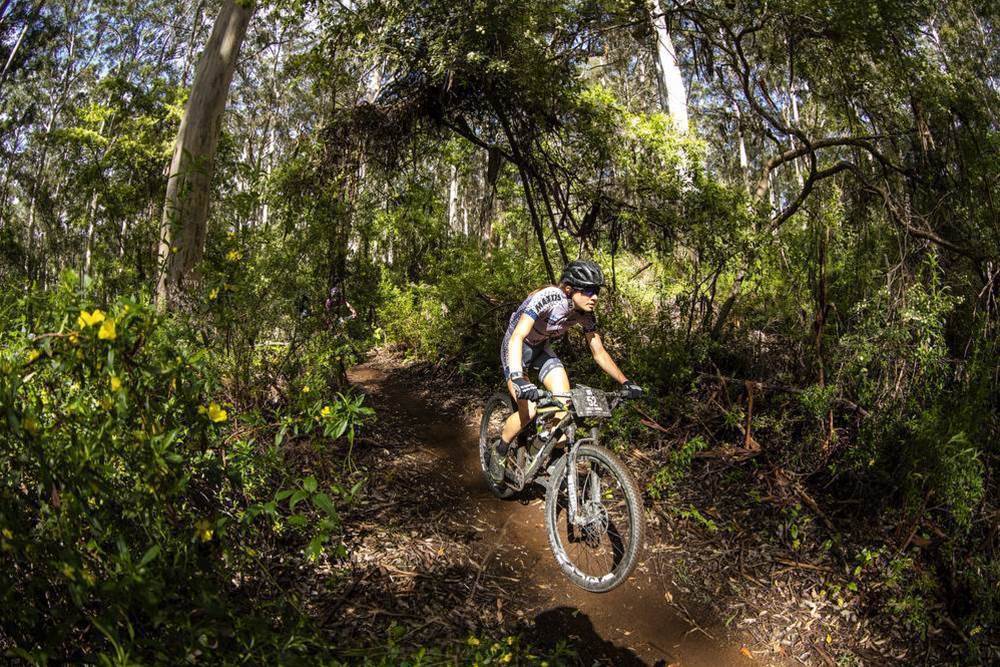 Holly Harris won the women's race, as Samara Sheppard made it to the finish battling illness. Renata Bucher was 2nd with Briony Mattocks 3rd - although Mattocks is out of the GC after a DNF yesterday. 
"I got the win today which I am really happy about," said Holly Harris at the finish. After yesterday, Harris seemed far happier with the conditions today.
"I love the sun and that makes a big difference for me. I got into my groove today and I really enjoyed some of the descents, and that makes a big difference. I was with a wicked crew of riders today and they were all having a ball. It was so fun."
There was a change in the Masters lead as Brad Clarke came in 12th overall, and he is now almost 4 minutes ahead of Jon Gregg. Peg Leyland of New Zealand has edged ahead of Tracey Chapman into the Masters women's lead. Can it all change back tomorrow?
Stage 3 is probably the stage everyone is hanging out for. Today had a whole lot of fast riding, and if you love racing you would have been into it. If you're here for the trails, it's part of the race that has some good riding and great views. But tomorrow has some of the best trails and the 45km loop starts and finishes at Margaret River Distilling Company.
The front of the race is packed with talented riders, but will the trails mix things up a little? We expect to see it more evident from the top 15 down, but let's see what tomorrow brings.
Australian Mountain Bike