The new Downhill course at Maydena Bike Park has been popular, and conditions were perfect for the finals
The AusCycling MTB National Championships at Maydena Bike Park hit their xenith today with the Downhill Finals kicking off about 1:30pm. Sure, there was rain on Saturday. Yeah, Downhill seeding was a little bit sloppy in places. But this morning, the road into the Western Wilds was dry, there was a light breeze, patches of blue sky and an air of excitement.
After the XCC (Short Track) UCI races were run first up (including some more rain!) the focus quickly turned to the big hill that loomed behind the event village. The circus had moved to the Downhill course finish line, including Stu Plant. There really is no escaping him.
There were DJs playing some suitably heavy drum and bass as spectators trudged up towards the finish chute, Moo Brews were being poured and the vibe? Well it was the same as all weeke - really damn good.
You can fiew one of the final fire trails, before losing sight of riders as they come down the bottom of the course, screaming into view before hitting a sweet right hand berm and the final double.
 As The U17 riders and U15 were finishing as I came into the final metres. The wind had built a little, causing some of the eager beaver sub-juniors to still send the final jump, but often come up short. Most sailed hapilly to the finish, in the way only kids who don't need to work on Monday can.
Riders came flying into the finish, quick to glance back to the timing board to see their time. There were fist bumps of elation, right through to riders uttering language that some kids just don't know.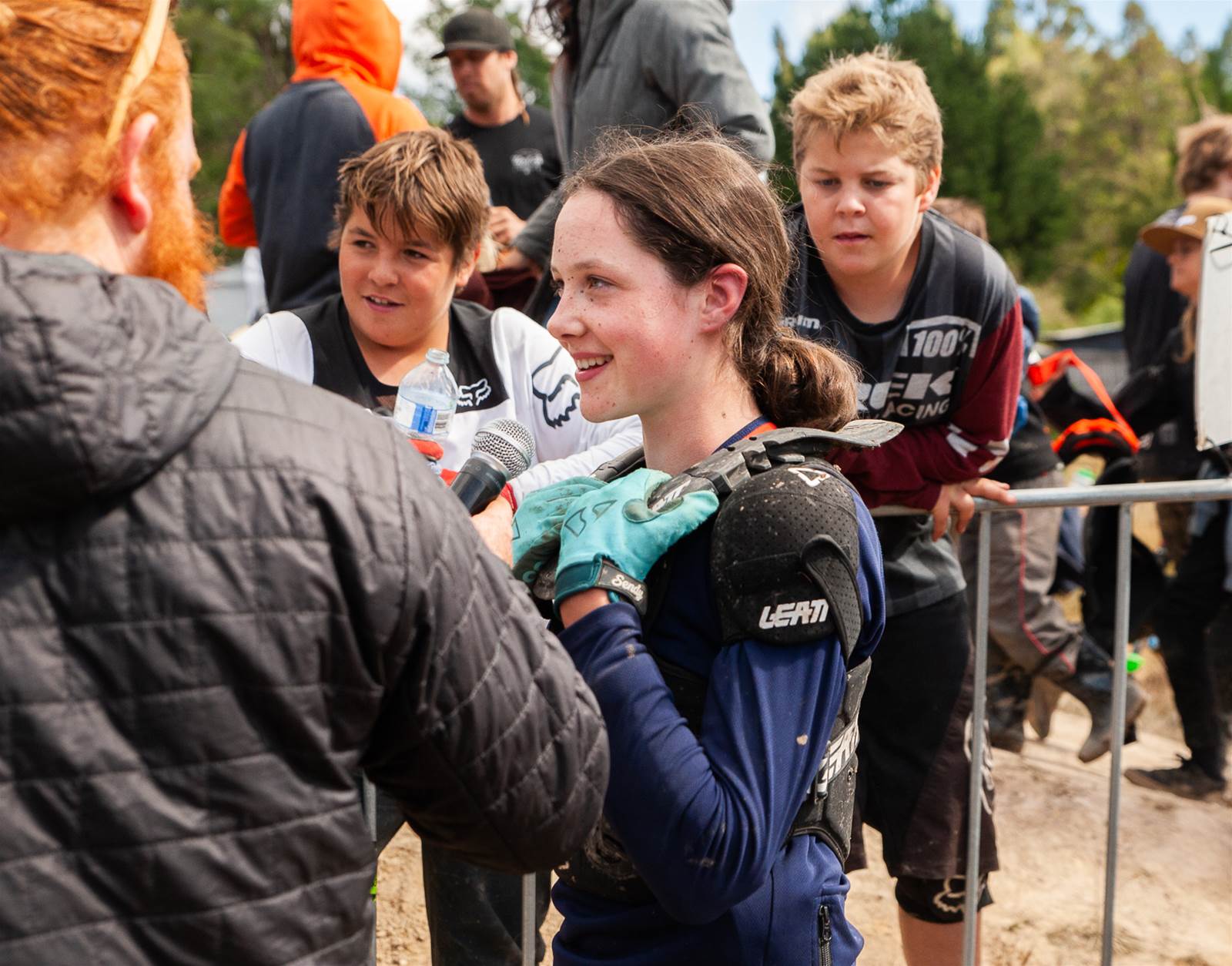 While there were incremental increases in speeds on the way down, when Poppy Pollock posted a 4:25 as the last U17 rider down, it was clear she had won, 20 seconds ahead of 2nd place Sacha Mills.
The Juniors and Elite women were up next, and Elise Empey crossed in a blinder of 4:08 - and that was going to take a beating. Empey had won the Juniors, and a stream of elite women came down who could not beat the time. Until the final seeded rider, 2020 National Champion Sian A'Hern.
A'Hern was the only woman to go under 4 minutes, at 3:56. While she admitted she could have found more time, she was also concerned with making it down in one piece. As they say - to finish first, first you need to finish!
Full results from the women's downhill finals can be found online right here.
The Junior and Elite men's downhill
Soooo we made our predictions yesterday, and without sounding too cocky Sian was our pick amidst the AMB crew - and Troy Brosnan was as well. But nothing is certain on race day, as it's not uncommon for riders to let it all hang out, but a bit too much. Is that something Troy Brosnan would do? Probably not - except he did have a pretty solid crash in practice, so who knows?
Remy Meier-Smith was one of the fastest down the hill, and he won the Junior Men with his time of 3:26.
With Elites on the charge, Darcy Coutts slid into the hot seat, but it became a game of musical chairs, just like earlier in the afternoon, with riders sliding out as soon as they'd slid in.
Finish line chat was about how fast the course was going - by all accounts faster than expected. Baxter Maiwald did a 3:19 and took the chair, but did anyone think it would stick? He built a lot of the course, so it's no huge surprise he could ride it damn fast.
He stayed in place until Dean Lucas came down for 3:18 - but Troy Brosnan was on course. 
Troy came into the finish jump with pace, landing in 3:12 - a blindingly fast run! A few more riders came down but no one could kick Troy off the hot seat. He backed up his 2020 title and added yet another to his collection.
With Dan Booker (the local favourite!) in 2nd and Dean Lucas in 3rd, the podium was all class. Connor Fearon was a DNS. Full results are online.
Maydena Bike Park really delivered a huge event for the 2021 National Championships. Anyone who has visited the mountain bike park will know what's here on the ground, and what has been built. It's a huge achievement in 3 years, and 2022 should be epic as the bike park, town and greater area all grow to accommodate events like this.
Australian Mountain Bike