There's a real pull that's attracting more and more riders to sample the testing trails in and around North Queensland's unofficial capital – and it's not just because of the aptly named Magnetic Island!
Words: Imogen Smith
Photos: Mike Blewitt and Dave Acree
---

At AMB we're pretty certain we've visited and ridden just about every mountain bike destination in Australia and New Zealand, or at least know about them… So we were amazed when we made it up to Townsville to check out the local trails and found a thriving mountain bike network that's growing year by year.

There's a strong racing pedigree in the area. There are regular race series in all disciplines and the Paluma Push Marathon has clocked up an impressive 15 years (soon to be 16). Townsville also hosts the Townsville MTB Festival from 27-29 April, 2018


Cape Pallerenda is just north of town, a flat ride up the bike path along the ocean shore. There's a loop of about 24km there, with some shorter options, and this is the focus for the upcoming Marathon Championships at the Townsville MTB Festival.
For the casual afternoon ride it's perfect. Cruise up the beach from Townsville's café precinct on The Strand, with views to Magnetic Island beyond tropical palms, then ride a loop over about an hour-and-a-half, with more azure ocean views and hidden beaches to admire. There's enough elevation to make for cool descending, but not enough to tax the legs and take away from the fun. 

Island time

It's a crime to visit Townsville and not hop on the ferry at least once to duck over to Magnetic Island, so it's convenient that the MTB Festival will also showcase some existing trails and exciting new alignments opening up on the island. Just eight kilometres from town, and dominating the eastern skyline with its dramatic hills, the island was given its name in 1770 by Captain Cook because his instruments were badly affected by the 52 square-kilometre land mass when he sailed past. Since then, people have been trying to work out what all the fuss was about, with little result - although the AMB team's mobile phones wouldn't post to Instagram the whole time we were there, so there could be some truth in strange vibes inhabiting the place.

Known as 'Maggie', the island has been a tourism hotspot and local favourite for decades, and has loads of accommodation choices – from luxury to backpackers – as well as cafés and restaurants to fuel up. With half the island taken up by national park, countless hidden bays and beaches, and World War II sites to explore, it's a good thing the island gets 320 days of sunshine a year. There are two ways for the public to get to Maggie – by ferry or barge. For those with cars, the barge takes 40 minutes, but you can board the ferry with your bike and get to the island in 20.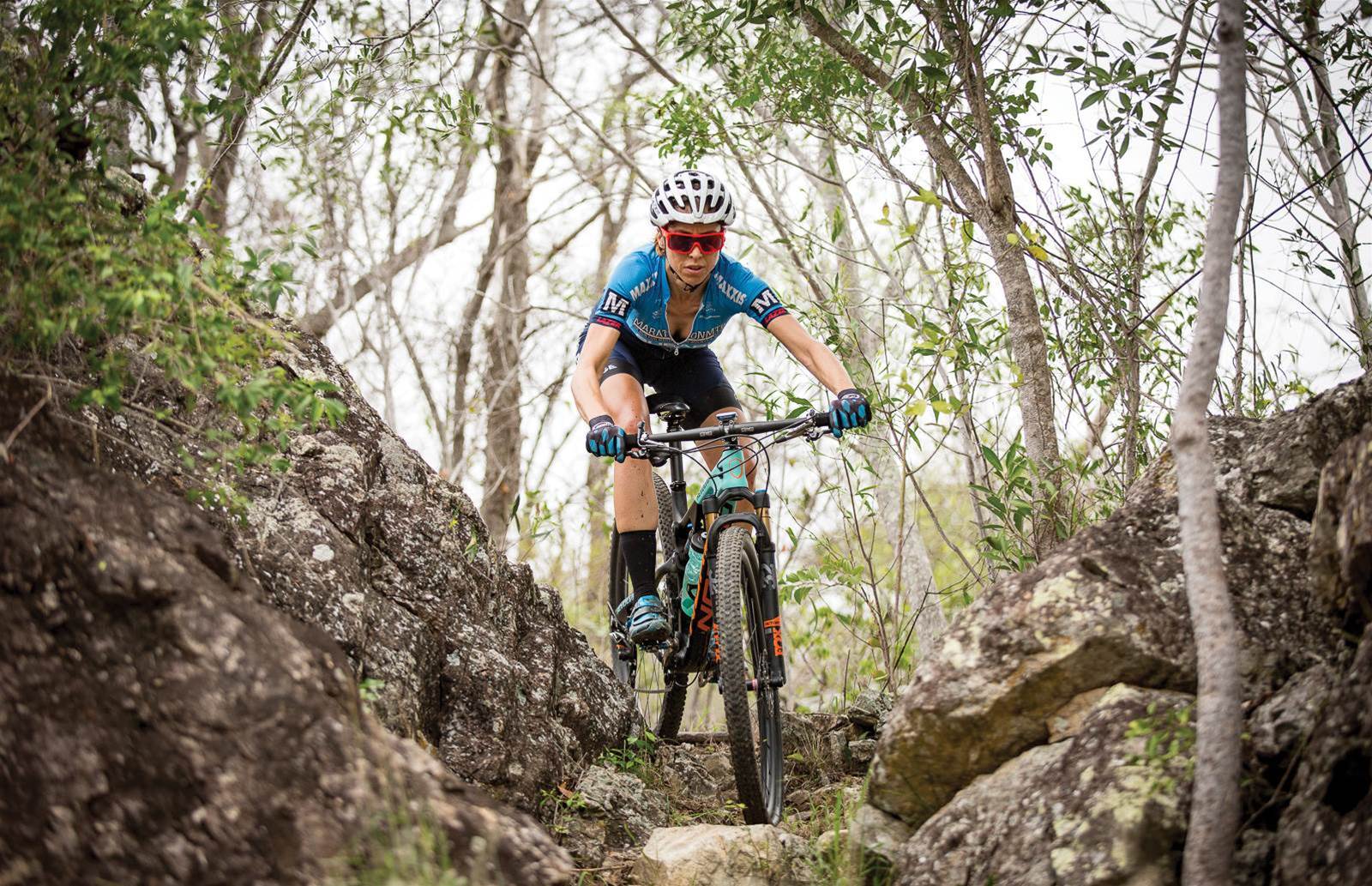 Plans are in the works to extend existing bike and hike infrastructure on Magnetic Island, with trail builders working closely with National Parks and the community - 2,000 residents live on the island, which is a suburb of Townsville - to explore their options. The proposal is to build trails that link the villages and bays, so visitors will be able to roll to a turquoise swimming hole and hire a kayak or a jet-ski, then pedal over to an idyllic lunch spot, then cruise through some incredible landscapes looking for koalas, then cycle back over to the ferry, or even throw their bikes on the bus for the trip to the terminal.

Trail builder Peter McLean admits there are a few challenges – wild koala populations, a maximum five per cent gradient to protect from erosion, and 'boulders the size of houses' to name just a few. That said, these natural features (the island is made up of gargantuan basalt stones gripped by improbable hoop pines) are part of what will make the results, in McLean's words 'gobsmackingly awesome', and impetus is well and truly behind the project. Maggie is already the perfect side-trip for any biker visiting the area, and while it's unlikely to ever vaunt epic downhill flow trails or miles of sweeping singletrack, it's nearly certain that the island will soon boast some of the most stunning and unique off-road cycling trails in Australia.

Jewel in the crown: Mt Douglas

Mt Douglas is the go-to destination for Townsville mountain bikers in search of the ultimate day on the bike. A few kilometres out of town, just next to the James Cook University campus, the Mt Douglas network is the sole responsibility of the Townsville Rockwheelers. The Rockwheelers, who are the third largest club in Australia, have put every inch of the 116-hectare site - set into the side of an impressive hill - to good use by building a maze of trails that offer variety that's rare to see in one location.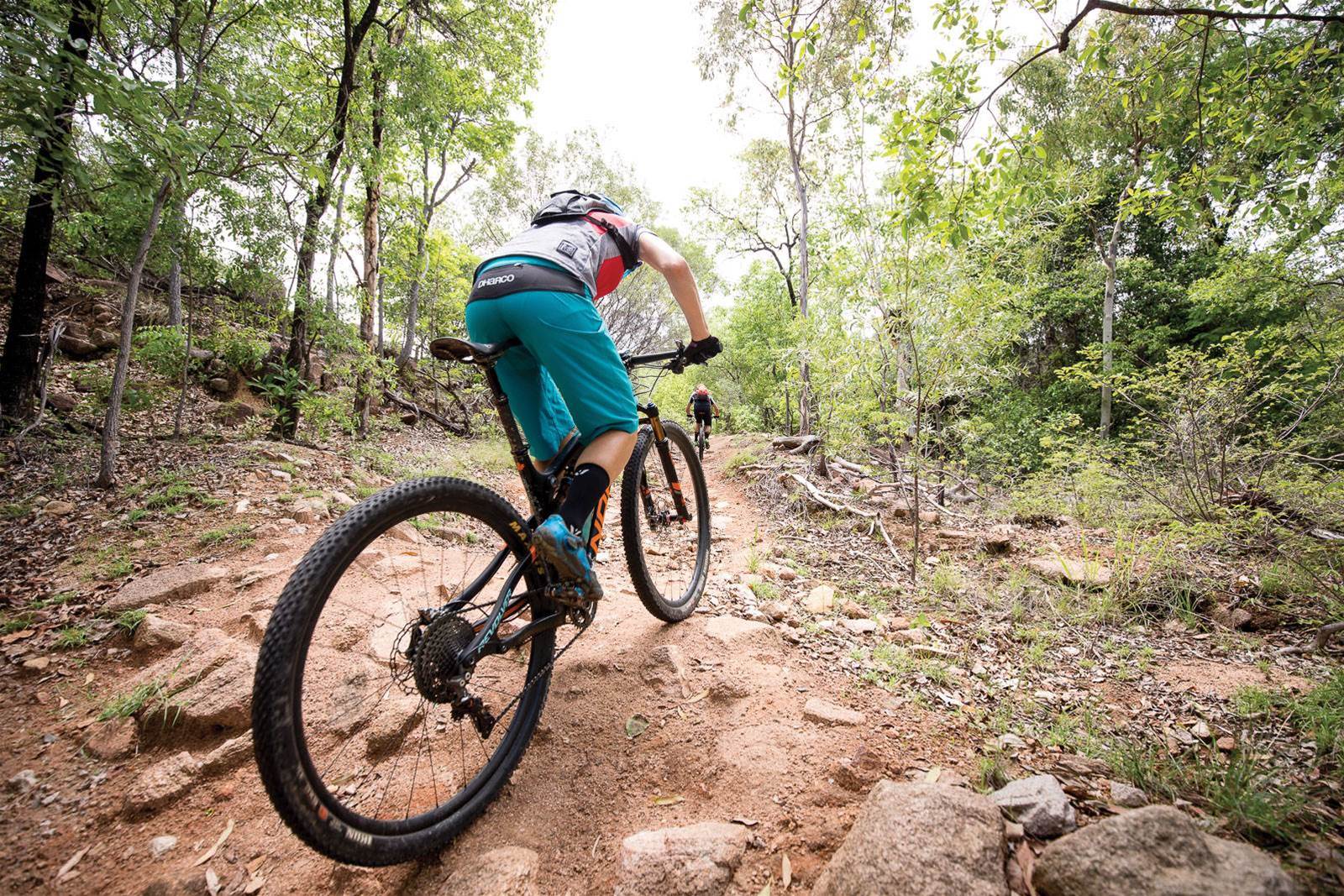 "We've made a conscious effort that every trail has something different," says trail builder Peter McLean. "There's non-technical green trail to the summit. Once at the summit there are four or five options down, contour trails with rock drops, old school hand-built trails, flowy descents. Everyone loves the machine trail, but most of the guys really love to ride the old hand-built trail."

It's easy to spend most of a morning or afternoon wearing yourself out at Mt Douglas, cruising up 'easy street' to the top of the hill then choosing any combination of trails to make your way back down, depending on your preference for rough and rocky, or smooth and flowy. A brilliant little skills park and pump track are also fun and a huge resource for the club. Every Thursday night 60 or 70 junior athletes come out for skills coaching on the berms and bridges.

Views and yieeeeews: Castle Hill

Townsville's centre is dominated by a towering pink granite monolith – Castle Hill (above right). This craggy hunk of rock is a favourite with walkers (there are many hiking trails up its precipitous sides), runners, and road cyclists. Up the bitumen, it's about a three-kilometre climb of nearly 250m, with some very tough ramps. Rumour has it that the occasional downhiller attempts the wild ride down some of the rocky hiking trails, but a new, official, competition-grade downhill track is in the works. 


Townsville itself has tonnes to offer visitors. There's access to hidden and pristine corners of the Great Barrier Reef, and world-class diving off shore. There's loads more mountain biking further afield and road riding is very popular. The town centre is chilled-out and friendly, and The Strand, which runs just north of the CBD along the beachfront, is the perfect place to relax for coffee or lunch, and boasts the most incredible public kids' waterpark and playgrounds we've ever been too old to play at.

With mountain biking getting more and more attention in a town with a huge and active population of riders, investment in bike infrastructure is starting to pay dividends, and more is flowing in. Over the next couple of years, the XCM Championships and the Townsville Mountain Bike Festival are events to keep your eye on, and any visit to Townsville absolutely demands that you take a bike along with you – just make sure you leave enough time to explore everything on offer.
---
Biking in Townsville
Townsville Rockwheelers MTB Club
rockwheelers.com.au (also on Facebook) – check for track closures, events, and more info.
Bike shops
Crank'd Cycles, on Facebook: @crankdcycles
Run 'n' Ride, runnride.com.au
Top Brand Cycles, on Facebook: @topbrandcyclestownsville
2018 Events
Townsville MTB Festival: 27-29 April
National XCM Championships (part of the MTB Festival): 29 April
Paluma Push: 22 July
Eat
Raw Energy, The Strand
Juliette's, The Strand
Jam, 1 Palmer St
Sleep
Quest on Eyre
They are close to town, Pallarenda, and bike friendly.
questapartments.com.au
Big 4 Walkabout Palms Townsville
Family friendly, pet friendly, and close to the
Mt Douglas trails
walkaboutpalms.com.au
---
Australian Mountain Bike