Your number one guide to setting up your home workshop!
At the heart of it the bicycle is a simple, efficient machine. So looking after your bike doesn't need to be a minefield of highly specialised skills and professional tools. For some people, the building and maintenance of their bikes is as much fun as riding them.
While a professional mechanic can make your bike run like a dream, there is no reason that basic maintenance and adjustments - and a little bit more - can't be done at home with the right tools, practice and patience. Here's a look at set ups to get you started, and tips from some of the best mechanics we know. - words and photos Mike Blewitt
THE BASICS
One of the best things you can do to look after your bike is keep it clean and lubricated. So a bucket, degreaser, bike cleaner, brushes, and a chain cleaner are essential. You'll also need some rags, and chain lubricant. Ask your local shop what works best on your trails if you don't already have a favourite. A small syringe is excellent for getting a bit of lube on derailleur pivots.
As for the basic tools you'll need, it depends on your bike. A range of hex keys from 2-10mm, a flat and Phillips head screwdriver, plus T20, T25 and T30 torx tools will cover basic adjustments. Park Tool have a hex set that can be mounted on a wall or laid on a workbench. The long end is ball-headed and the short end is flat, so it sits flush into bolts.
Italian company Silca not only make amazing pumps but also tools. If you're after a high-end set of hex and torx keys, their HX ONE kit is $199.95 but has all the hex key sizes you need, plus screwdriver and torx head fittings. Made from high-grade tool steel and with a thin-dense chrome finish, this set is not just for the aesthete but for someone who only wants to buy the tools they need once.
---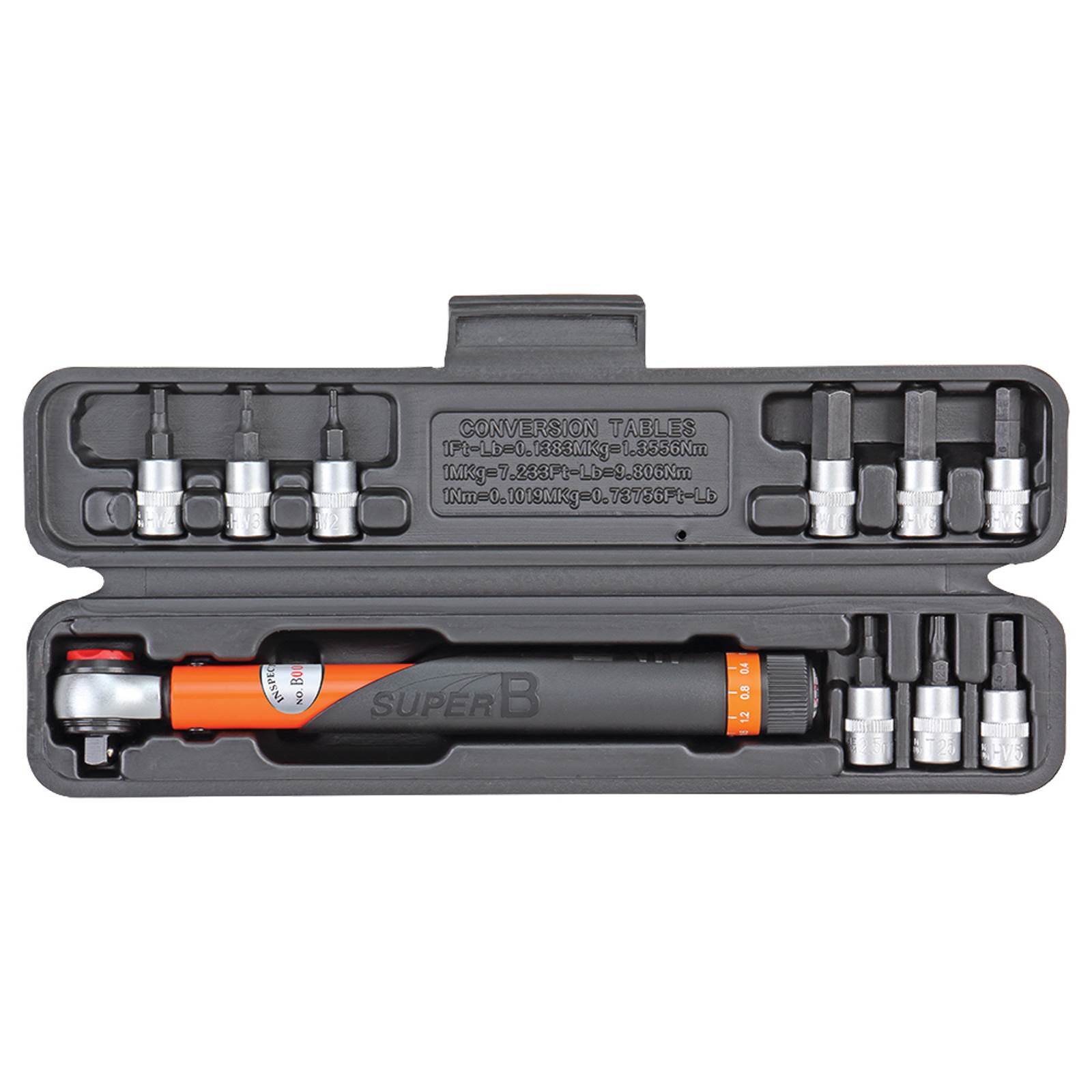 GET TORQUEING
You should think about investing in a torque wrench early on. Most come with hex and torx attachments, and will likely save you money in the long run if you have lightweight parts. This Super-B model is $199 and has just about every hex and torx fitting you'll need.
---
The Silca Tool Folio T-Handle pack is a popular option amongst mechanics. The combination of length, and the sliding T-handle makes tough jobs easy. And the high quality tool steel, finish, and storage pack should make the $329.95 price easier to swallow. This one is for the purist.
Companies like Park Tool and Super B have 3-way tools that fall at hand easily. I've had my Park Tool AWS-1 since I was a teen. The Super B torx headed tool is especially useful when working on SRAM equipped bikes.
Most cycling tool brands will also have screwdrivers, but a reasonable selection from your local hardware store will do nicely. This is also a good place to pick up some basics like scissors, a tape measure, cutting knife and some electrical tape.
At your local bike shop consider purchasing items like a chain whip and cassette lock ring tool, and some cable cutters. I've had my Park Tool items for almost 20 years. Don't neglect pressure gauges – for your tyres and suspension. I find digital options to be the most precise.
Australian Mountain Bike