Testing the YT Jeffsy 29 CF Pro Race trail bike on some epic Portuguese trails!
Words: Ryan Walsch                                                            Images: Johan Hjord, Daniel Roos
Jeffsy is YT's trail bike and offers the shortest amount of rear wheel travel at either 140mm or 150mm depending on the model. The CF Pro Race model we had on test at the release in Portugal was 150mm front and rear while the lower models are equipped with 140mm front and rear. This is the same thing we saw on the recent launch of the uber popular Capra with the Pro Race offerings getting an extra 10mm both ends.
YT claim that the Jeffsy is an all-day bike, and YT give it a persona rather than your typical TLA (Three Letter Acronym) which most brands refer. Jeffsy is said to be the mate that sticks around thick and thin, the long climbs and gnarly descents, Jeffsy is always up for adventure.
Both 29 and 27.5" wheel sizes will be offered however we were testing the 29 CF Pro Race model that tops out the range. The 29er has seen the most significant changes to the geometry and the 27.5" frame has been aligned with the current styling and technologies but required less refinement. Great news for consumers as we will see three carbon and one alloy model in both wheel sizes giving everyone plenty of choice.
The YT Jeffsy comes up against some pretty stuff competition out on the trails, with bikes like the new Specialized Stumpjumper, Alchemy Arktos, Trek Slash, Orbea Ralon, Santa Cruz Hightower, Scott Genius and more all trying to be big bikes that can be ridden all day. With plenty of time on half of those bikes I was keen to see how the new YT Jeffsy and I handled the trails in Portugal.
Initial Impressions
 
The finish and construction on YTs has always been good, especially the Capra we had on test a few months ago. The Jeffsy has been subject to further refinements, both visually aligning it with the looks of the Tues and Capra and some not so easy to spot features that would most likely go un-noticed.
All the sleek pivots and angles are not only crafted like that for aesthetics but to inhibit debris form getting to places it cannot be cleaned out - and better still not settle and dry into little nooks and crannies that the wet weather rider or fastidious home mechanic fears.
---
---
The pivots have had a rework too, moving to an expanding collet style arrangement we have been seeing on other manufacturers bikes, but with an additional steel washer with a rubberised weather seal that further covers the already high quality sealed bearings.
Feedback from YT's Erik Irschman and mechanic Lars have meant all pivot hardware is accessible from the non-drive side making this one of the best thought out bikes to wrench on in a workstand that I have seen to date. With the small and tight knit team that is YT, all consumer and racer feedback makes it way directly back to "Willi" and the team and presto, updates are made.
Feedback collated on the Mk1 Jeffsy sees 5 sizes offered from Small through to Double Extra Large and a reduction in the overall seat-tube length. At a glance, its easy to spot a huge overbuilt head tube, bottom bracket and seat tube interface which offers more stiffness over its predecessor along with the 77 degree seat-tube which puts the rider in a centred and strong climbing position.
Our size large test bike had a wheelbase of 1218mm and we were impressed to see both the XL and XXL frames fitted with a 5mm longer back end taking the 435mm chain-stays out to 440mm for taller riders. Short back ends are great but so is making the geometry and handling size-specific. Kudos to YT for investing in the larger sizes.

Water bottle size has increased across the size offerings from 500ml to 600ml with the addition of a cleverly shaped bottle and a Fliplock mount we had on test, with a bit of practice we think this hydration solution will be great for other bikes with small frames too.
With the direct to consumer model dialled YT's bikes arrive in the box requiring very little adjusting to get you out on the trails, seat height, sealant/tyre pressure and setting of the suspension's sag is all that needs to be done once the bars and wheels are fitted before you can hit the trails.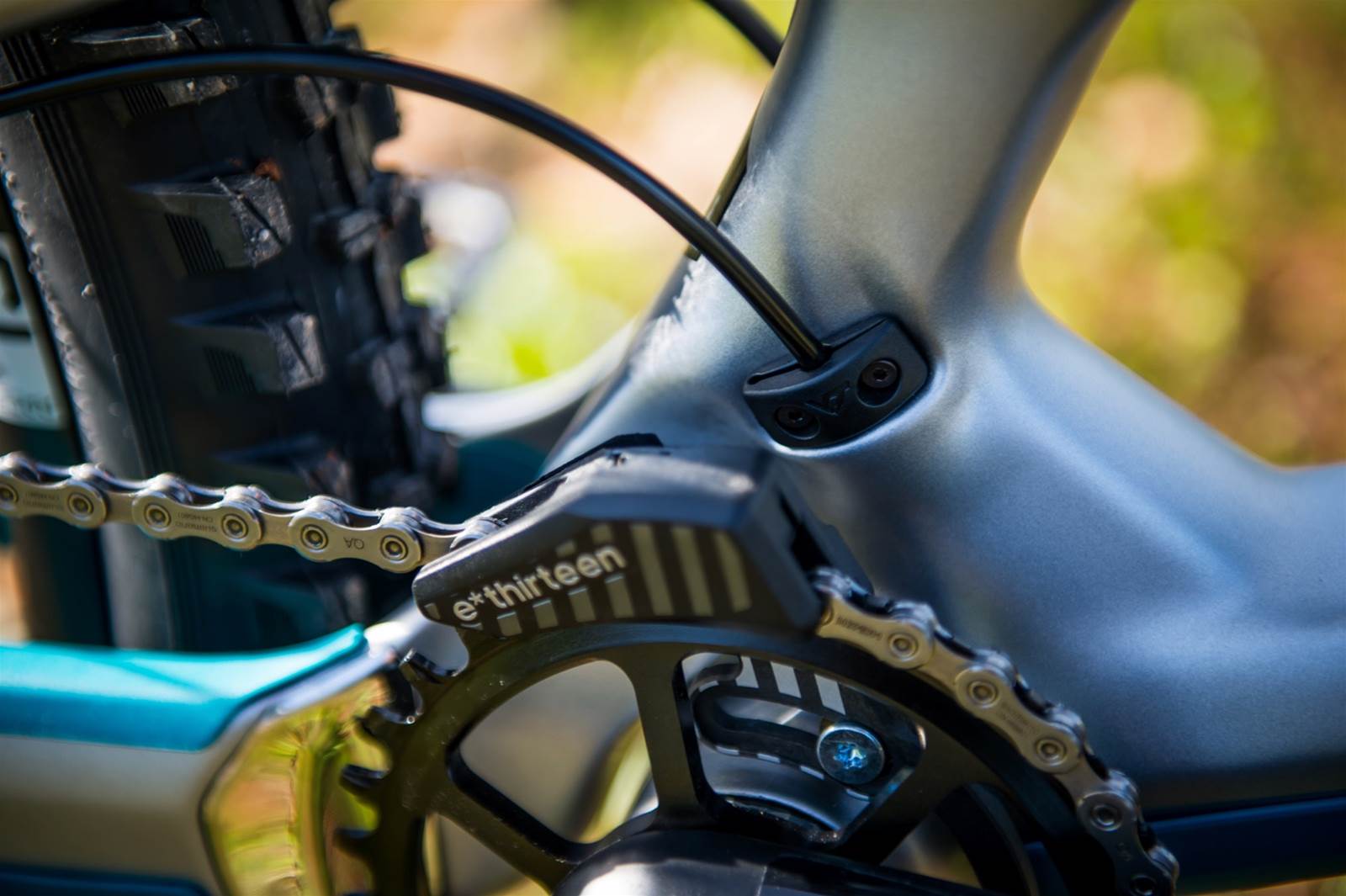 Again just like the Capra we loved all of the parts specced on the CF Pro Race, there is no inhouse cost cutting here just all the premium goodness you come to expect on a top shelf bike.

Pending what type of riding you have in store for your new mate Jeffsy, tyres may be the only thing you wish to swap out. The Ethirteen TRS Race tyres are ridiculously grippy, but not overly fast rolling and have a thin sidewall. With the size large Jeffsy weighing in at 13kgs neat, the 150mm light weight yet super burly trail bike had shaped up to be ideal for the broad range of naturally sculpted trails we had in store, we were eager to get Jeffsy into the hills and start shredding.
On The Trail
With five frame sizes offered, YT have almost gone away with the seat-tube length dictating the riders frame choice. For example, the size large MK1 Jeffsy had a 480mm seat tube which meant that with my seat height of 910mm (top of pedal to top of saddle) I was hard pressed to use a 125mm dropper. The Mk2 Jeffsy has its seat tube reduced by 45mm to 435mm making it possible for riders to look at what reach they want with a possibility of being on 2 or even 3 frame sizes to do so. With an extra 45mm of real estate I could easily fit a 160-170mm dropper on the size large which would be a god send in the steeps, alps or even bike parks.
The combination of the 470mm reach, 50mm stem, 44mm fork crown offset and the commanding seating position made for a very pleasant climbing position. I spoke to Stefan "Willi" Willared about the subtle geometry changes and he was excited to bring up the revised kinematics for the MK2 increasing the anti-squat from 100% to 120% meaning Jeffsy would resist pedalling induced suspension squat considerably. This revision along with areas of added stiffness was immediately apparent on the first climb with a great balance of increased anti-squat with the absence of pedal kickback or inch worming.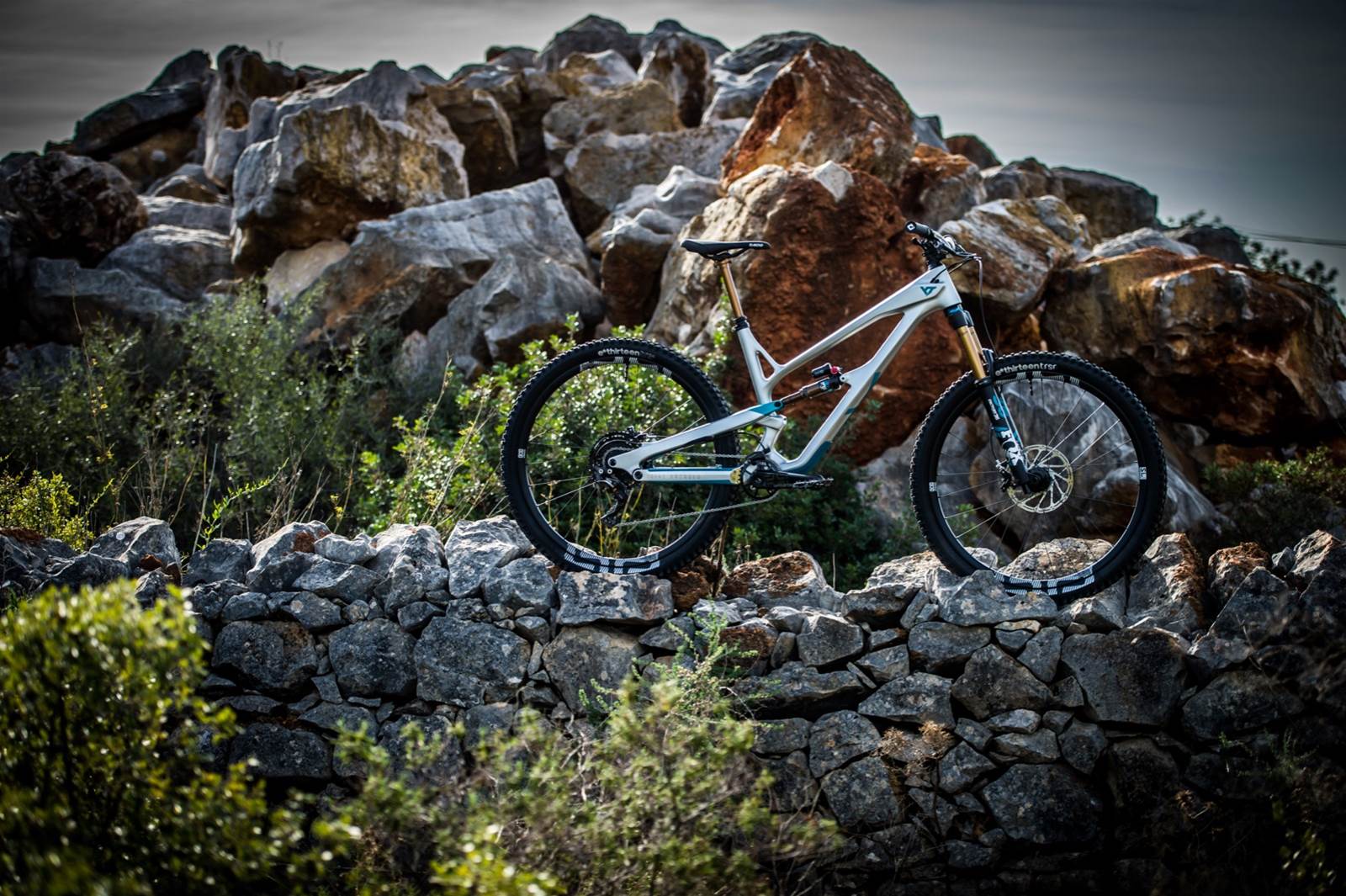 Thanks to "My Dudes" my bike setup was arranged. Erik Irmisch and his mechanic/shredder Lars Diedenhofen went to work setting up Jeffsy's suspension for me, I would ride as they delivered it and give their setup prowess a chance before fiddling trailside. After backing off the fork's high speed rebound just 2 clicks that would be the last and only adjustment made to Jeffsy. Was it that I know what I like, the expert Dude tune or just a very well balanced bike that is easy to get along with?

The progressive spring rate was perfect, with a stock inclusion of the 2nd smallest of 5 volume spacers installed Jeffsy felt calm at full compression and had a playful pop out of corners and features that can take a while to achieve when tuning some suspension platforms. Mowing through sections and trying to wash off speed were not what I had planned, but it's what Jeffsy and I spent a lot of time doing. The bike handles descents with ease and surefootedness found in longer travel bikes without feeling like a ship through the tight stuff and direction changes.
The pop and playfulness of the MK2 Jeffsy was giving our photographers the run around, "you're out of frame" and "can you keep it a bit lower" were the common ramblings as Jeffsy and I jumped off anything we could find. Jeffsy was adept at remaining stable regardless of botched lines and as the sun fell each afternoon blinding us, the landings were often questionable or completely off the trail.

Pointing back up the hill and Jeffsy continues to surprise, the steepened seat-tube angle and increased anti-squat kinematics make climbs on fire roads and technical singletrack pleasant. By finding traction and making it easy to get the climb over and done with, you can spend more time doing what matters, bombing trails.

Our test bikes saw many riders over 2 weeks of shredding, shuttles and shenanigans and the whole fleet remained silent and reliable. Washing it was a breeze too with a reduction in what YT called "mud pockets" thanks to more refined profiles and less spots for debris to get caught. Our time riding the Jeffsy MK2 felt familiar and effortless, it is an easy bike to cruise along flowing singletrack and a safe bike when pushing hard. As YT states, Jeffsy is up for all days rides and has your back always.  
Our Take

YT are known as a gravity bike brand, with bikes like the TUES and Capra (aka The GOAT) really benchmarking what the German company are capable of. But so many of us need a trail bike more than a gravity sled, which is why Jeffsy exists. The latest version of Jeffsy is set to be your best mate for long rides in big hills or fast rides in the bike park. The revised suspension kinematics and geometry means Jeffsy is happy to chill and get the climbs out of the way, yet like any good mate Jeffsy knows when it's time to party and brings it's A game to rowdy descents.

The engineers have managed to make Jeffsy climb better and descend faster, all while making a bike that is easier to look after and wrench on as well. Jeffsy doesn't need a shoulder to cry on after a muddy ride – Jeffsy's got your back. While we tested the top model, the attributes that Jeffsy has are evident throughout the whole range – the only thing we can see holding Jeffsy back would be tyre choice if they didn't suit your trails. And as the only really point of criticism we can find – we feel that YT have really landed on a winner with Jeffsy MK2. The value for money is incredible and it looks like YT's designers nailed the design brief with the latest Jeffsy.
Brand: YT Industries
Model: Jeffsy 29 CF Pro Race
RRP: $TBC
Weight: 13kgs
From: au.yt-industries.com
Sizes: S, M, L, XL, XXL
Frame: Full Carbon Fibre
Fork: Fox 36 Float Factory 29 Grip2, 150mm, 44mm Rake
Shock: Fox Float DPX2 EVOL
 
Shifter: Shimano XTR M9000
Derailleur: Shimano XTR M9000
Crank set: E13 TRS Race Carbon cranks 175 x 32tooth
Bottom Bracket: E13 Pressfit
Chain: Shimano 901
Cassette: E13 TRS Plus 9/46 tooth 11-speed
Wheel set: E13 TRS Race Carbon Boost
Tyres: E13 TRS Race/TRS Plus 29x2.3" tyres
Brakes: SRAM Guide brakes 200mm/180mm
Handlebars: Renthal Fatbar Carbon 35
 
Stem: Renthal Apex 35, 50mm
Seatpost: FOX Factory Transfer 150mm drop
Saddle: SDG Fly
Australian Mountain Bike