Testing the YT Jeffsy 29 CF Pro Race trail bike on some epic Portuguese trails!
Words: Ryan Walsch                                                            Images: Johan Hjord, Daniel Roos
Jeffsy is YT's trail bike and offers the shortest amount of rear wheel travel at either 140mm or 150mm depending on the model. The CF Pro Race model we had on test at the release in Portugal was 150mm front and rear while the lower models are equipped with 140mm front and rear. This is the same thing we saw on the recent launch of the uber popular Capra with the Pro Race offerings getting an extra 10mm both ends.
YT claim that the Jeffsy is an all-day bike, and YT give it a persona rather than your typical TLA (Three Letter Acronym) which most brands refer. Jeffsy is said to be the mate that sticks around thick and thin, the long climbs and gnarly descents, Jeffsy is always up for adventure.
Both 29 and 27.5" wheel sizes will be offered however we were testing the 29 CF Pro Race model that tops out the range. The 29er has seen the most significant changes to the geometry and the 27.5" frame has been aligned with the current styling and technologies but required less refinement. Great news for consumers as we will see three carbon and one alloy model in both wheel sizes giving everyone plenty of choice.
The YT Jeffsy comes up against some pretty stuff competition out on the trails, with bikes like the new Specialized Stumpjumper, Alchemy Arktos, Trek Slash, Orbea Ralon, Santa Cruz Hightower, Scott Genius and more all trying to be big bikes that can be ridden all day. With plenty of time on half of those bikes I was keen to see how the new YT Jeffsy and I handled the trails in Portugal.
Initial Impressions
 
The finish and construction on YTs has always been good, especially the Capra we had on test a few months ago. The Jeffsy has been subject to further refinements, both visually aligning it with the looks of the Tues and Capra and some not so easy to spot features that would most likely go un-noticed.
All the sleek pivots and angles are not only crafted like that for aesthetics but to inhibit debris form getting to places it cannot be cleaned out - and better still not settle and dry into little nooks and crannies that the wet weather rider or fastidious home mechanic fears.
---
---
The pivots have had a rework too, moving to an expanding collet style arrangement we have been seeing on other manufacturers bikes, but with an additional steel washer with a rubberised weather seal that further covers the already high quality sealed bearings.
Feedback from YT's Erik Irschman and mechanic Lars have meant all pivot hardware is accessible from the non-drive side making this one of the best thought out bikes to wrench on in a workstand that I have seen to date. With the small and tight knit team that is YT, all consumer and racer feedback makes it way directly back to "Willi" and the team and presto, updates are made.
Feedback collated on the Mk1 Jeffsy sees 5 sizes offered from Small through to Double Extra Large and a reduction in the overall seat-tube length. At a glance, its easy to spot a huge overbuilt head tube, bottom bracket and seat tube interface which offers more stiffness over its predecessor along with the 77 degree seat-tube which puts the rider in a centred and strong climbing position.
Our size large test bike had a wheelbase of 1218mm and we were impressed to see both the XL and XXL frames fitted with a 5mm longer back end taking the 435mm chain-stays out to 440mm for taller riders. Short back ends are great but so is making the geometry and handling size-specific. Kudos to YT for investing in the larger sizes.

Water bottle size has increased across the size offerings from 500ml to 600ml with the addition of a cleverly shaped bottle and a Fliplock mount we had on test, with a bit of practice we think this hydration solution will be great for other bikes with small frames too.
With the direct to consumer model dialled YT's bikes arrive in the box requiring very little adjusting to get you out on the trails, seat height, sealant/tyre pressure and setting of the suspension's sag is all that needs to be done once the bars and wheels are fitted before you can hit the trails.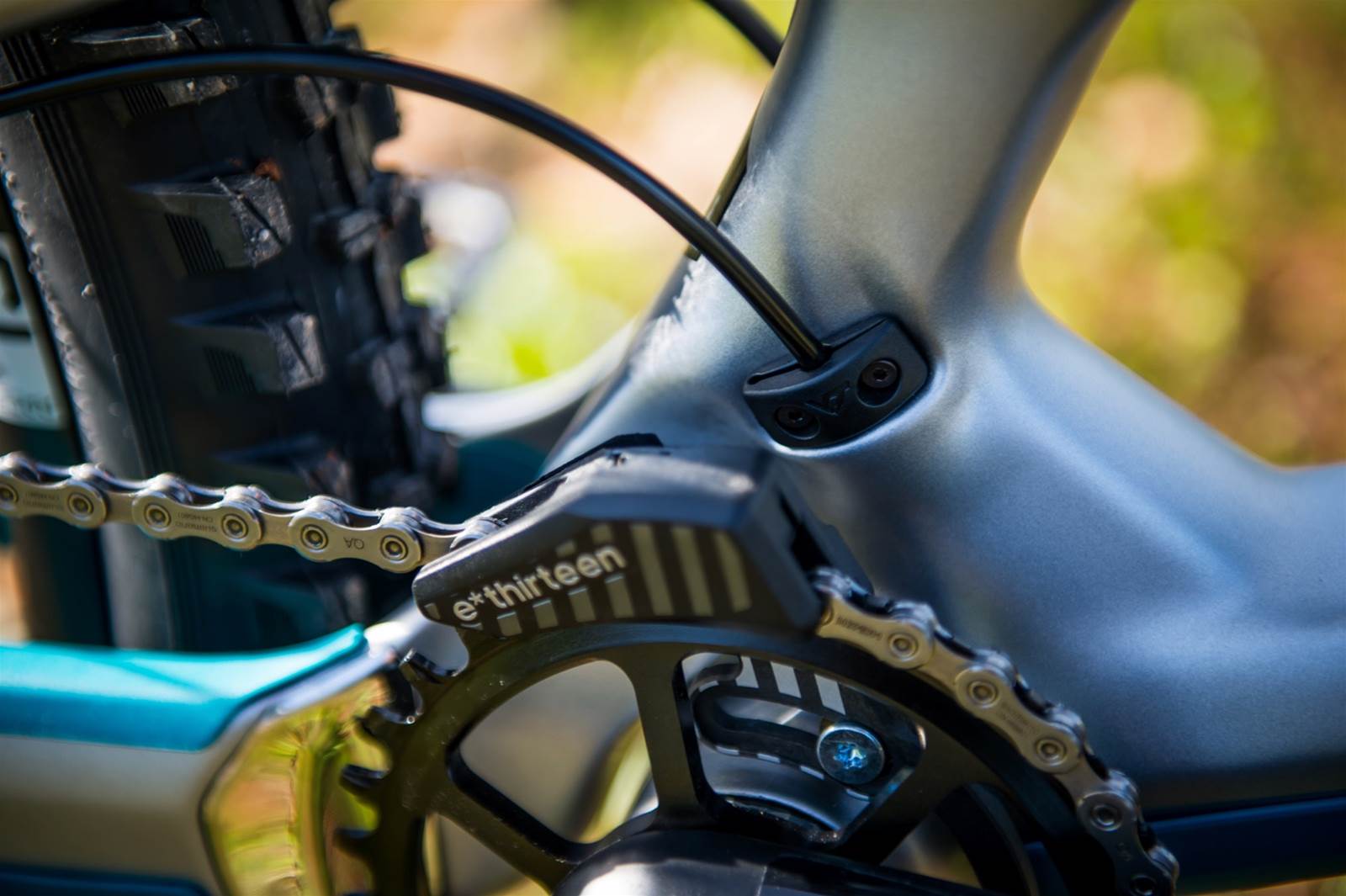 Again just like the Capra we loved all of the parts specced on the CF Pro Race, there is no inhouse cost cutting here just all the premium goodness you come to expect on a top shelf bike.

Pending what type of riding you have in store for your new mate Jeffsy, tyres may be the only thing you wish to swap out. The Ethirteen TRS Race tyres are ridiculously grippy, but not overly fast rolling and have a thin sidewall. With the size large Jeffsy weighing in at 13kgs neat, the 150mm light weight yet super burly trail bike had shaped up to be ideal for the broad range of naturally sculpted trails we had in store, we were eager to get Jeffsy into the hills and start shredding.
Australian Mountain Bike