We test what trails the T-130s trail bike is likely to demolish!
Words: Sebastian Jayne                                                                    Photos: Dominic Hook
 
Whyte is British. Their bikes are developed in Britain and their developers ride to work. I've been to England for a bit of time, it rained constantly, well it felt like that anyway. Another constant was their trails, which all seemed to have a million rocks and steep, rough and technical descents. I'm sure I am exaggerating, but to develop a bike that can handle even a quarter of these conditions on a daily basis means it will probably be up to scratch to handle just about any other trail network in the world.
Most of Whyte's bikes feature slack angles to get the front wheel well out in front for better trail feel, alongside this they like dropping the bottom bracket height for a low centre of gravity and have short back ends to create a playful ride. The T-130s ticks all of these boxes making it a quintessential Whyte offering. We have tested two T-130 models in the past, and this one is the latest update. How will those characteristics play out in the rugged Australian bush? I guess it's time to go testing!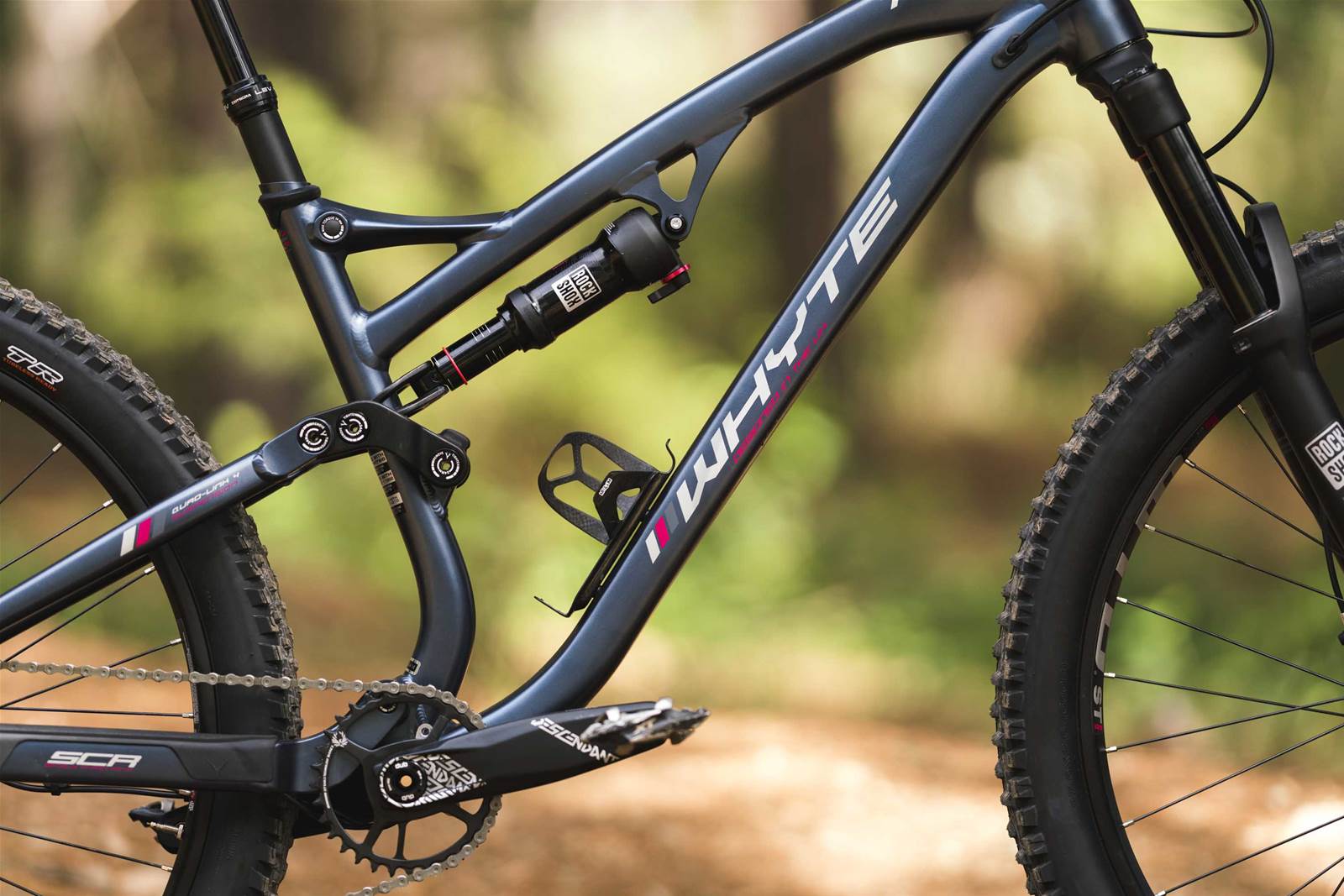 Initial Impression
 
The T-130s is Whyte's longer travel trail bike, with the S-120s being the shorter travel xc/trail option with 29" wheels. As its name suggest it is a 130mm travel frame with a 140mm fork on 27.5" wheels. Trail bikes can be quite a wide category with each rider wanting something a bit different for where they live. Some want a more relaxed but capable bike on which they can do XC loops, that would be the S-120s, while others prefer a bike that can pedal well but handle a wide range of descents, hopefully that will be the T-130s.
Helping the T-130s in its dreams of being a trail bike that can descend capably is Whyte's signature geometry. The 65.5 degree head angle is very slack for a trail bike and places the front wheel quite far out in front of the bike. Whyte hopes this will result in the steering 'self-correct' while riding. The head angle has been paired with a comparatively long reach created by a long top tube and short stem to create snappy handling but enough stability at speed. Helping stability is the reasonably long wheelbase especially for a 27.5" bike. All these 'long' numbers are offset in the right place with nice and short chainstays at 430mm. Going over the numbers gives us a glimpse at how the Whyte has been put together with each part looking to complement each other.
The T-130s is the top aluminium model of two with the other three new models in the T-130 range getting a carbon frame. The T-130s comes with a RockShox Revelation RC fork paired with the Deluxe RT shock which makes a great package as does the SRAM GX Eagle 12-speed group set. The SRAM Guide brakes with 180mm rotors on the medium and larger sizes is a good touch to be able to handle the descents that Whyte hope you will be tackling. There are ISCG mounts on the frame if you want to add a chain guide but no guide is provided.
One area where Whyte excel, which stems from the harsh climate of Britain, is their weatherproofing and small details on their bikes that aim to make things easier for the rider. Their bearings are weatherproof, their clamps such as their seat posts are weatherproof, and their internal routing is sealed with a special routing system to make installation easy and keep things ticking over smoothly and quietly.
Spec-wise, the T-130s sits at the more aggressive end of the trail bike spectrum and it will be interesting to see how many trails the T-130s can handle comfortably. The geometry shows a bike that should be capable on steep descents but may find trouble on flatter terrain. I do like how Whyte offer two different models of 'trail' bikes, so riders can tailor to their individual needs.
Australian Mountain Bike