We Are One designed this rim in conjunction with Brett Rheeder, one of the leaders of dirt jumping (DJ) and slopestyle riding in the current era.
Words: Hayden Wright
Photos: Gerard Lagana
We Are One Composites are a carbon fiber design and manufacturing company based in Kamloops BC, Canada. Their primary goal is to produce no compromise composite mountain bike frames and components locally in Canada with a drive towards ensuring their environmental impact is minimised while their quality, design, and production techniques are all industry leading. Their flagship products are their carbon fibre rims which are available in a variety of widths, diameters and hole counts to suit any rider. With a RRP of $*** per rim, The Coup has a claimed weight of 425g and is available in 28h, 32h and 36h configurations with a 28mm internal width.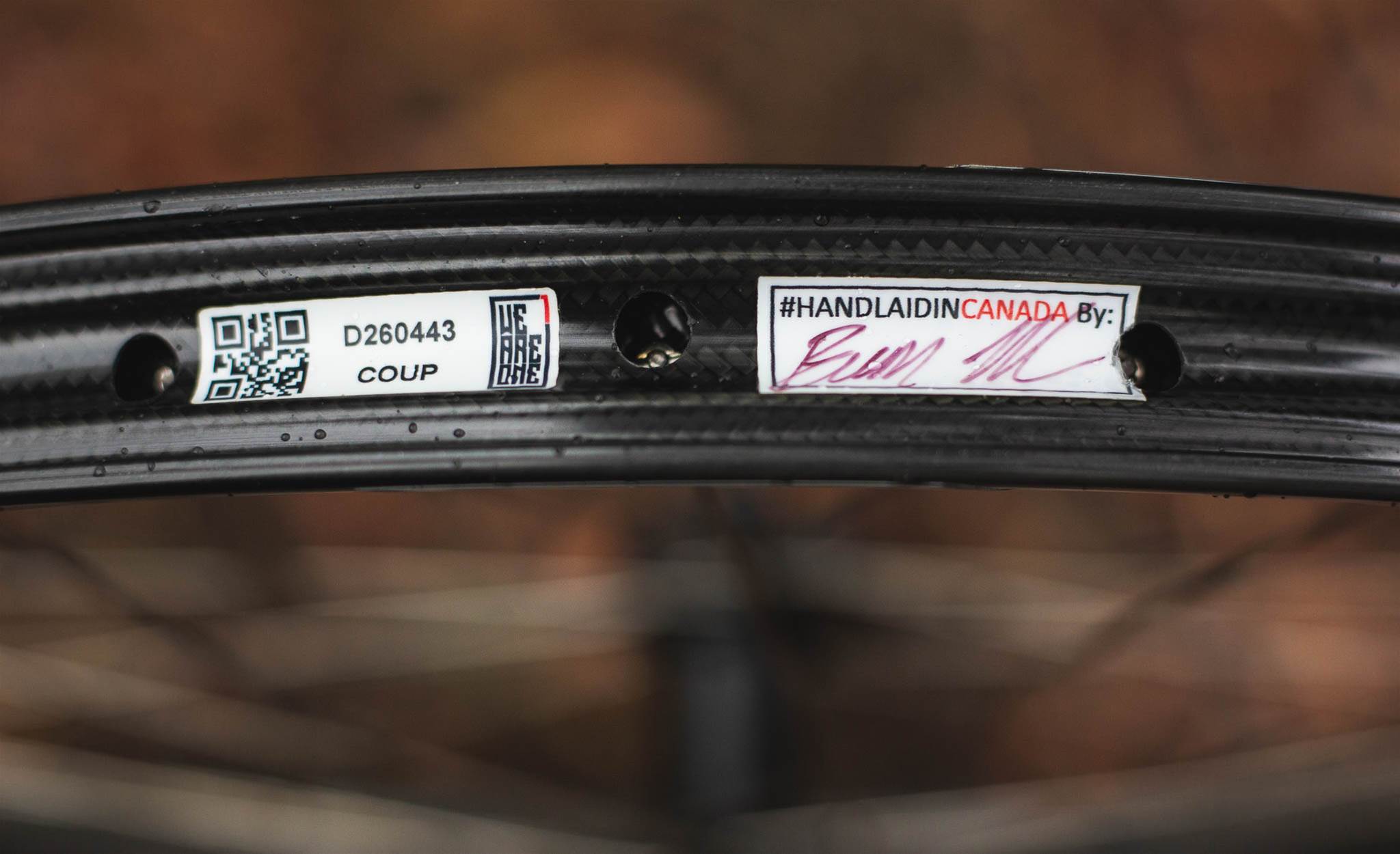 We Are One designed this rim in conjunction with Brett Rheeder, one of the leaders of dirt jumping (DJ) and slopestyle riding in the current era. Thanks to the use of carbon fiber in these rims rather than aluminium, We Are One were able to optimise the ride characteristics of the Coup for what the felt would provide the best possible rim for competition use. Their collaborative goal was to create a rim with high levels of lateral stiffness being of the upmost importance. This was done to aid a rider in being able to escape a sideways landing which can be commonplace when flipping and spinning over 30-foot trick jumps. Second to this, We Are One have tuned the rebound characteristics of their rim to a level which is faster than what you would see in a trail or downhill rim. Increased rebound speed leads to an increased feeling of acceleration when pumping and cornering, making this rim a great choice for dirt jumping and pump track use alike. 
You may be asking yourself about the longevity of a carbon rim on a DJ bike, where hard impacts from casing jumps are common. Thanks to the strength to weight ratio of a well make carbon rim in comparison to alloy, you should see a long lifecycle from these hoops. Typically, cracks caused by sharp impacts such as rock strikes when running low tyre pressures are what bring a carbon rim undone but in the primary use case of the Coup that will not be an issue. Regardless of that, We Are One offer one of the most comprehensive warranty programs in the cycling industry with the provision of a no questions asked lifetime replacement warranty on all their rims.
I was lucky enough to spend some time on a set of the 'Coup' DJ rims which we have laced up to a set of Novatec hubs with DT Swiss spokes and nipples. The most noticeable thing about the Coup rims when I had them in hand is the quality of construction. The nipple holes, bead and internal trough are very smooth and consistent, with no burrs or imperfections in the layup from what I could see. Finishing quality was also second to none, with a high gloss coat doing a great job of showing off the beautiful carbon fiber construction beneath. My only complaint here would be the quality of the rim decals, which I think could be improved to something thick and glossy to match the finish of the rim itself. Each rim also has a signed label within the trough which tells you which one of their skilled technicians crafted your rim in their Canadian headquarters. It's obvious that We Are One take their motto #HandLaidInCanada seriously! After mounting up a set of tan wall Maxxis DTH tyres with tubes I was ready and excited to get out and give these rims a go.
On the Bike
The time I spent riding my personal Commencal Absolut with the Coup Rims mounted up has been a positive experience throughout. I noticed many improved riding traits when compared to the DT Swiss EX471 rims I typically use, all of which led to what I felt was a faster and more direct feel on the bike. These rims are very engaging, with a direct feeling of control and manuverability when paired with a slick tyre pumped up to 60psi. I found that I was gaining that little bit of extra speed when pumping hard through turns, undoubtedly due to the tuned characteristics that We Are One deliberately aimed to achieve in their design and manufacture process. Similarly, I found that my timing over rollers had to be adjusted as I was hitting them slightly faster than on my standard wheelset – another nod towards the stiffness and rebound character of these rims. There is one obvious downside to all this stiffness within a wheelset – which I felt when unintentionally casing a few jumps. I felt more impact and feedback than what I typically get from my alloy wheelset, with less of the impact being damped through the wheels and more of it travelling through the frame and into my legs.
Verdict
We Are One have Composites set out to create a no compromise rim for use in the most strenuous slopestyle, DJ and pump track conditions possible – and they have succeeded. The finish, ride quality and warranty on the Coup rims are second to none and will aid any rider in ensuring they are getting the most pump out of every roller while also ensuring any off-kilter landings don't leave their rims resembling a hard-shell Mexican dinner. While the obvious barrier to entry here is the price tag, those who are looking for the utmost performance from their dirt jumper, or a set of sturdy rims which will last a lifetime need to look no further.
Hits 
 Light, stiff and strong carbon rim
 Great looks
 Feel fast and engaging on the bike
 No questions asked lifetime warranty
Misses
RRP: $899.95 per rim, $2899.95 built on i9 Hydra hubs
From: danjasimports.com
Australian Mountain Bike