Having the right bag for the task at hand can make a massive difference. Bag connoisseur Mike Blewitt puts the Thule RoundTrip Bike Duffel to the test.
I'm a sucker for having the right bag for every occasion. And while my yearning to travel was squashed over the past year, my go to travel bags have been a Thule Chasm 70L duffel and Thule RoundTrip Traveler bike bag over the past 5 years. They both are showing their age and use, but they have been trusty travel companions for my bikes and gear from coast to coast and far beyond as well.
If you only thought Thule made nifty bike racks and ski boxes, you need to take a look at their website to see their ever expanding range. From jogging strollers, to GoPro accessory cases, and even rooftop tents (although they aren't in Australia yet) Thule's product range has exploded.
Thule's range is impressive and ever expanding
The Thule RoundTrip Bike Duffel is new to the range, and has a little in common with VeloRacing bags I have tested in the past – it's just a bit bigger. At 55L, Thule state that the bag can carry 3-5 days worth of cycling gear. To that end, it has a large compartment that can fit a big trail helmet (but not a full-face), a lined pocket for shoes or dirty gear, and a compartmentalised area that at first glance, looks ideal for carrying 20 bottles.
In practice the divider allows easy sorting of items like eyewear, a sports towel, jerseys, shorts, jackets, or whatever you can fit. It can collapse to one side and be held in place with press studs if you're a fold, not roll and scrunch sort of person. There's a flat top pocket that is meant to be for stinky socks, and there is a front pocket with three mesh pockets and elastic loop holders – ideal for spares and tools. And there is still a small front pocket on that, perfect for keys, a GPS or similar small item.
Made from a tough polyester material, and with a solid handle on top and a sturdy padded, adjustable and removable shoulder strap – I would expect this bag to go the distance. My current Thule luggage has had a tough life and only recently split a welded seam.
In use
Packing up the bag was an exercise in planning and therefore fool-proofing your riding trip. Instead of grabbing items and jamming them in the one gear bag with all my other clothes and travel essentials, this bag swallows what you need for riding. I left my tool roll at home and packed the essentials in the front pocket of the bag, and dutifully rolled up shorts, jerseys, gloves, socks and the rest to pack into the partitioned interior. And it all worked.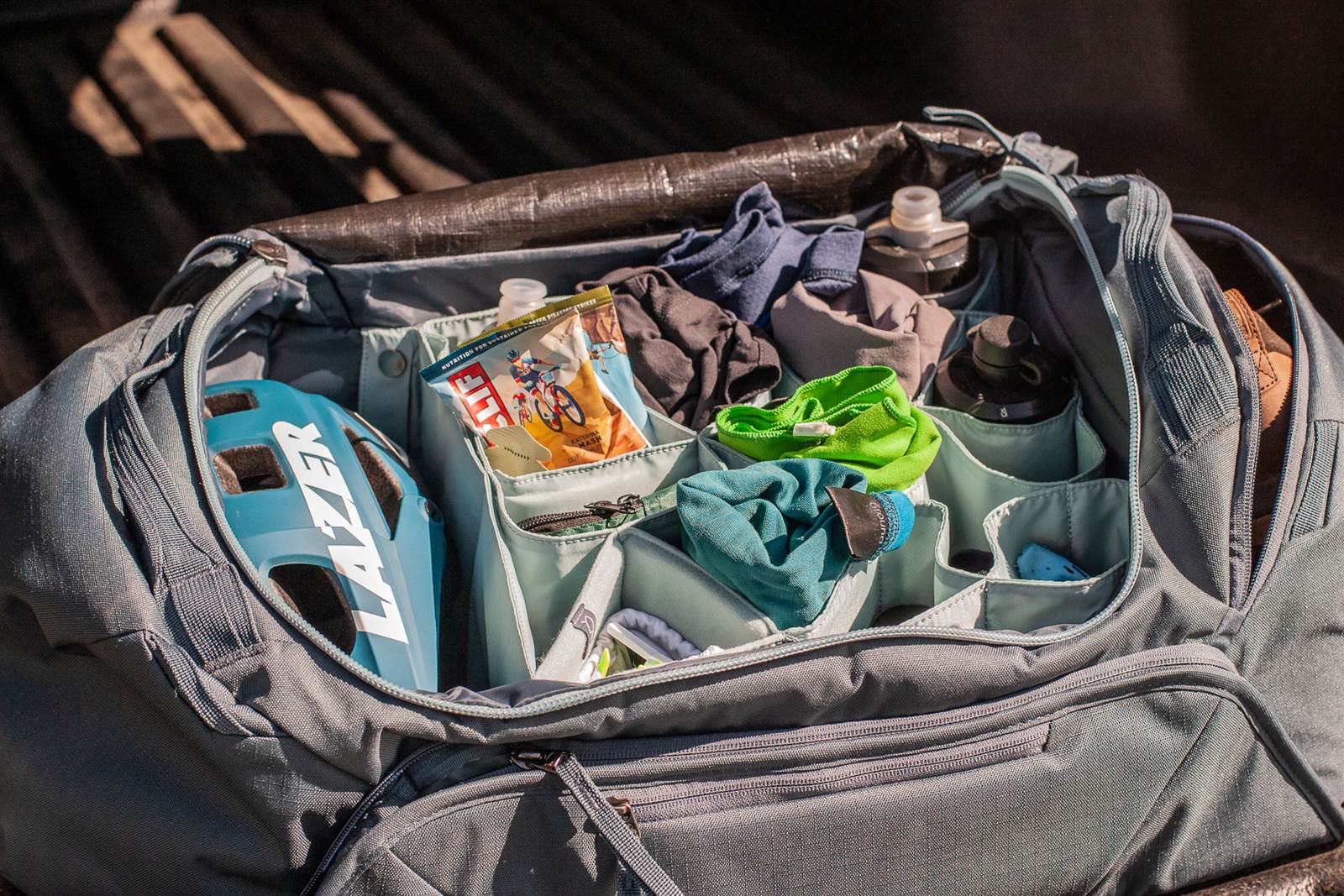 Sure, when everything was dirty and gross (it's often humid in Queensland) I did resort to putting clothing in a plastic bag in an effort to reduce further contamination in the bag, but I could undo the partition and it all fit in nicely. And given the size, it is easy to have spare items, all in one bag that can be half filled all the time, with things like tools, eyewear and some clean kit. This may just make it easier to get out the door and to the trails after work, or it can make packing and unpacking faster on a quick trip away.
I normally aim to take one bag and a daypack when travelling (plus a bike bag if I'm going in a plane) and in that sense, the Bike Duffel threw me as it is an extra item of luggage. If your luggage allowance is ok with that – all good. But after a couple of uses for longer and shorter driving holidays, I was sold. There was no need for a few extras to be floating around in the car or van, and I even think with room to strap on a track pump this might be the perfect bike-specific bag.
Personally, I won't use it for a trip on a plane. I'd rather keep my luggage to a minimum. But given the recent trends to destinations that are a little closer to home, the Thule RoundTrip Bike Duffel has been very useful. Make no mistake, this is a bag that is an extra item that simply makes packing for a trip easier. But it's a nice luxury to have, and one that people who like to be organised will appreciate.
Having a bag with fresh kit can be handy for a quick after work session
---
RRP: $249
From: thule.com/en-au/
---
Hits:
A place for everything and everything in its place
Solid construction
Easy to find all items
Misses:
Australian Mountain Bike