The Specialized Gambit brings downhill protection to a 640g helmet - a perfect helmet for the protection modern mountain biking demands.
Words: Hayden Wright
---
As bike technology advances it becomes easier for us, the riders to go further, faster, harder. Trails which were once considered gnarly, shuttle only downhill affairs are now much more accessible thanks to the furious industry-wide development of trail bikes and eMTBs over the past few years. In line with this, we are seeing the steady advent of lighter and more versatile protective equipment to match our more capable and versatile bikes. The days of having to decide if you wanted to be comfortable on the pedal up to the trail head, or safe on the way down the trail itself is becoming a thing of the past thanks to products such as the new Specialized Gambit full face helmet, a 640g helmet that sells for $480.
This new addition to the growing market of light weight, all-day full-face helmets marks Specialized's first foray into this market space. Known the world over for their boundary pushing eMTBs, it was only a matter of time until the boffins at Morgan Hill released a helmet to match. The team at Specialized have touted this lid as the key to redefining your comfort zones the next time you're out on a gnarly trail ride, so as you would expect we here at AMB were excited to get the opportunity to put our very own Gambit through its paces. Would it be light enough to provide legitimate all-day comfort, while also feeling as safe as a regular downhill helmet on the descents?
The Gambit in a nutshell
Downhill Certified
Multi material shell comprising of carbon fiber, polycarbonate and EPS
Adjustable and replaceable cheek pads
MIPS liner
18 Ventilation ports
Trail helmet style buckle
SBC integrated adjustable fit system
Available in 4 colours
640g in medium
RRP $480
Out of the box
In my mind, the more a mountain bike full face helmet can look like a motocross helmet, the better. Specialized has nailed this brief with the new Gambit. Upon first impressions, the helmet looks fantastic. It has a striking chin piece and an appropriately sized visor to match, something which can not be said for most other light weight full face helmets on the market today.
Don't miss our review of the new Specialized Tactic 4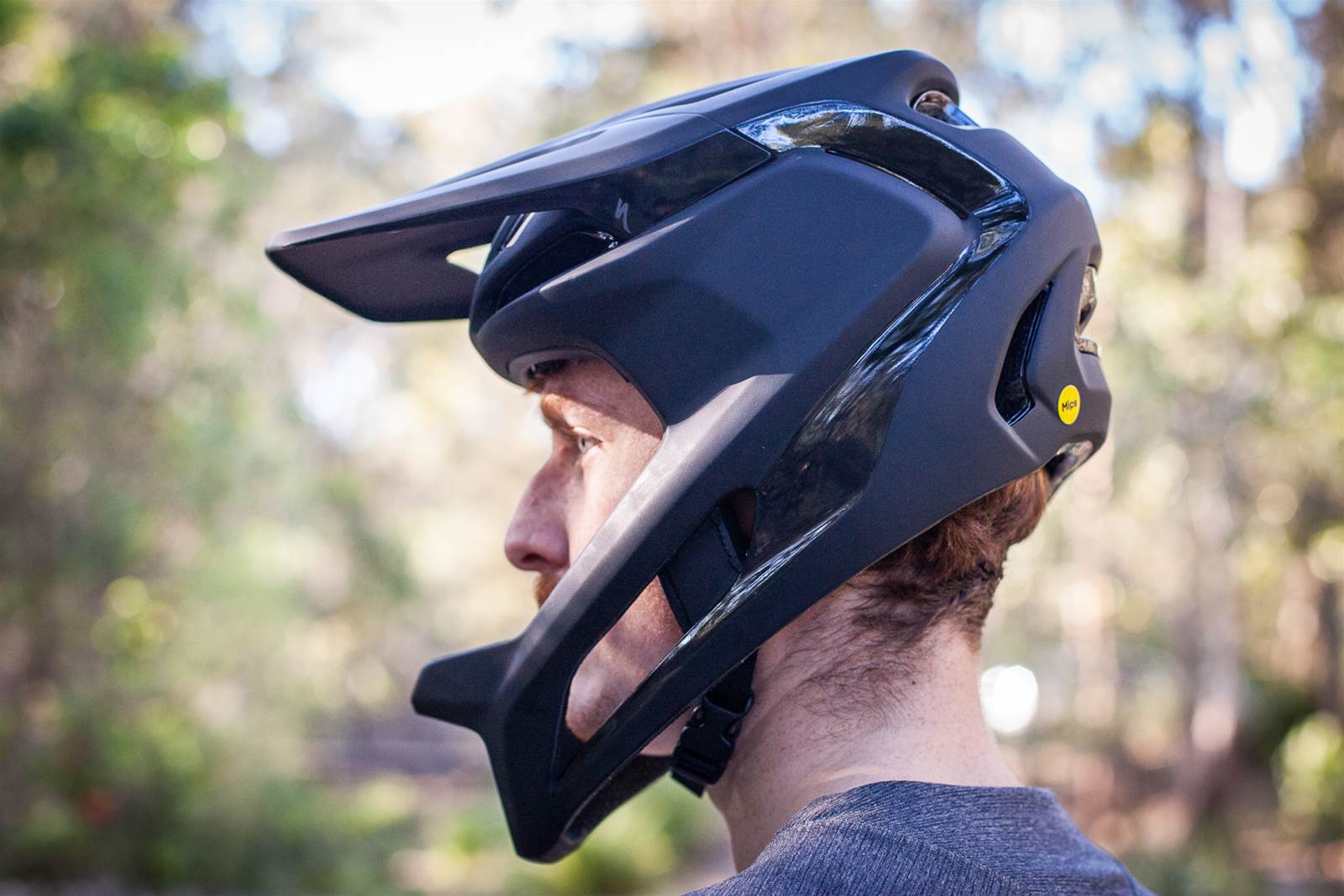 Typically helmets in this category leave a little to be desired when it comes to overall proportions, but Specialized have nailed the aesthetic design on this product. The goggle port is wide and easily accommodates both regular and outrigger style goggles with plenty of space for adjustment, and there are plenty of vents to keep things cool on those long fire road climbs. The shell itself is constructed using a combination of materials to keep weight down, without sacrificing safety. With a mix of carbon fiber, polycarbonate and what Specialized are calling 'energy optimized EPS foam' they have managed to design a helmet that weighs 260g more than their marquee Tactic trail helmet, while still passing Australian Standards for downhill use.
Looking at the inside of the helmet, it looks more like what you would expect from a trail lid. There is a clip in buckle system, and a ratchet adjustable liner – both things which are rare to see on a full-face helmet. Typically, downhill helmets rely on their shell sizing and pads to give riders the fit they want, but Specialized have provided both pad and liner adjustability on this helmet to ensure the user can get the exact fit they are looking for.
One thing of note is that the sizing for these helmets varies quite a lot compared to the rest of the market. Where I would typically wear an XL sized helmet in brands such as Fox, TLD and 100% my Specialized Gambit is a medium, and I have the liner ratchet adjusted almost all the way in. While this isn't a design flaw of the helmet overall, it does have me questioning why Specialized sized their shells so far left of field to what the rest of the industry is doing.
This will have people who are buying their helmets sight unseen sending them back for a smaller replacement more often than not, so my advice is to get in to your local bike store and try one on before purchasing. A helmet is useless if it isn't snug and secure on your head.
On the bike
Over the past few months, I was able to wear this helmet on some long hot trail rides which included some pretty gnarly descents. Looking around at the people I was riding with, they were either wearing a typical trail helmet or a full-on downhill helmet. It was on rides like these that the Gambit made complete sense. It is light and cool enough to wear on the climbs, and also provided great sun coverage thanks to the large motocross style visor. Never once did I have the urge to take this helmet off during a climb, instead I was happy to leave it in place all the way to the trail head where I would don my goggles and start making my way downhill.
While descending, the main thing I noticed is how well Specialized have designed the vents on this helmet. You can literally feel the air rushing past your cheeks, ears and scalp thanks to the 18 large ventilation ports which are strategically placed throughout the Gambit's shell – helping to keep things cool even on the hottest of days.
As a sign of my commitment to product testing here at AMB I even decided to have one pretty large crash over the bars while wearing this helmet. This crash happened on a trail which I would have typically worn a regular trail helmet, and in the case of this crash would have left me a little worse for wear. The chin piece and jaw protection kept my face from contacting the ground and kept my pearly whites intact. While not feeling as substantial as a run of the mill Downhill helmet, the protection is there and I was glad to have the Gambit on as I was soaring over the handlebars on a Saturday afternoon. Given the Gambit is so much cooler to wear when riding, and weighs at least half a kilo less than most full-face lids, it really is an intelligent option for those looking to push a little harder.
Final thoughts
In my mind, the new Gambit from Specialized is the market leader for the growing sector of light weight full face helmets. The combination of looks, cost, safety, and versatility that this product provides are going to be tough to match moving forward. Specialized must be commended for creating a helmet that provides all day comfort for those epic trail rides and light shuttle days, with a MIPS liner and adjustable fit all under the $500 price point. While not a replacement for a full-on Downhill style helmet, the Gambit provides a good middle ground for those who want to increase safety on the descents without having to suffer the heat and weight of a Downhill helmet on the climbs. Just be sure to check sizing at your local Specialized dealer prior to purchase, as the fit of the shell itself may not be what you expect when compared to other helmets.
RRP: $480
From: Specialized
Hits:
- Light weight and well-ventilated
- Downhill protection rated
- Sharply priced

Misses:
- Make sure you try it on before buying
Australian Mountain Bike