Schmolke are the masters in high-end manufacturing in carbon fibre - perfect to trust for a handlebar then!
Words and photos: Mike Blewitt
If you want to really have an eyewateringly fancy bike, the Germans will always have something for you to upgrade. There really is a culture for creating lightweight engineering marvels, mostly in carbon fiber. 
Schmolke parts are designed by Stefan Schmolke, with a range of products across the road, gravel and mountain bike arena. With a passion for lightweight and strong carbon fiber, you'll find the majority of their products revolve around handlebars, stems, saddles, rigid seat posts and wheels, along with some other accessories. Schmolke have a new home in Australia with Full Beam distributing their carbon exotica. Full Beam contacted me about reviewing a set of bars, and I thought the MTB Lowriser Enduro model was a good fit. 
Model choice is one thing, but with Schmolke products being so precise, I then chose the width from 5 options between 720-840mm, the weave, colour, and rider weight from 3 ranges. I ordered an 800mm wide UD carbon, black bar with 15mm rise and a 31.8mm clamp. Claimed weight was 180g and this one came in at 186g. That's super light for a carbon bar rated for use in En duro riding and racing!
The bar has a 6 degree back sweep, which is a little less than some. Schmolke have also has extra layers of carbon in the 280mm middle section, to create more strength. The whole design is based on the highest strength for the lowest weight, including additional reinforcements and a specific layup for all the layers of carbon. To this point, while there are 5 bar widths (720/760/780/800/840mm) you can only trim them by 10mm maximum on each end. This reflects that the bars have optimsed the materials layup for the different parts of the bar.
Setup and riding
It goes that without saying that carbon exotica like this needs to have a torque wrench used when fitting them. The stem and controls can have no sharp edges, and everything needs to be clean. Interestingly the torque is 2-3Nm for the stem, and 1.5Nm for the controls. You can't use lock on grips that clamp at the outer edge.
I did find the torque range surprising, as I figure it needs to be one or the other. Still, in consultation with a leading tools guru, I was reminded that there can be more variances from one tool to another than even the max torque for the stem bolts. Use good tools, good prep, follow instructions and use your common sense. I did all that, got my position set, thought about trimming them bars to 780mm, but hit the trails anyway.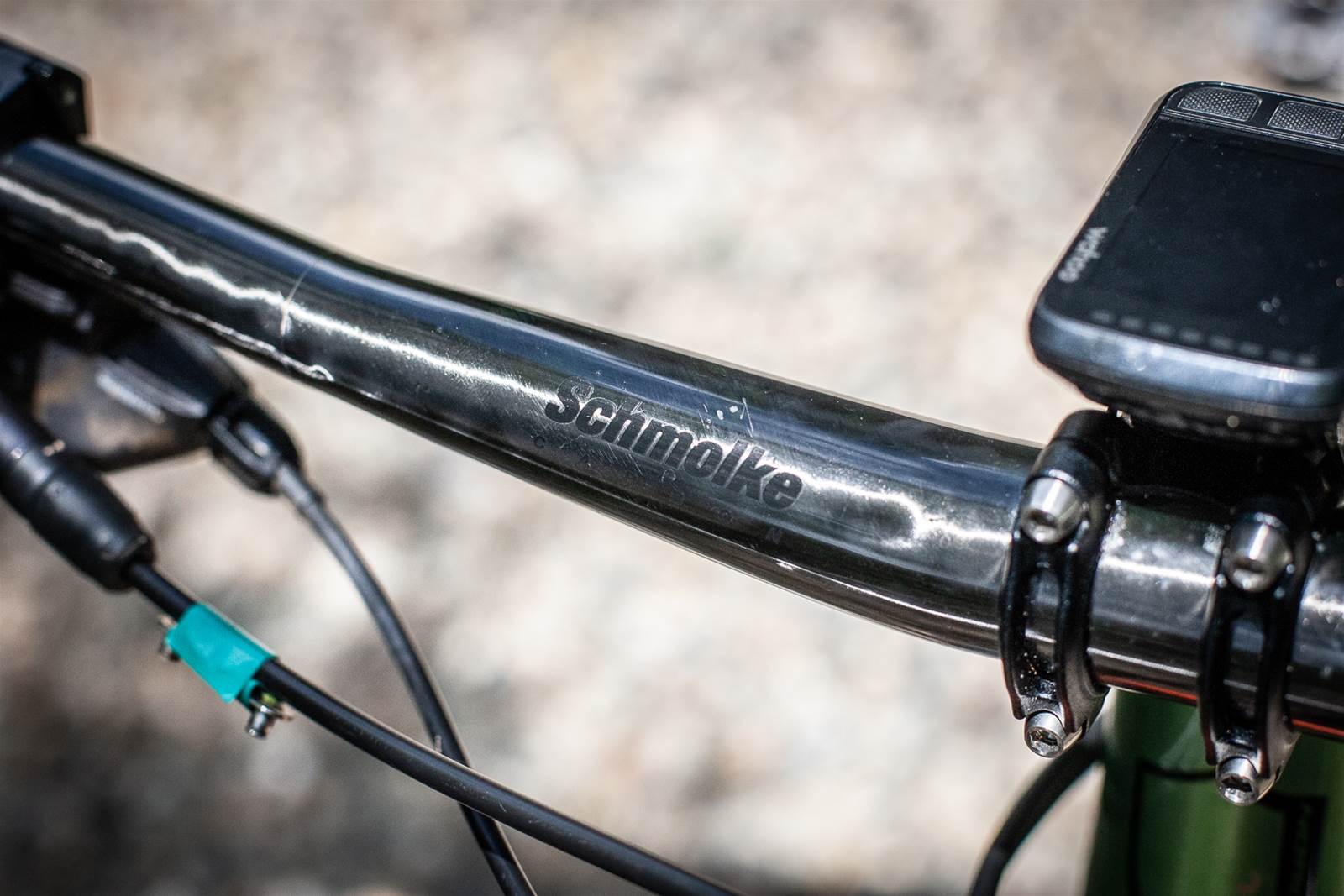 Fast forward a couple of months, and nothing has budged. This set of bars is noticeably stiffer than the pair I removed, which isn't surprising. I am pleasantly surprised how little the bars have beaten me up for the extra stiffness. There sure is something to be said for using a 31.8mm clamp.
Admittedly, I have got these bars on an aggressive XC bike, and given their weight and fit I'd encourage anyone from an XC to Enduro rider to look at them. I've often found the change to riser bars has impacted my preferred sweep too much, as what feels right on a flat bar feels like too much on a riser with a lot of upsweep as well. I really like the ergonomics with 6 degree back sweep with upsweep determined by bar roll. 
Schmolke do extensive testing and work with top athletes to do so, and given their computer designed products use precise custom layering of materials for specific bar designs, they really stand behind how thorough they are. Schmolke offer free replacement if their bars fail due to a fault in the material or manufacturing for upto three years from the date of purchase. If you don't like carbon bars this won't get you over the line. But if you really like nice things, this is a great warranty.
Verdict
These are a premium set of handlebars and it's unlikely they will be for everyone. However, they are one of the most comfortable handlebars I have used while also being direct based on a couple of months use. It is worthwhile thinking of exactly what size you need, and ordering to reflect that so you can get the set of bars that are exactly what you want. I'd always heard great things about Schmolke parts – and now I get it. They really are very impressive. As is often quoted: light, strong, cheap – pick two.
RRP: $499
From: bspokevelo.com.au
Hits:
Very comfortable shape

Light and strong

Lots of sizing options

Great warranty
Misses:
Australian Mountain Bike