Pick one - versatile, playful or durable. What about all three in one? The Santa Cruz 5010 CC looks to tick all these boxes!
Words: Adam Macbeth                                                                                  Images: Digby Shaw
Even before the rise of Danny MacAskill and his ability to make it look like the most fun bike ever, the Santa Cruz 5010 had a reputation for playfulness, versatility and durability. However, in an industry increasingly focussed on bikes with 140mm travel or more, the 130mm 5010 has the ability to get lost in the mix and overlooked as not being capable enough for hard trail riding. With a week of the steep, rough trails of Nelson, New Zealand ahead of me, I was excited to see what the little brother in Santa Cruz's 27.5 range was capable of.
As I was riding the personal bike of seasoned Enduro professional Jamie Nicholl, with a wildly non-standard (but totally awesome) spec, this review will focus on frame related ride quality traits, which is what you can build up if you source a frame kit.
First Look
Having only received minimal updates since 2014, 2018 saw some noticeable updates that on paper see the 5010 move to the pointy end of the modern trail bike geometry yard stick. Retaining the ability to adjust geometry via a flip chip in the lower shock mount, the high position sees the seat angle steepened to 75.2 degrees with a slacker 66.5 head angle and a 15mm longer reach across all frame sizes. Flipping to the lower setting removes just .3 of a degree and both these options speak immediately of all round capability.
Build quality, as one has come to expect from Santa Cruz, is top notch and the move to fully internally routed cable gives the new 5010 a much cleaner look than its predecessor. The most noticeable change is the complete removal of allowances for a front derailleur, and the changes to the swingarm that have been made possible as a result. The swingarm now features bracing from the bottom bracket area to the shock link on both sides. This not only looks much nicer than the previous generations of this bike, but ought to be a lot stiffer and track better through rough terrain and limit stresses on suspension hardware as a result.

Santa Cruz have stuck to their guns across the bulk of their range with traditional, threaded bottom brackets. While pressfit frame systems are no doubt cheaper to manufacture, the threaded system still allows for easier home serviceability and durability in adverse conditions. Something that Santa Cruz have held as a core value for many years. The 5010 is among the first generation of Santa Cruz to move toward drop-in style headsets. As with threaded bottom brackets, this allows for much easier serviceability, removing the need for pressing and removal tools to work on your own bike.
When purchased as a frame only, or in the full-gas XX1 Eagle spec, the 5010cc comes with the Fox DPX2 Factory air shock. If you're an avid follower of Enduro World Series you'll no doubt have seen 5010 owners competing with coil shocks fitted to their bikes. While Santa Cruz say this is totally fine, they do believe that the tuneability and progression of air shocks are a much better match for the 5010.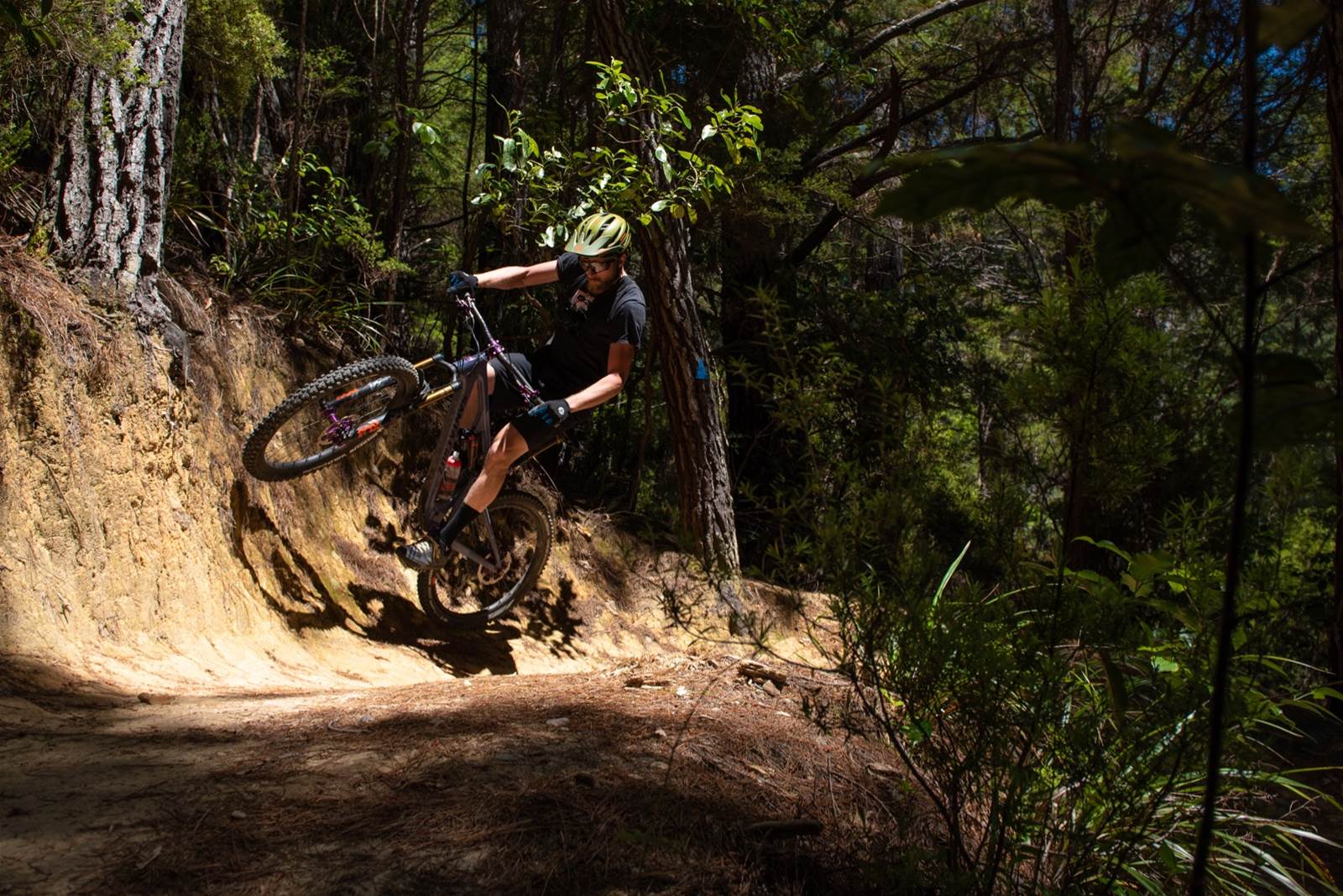 With all those details and their associated assumption in mind, I was eager to hit the trails. Nelson is renowned for the steep, rooty nature of its trails and I was curious to see how the 5010 would stack up.
Australian Mountain Bike