Here's a no expense spared eMTB that aims to ride like any other trail bike, the Pivot Shuttle!
Words: Ryan Walsch                                                                              Photos: Nick Waygood
The Shuttle is Pivot's answer to a rapidly expanding eMTB market, with a focus on ride quality made possible with the use of all the best materials and components. Pivot full-suspension bikes are best known for their DW (Dave Weagle) link and pedalling prowess. And this pedal-assist enduro/trail bike shares more characteristics with the Pivot Mach 5.5 than what you would expect based on other eMTBs on the market.
Pivot is only offering one Shuttle model and yes it is decked out with all the best gear, this is one bad ass package – there's not really any need to upgrade anything! Pivot claims to have built one of the lightest and most refined Class 1 eMTBs available, with analogue bike-like geometry and handling with the added benefits of Shimano's STEPS pedal-assist system.
There are very few eMTBs that can boast geometry that sits so close to a regular trail or enduro bike. The YT Decoy we reviewed last issue is a longer travel, harder hitting concept but like the Shuttle rides like a bike. The Rocky Mountain Powerplay and Specialized Turbo Levo have their own unique features but follow a similar mantra. The Pivot is about the ride and letting you ride more trails – it just happens to have a pedal-assist unit in it.
Initial Impressions
The Pivot Shuttle even at a glance is unmistakeably a Pivot, sharing similar lines and the distinctive DW linkage with that of a Mach 5.5. By utilising Shimano's STEPS E8000 drive unit and some clever tweaking to the DW linkage and kinematics Pivot have been able to achieve a 437mm chain stay length and retain actual bike like geometry rather than that of a tug boat. Strangely Pivot have opted to use Shimano's external battery, internally due to its smaller overall size than Shimano's internal cell which is overall much larger. Maybe it's not a strange choice overall?

The full Shimano STEPS E8000 ensemble paired with XT Di2 is a welcomed hit. The Shimano system delivers crisp shifts, seamless integration, ergonomic shifters and a neat display. This means decisions can be made easily and without hesitation and fumbling. The E8000 shifters are so much easier than the E7000 shifters to use whilst riding, especially when the going gets rough. The shifters control both shifts and toggling through the 3 assistance modes with an additional walk feature with full integration with the Di2 power drawing from the STEPS battery itself. Production Shuttle models will come with Shimano's 504Wh batteries (we had a 418Wh on test).
While Pivot have opted for an alloy wheel set for the Shuttle, the DT Swiss EB 1550 is a premium offering with a 40mm internal width welded rim, durable steel freehub body and bearings to match. As we have seen on other eMTBs, wheels can take a beating and DT Swiss have built this wheel set specifically for the demands of an eMTB. Thanks Swissies! Maxxis Minion DHF 2.8" EXO+ casing tyres give the ride huge amounts of grip and control and have become a staple in the eMTB realm.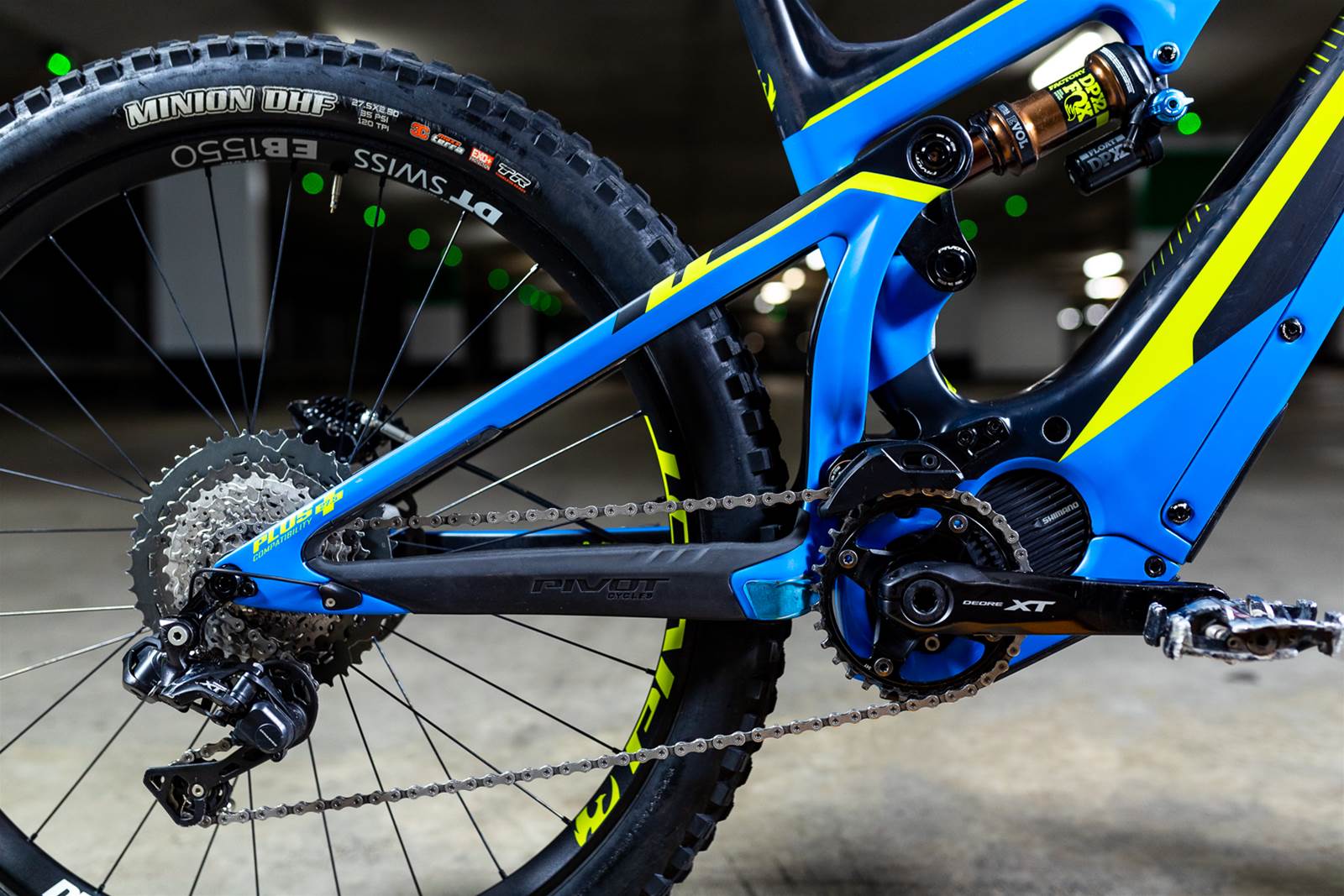 Pivot have chosen Shimano's XT four piston brakes combined with 203mm and 180mm rotors to keep things in control, no doubt these will be used both down and up and are a welcoming sight. The cockpit is a combination of Pivot's own 760mm carbon bar, 45mm alloy stem and very squishy Pheonix grips with a super comfortable WTB saddle perched atop a Fox Transfer dropper rounding out the command centre.

Large sealed bearings and quality hardware give you the feeling that the Shuttle is overbuilt and will have no issues self shuttling your favourite trails day in and day out. With all the hard hitting components, the boutique class one eMTB's carbon frame keeps the entire package down to a very scant 21kgs – which is the lightest eMTB we have tested here at AMB.
 
The low weight is cool, but we wonder if a longer and narrower battery could have been produced to give a sleeker appearance, room for a bottle and the possibility of battery expansion for epic rides or at a weight penalty some tyres with a bit more protection than EXO+ casing.
On The Trail
The Pivot Shuttle I had on test was a size large and with a modern 465mm reach, and it kept me feeling well centred on the bike and able to position myself where needed on the trail. The short 437mm rear end, longer reach and 65.8 degree head angle does make it feel just like many of the trail bikes we have embraced in recent years albeit with the addition of more weight. It is obvious that when fired up climbing is what the Shuttle does best, taking fireroads in its stride and making singletrack climbs fun.
When climbing on our home trails at Stromlo Forest Park where grip is low and the climbs gradual and winding I found the trail mode far more appropriate than boost. Thanks to the short back end and so much torque on tap, the Pivot Shuttle wants to unweight and lift the front wheel pushing it straight and running wider than the trail could allow. After stopping, sliding the saddle forward by 15mm it corrected this issue nicely and had enough weight over the front to rail turns without issue. Pivots always pedal well while seated and during out of saddle efforts and the DW link equipped Shuttle with its 74.25 degree seat angle is no different, with minimal bogging down into its travel under load felt. However there is some flex in the rear of the bike which can be felt when driving hard through banked climbing turns.
The Pivot Shuttle's bike like geometry and characteristics come into their own when changing directions, especially on technical climbs. Most eMTBs have chainstays that are 20mm – 50mm longer than the Pivot and it's noticeable. As class 1 eMTBs require the pedals to be turning for the system to work, this agile bike makes getting around technical sections much easier thus keeping the motor "on the boil" and the assistance constant. Braking lightly into uphill corners and dragging the rear to control speed mid corner really helps in finding this point where you have assistance and control.
Sharing ride characteristics with the Mach 5.5 is first and foremost why the Shuttle rides so well, Pivot have actually managed to keep it balanced enough to leave you feeling a part of the ride and not just a passenger. Finding those hard to get to, technical climbs and descents has never been this much fun and as you will be riding them more often skills are going to develop fast!
With the motor and battery as low as possible and possibly the shortest chain stay of any eMTB the Shuttle manuals and negotiates technical descents with ease, finding grip everywhere with the huge footprint, carbon frame and quality suspension. Even when passing that limited 25kmh assistance mark the Shuttle performs exceptionally well, albeit it a tad heavier than "a bike" and less of a handful at lofting jumps and hitting turns than you would imagine. 
Pivot have built an extremely well balanced bike with a motor rather than a cumbersome and lumbering eMTB that's awkward to manoeuvre through technical singletrack. The Shuttle remains pleasant to ride with minimal to no assistance and is exactly what was set out to achieve, an enduro/trail bike that rides further and harder.
 
My time on the Pivot Shuttle has been relatively uneventful, no bolts came loose, no creaking developed while riding - nothing. I did experience quite a few flat tyres and for a change, more front than rear. As eMTBs are heavier and harder to stop, when braking hard and negotiating rough sections a tyre with more casing rigidity would be welcomed both front and rear. With a couple of tyre plugs and 100ml of Orange Seal sealant in each tyre and I could always ensure the tyres were air tight again. But having a tyre like the Eddy Current's tested in this issue is not a must have but if your local trails are rocky, an upgrade that may be on the cards.

Early on I did note that there was some flex under load in the rear of the bike and while it is not overly noticeable when riding on the trail, it is noticeable when landing down on the flat and giving it the beans. Everything was torqued down correctly, there was nothing loose just lots of torque in a lightweight trail bike chassis. The Pivot Shuttle is the lightest eMTB we have tested, and that will mean a lot for some riders. But I think some extra layers of carbon for a little more chassis stiffness would suit the ride I like from a long travel eMTB.
Our Take
The Pivot Shuttle is at the forefront of current eMTB technology and is an exceptional trail bike in its own right. Riders looking for a refined eMTB with handling like their trail bike, ready to take on both technical and flowing singletrack then this could be the eMTB for you. The Pivot Shuttle is stretched when the going gets too rowdy on bike park style terrain. If this will make up a large part of your self-shuttling action then a beefier option may be more appropriate.
With a retail price of $14,999 and only one model currently available, we would love to see this platform expand and pave the way for more great handling eMTBs from Pivot.
 

Brand: Pivot
Model: Shuttle
RRP: $14,999
Weight: 21kg
Website: pivotcycles.com
Available Sizes:  S-XL
 
Frame Material: Carbon mainframe and swingarms
Fork: Fox Factory 36, 150mm Boost
Shock: Fox Factory DPX2
Shifter: Shimano E8000 11sp
Derailleur: Shimano XT Di2  11sp
Crank set: Shimano XT M8050 170mm
Drive Unit: Shimano STePS E8000 250w
Chain: Shimano XT 11sp
Cassette: Shimano XT 11sp 11-46
Wheel set: DT Swiss EB1550 27.5"
Tyres: Maxxis Minion DHF 2.8" EXO+
Brakes: Shimano XT M8020 4 piston
Stem: Pivot 45mm Alloy
Handlebars: Pivot 760mm Carbon
Seatpost: Fox Transfer Performance Elite 150mm
Saddle: WTB Pivot
Australian Mountain Bike