Here's a no expense spared eMTB that aims to ride like any other trail bike, the Pivot Shuttle!
Words: Ryan Walsch                                                                              Photos: Nick Waygood
The Shuttle is Pivot's answer to a rapidly expanding eMTB market, with a focus on ride quality made possible with the use of all the best materials and components. Pivot full-suspension bikes are best known for their DW (Dave Weagle) link and pedalling prowess. And this pedal-assist enduro/trail bike shares more characteristics with the Pivot Mach 5.5 than what you would expect based on other eMTBs on the market.
Pivot is only offering one Shuttle model and yes it is decked out with all the best gear, this is one bad ass package – there's not really any need to upgrade anything! Pivot claims to have built one of the lightest and most refined Class 1 eMTBs available, with analogue bike-like geometry and handling with the added benefits of Shimano's STEPS pedal-assist system.
There are very few eMTBs that can boast geometry that sits so close to a regular trail or enduro bike. The YT Decoy we reviewed last issue is a longer travel, harder hitting concept but like the Shuttle rides like a bike. The Rocky Mountain Powerplay and Specialized Turbo Levo have their own unique features but follow a similar mantra. The Pivot is about the ride and letting you ride more trails – it just happens to have a pedal-assist unit in it.
Initial Impressions
The Pivot Shuttle even at a glance is unmistakeably a Pivot, sharing similar lines and the distinctive DW linkage with that of a Mach 5.5. By utilising Shimano's STEPS E8000 drive unit and some clever tweaking to the DW linkage and kinematics Pivot have been able to achieve a 437mm chain stay length and retain actual bike like geometry rather than that of a tug boat. Strangely Pivot have opted to use Shimano's external battery, internally due to its smaller overall size than Shimano's internal cell which is overall much larger. Maybe it's not a strange choice overall?

The full Shimano STEPS E8000 ensemble paired with XT Di2 is a welcomed hit. The Shimano system delivers crisp shifts, seamless integration, ergonomic shifters and a neat display. This means decisions can be made easily and without hesitation and fumbling. The E8000 shifters are so much easier than the E7000 shifters to use whilst riding, especially when the going gets rough. The shifters control both shifts and toggling through the 3 assistance modes with an additional walk feature with full integration with the Di2 power drawing from the STEPS battery itself. Production Shuttle models will come with Shimano's 504Wh batteries (we had a 418Wh on test).
While Pivot have opted for an alloy wheel set for the Shuttle, the DT Swiss EB 1550 is a premium offering with a 40mm internal width welded rim, durable steel freehub body and bearings to match. As we have seen on other eMTBs, wheels can take a beating and DT Swiss have built this wheel set specifically for the demands of an eMTB. Thanks Swissies! Maxxis Minion DHF 2.8" EXO+ casing tyres give the ride huge amounts of grip and control and have become a staple in the eMTB realm.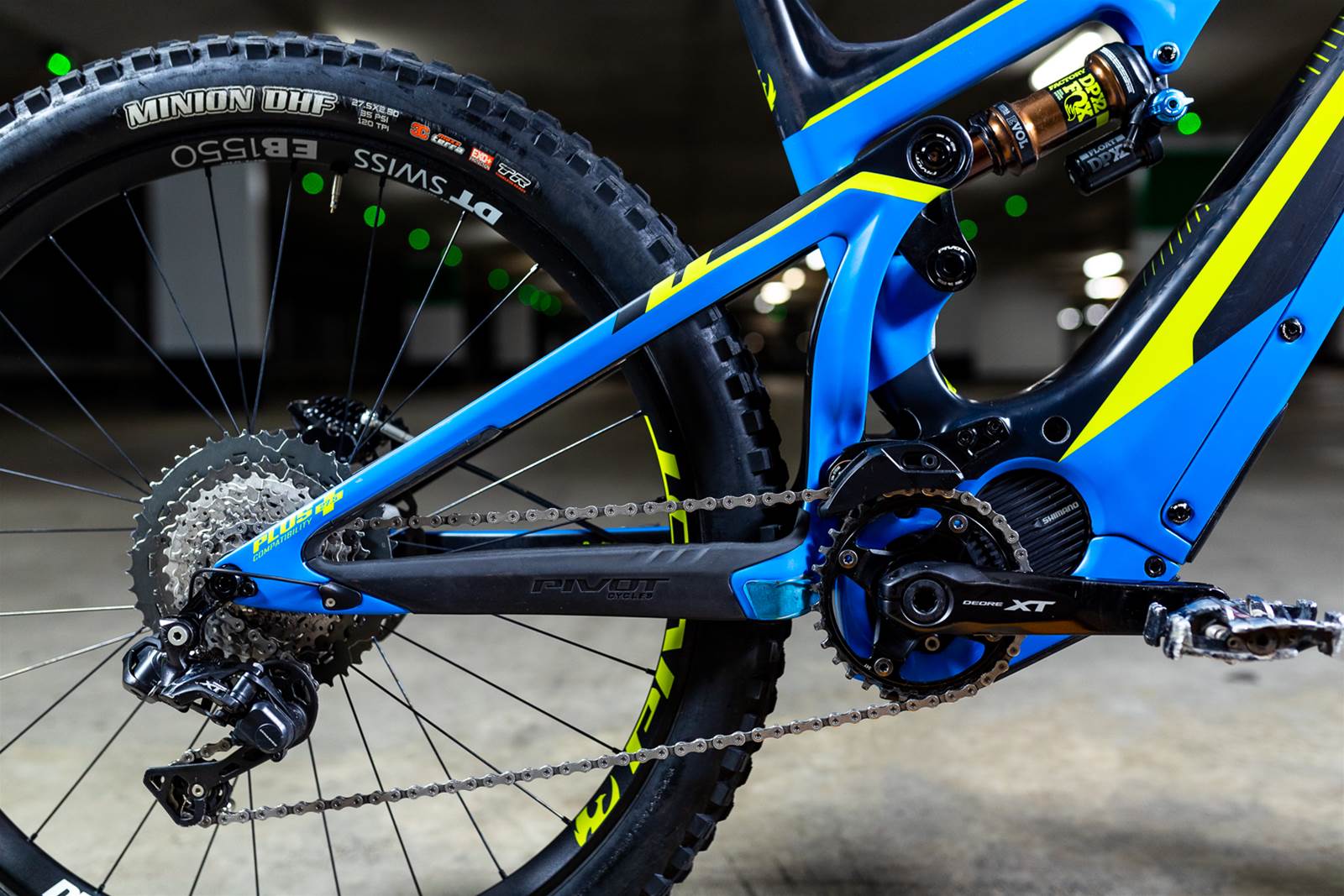 Pivot have chosen Shimano's XT four piston brakes combined with 203mm and 180mm rotors to keep things in control, no doubt these will be used both down and up and are a welcoming sight. The cockpit is a combination of Pivot's own 760mm carbon bar, 45mm alloy stem and very squishy Pheonix grips with a super comfortable WTB saddle perched atop a Fox Transfer dropper rounding out the command centre.

Large sealed bearings and quality hardware give you the feeling that the Shuttle is overbuilt and will have no issues self shuttling your favourite trails day in and day out. With all the hard hitting components, the boutique class one eMTB's carbon frame keeps the entire package down to a very scant 21kgs – which is the lightest eMTB we have tested here at AMB.
 
The low weight is cool, but we wonder if a longer and narrower battery could have been produced to give a sleeker appearance, room for a bottle and the possibility of battery expansion for epic rides or at a weight penalty some tyres with a bit more protection than EXO+ casing.
Australian Mountain Bike