The Oakley Sutro is now available in a smaller frame size for smaller faces - and there's a new lens that's great for mountain biking.
Oakley's Sutro has become a popular choice with cyclists the world over in recent times, with mountain bikers in particular taking a shine to the wide coverage and protection offered by the contemporary styling of this model. Mountain bikers, after all, might not want to opt for the 'sporty' look of some of the traditional roadie eyewear out there, looking instead for big, bold, full coverage sunnies with some classic styling to match – and Sutro delivers.
---
We've reviewed a number of other cycling specific eyewear - check it out!
Oakley Radar EV
Oakley Racing Jacket
Adidas Eyewear Zonyk Pro
Shimano Technium
---
This is great, but what's better is that the Sutro now comes in a smaller size for those of us with smaller faces, promising a secure fit and adequate wraparound for all.
Look and fit
These glasses are incredibly lightweight for their size, made of Oakley's O-Matter (a Nylon-infused plastic), which is designed for strength and flexibility (tolerating some light squishing in your backpack once in a while, or an accidental drop in the car park). The arms are simple and straight, gradually curving inwards. There are no rubber grippers – instead, the arms sit above your ears and comfortably grip the sides of your head.
The nose gripper is made of Unobtanium – a rubber-type substance that's supposed to get grippier as you sweat. I still noticed a little bit of sliding down the bridge of my (admittedly tiny) nose in sweaty weather, but the glasses certainly never moved far. Styled a little like goggles, Sutro offers a complete wraparound lens that provides a wide field of coverage, including in peripheral zones.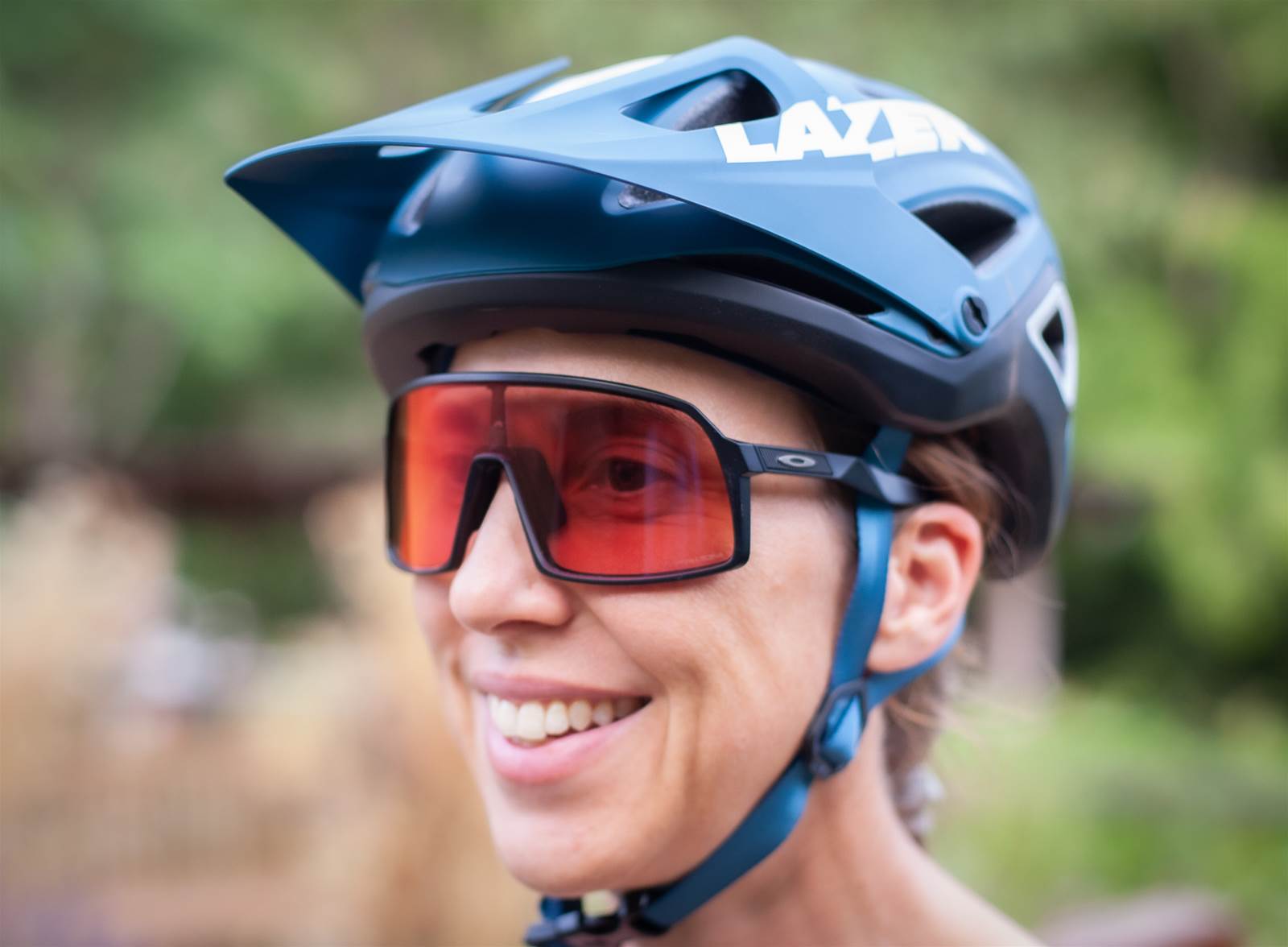 Oakley's new Prizm Trail Torch lens
The Sutro S is available in at least six different lenses but we tested Oakley's number one, new release trail lens: the Prizm Trail Torch, engineered for a wide range of trail environments, including sun-exposed desert trails, decomposed granite, red rock, alpine forest and more.
The Prizm Trail Torch lens provides 35 per cent light transmission with a rose-tint that increases colour definition and contrast – the resulting view gives the rider more information from the trail. The lens remained crystal clear and scratch free through the testing period, and polished up to perfect clarity with a once over with the supplied sunglasses bag every now and again.
Fogging was never a problem, and when the glasses were splashed with various cocktails of mud, suncream, sweat, or rain on the go, a quick wipe with the back of the glove brought them back to full clarity without creating smeary patches in the field of vision. Oakley lenses go through high impact, high velocity safety testing, so these lenses also offer peace of mind.
Performance
The Sutro S, paired with the Prizm Trail Torch lens exceeded all our expectations of mountain bike trail eyewear performance, with the styling to match. The sunnies are comfortable, durable, and look rad, with excellent coverage. The Prizm Trail Torch lens performed brilliantly through a variety of light conditions allowing us to pick out rocks and other obstacles, discern wet from dry features, and move between differing light levels, from closed canopy to full-sun without a single falter.
RRP: $216
From: Oakley
Hits:
Prizm Trail Torch lenses pick out every piece of trail detail
Excellent coverage
Lightweight and durable
Misses
Might hurt the budget - but what does vision cost?
Australian Mountain Bike