Oakley's entry to the mountain bike helmet game is really dialled.
Oakley are eponymous with high-quality sports and fashion eyewear. But through their history Oakley have done far more than just produce sunglasses and ski goggles. They've made shoes, backpacks, watches and more. They have even made some pretty cool mountain bike clothing in the past, including shoes and the carbon knuckled Factory Pilot gloves, which you might still see some people sporting today.
Oakley have continued to diversify, and while some of their products can seem a bit kooky compared to their eyewear which is usually just so damn good, their new DRT5 MIPS helmet has come out with modern trail styling, looking like it will fit right into what's expected for style trends and safety.
A closer look
The Oakley DRT5 helmet comes in 3 sizes, and I was sent a medium to test. Stated to fit a 54-58cm head, it felt appropriately snug on my melon. It also feels a little weighty, and at 435g that's not surprising. Your hand easily falls to the BOA retention system at the back. I did find the cradle sat a little too high, but this can be moved lower by pulling out where it plugs in, and pushing it back into place on a lower setting.
The helmet sits noticeably low on my head, and I think that's a really good thing. It isn't a huge amount lower than other trail helmets, but it sits right down to the lower half of my forehead, with no interest in slipping back. 
The straps are finely woven and quite soft, and they wick sweat away nicely. They meet at a Y-junction that allows easy adjustment so the helmet sits correctly on your head, and there's not too much excess strap under the chin. There's only just enough, and the excess is held in place nicely so it doesn't flap around at speed.
Thie test helmet has a matte and gloss army green, with some subtle camo on the underside of the shell where it covers around the EPS foam to the inside face of the helmet. Taking the microshell that bit further is common on high end helmets, and it really helps them stand up to incidental damage from being attached to a backpack, hung on your bars and chucked in your car.
The visor on the Oakley DRT5 is adjustable, with 6 positions. They go from flat all the way to a completely surprised eyebrow height, with room to fit just about a whole set of goggles up there under the visor. The visor hardware is alloy, which is a nice touch, if you need to tighten it up or loosen it. The whole helmet feels solidly made, and that includes the visor, which is really robust.
The back of the helmet isn't pancake flat, but a goggle strap does sit across it neatly. if you use sunglasses, the arms work best under the straps, as the straps can push on the arms when your eyewear is worn over the top.
With 13 vents, the airflow doesn't seem like it will be generous, but there is channeling under the MIPS liner that keeps the air moving over the top of your head acceptably. This is less effective at low speeds, and even on a 25 degree day it was a little warm on a slow climb.
What I really did hate when getting sweaty was the ribbed pad along the forehead. It makes the DRT5 stay in place like glue, and those ribs that run horizontally will channel water away and stop it dropping into your eyes. Or, it will hold in there and move left and right across your forehead, making it feel like you have a spirit level glued on to the front of your head.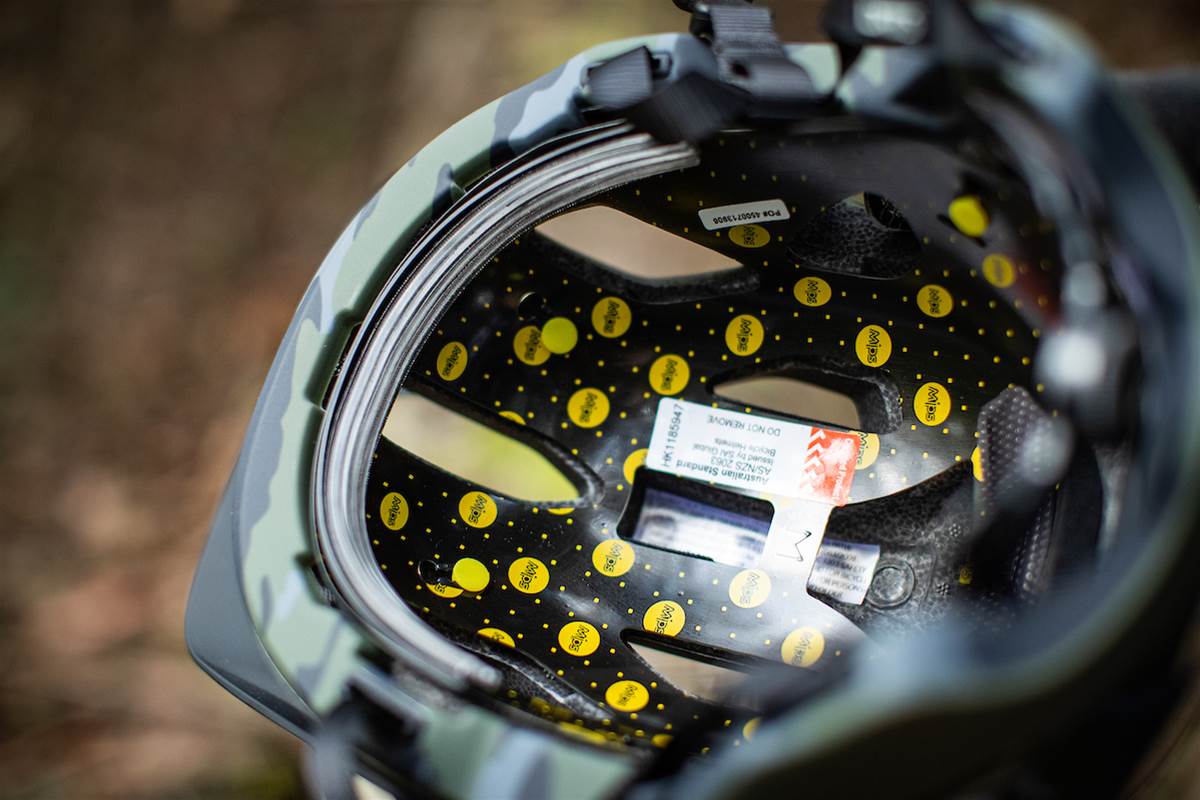 I did love how that strip helped with the fit and security, but I ended up swapping it out for the included X-Static strap. On the whole there isn't much padding on the inside of the helmet, so I suspect if you had a funny head shape you might notice it. As it was, I still found it a really comfortable helmet.
While I really liked how low the helmet sat, it did tap the top of the Oakley Flight Jackets I was wearing on rough terrain. A good friend once said to always take your helmet when you go shopping for sunglasses, and vice versa. That was 15 years ago but really, the same thing applies.
Oakley do have a snazzy 'Landing Zone' feature on the DRT5. It comprises of two clips on two of the back vents to stow your eyewear. My test helmet wasn't supplied with them, and I assume they may not be a part of the Australian standards testing - but I just put my glasses on the back of my head when I needed to, as I would with any other helmet.
Selling for $264.95, the Oakley DRT5 MIPS Trail helmet sits about in the middle of the market. You can pay more, and you can pay less. While it's a little heavier than some helmets, it sits low and secure on my head, and there's a lot to be said for feeling safe when you put your safety equipment on. While it's not peppered with vents like some trail helmets, I was impressed with how the DRT5 did maintain airflow, although this was best at higher speeds.
If you're an Oakley fan, you will probably love this helmet. It is well made and has smart features. If you're after the most high performance trail helmet out there, youm might also like this trail helmet, but I think for a lot of Australian riders you might be better off with something a little more ventilated. That aside, this is a well-featured and very secure-fitting and dare I say it, comfortable helmet. It's well worth visiting a dealer to try on one if you're in the market for a new trail lid.
RRP: $264.95
From: oakley.com
Australian Mountain Bike