The humble hardtail get's an electric push. We check out Merida's Big Nine E-lite 650 ebike
Words: Imogen Smith    Photos: Mike Blewitt
Merida, as I've covered before (back in issue 142), are proudly Asian – from Taiwan, and the three 'Me-Ri-Da' syllables roughly translate to "the company's intention to manufacture only beautiful, high-quality products enabling anyone to reach their destination as enjoyably as possible". Adding an electric motor to any bike does help one reach one's destination enjoyably, as I quickly found on my first ride. That aside, Merida have done a great job with entry-level componentry and materials to create a friendly and versatile ride.
Coming in at $4,449, the Big.Nine E-Lite sits at the top of Merida's e-bike hardtail range which, admittedly, otherwise includes a selection of sport and commuting bikes. Many bike brands are launching extensive e-mountain bike ranges for 2017, however, and it's likely that in the grander scheme of things the Big.Nine E-Lite will actually sit towards the entry-level end of all the e-mountain bikes you have to choose from, some of which will feature carbon frames, concealed batteries, dual suspension, plus wheel sizes, and even Di2 integration. 
But electric bling comes at a cost. While the E-Lite has some worthy tech features, the fact remains that its simple alloy hardtail frame and modest componentry would, were the e-bits excluded – add up to a $1,500 or so, entry-level mountain bike: most of the cost of this bike is bound up in its battery and motor, so it's interesting to see that the manufacturers haven't skimped here at all. Bosch are one of the leading manufacturers of e-bike componentry at the moment, with a great reputation for quality and reliability. The Bosch Performance CX motor was launched this year to great fanfare and was designed specifically for mountain biking – with a compact shape designed for better bottom bracket clearance and to allow for shorter chainstays, its main drawcard is a high torque of 75Nm, better for sudden changes in gradient, starting off on a climb, and those difficult techy step-ups. It's well-paired with the 500Wh Bosch PowerPack Lithium Ion battery, which boasts a pretty long range (230km max) at a very reasonable 2.6kg. (Hint: Wh, or Watt Hours, is a good way to compare battery performance and range. 500 is quite a high figure.) The battery and motor you'll find here are similar to – if not the same as –those specced on the top e-MTBs on the market.
Aesthetics of the E-Lite
I mentioned earlier that some bike brands designing products at the higher end of the e-MTB range have integrated batteries into their frames. This is because, suffice to say, e-bike batteries are particularly ugly and take up a lot of frame real estate, especially because they tend to be positioned on the down tube where your bidon cage would normally fasten, as is the case with the E-Lite. Otherwise, the E-Lite is really a quite attractive, shapely frame in streamlined alloy with a matte charcoal finish, and you can mount a bidon cage to the seat tube, as we did for testing. Where higher-end mountain bikes these days generally include internal cable routing as standard, the Merida's cables all run below the top tube – a minor detail that makes servicing quicker and easier, even if it isn't as pretty as internal routing.
Setup of the E-Lite
Setting up an e-bike is easier than you might think. The battery arrived fully charged, so I just powered up the little monitor that mounts to the stem, selected the setting I wanted, and was away. The E-Lite has five power settings, all pretty self-explanatory: eco, tour, sport, turbo, and off, and they're easy to switch on the fly using up or down buttons mounted to the left handlebar. The display toggles between the setting and projected range in that setting, odometer, trip distance, speed, and so on. The display is not compatible with any kind of heartrate monitor devices, and doesn't have anything close to the functionality of a GPS unit, so best mount that on your handlebars or stick it in your pocket if you like to record your data. Apart from getting used to the e-bike settings, I swapped out the rather long and very upright stock stem for a negative rise, 90mm version for a better fit, and also to improve handling. Then all that remained was setting up the fork by adjusting the air pressure, and setting tyre pressure.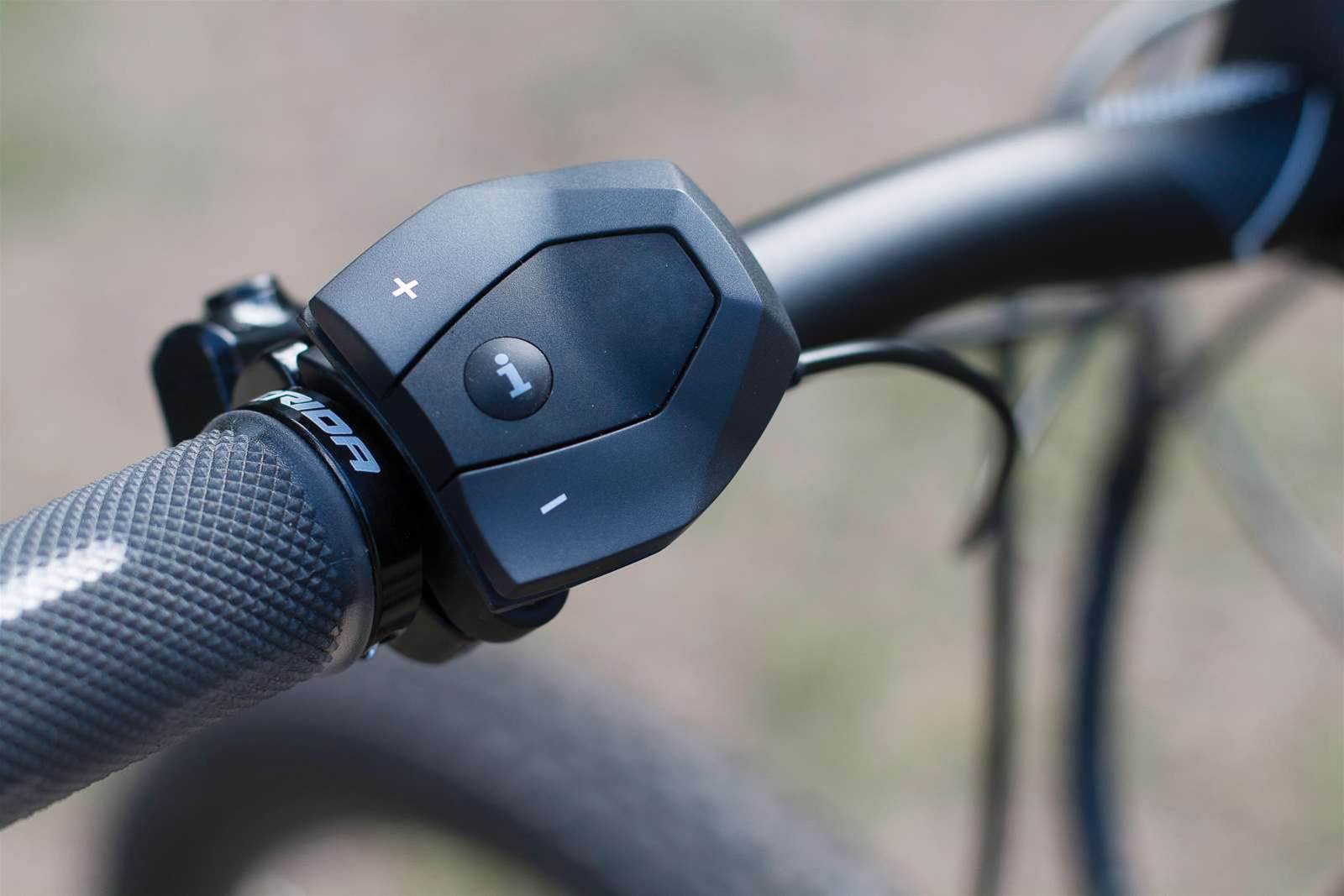 On the trail
When I first saw the E-Lite, complete with its rather upright stem, I saw it as something of a hybrid mtb-commuting machine (it does have a kick-stand mount). It's true that the presence of a motor makes this a really attractive option for a quick run to the shops (without having to look for a car park) or a perspiration-free commute to work. So, when I got it off road I made sure I gave it a proper thrashing, taking it down and up some very rocky, steep, and technical descents to see how things panned out.
Having not ridden an alloy hardtail with an entry-level build since I tested the Merida Juliet in Issue 142 (2014), I was really pleasantly surprised with the E-Lite's performance. Where frame geometry is concerned, Merida have opted not to reinvent the wheel, with a 70 degree head angle that felt just about right, but relatively long chainstays of 470mm, no doubt built around accommodating the motor, making tight cornering quite sluggish. The Suntour Raidon fork did what I needed it to (it has alloy legs, steerer, and an air spring, keeping weight relatively low and offering some finer adjustment). If it was a little jolty and sticky on the roughest descending, for general trail riding it was perfectly adequate and actually more responsive than I'd expected. The remote lockout worked just fine, but I very rarely used it off road: whenever you're climbing on an e-bike you're relying pretty heavily on the motor's assistance so tend to stay in the saddle and pedal. As soon as you get out of the saddle with e-assist on you create torque that activates the motor, and too much can generate really sudden acceleration – staying seated makes for a smoother ride, at least until you're in the e-swing of things.
Just as they've chosen a high-quality, branded motor and battery, Merida have opted for quality Shimano parts where ride quality has the most to lose. I was particularly impressed with the Shimano M615 hydraulic brakes, which performed flawlessly throughout testing, with nearly as much modulation (although not power) as the XTR brakes I have on my race bike. 180mm rotors proved useful in countering the extra momentum that a 20kg bike produced. The choice of Shimano Deore shifters, Shimano cassette, and XT rear derailleur were equally interesting – particularly because these are the parts prospective buyers are most likely to look at – rather than the quality of bearings, alloys, and other invisible moving parts.
The wheels are simple, Merida rims built up with 32 stainless spokes and Shimano hubs. While stiff and strong enough (and teamed well with a thru axle up frontfront), these wheels are nothing to write home about – sure, they're strong, but they're also quite heavy and are not tubeless ready. Maxxis Crossmark 2.1 tyres were superceded long ago by others in the Maxxis range like the Ikon and have perhaps made a reappearance here because their narrow profile suits a tubed, higher pressure setup.

Apart from aesthetics, another reason that e-frame designers are lying awake at 2am is that the considerable weight of an e-battery and e-motor affect a bike's handling, particularly in tight, steep singletrack. I was expecting an epic wrestle for supremacy on the trail and was pleasantly surprised: For a casual trail ride, it's unlikely that battery and motor placement will noticeably affect the vast majority of riders. Those looking to join Europe'e e-bike enduro racing craze, on the other hand, will find these things to be immensely important – and improvements, however incremental, are always welcome.
The Merida Big.Nine E-Lite weighed a shade under 20kgs – that's a lot of bike to pedal through singletrack and while cruising on flat ground, but especially uphill. Testing the E-Lite I learned very quickly that, in part, the motor simply negates the effect of its own weight – and you can certainly still get your heartrate up cruising along on the flat in the lowest, 'Eco' setting. While the 10-speed cassette is a relatively standard 11–36 spread of gears, the front chainring is a tiny 15-tooth – smaller than the smallest chainring on the old 26" triples used to be! This is because the gearing integrated into the motor actually doubles the chainring size – so that 15-tooth equals a 30-tooth on an ordinary mountain bike. The motor cuts out at 25km/h, so on the flat I found myself pedalling gently in a pretty easy gear to activate the motor, even up to those speeds. There's barely any point putting in the effort once you reach the cut-out speed – the fun quickly drains away once the motor stops – gentle, steady pedalling is key to e-bike happiness, and the E-Lite's gearing reflects this.
Technical off-road climbing is where the E-Lite really shows its colours. By ramping up the assistance to 'Tour', I was able to easily clean just about any obstacle and barely break a sweat – although the other physical demands of timing, body positioning, and balance do not change, and are even accentuated by the extra bike weight. Many people worry about the effect that e-bikes will have on trails because the huge amount of torque they can produce means uphill skidding is more likely. It's true I skidded once or twice approaching or in a big ramp, but I learned to avoid this as I got used to the motor cutting in – skidding uphill is an awful sensation, and I doubt it will be more of a problem than skidding downhill, which anybody can do on any bike.
Our take
The E-Lite's spec suggests it'd be perfect for someone looking to get outside and explore mountain bike trails a couple of times a week. For the price tag of $4,449, however, that someone could also be in the market for one of Merida's 120mm pedal-powered trail bikes, equipped with Fox suspension, a SRAM 1x11 drivetrain, a stealth dropper, and a good quality wheelset. On reflection, I think the key to this bike is its versatility, and the person who buys the E-Lite will probably already have a nice trail bike in the garage. The Merida E-Lite represents one of those N+1 options – the bike you buy when you want another bike. While we're in the business of testing off-road bikes here, I think it's obvious to us all that the E-Lite could earn its keep as a commuter or general runaround. It'd be great to take with you on holidays (caveat: we struggled to lift it onto our roof racks and it ended up in the boot). It can make an afternoon roll an assuredly pleasant experience – with no worries about how you're going to get up and over a hated climb or how tired you're going to be tomorrow. Then there's always the fact that, for someone lacking a bit of fitness to keep up with a fitter riding buddy or group, a motor is the perfect get-out-of-jail-free card. 
By far the best description of the e-bike riding experience I've heard is that it's like watching TV with all the ads on fast forward. It makes cresting hills a breeze and if you like riding downhill runs, you'll fit loads more in. The Merida Big.Nine E-Lite is the first e-MTB we've reviewed in full in these pages, but it's highly unlikely it'll be the last. It's an adaptable machine with some really great parts – particularly its Bosch motor and battery – that will let you explore far afield and clear techy terrain – even if it also sees plenty of bike paths and city streets.
| | |
| --- | --- |
| BRAND | Merida |
| MODEL | Big Nine E-Lite 650 |
| RRP | $4449 |
| WEIGHT | 19.9kg (19" tested) |
| FROM | advancetraders.com.au |
|   |   |
| AVAILABLE SIZES | 15", 17", 19", 21" |
| FRAME MATERIAL | BIG.NINE E-LITE Aluminium |
| FORK | SR Suntour Raidon-XC-RL-R, 100 mm  |
| SHIFTERS | Shimano Deore Rapidfire 1x10 |
| DERAILEUR | Shimano Deore XT |
| CRANK | FSA CK-745 18t |
| BOTTOM BRACKET | ISIS, 15 Z |
| CHAIN | KMC X-10E |
| CASSETTE | Shimano CS-HG-50 11-36 (10s) |
| HUBS | Shimano Deore |
| SPOKES | Stainless |
| RIMS | Big.Nine Comp |
| TYRES | Maxxis Crossmark 2.1 |
| BRAKES | Shimano M615 180 mm |
| STEM | Merida Pro OS 5 100mm |
| HANDLEBARS | Merida Riser Pro OS, 680mm |
| SEATPOST | Merida Pro H SBO 27.2 |
| SADDLE | Merida Sport |
| BATTERY | Bosch PowerPack Std. 500Wh |
| MOTOR | Bosch Performance Line CX |
Australian Mountain Bike